Where to buy gorgeous inexpensive flowers!
If you are like me this time of year I love buying hanging baskets and pots of fresh flowers to set around my yard and deck. Each year I usually buy from Home Depot or Menards and even Fleetfarm. They seem to have the best prices and a decent selection.
This year hubs had heard of a greenhouse that has huge flower baskets and all really cheap. So last week we thought we would check it out.
I say WOW! When we got there it was shocking all hanging baskets were just $12.99. Yup, you read that right just $12.99 and they are gorgeous and HUGE. I mean seriously look at them!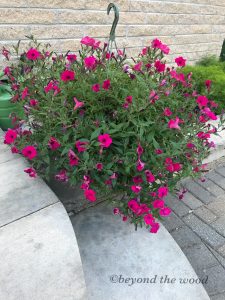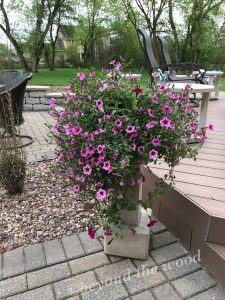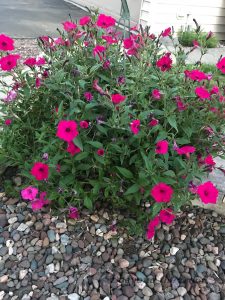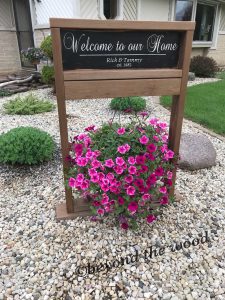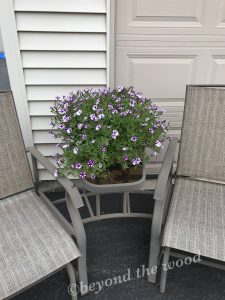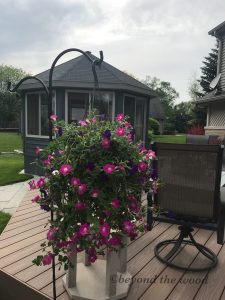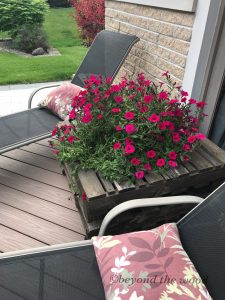 Can you believe how beautiful they are? Then for Mother's Day my girls also brought some beautiful flowers and of course they spent much more money not knowing I had just discovered this in expensive greenhouse. But here are the flowers they gave me. Just look at these colors…..sooooo pretty!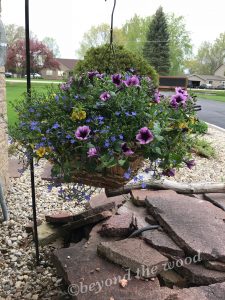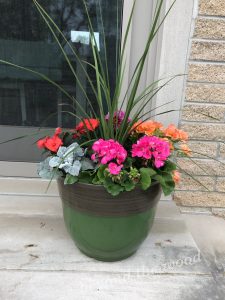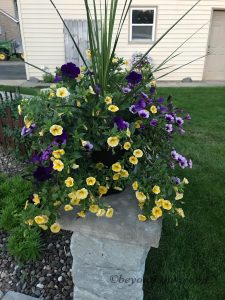 I just love them all but I am still in need of a few and will be heading back there tomorrow to get a couple more. This fabulous greenhouse is in Mequon, WI and is called Wasaukee Plant Market. The address is 9820 Wasaukee Rd, Mequon, WI 53097.
Hours are 8-7 Monday – Friday and 8-5 on Saturday and Sunday.
There are many greenhouses on the premises but only (1) is for retail. The sign into the place is very clear where you need to go. I guess they just keep filling the retail greenhouse as needed but be prepared on the weekends its CRAZY busy over there. I would try and go during the week if you can.
Here are a couple photos they took of the greenhouse and a peek of how beautiful the flowers are.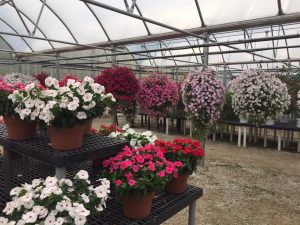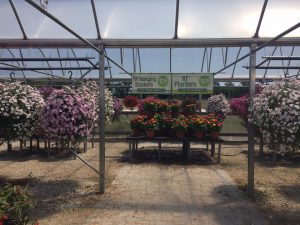 Onto More Window Treatment Ideas!
Last week I shared some inexpensive window treatments with placemats and you can find that post here.
This week I thought I would share another idea. I get so much interest and compliments on my front window and how I went with really short curtain rods.
I did this over 8 years ago because I never would close the drapes because I have blinds on the window. So when it came time to replace the curtains I only did it to dress up the sides of the big bay window we have in our living room.
As you can see we have a dog bed in the window because my dog always lays up there to guard the house. lol The blinds are mounted inside the window and they roll up to almost flush. So instead of pulling drapes closed I just pull the blinds down.
I purchased some 28″ rods and just hung them way off to the side of the window. I wanted to keep as much of the window visible as possible just to bring in more light. But I did not want a rod going all the way across the top when it was not being used for drape anyway.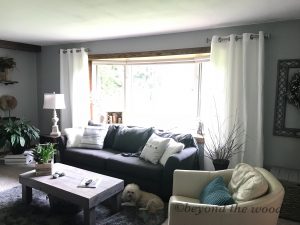 I just love the clean simple look it gives but yet dresses up the window so nicely. Here are the rods I bought from Amazon
I really don't think I will ever go back to a full rod on this window. I love this look so much and no big long rod that is never used.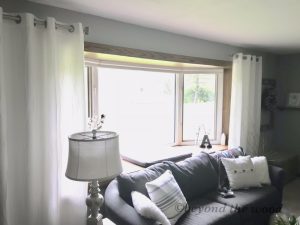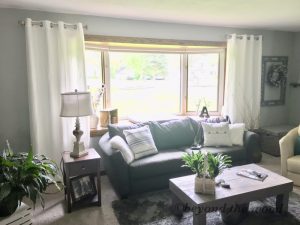 Another Window Treatment Idea
Here I made just a simple wood valance. Nothing fancy but so cute and having no drapes on it at all brings in so much light.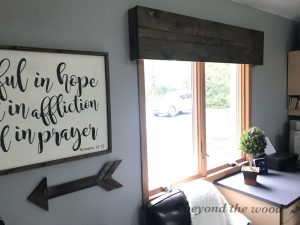 This is on the window in the office area off of our kitchen. This room will be getting a makeover in the coming months. The desk is still all maple and now that I did my kitchen makeover I need this to match. So of course my "To Do List" is forever long. 🙂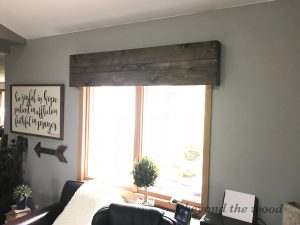 So there you have it! A couple more window treatment ideas. I hope it inspires you for your next project.
Aside from work and being very busy with my realtor orders I have been sneaking in a Gazebo makeover little by little. Now that it is summer we spend soooo much time out here especially when the mosquitoes are so bad at night. But the inside really needed an update. So in my next post coming soon I will take you inside of this beauty!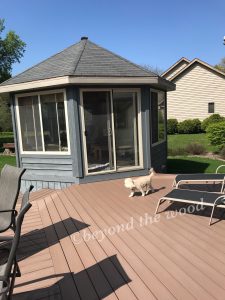 Maple was my thing so many years ago and I am so over it now and needed to really update the colors in here. Be sure to keep following if you want to see the makeover inside the gazebo! I am excited to share it real soon.
But for now, I hope you have a great rest of your week and enjoy the beautiful weather we have coming our way.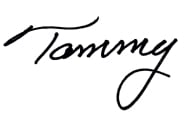 PS: remember to sign up to our newsletter so you don't miss a thing and receive a free printable! Click here!