Well friends Thanksgiving is now less than a week away. I mean seriously can you believe it? My hubs bought our Turkey the other day and I will need to get him out of the freezer this weekend. He is a big boy weighing in at just under 24lbs.
I asked my daughters if they wanted Turkey again this year and they thought I was joking. lol. I actually was serious and wondered if they wanted to shake things up a bit and have something else but they were NOT game. It was nice to hear they are looking forward to the turkey and all the fixins'. So the meal I guess will be the same as we have each year! But I guess tradition is the way it goes, right!
My tablescape
Each year I like to shake things up and try my hand at different tablescapes. I played around with my ideas the other day and took some photos for you. What do you think? I really love how it turned out and hope it gives you inspiration for your own table for the holidays.
This year I went with a symmetrical design. I kept it pretty simple with just some greenery, candlesticks, pumpkins and of course a vase of pinecones and twigs for that outdoor rustic feel.
The first thing I did was start it off with the white table runner which I had but is available at Target, here. I then centered my big glass vase filled with pinecones and twigs from my yard. I shared how I dry and open the pine cones in an earlier post here.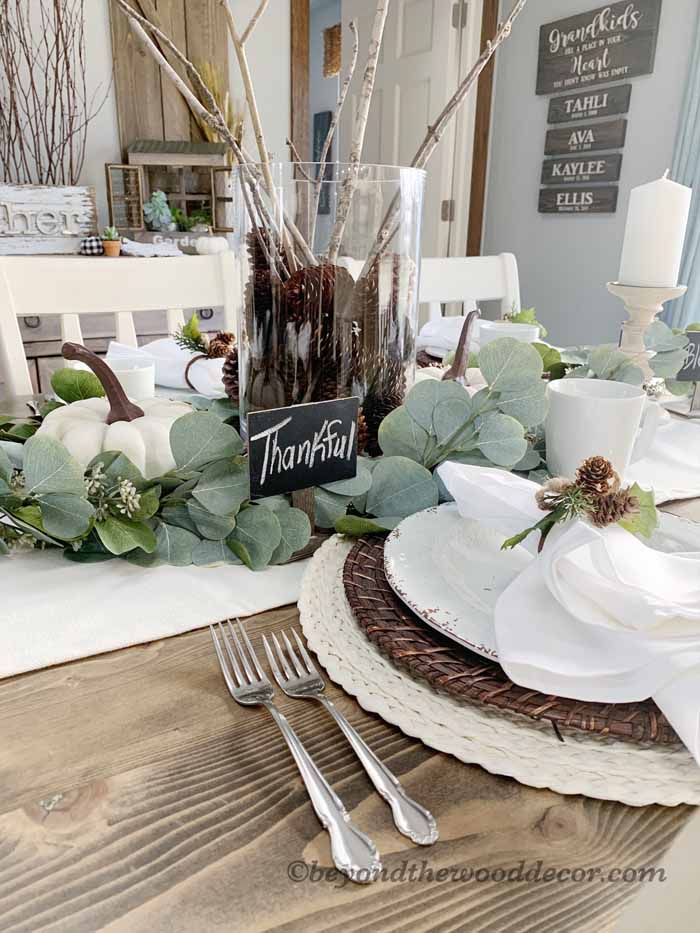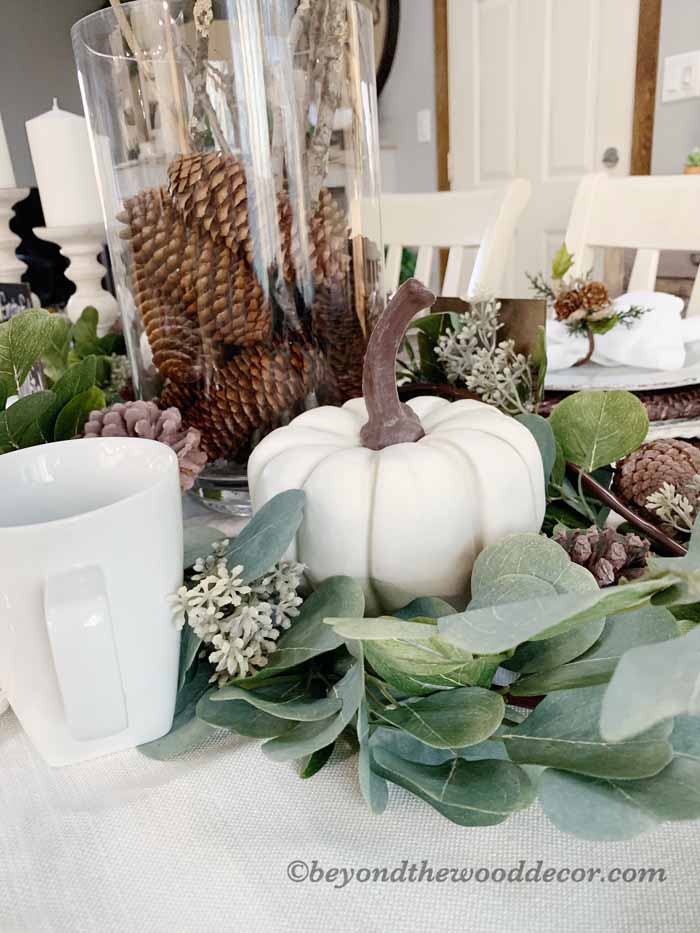 My new find this year!
I absolutely love the eucalyptus and pine cone garland I picked up this year. Of course, because it comes from Joanna Gaines, Hearth and hand collection at Target. I really wish I had all of her stuff! lol. It is out of stock online but you can still buy and pickup at your local store.
I think it is going to work perfectly for both of the up coming holidays. Of course a cheaper alternative would be getting some greenery from the yard. But that would require more work washing it and I want simple and fast!
I then kept everything symmetrical from their. The candlesticks are also one of my favorites. I use them all over the house for styling and I love them. You can get them here.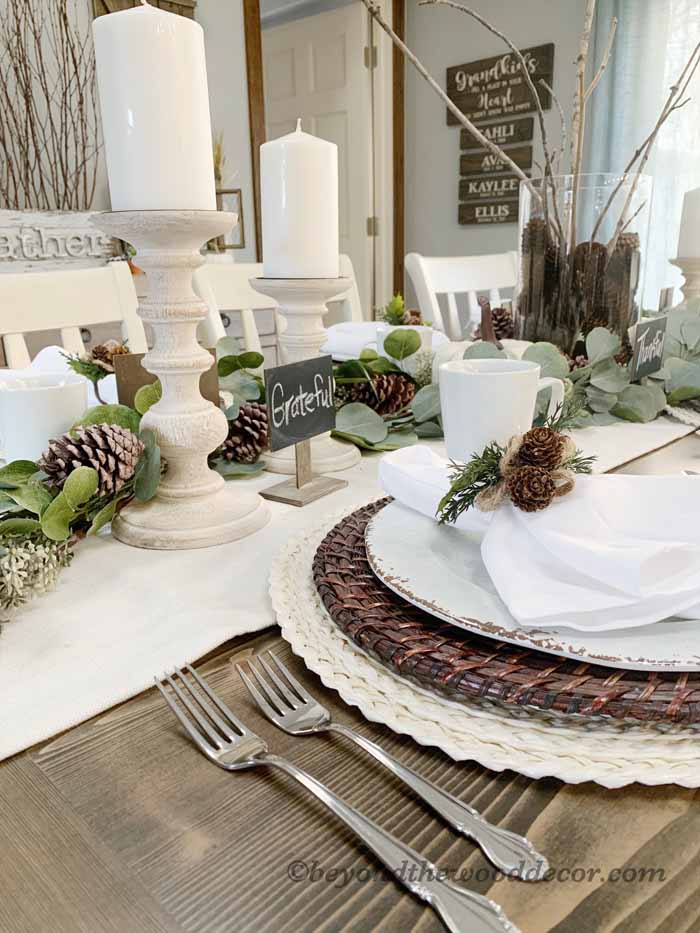 I also love using these little chalkboards for tablescapes. This year I wrote grateful, thankful, blessed on them.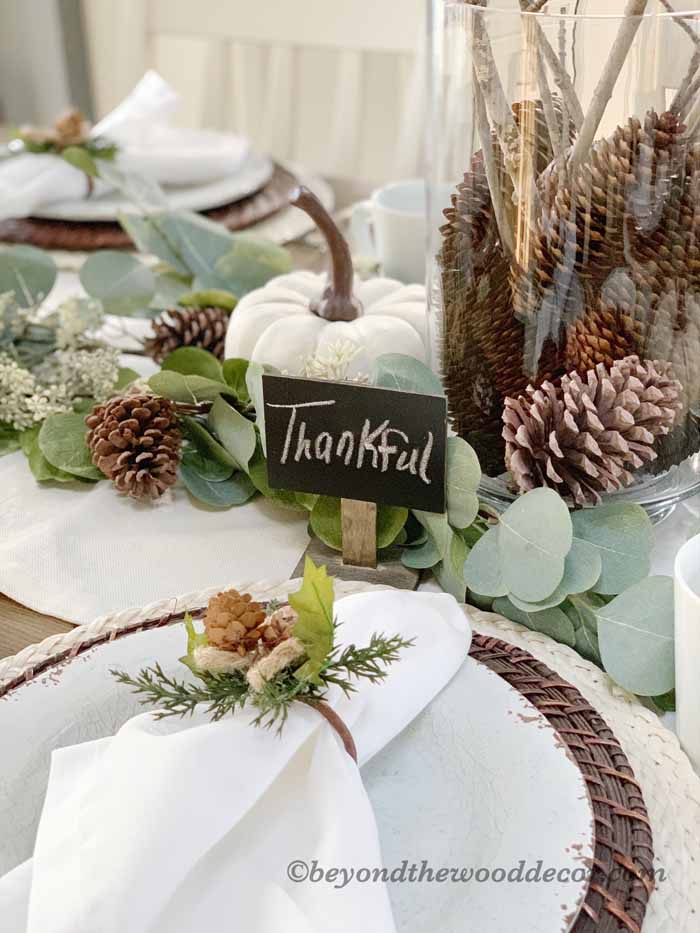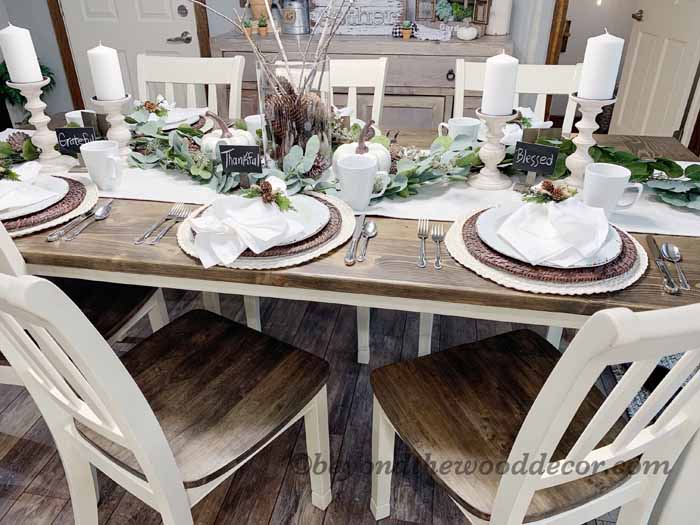 The plate setting I kept with the same place mat, charger and plate I use year round. But I did change up the napkins and the napkin rings to go better with the greenery and pine cone theme. I love these white napkins from World Market and I think the pricing is great as well.
Oh boy, I just noticed I set the silverware wrong in these photos. Yikes, my bad. I was taught moons ago the salad fork always goes on the left side of the dinner fork and I have them mixed, lol. Oh well don't follow my setting. But you know what….you do you! If you like it this way then you go right ahead!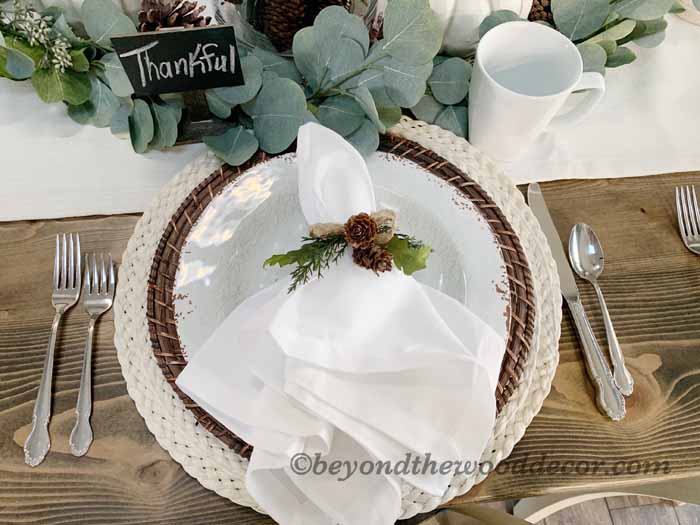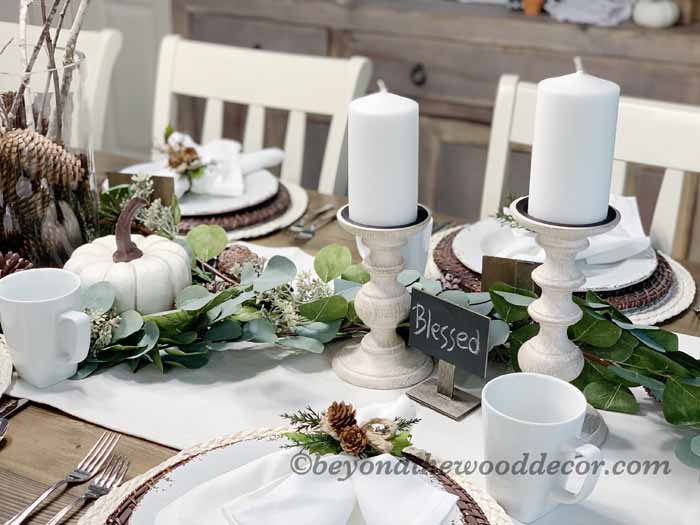 Speaking of silverware…
This set is from my late mother-in-law. She gave it to me years before she passed and it is solid silver. It is so meaningful to me and we only use it for Thanksgiving and Christmas.
I am not sure how old it is but she had got the set from her mom so its really old. Inside it also has a 100 year guarantee.  It says the stainless tableware is solid metal and will not rust, tarnish or corrode. So you never have to polish it and it can be used every day but I don't. It is more meaningful to bring out at the holidays.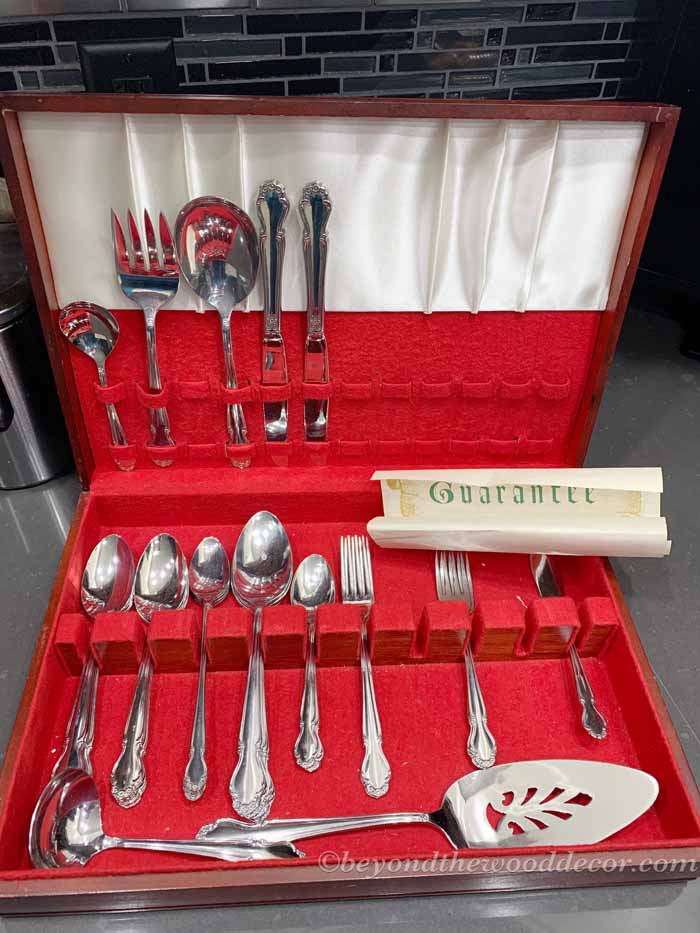 To finish off my tablescape I did add a few pumpkins to the center. I really like how it all turned out and hope it gave you inspiration.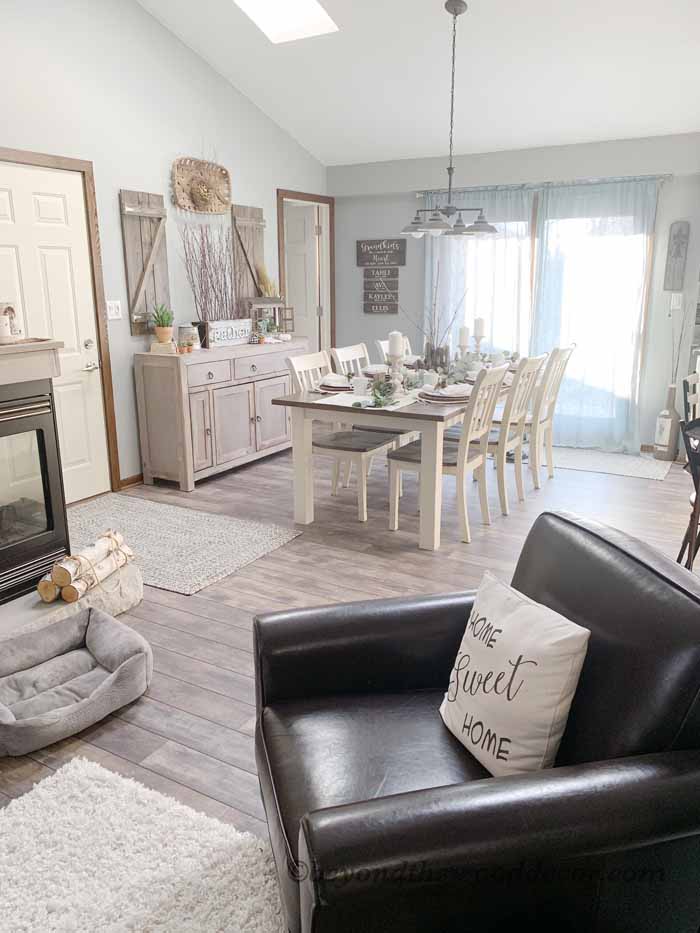 Just an FYI I will be adding bowls, smaller plates as well as wine glasses to this setting on Thanksgiving. This was a quick run through to make sure I was prepared.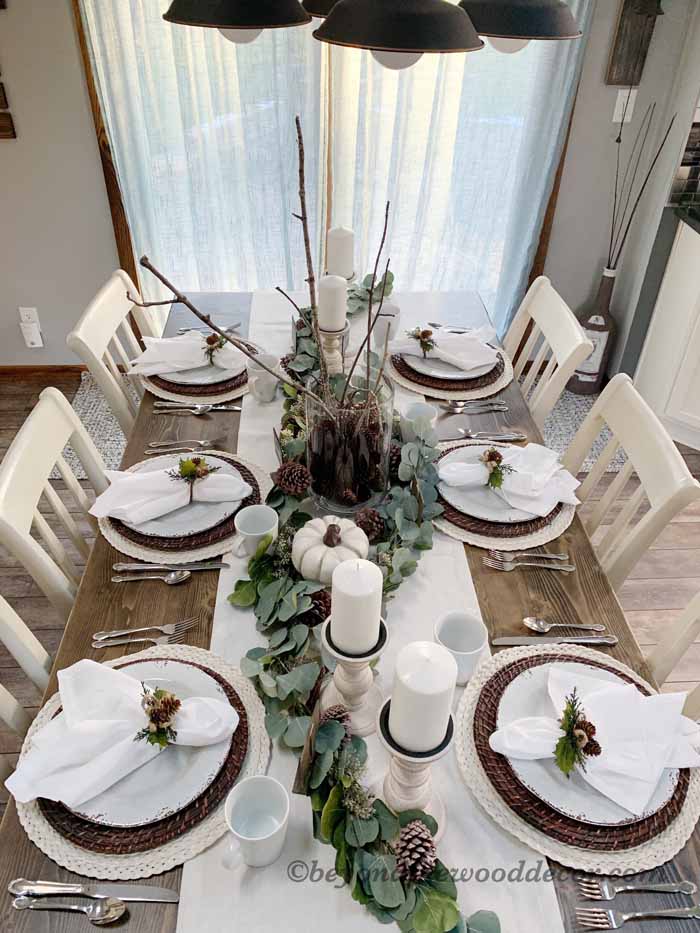 Family Traditions!
Do you have any family traditions you do each year? On instagram awhile back I asked people to share their family traditions and it was so fun hearing them. Here are just a few of my favorites. Maybe you will want to start something this year.
~Always start off with prayer!
~Use a plain white tablecloth and fabric markers to personalize your Thanksgiving table year after year. Everyone writes what they are thankful for and sign and date it. You then use this tablecloth each Thanksgiving and enjoy the old memories and the added new ones. A paper tablecloth would work as well.
~Paint a Christmas ornament together. Gather supplies like wood or ceramic ornaments and everyone paints their own ornament.
~Serve Thanksgiving meal as a family to the less fortunate by serving at a homeless shelter. This is so common and so rewarding.
~So many of you said to make a no phone rule. That way everyone will stay more focused on the special time with family and friends and not on their phones.
~Playing card and board games is always well liked after dinner.
~Plan a Thanksgiving day destination trip to do year after year. This will save time in the kitchen and everyone can truly enjoy the trip together while someone else does the cooking.
~Everyone say a toast of what they are thankful for. Raise your glasses, this sounds like fun! In our house I seem to always say the toast but may shake it up this year! 🙂
~Stay connected with family members far away. Do a video call like facetime or skype and let those loved ones know you are thinking of them. There are so many options these days to create a sense of togetherness
~Kids love crafty things and playing games. You could make a turkey out of construction paper and buy a bag of some feathers, or cut them out of the construction paper too.  Then blind fold them and have them put the feathers on the turkey.  Just like pin the tail on the donkey.
~Play Christmas music and sing along getting everyone in the next holiday spirit.
In closing
I hope that gave you some ideas to start with your family. Now that my grandchildren are 3 and 4 I plan on doing something special this year. I know they love crafts so I am sure that will be one thing to consider.
One tradition I have been doing with my kids each year as adults is giving them a Christmas decoration for their homes. They get it on Thanksgiving because I am thankful for them but also so they can use it in their homes when decorating after Thanksgiving.
I would love to hear what family traditions you do each year.
Lastly, I also know a few of my followers have lost loved ones recently and others have gone through some terrible tragedies. So these holidays can be especially difficult. Please know my heart and prayers go out to you. (((hugs)))