Hello, hello friends! Did you have a good week? My week has flown by so fast I cannot even believe it is Friday already! I bet the weekend will go even faster since I have another busy one planned. Of course I will be working a lot but I am watching my grandson over night on Saturday so I am excited for that. He is 10 months old today and such a blast!
But lets get onto what you came here for……
Styling a Tiered Tray
I am asked all the time when clients pickup their orders where I got my double tiered tray and how to style it. Many of you say you have always wanted one but so unsure what to put in it.
So today I thought I would share some ideas I have for styling it and hope it gives you inspiration. I also gathered some other inspirational photos I collected over the years.
My Two Tiered Tray
Lets start off by showing my tray. This is the one I have from Amazon and I absolutely love it. I have had it for many years now and use it for decor every day. It is so rustic and aged looking and I love the metal handle. You can click the link above or photo to take you right to it!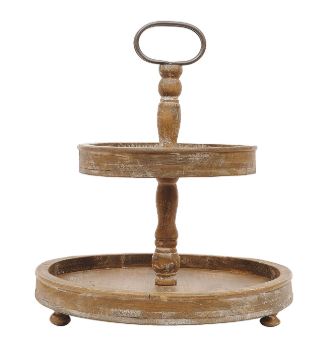 Let me start by saying there really is no right or wrong way to styling a tiered tray. You do you and that is what matters! Just put your favorites on it and you will be good. When I style mine I try and keep colors similar so its easier on the eye. Because I am usually always neutral that is the direction I go. I also like to balance things out on my tray. For instance you don't want to put all bigger things on just one side so always try to balance it out.
Each season I change mine up for the upcoming holiday. So right now it is fall so here is what I have on it for fall. Just a huge mix of faux pumpkins, some apples, a couple small wood signs, a candle and a couple pine cones. I kept it with warm, muted soft tones. Just very fallish, right!
Easter was another fun way to style it. Here is one way I had it styled for Easter. But seriously, I changed that every other week as well because I had other ideas. But here is one photo I found.
Location Matters
It all depends where you use your tiered tray to help determine how it should be styled. Many use it in the kitchen by their coffee bar or just on the island or counter like I do. Here are some inspiration pictures for that area along with various holidays. I love how this one used the little mini bird eggs.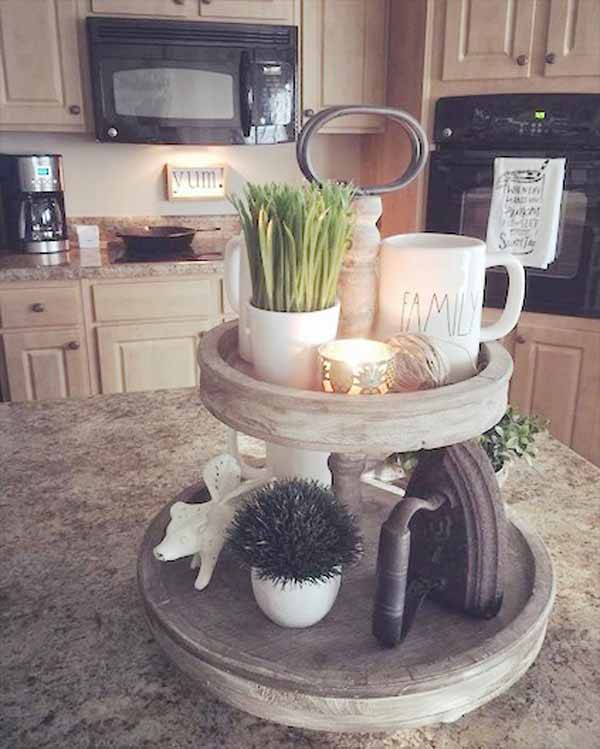 Many use plants or faux plants and I love the added balls on this one for so much more texture.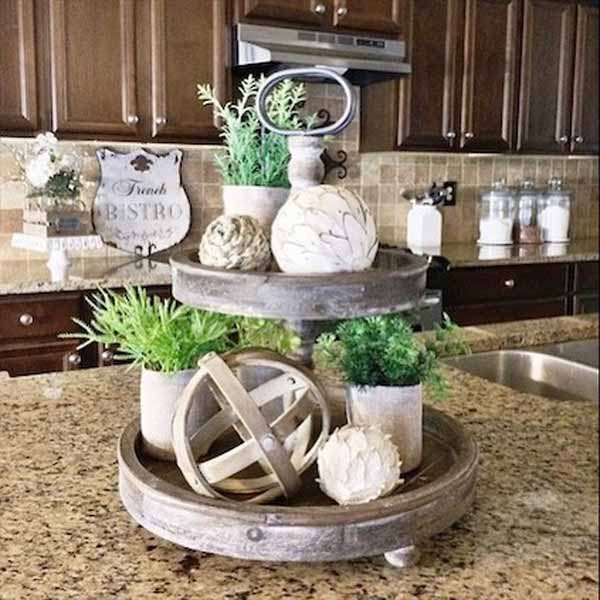 Pretty sure I love this next one as well with all the Rae Dunn pieces. I mean c'mon is that adorable or what!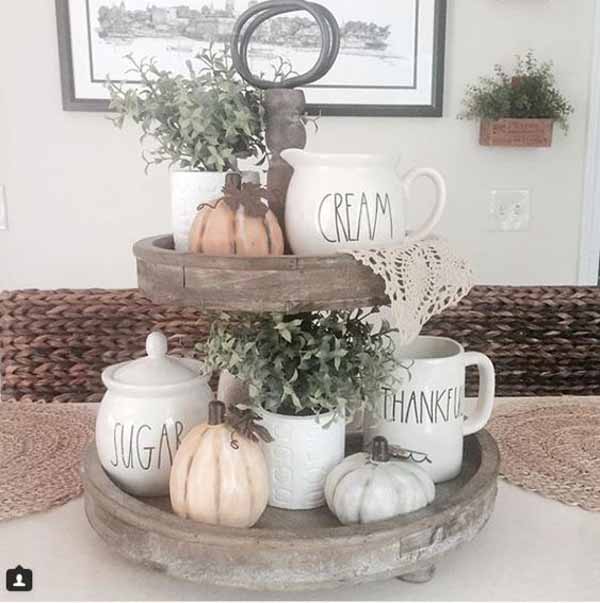 How cute is this one with lemons and the little watering cans. This one is a 3 tiered tray even more room to have some fun!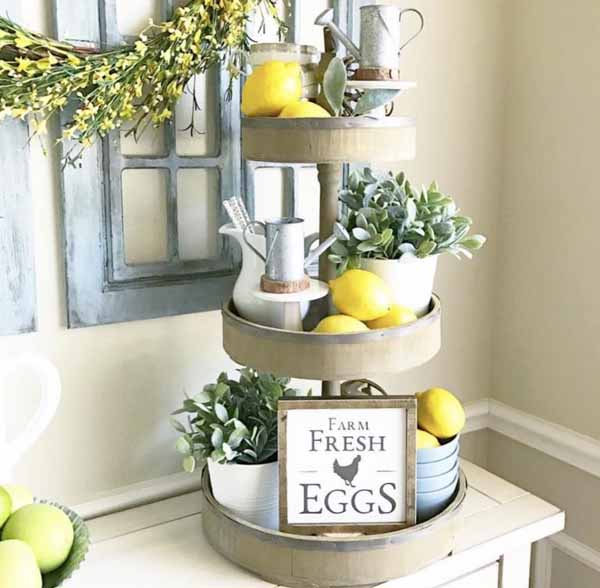 Love the soft neutral tones on this one and oh my gosh those little tulips are just so cute! I also see a cute little idea to wrap a can with some twine and bam cute decor!
Did you notice so many of these photos they are using Rae Dunn pieces. I just may need to grab some next time I see them because I have admired them far to long now and I think its time for a few, right?!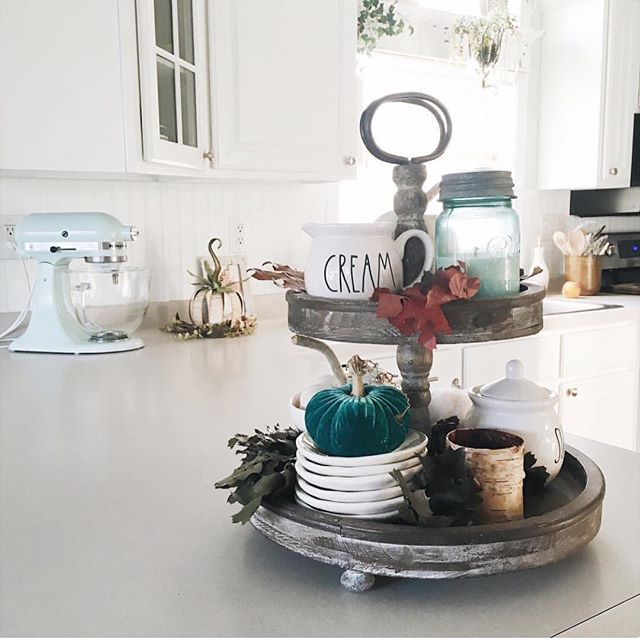 Here in my kitchen was another way I styled it on my buffet. Just added some coffee mugs, pine cones, tiny succulents, a pumpkin for the season and some vintage books that I made here.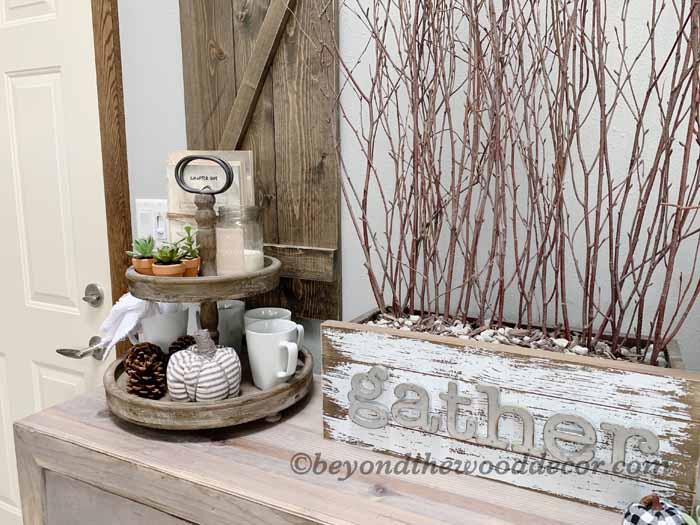 Living Room/Family Room
You seriously can use it in any room. In the living room I would dress it up with basic home decor pieces. Having it sit on an entryway table or a sofa table is always super cute. Just add in many decor pieces with various textures including candles will be a win win! I mean you know candles just make every room perfect!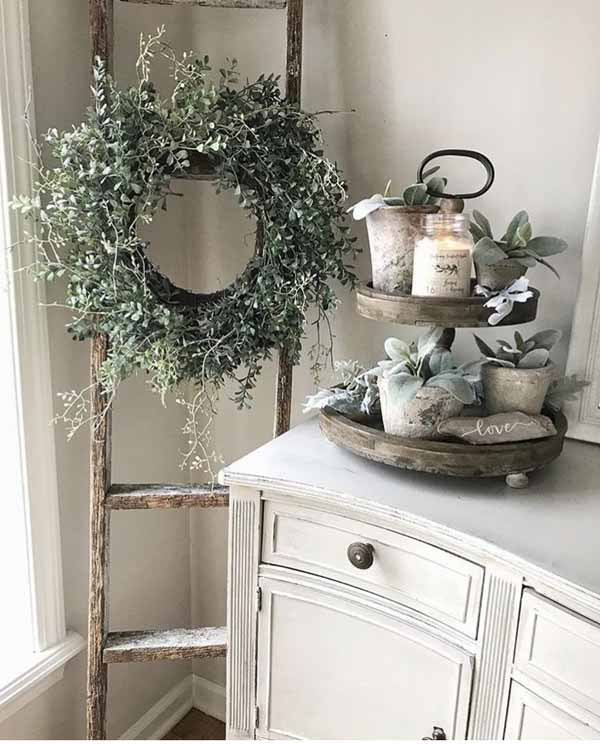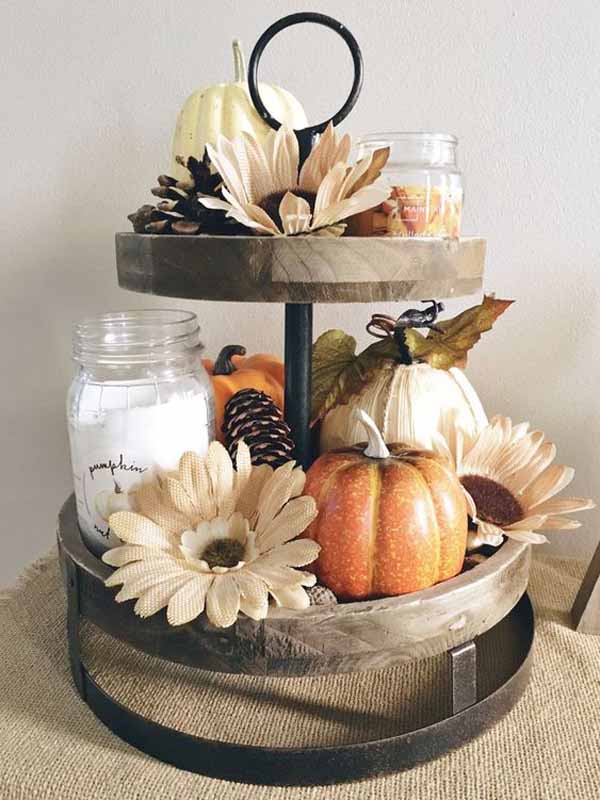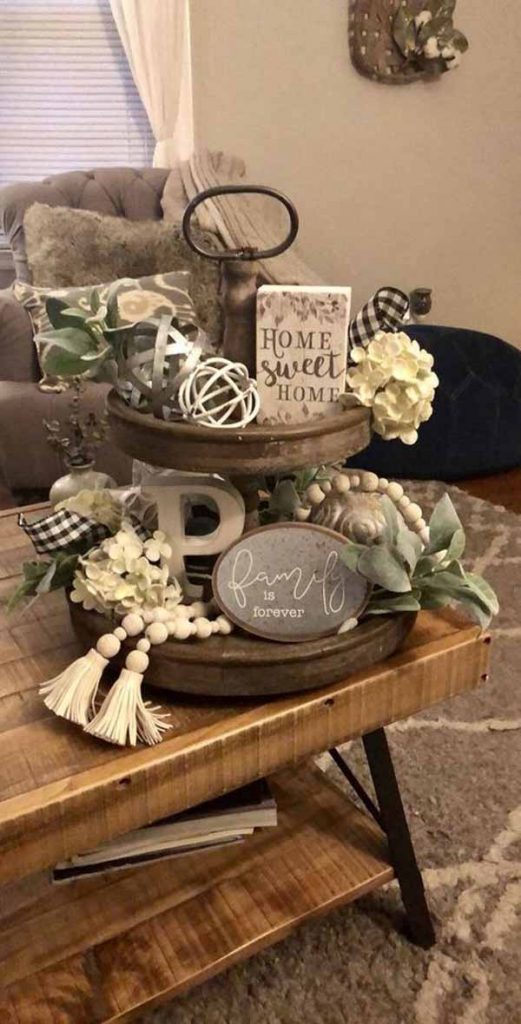 This one is so simple and cute. I love the wood nesting house from the Magnolia Hearth and Hand line at Target on the bottom shelf. I almost bought one last week and now seeing it here I love it. So cute!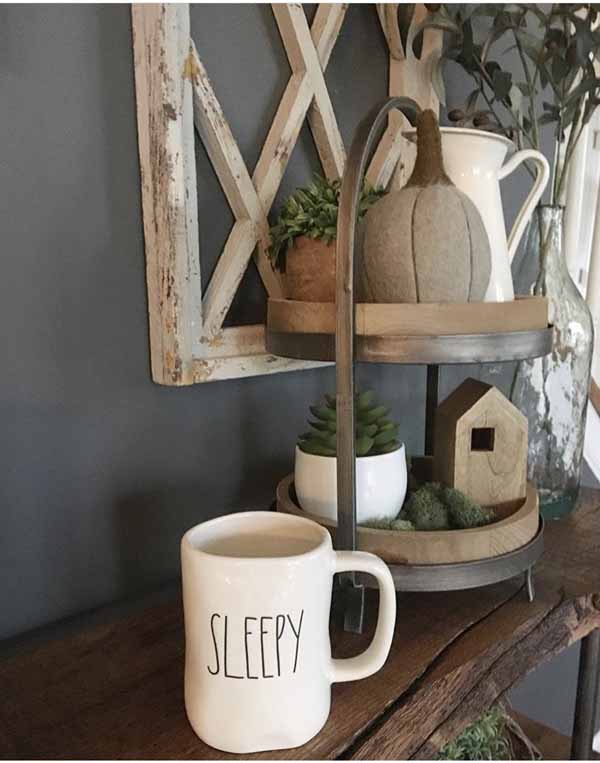 Bathroom Ideas
I even used mine in the bathroom years ago and loved it there as well. But since it was in our upstairs bathroom that only me and hubs use I rather have it in a place where everyone sees it so I moved it to the kitchen.
But here are some ideas to style it in a bathroom. Using some hand towels, soaps, cotton balls or q-tips in a mason jar is so adorable. Again, a candle in any room is perfect for design and fragrance. More inspiration photos I found for bathroom use!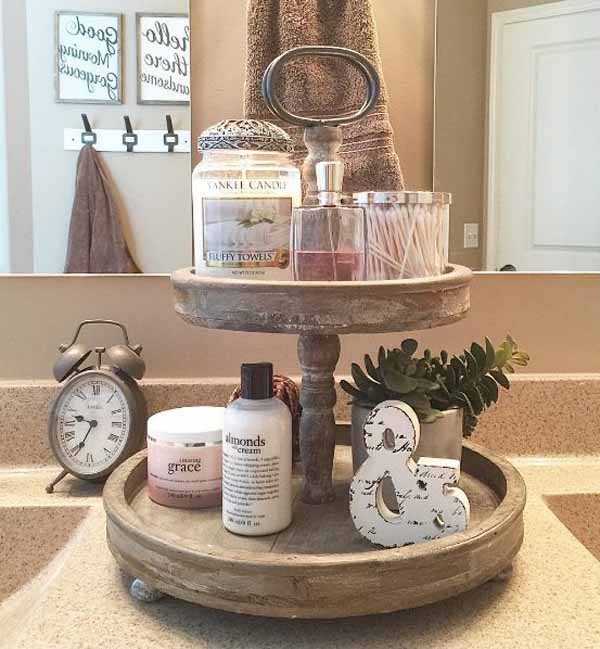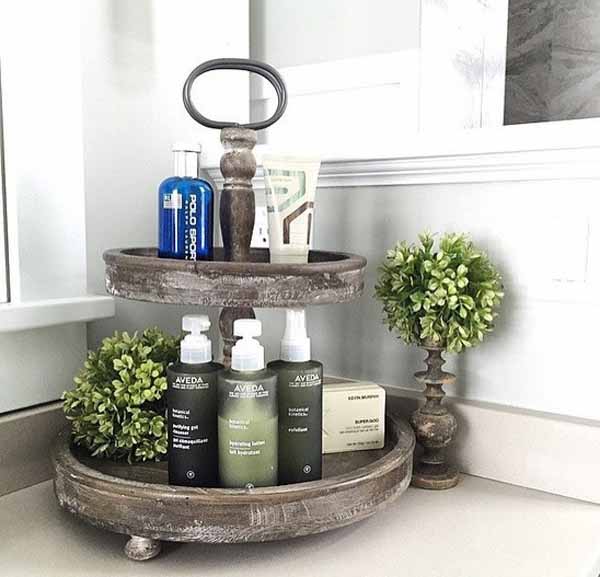 Nursery
Look at these photos I also found to use in a nursery! How cute is that and again it is the same tray I have!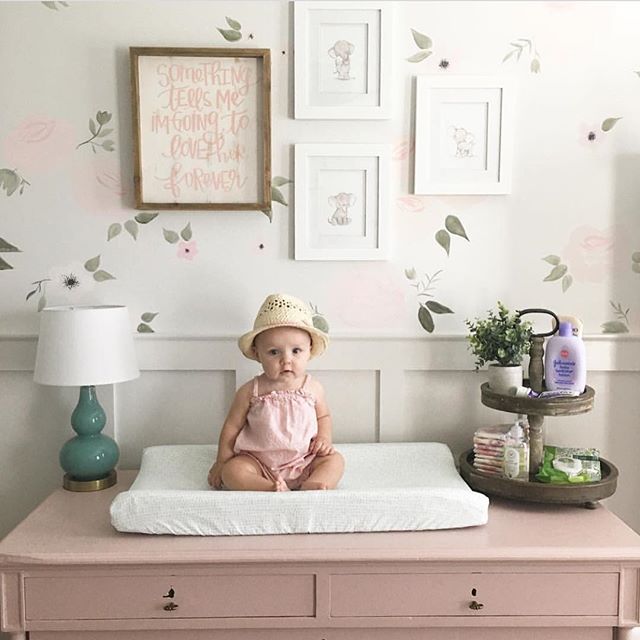 Here are a few more trays I love!
As you can see trays come in may different styles and textures. Below I put some links to some of my favorite trays including the first one which is mine.
So if you are on the hunt for a tiered tray I recommend these styles for the rustic farmhouse feel!
This last one is also so cute with the scalloped edge on it. It is styled in the bathroom photo above.                                                                                                                                     
In closing!
That's a wrap my friends. Now don't be afraid to buy a tiered tray because of the fear of not knowing how to style it. I hope you were inspired by these ideas and will have fun styling your tray if you buy one!
Keep in mind the advantage to these trays are not only can they be used for home decor but also at a party. Such as a dinner party to display your desserts or any variety of hors d'oeuvres. I would use small plates or clear wrap though and not set food directly on the wood or metal ones.  Another idea for a party is putting utensils in mason jars to set on your tray along with napkins etc….Just so many ideas and uses for tiered trays!
I already am excited to dress mine up for Christmas and have ideas brewing. So I will share that come December. Until then…..have a great weekend and enjoy the heat wave we are having here in Wisconsin, 50's yay!!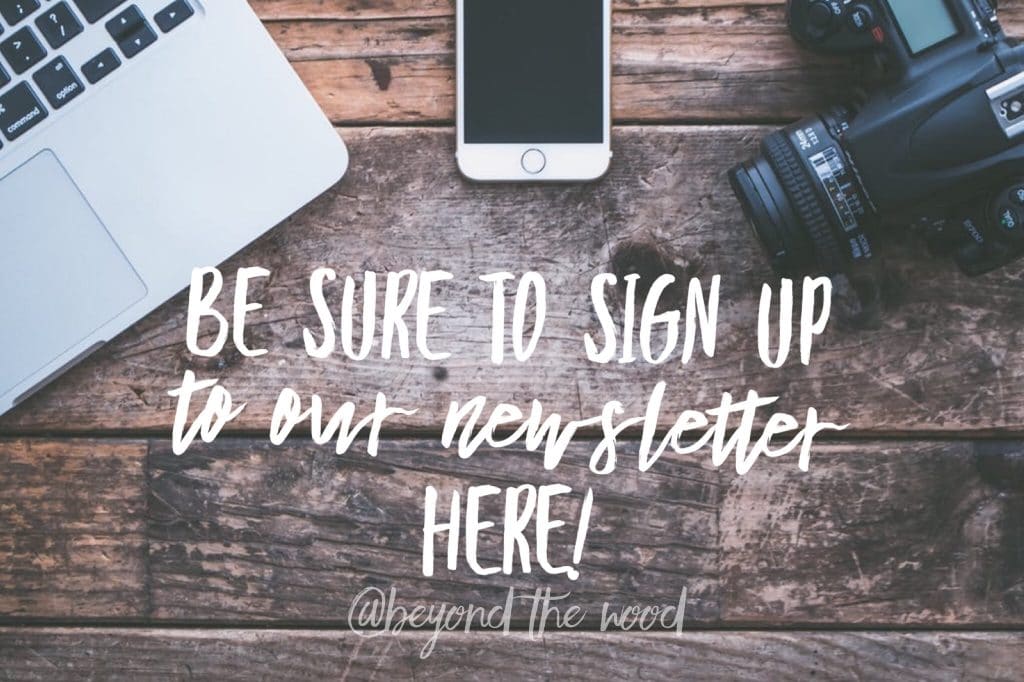 Note, this post may share some affiliate links for your shopping convenience.