Oh how I love Summer!
Hey friends I thought I would pop on quick and share my styled potting bench. There is just something about the love I have for the outdoors in the summer. I mean not only do I love summer for the warmer temps and sunshine but also the gorgeous flowers, trees, plants and just nature.
I find great joy in fixing up the deck and yard to make it welcoming, beautiful and comfortable. Hubs and I like to spend as much time as we can out here when weather permits so having a beautiful space is a must!
Seeing more furry friends is also fantastic!
We live in an area where we get so many different animals. Birds, squirrels, rabbits, chipmunks, turkey, owl, woodchucks, fox, deer and so much more. Of course the not so welcomed night animals like coyotes, raccoon, and skunks I could do without. But they are a part of nature so seeing it all is a nice change from winter. My favorite is sitting on the deck listening to the birds chatter and watching the squirrels play tag in the yard.
Another favorite with summer is watching everything grow and planting annuals to dress up the deck and yard. This week I was able to get some things planted and dress up my potting bench.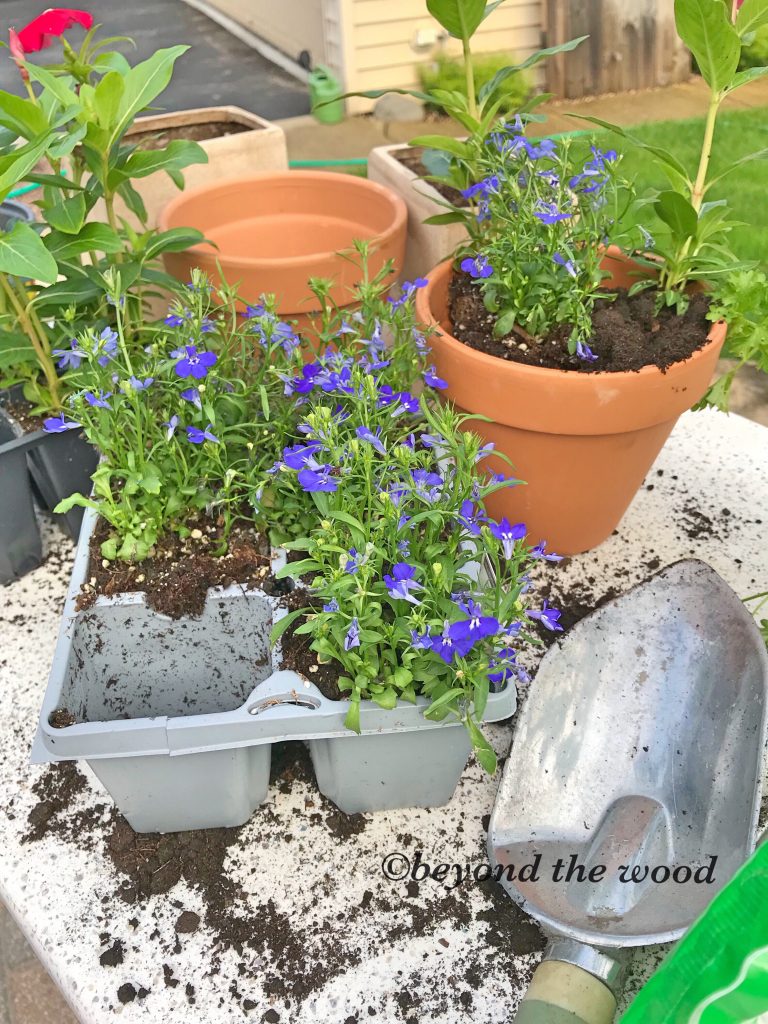 Each year I change things up a bit and this year I had so much fun with it.  I received this potting bench about 7 years ago for Mother's Day and I just looked and World Market still carries them but all sold out at this time. So it must be a favorite that they carry it year after year. I know I love mine and that price is a great deal.
Last year I decided to paint it so it would match the outside of our gazebo. I loved it in the natural color but with anything outdoors it got really weathered which was pretty but I wanted it to match the blue.
Styled potting bench and loving it!
So here it is all styled up for the summer! How cute is that! I love how it turned out. Of course I may change things up as the summer goes on but this is what I came up with for now.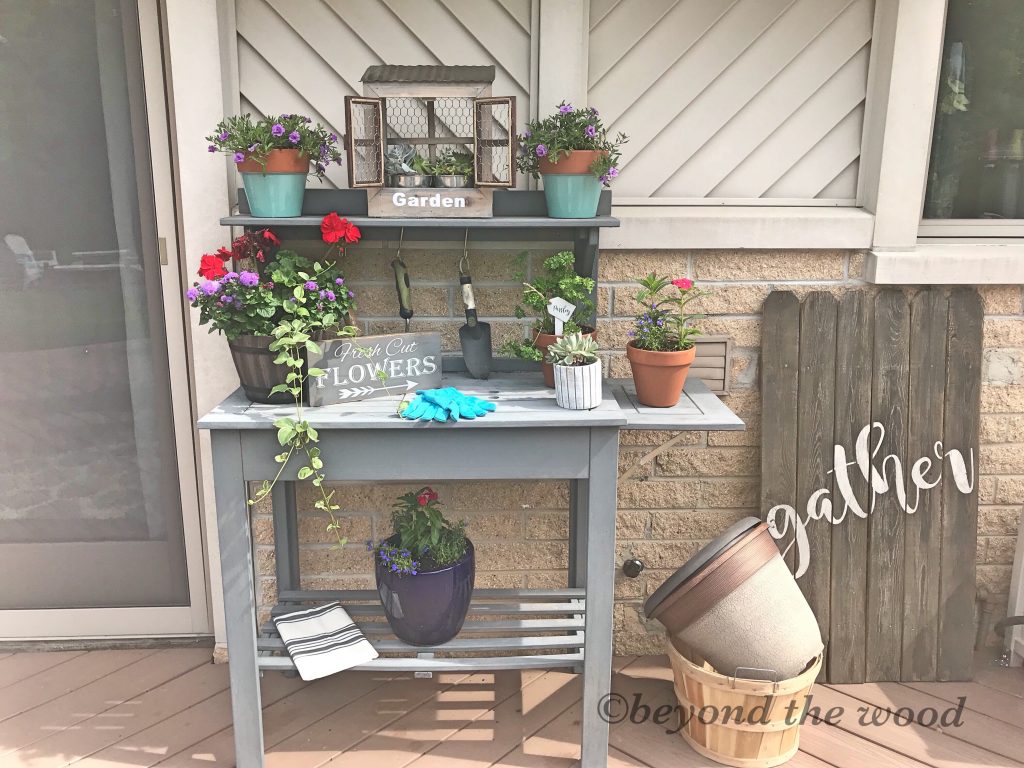 I made the fresh cut flowers sign and I think it gave that nice farmhouse style that I always love.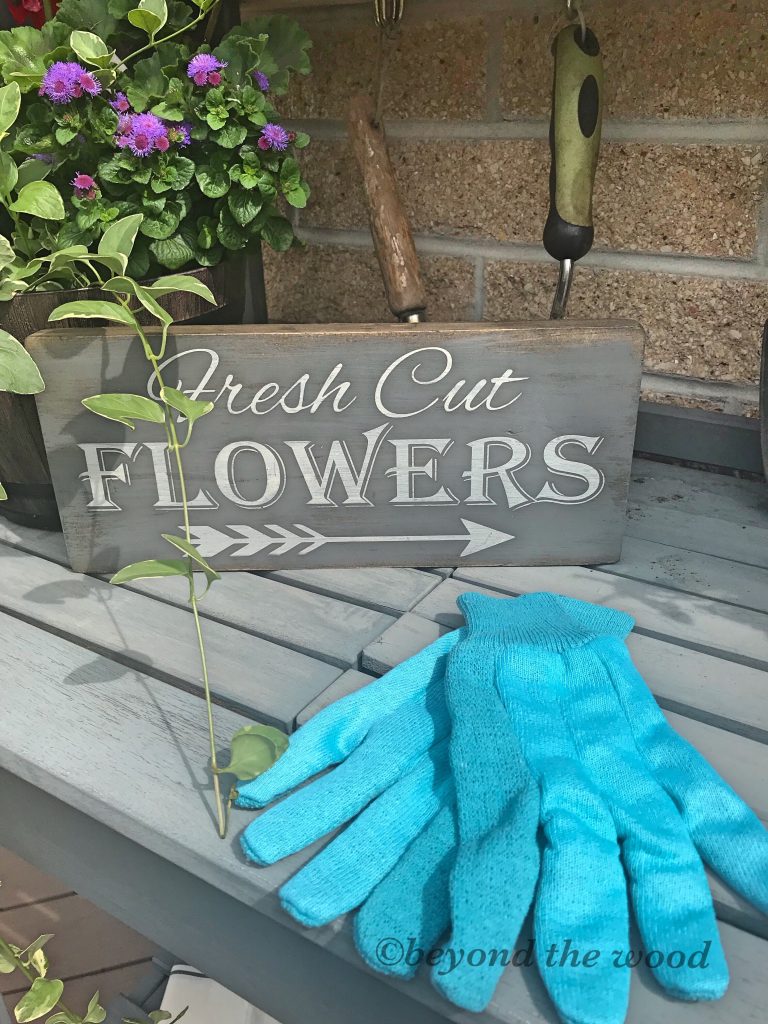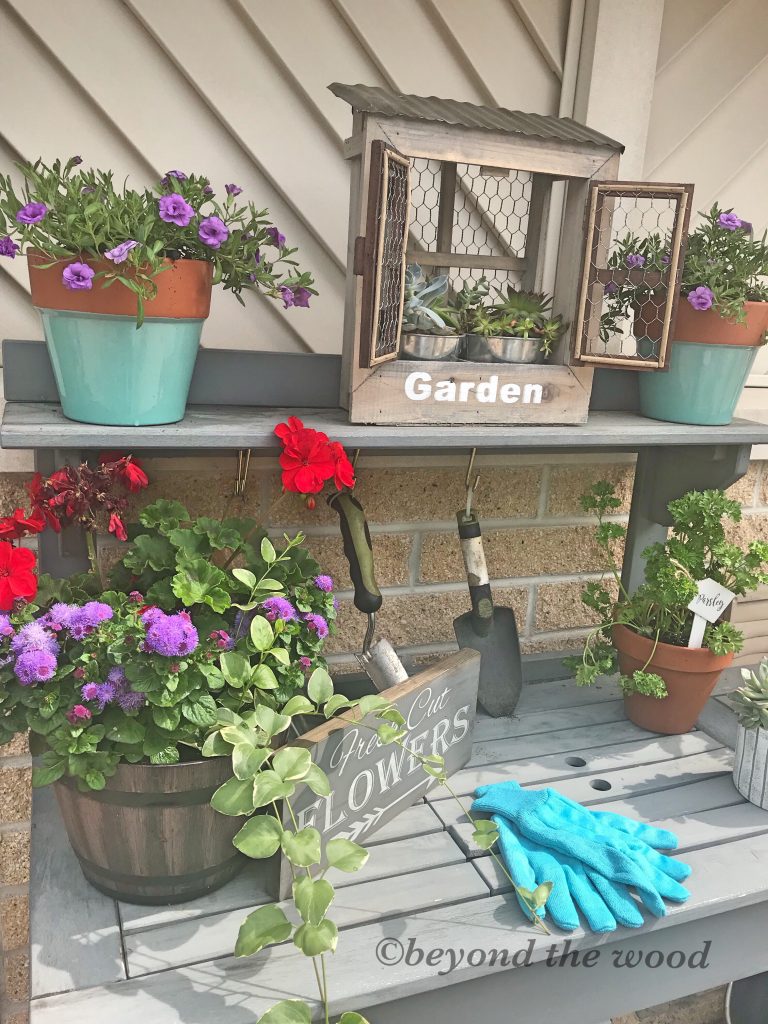 I picked up the "Garden" decor from Home Depot this week and I think it really screamed farmhouse! I mean seriously isn't it just like a lil' chicken coop with that chicken wire….. it is so cute. It came with the two succulents which I will bring indoors when it gets cooler out. But oh my goodness I love it.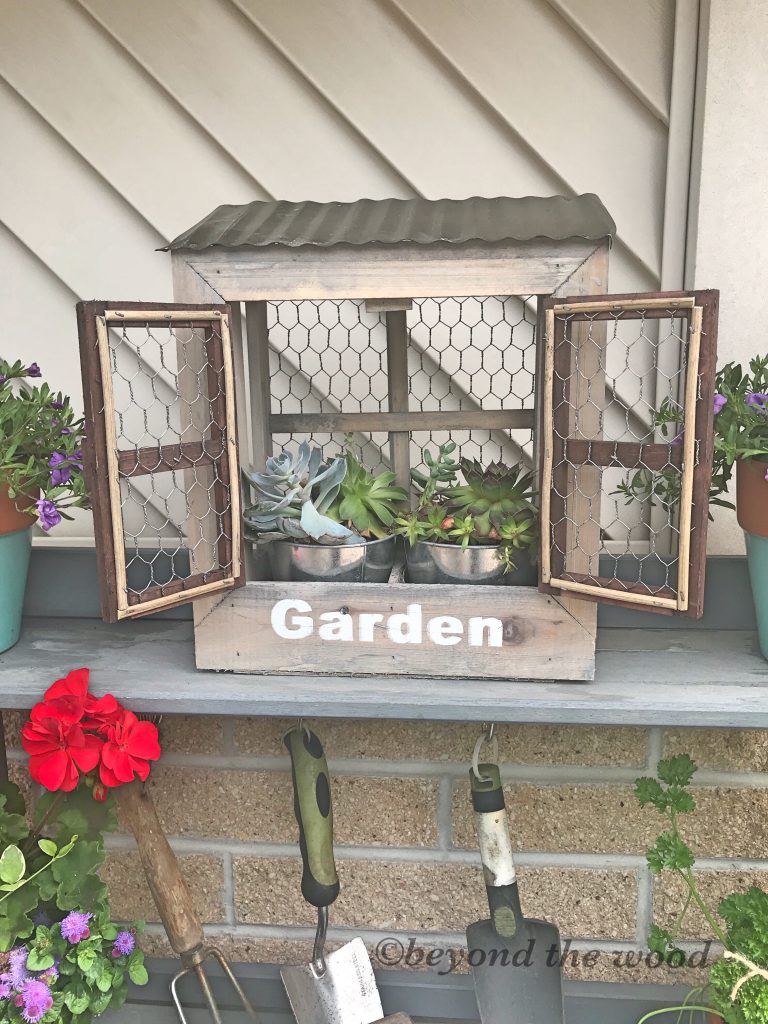 I am excited to snatch some of the parsley when needed in recipes and had to make a cute lil' tag for it! A couple stems are broke so I will use them first but otherwise it looks so yummy! Hoping to get some more herbs this weekend since this is the season they are so available already grown and not have to grow your own.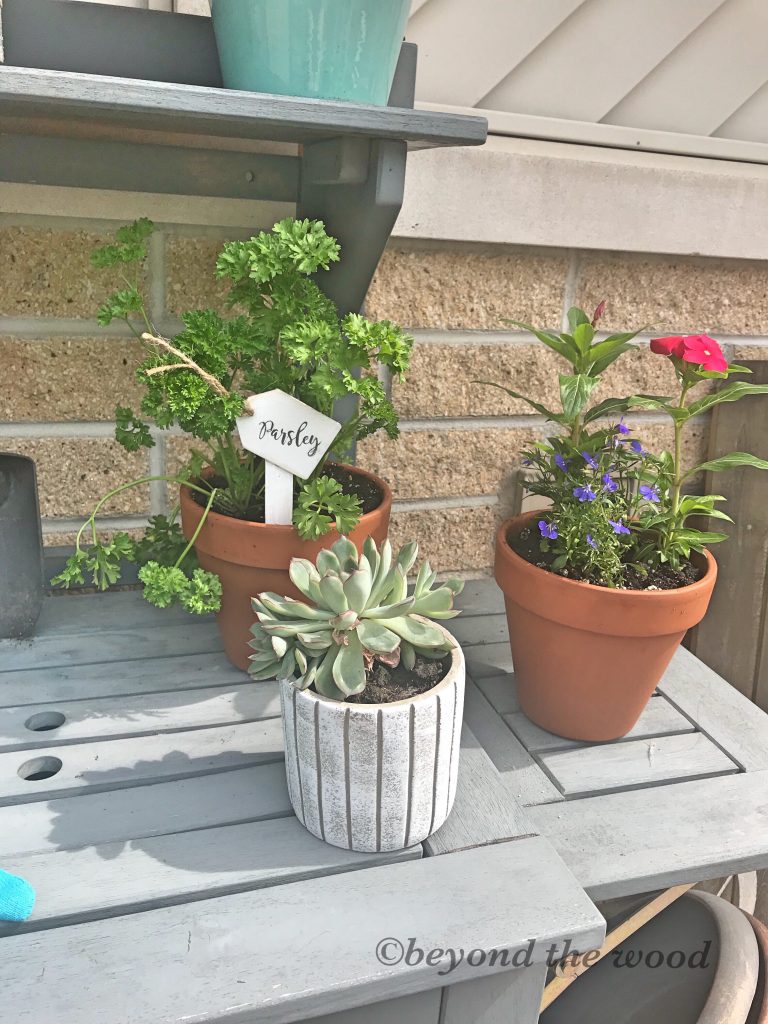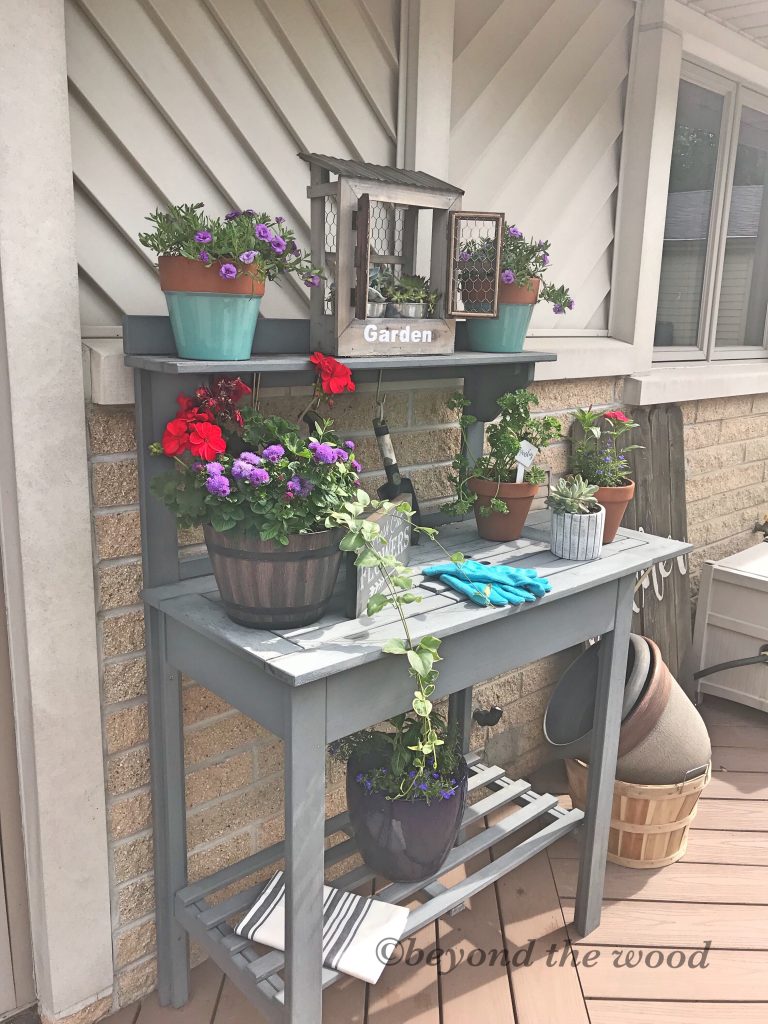 The bottom is a little scarce right now but I have an idea in the coming weeks if I can find a cute antique watering can. Oooohhh wouldn't that be adorable! 🙂
I also made this "gather" sign from an old fence we had around the pool filter when we had our swimming pool . Cutting down a section since the fence was to large worked out great. Initially I was going to put "family and friends gather here" but the cracks were so wide on the fence it just would not have worked out. Oh well it is still cute with just "gather".
Another tip on decorating outside is just stacking some empty crates or pots as shown in this photo. Anything related to the outdoors is a great way to decorate a patio or deck. More ideas will be coming in my next post very soon!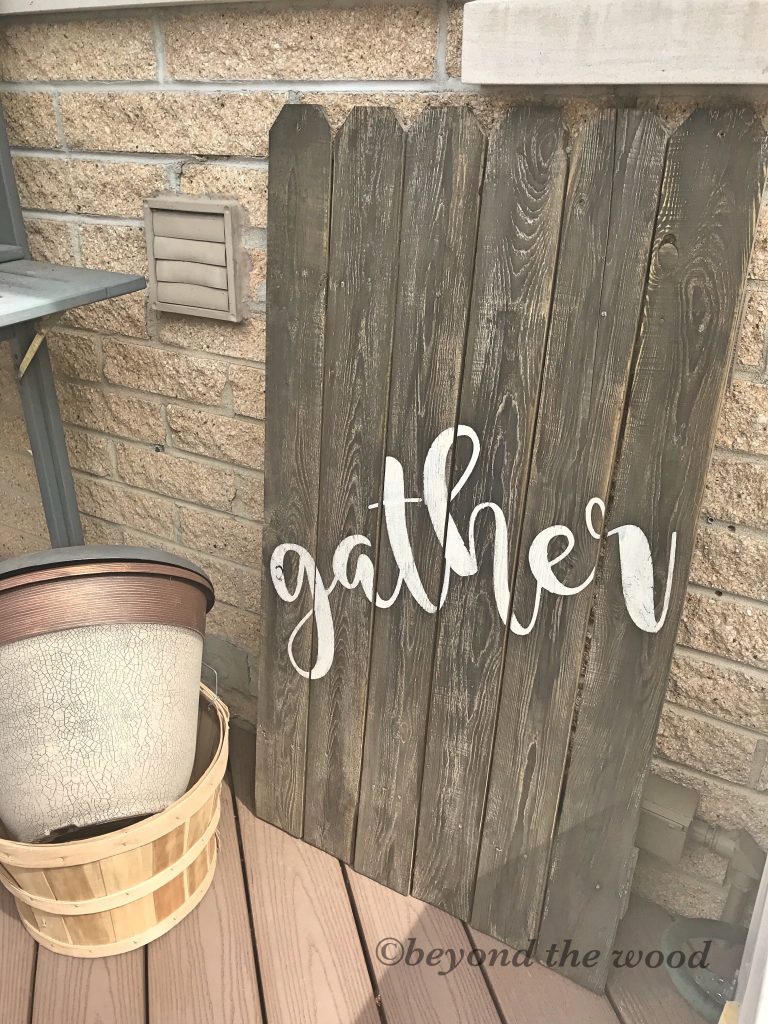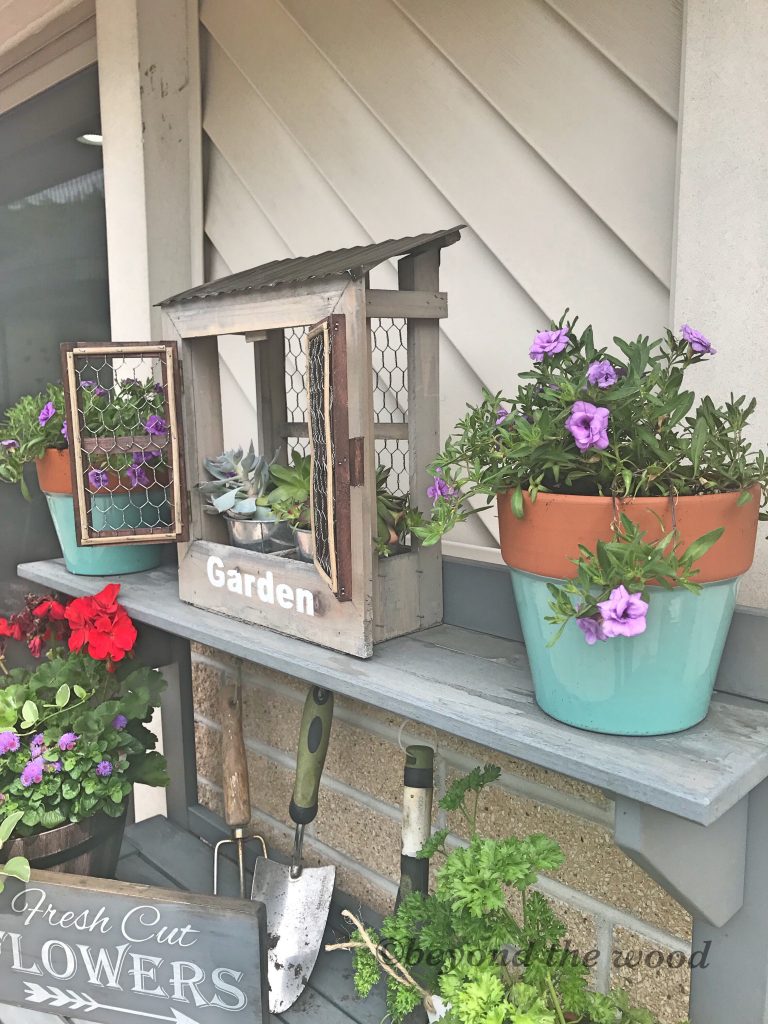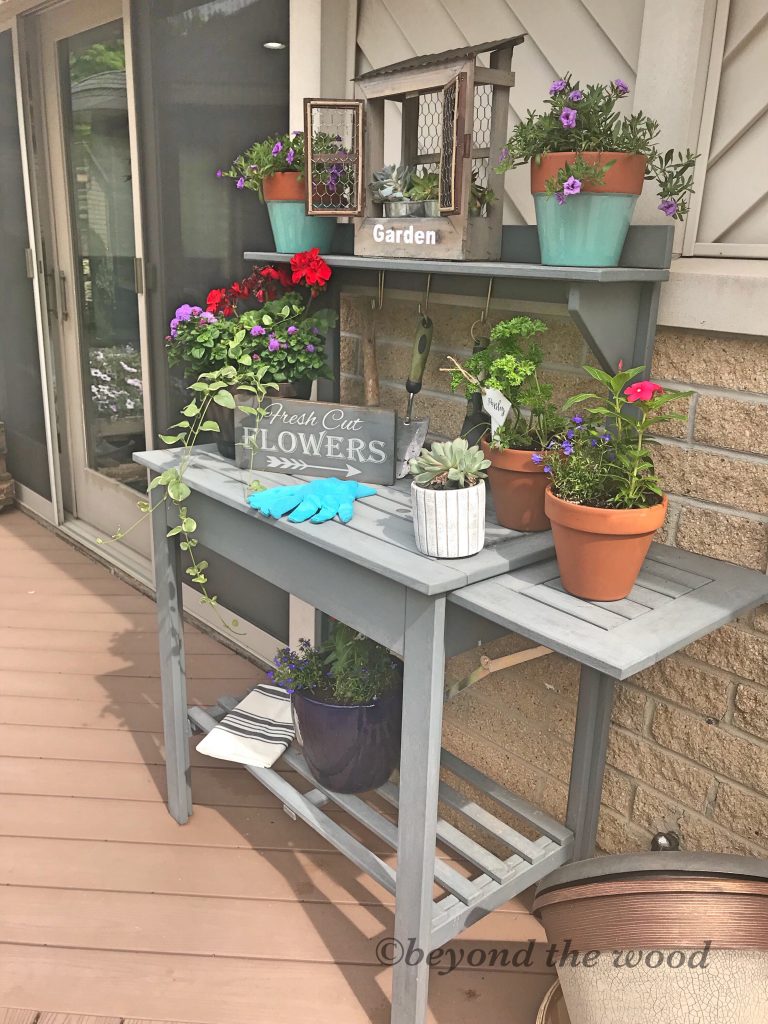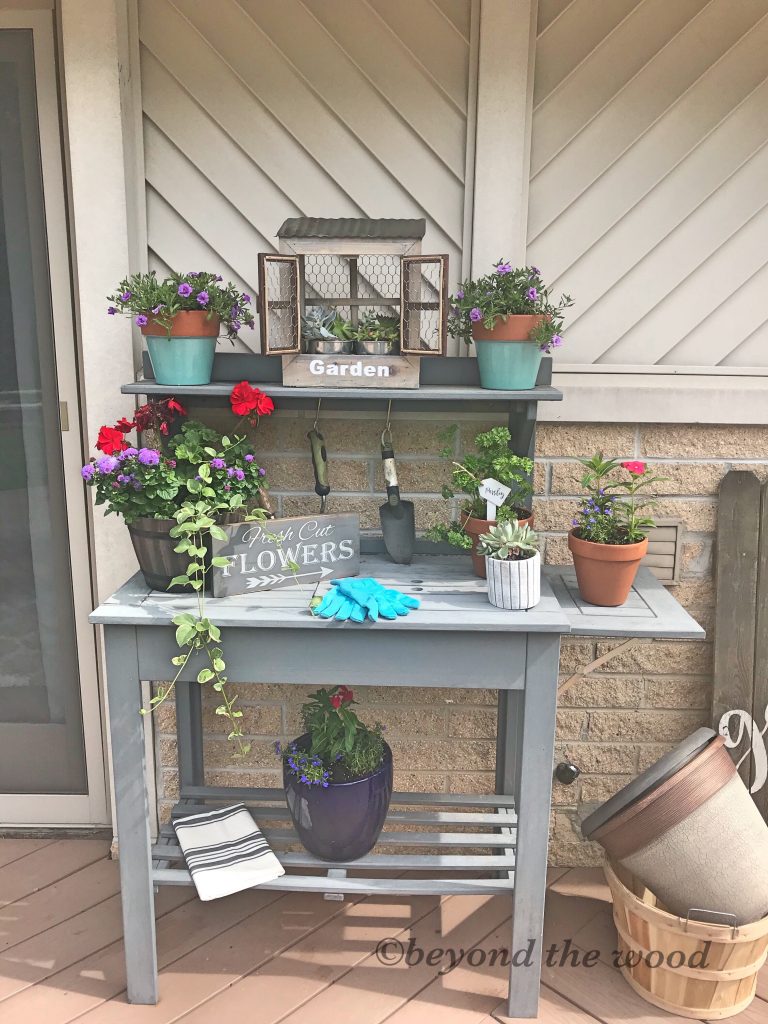 There are seriously so many ideas you can do to make a cute potting bench. Just keep your eyes open at yard sales or even craigslist. Many use a dresser as well and stack a cubby on top. Ideas are endless.
Next up I am working on a post sharing another favorite in our yard. I have received a few questions on it so i thought I would share it next. So be sure to check back.
Thanks so much for stopping by the blog today. I hope you enjoyed the post and it gave you inspiration for your own space.
Enjoy your weekend my friends and I hope you have a blessed Father's Day to all the dads out there. To all the gals, enjoy your time with dad or the men in your life who are dads.