Hey buddies and happy September! Seriously, it is almost fall and as much as I love fall and wearing boots, plaid shirts, sweaters and cute layers I am not ready to give up summer. It just went by so fast. But I guess I can't stop it and better start thinking about fall decor.
I hope you all had a great Labor day. Here in my neck of the woods it rained almost all day. It was still hot and very muggy but the rain just did not stop. So I decided to shake things up in my living room with just paint.
Simple change with just paint!
If there is just one tip I can give you when you are looking for a change in a room I would suggest PAINT! Seriously, I am not kidding the biggest change is just simply the color of paint. It can make such a huge difference in the appearance and over all feel of the room. Plus, clean fresh new paint is the best!
Now, if you are a renter and cannot change the paint color there are many other things you can do to change things up that will give you a new look and vibe! I will be sharing all of that in a future post!
But for my post today I really love the change in my bedroom with using light paint you can see that post here, so I decided to lighten up my living room as well. So lets get right to it!
BEFORE photos!
The one little wall by my swinging doors along with the staircase walls was a dark grey with a hue of blue in it as shown here.
The sign on the wall going up the stairs really pops on this color but I still needed an over all lighter brighter room. On the left there is my kitchen, dinette and an office and they are so bright and light! Don't get me wrong this dark grey on these couple walls has been beautiful I do love it but needed a change to brighten it up. The rest of the walls are a lighter grey.
It appears in this photo the back wall is much darker than this front one but it was not. They were the same and just poor lighting.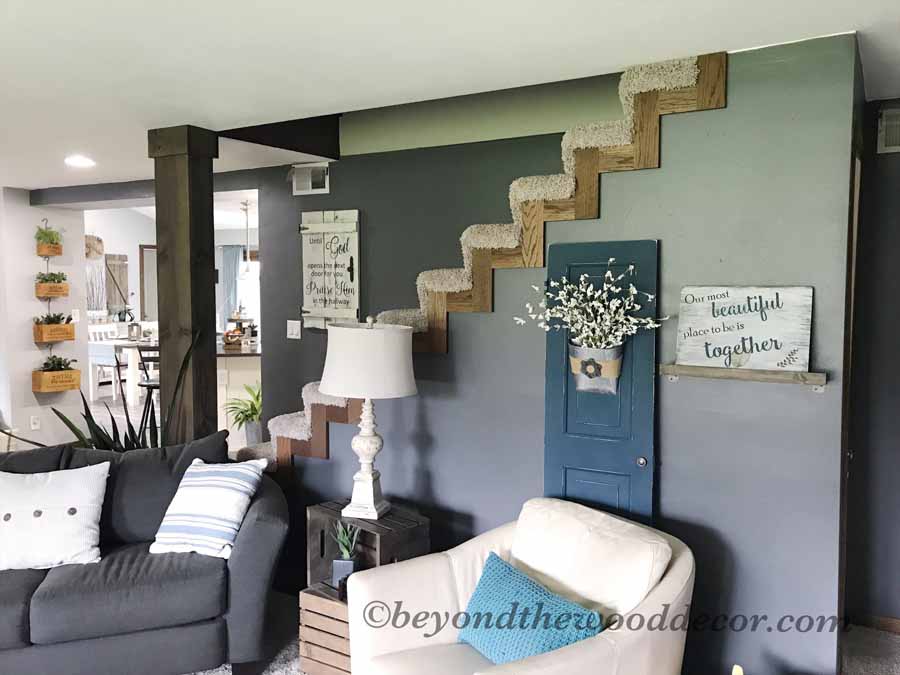 This is a better photo so you can see they are the same color. Also, you can see in the far right the lighter grey on the other walls. The room has been this color for almost 10 years now so it was due for a face lift.
Unfortunately, this room gets just daylight but no sun since it faces north. It always appears darker in this room and I realized the paint also made it darker. So I went to the opposite end of the paint spectrum! 🙂 Since the little bit of light that comes in the room reflects off that wall I thought a beautiful off white color would help brighten things up.
My paint decision was Alabaster by Sherwin Williams. It is a beautiful soft white color that I think looks fabulous with the dark woods I have in the room.
Let the painting begin
So this past Sunday funday I brought out the paint roller, old sheets, brush, tape and trimmer pad and off I went.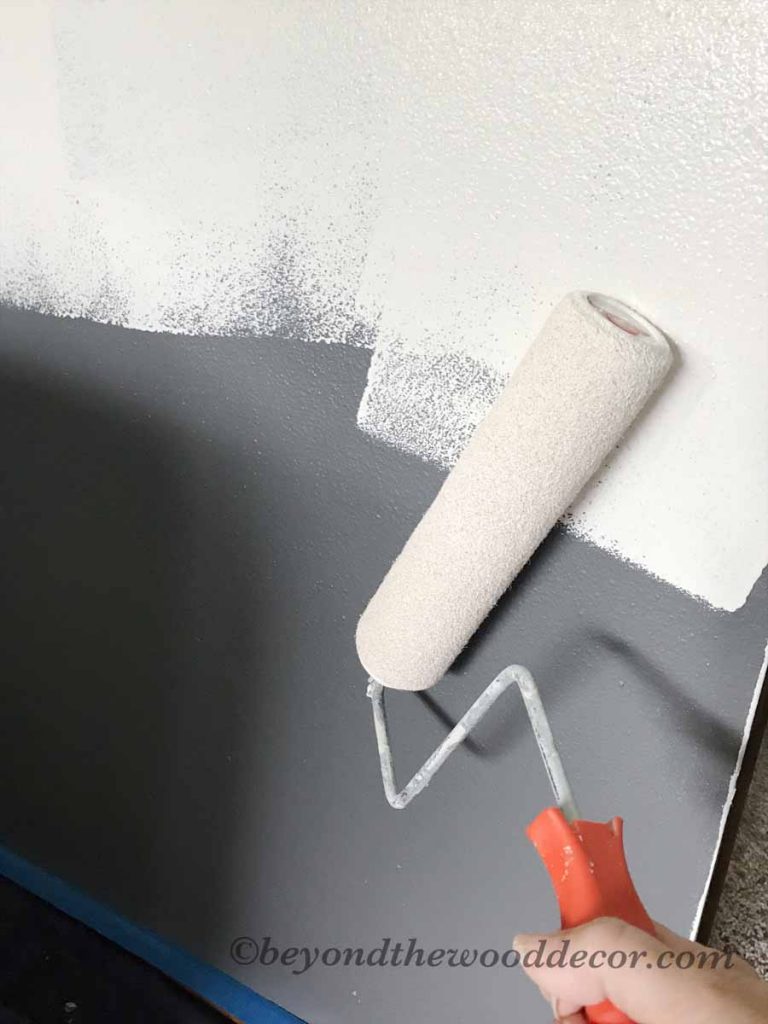 Say WOW….. can you see the change already since the colors are so the opposite! I mean I could not roll fast enough cuz I was so excited with the brightness already. But of course it needed two coats! bummer!
I was so excited after that one wall I had to put the furniture back and see how it looked before starting the steps. Oh come on what a difference hey! Look at the wall going up the steps and the new white wall……difference of night and day, right?! Now lets get it DONE!
Are you ready for the end result. I mean it is just paint and just 3 walls but, oh my gosh it looks totally different.
The reveal of this gorgeous bright room!
I am so excited about this simple change. Now, truth be told, painting is my WORST thing to do. I seriously hate it. Buuuutttt I also know it makes such a change in a room I just need to stay focused on the end result and get it done. Plus that is the only way it will get done is if I do it because hubs hates it too, lol. He was busy out in the garage tinkering on his show car so I just painted away. When he came in it was all done. Yay!
I know I will get questions where the rail is on the steps. Well about 10 years ago when we got new carpet we took it down. I loved how it opened it up and could not decide what kind of rail I wanted. So since it is just hubs and I here now we were in no hurry to get one. Time sure flies because we still have not got one. lol OOPS!
Now I want more than anything to take the carpet off the steps and have a two tone look with the backs being the white and the treads the stain of the post. But hubs is not on board. I really know that would look best because we all know the carpet on steps gets so worn and the edges always look dirty. So I am really sick of that. Hopefully one day he will see my vision because I usually am right with indoor styling. lol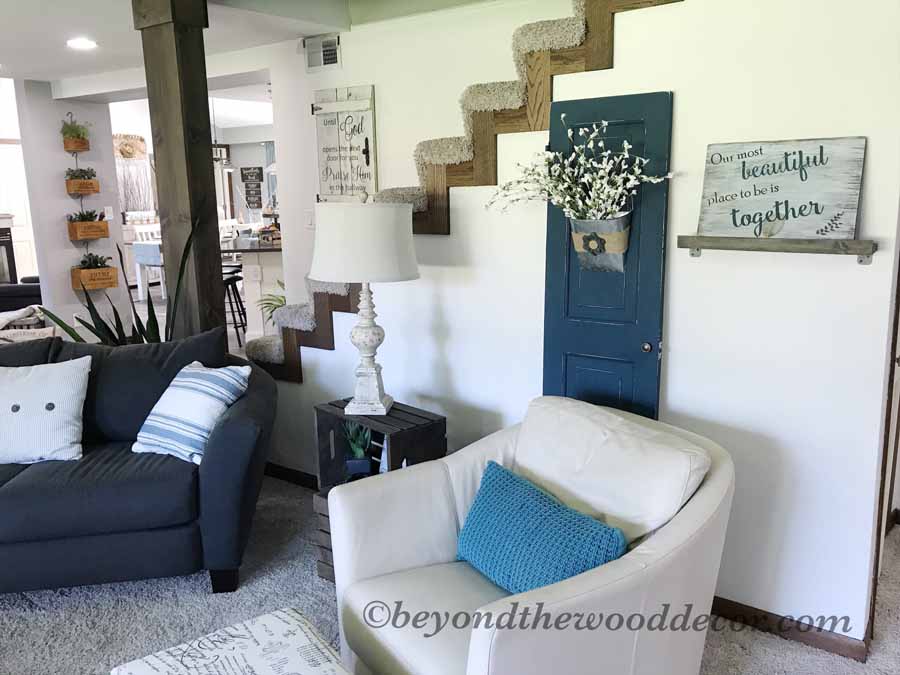 Here I go already making changes on the shelves in the right of the photo. Any of you catch that? Take a look at the photo above with the two shelves compared to this one below…..I seriously cannot leave anything alone, lol. But I did not buy anything. I just switched out things from the other shelves in the room. So technically this huge change in the room just costed me $35 for the paint!
I took photos one day then also the next day after I restyled some things and the sun was out so lighting was better. Plus I always need to shake things up! Coming soon in another post I will share the whole room!
I love how bright it appears now and just feels like a new room. But in reality it was just paint. Look how beautiful my blue door decor and shelf pop off that wall now.
The picture on the shelf next to the blue door is hiding my thermostat. If you missed that post you can see it here.
The sign on the steps that I made did pop more on the dark wall but it still looks great so I decided to keep it there.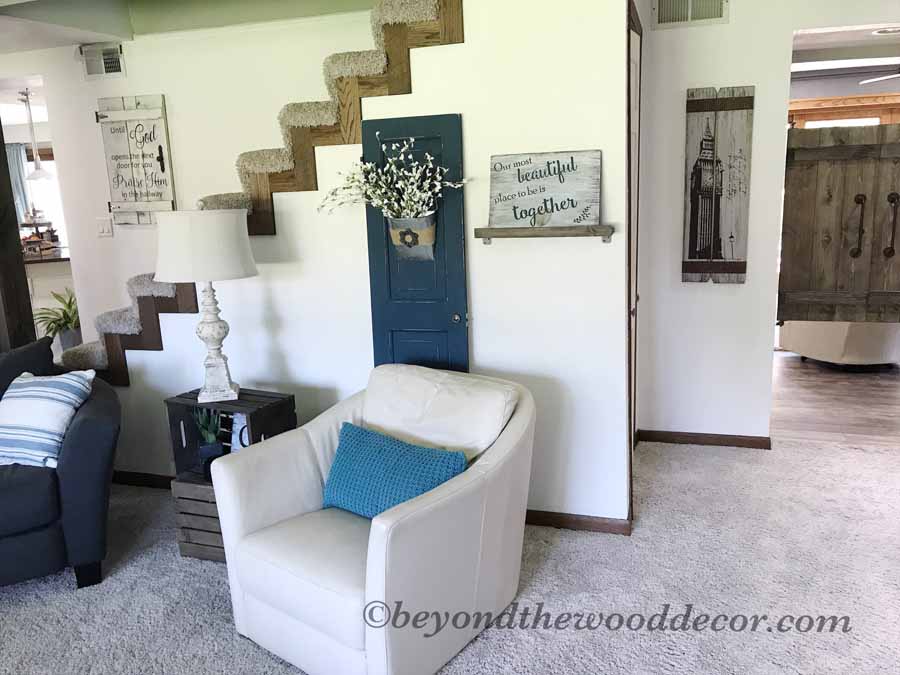 The other walls in the room are a lighter grey which did look great with the dark grey because it was nice contrast. Now I am debating if I will paint the other walls the same color or keep them the grey for a little change of color. Undecided for now…..just one of those things I have to sit back and look at it for awhile. I think the TV surround would really pop on the white wall as well but for now I will leave it until I really decide what will look best.
I think if anything I will paint the shelves on the big wall a white. Because up against that grey and all the wood on the TV surround would look great. So we will see!
But now so much more painting needs to be done
I stopped painting when I got to the second level where that trim is.  Because, honestly, for anyone that has a second story the staircase is crazy high. I am afraid to even ask hubs to help with that because he is so busy I never like bothering him. But I also know I am not a fan of heights and on steps to top it off scares the heebie jeebies out of me, lol.
Maybe I should hire someone, hey? lol I did think about it but we have never hired anyone except for having carpet installed. But maybe there is a first time for everything, right?! I bet they could slap that out in no time. If any local friends have a referral send my way as I really would consider it.
So anyway, in the end that whole staircase will be the alabaster since the second story is also dark. That will open it up more and be much brighter. But for now this is what I got done.
Those swinging barn doors also look so much better now in the brighter corner. Right! Behind those doors is my office and you can see more of that room here. 
If you missed the post on the swinging barn doors you can see it here and wow those photos in that post are sooooo dark. I love this new bright color!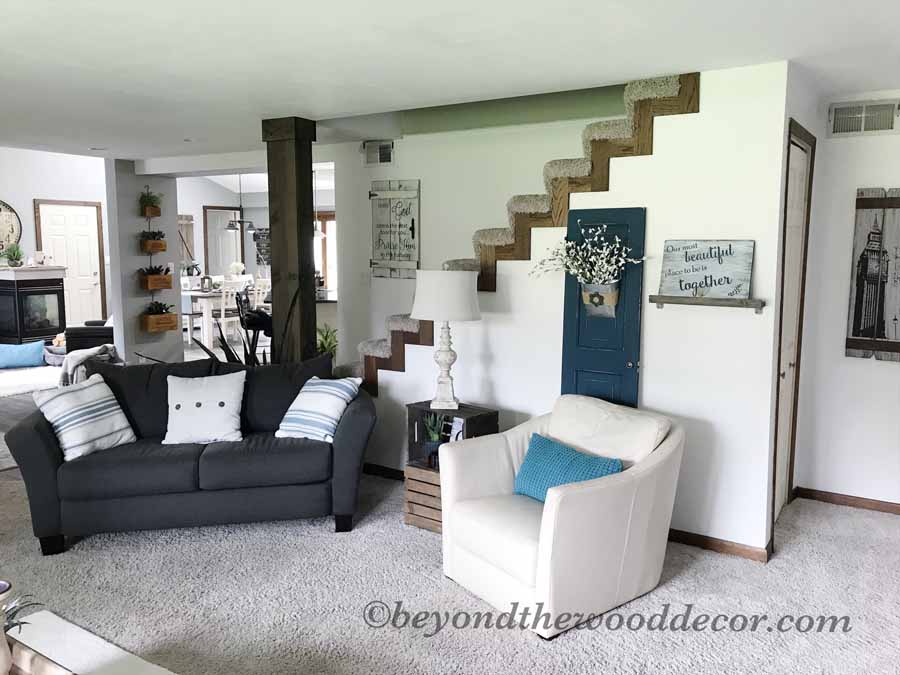 That's all for today my friends. So many more projects coming soon so be sure to check back. But if you don't want to miss a post be sure to sign up to my newsletter below. That way you will get an email each time I publish a new blog post. I will never share your email and you will not be spammed with a ton of emails from me. I appreciate everyone who has signed up already!