Hello hello! Some of you that follow me on facebook already know but for those of you that have not heard my daughter had her baby! Woot Woot and it's a BOY!
That is the reason for me being MIA last week. The little nugget caught us off guard arriving two weeks early, but was welcomed with loving arms.
Cayden James arrived on February 25, 2019 at 9:44a.m. weighing in at 6lbs 13 oz, 18.5″ tall. His big sisters are excited as can be, just as our entire family loves him already.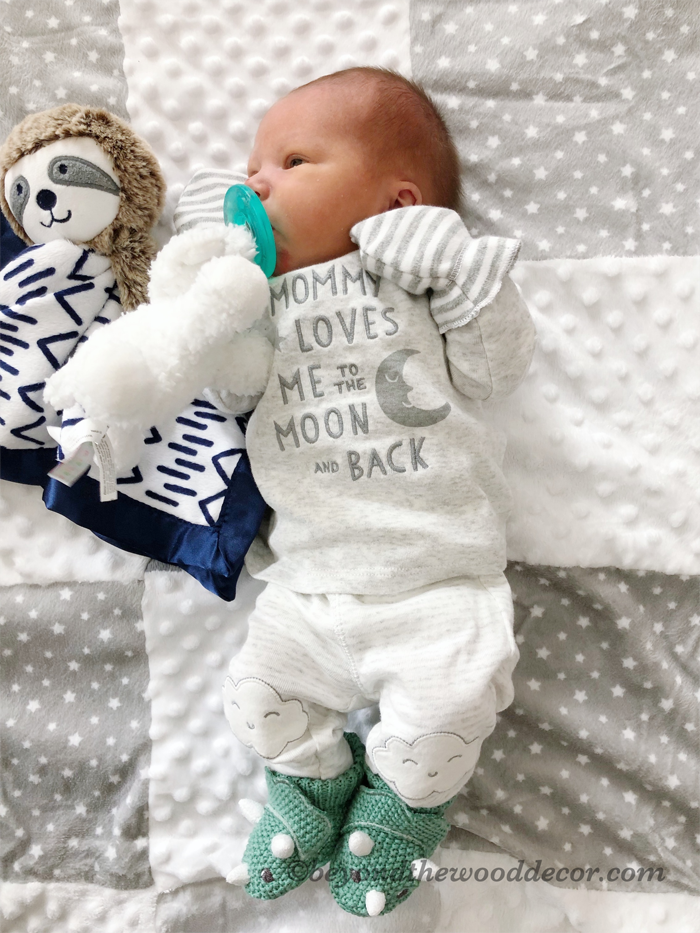 I was so excited to add his name to my grandparents sign. Watching it grow puts a big smile on my face!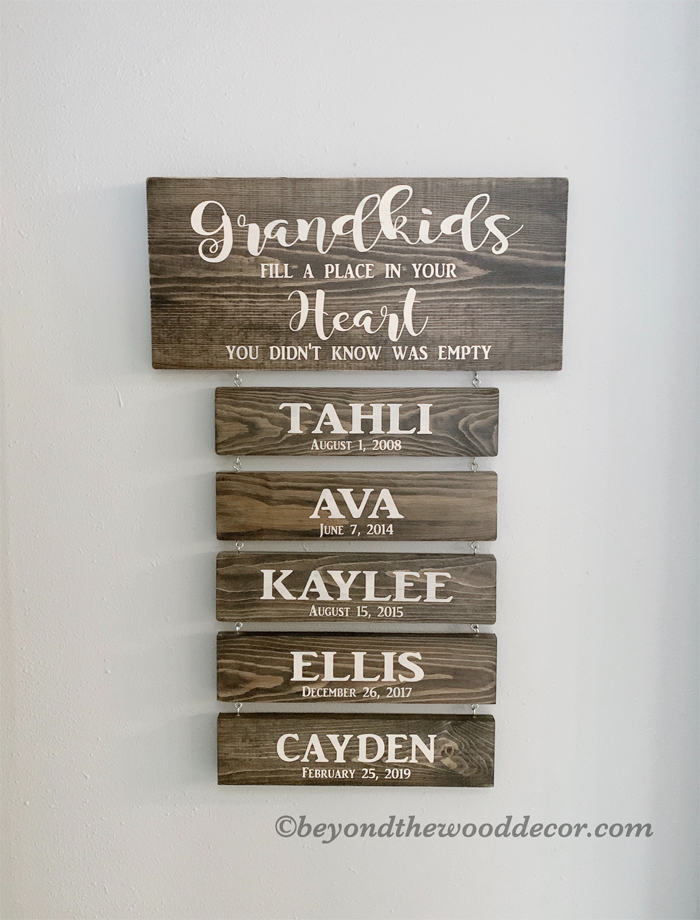 One week old already and mom is adjusting to little sleep again, but appreciates all the help her hubby gives with caring for the other two girls. Big sisters Ava (4.5) and Kaylee (3.5) adore their baby brother already.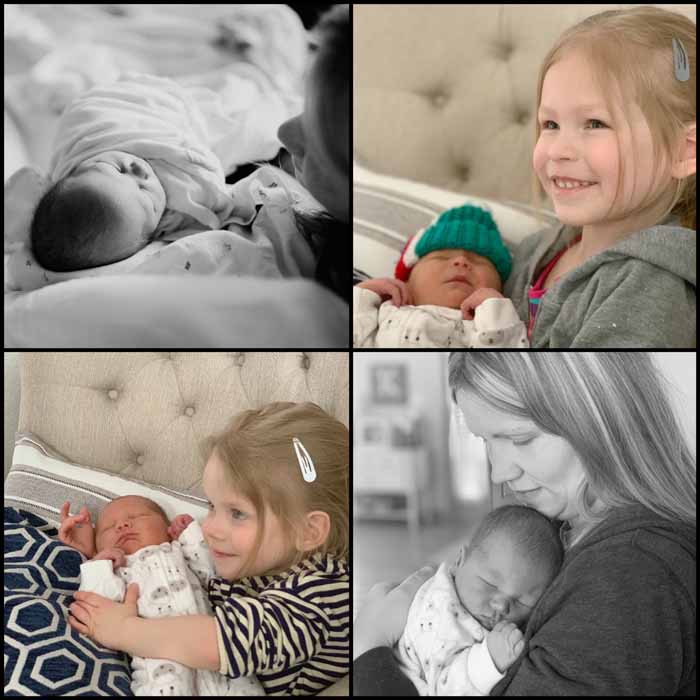 Just such miracles how small they are and how fast they grow up. My other grandson is already 14 months and I cannot believe how big he is already compared to lil' Cayden. Grand babies are the BEST EVER, spoil them rotten and give 'em back!
Painted Shelf
Moving on…..Last weekend I made a super simple change in my kitchen. As many of you know, instead of curtains on this small window, I decided to build a simple shelf so the window could bring in as much light as possible.
A few years ago when I made it, for some reason I stained it my favorite rustic stain. I have loved it, but a few months back it dawned on me it should be the same color as my cabinets, right?! Here is the before….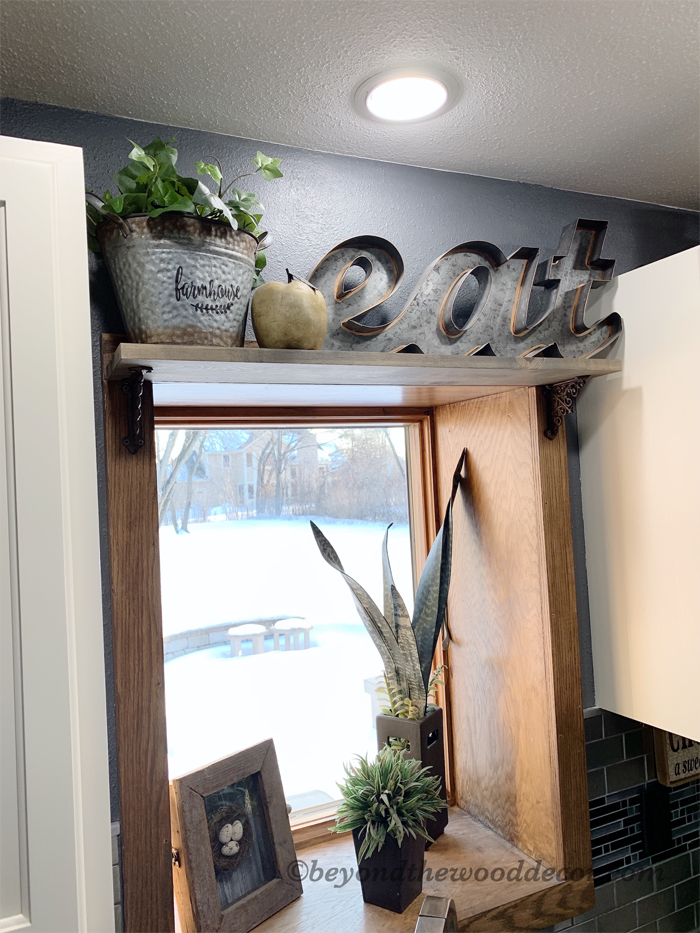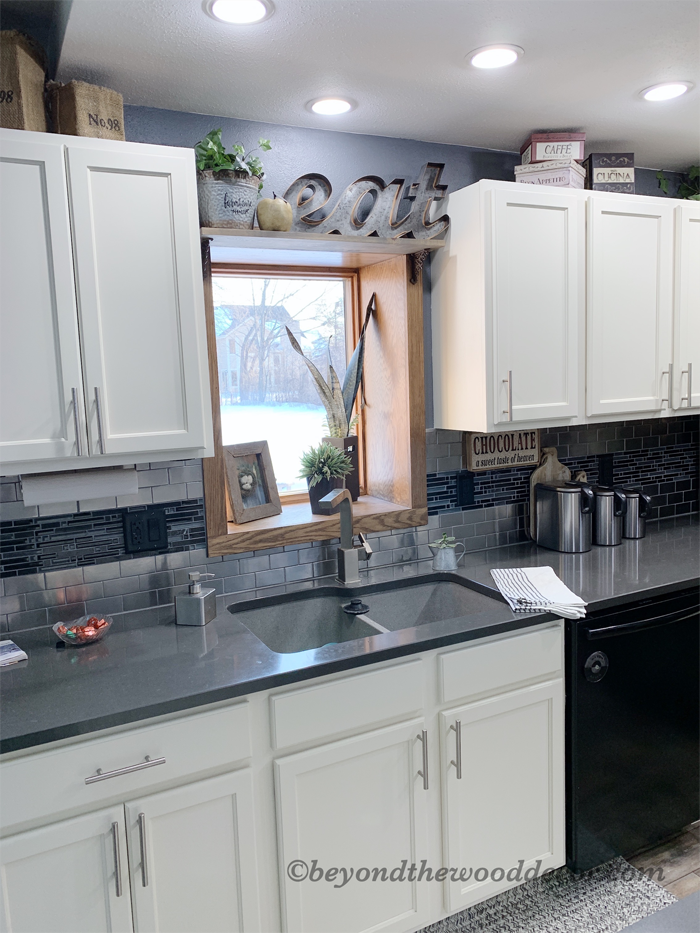 So this past weekend I finally took it down and here is the after…..I mean seriously it made such a huge difference, right! I love it so much more now and wish I would have done it sooner. It totally pops so much better now.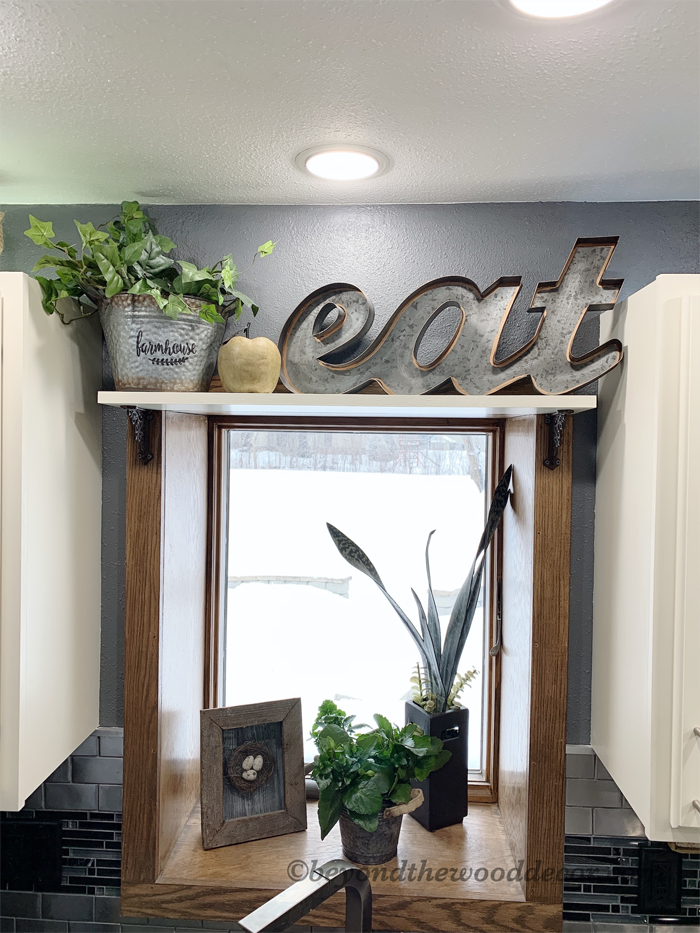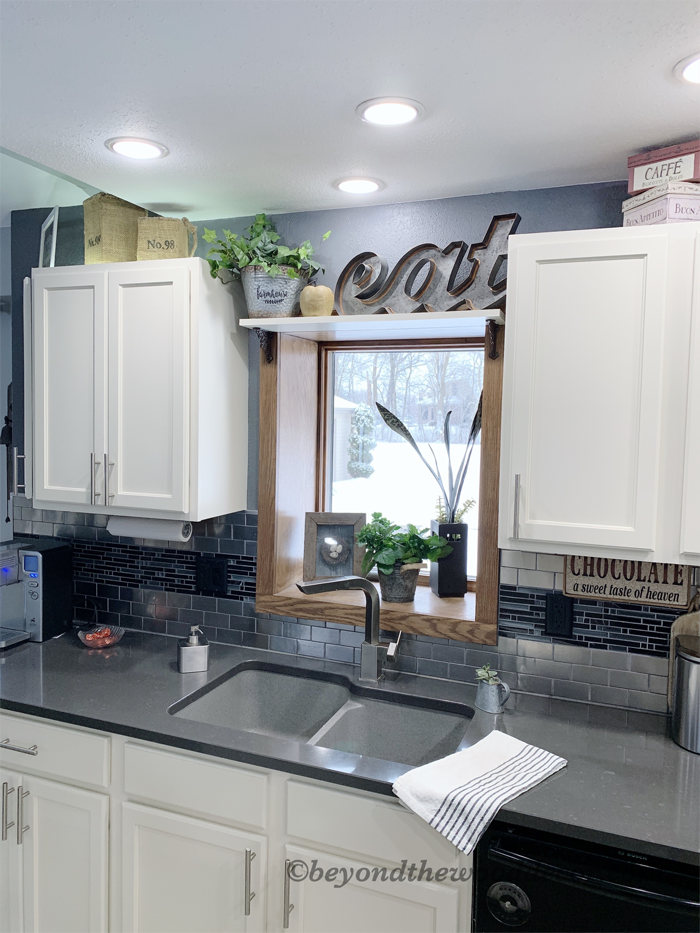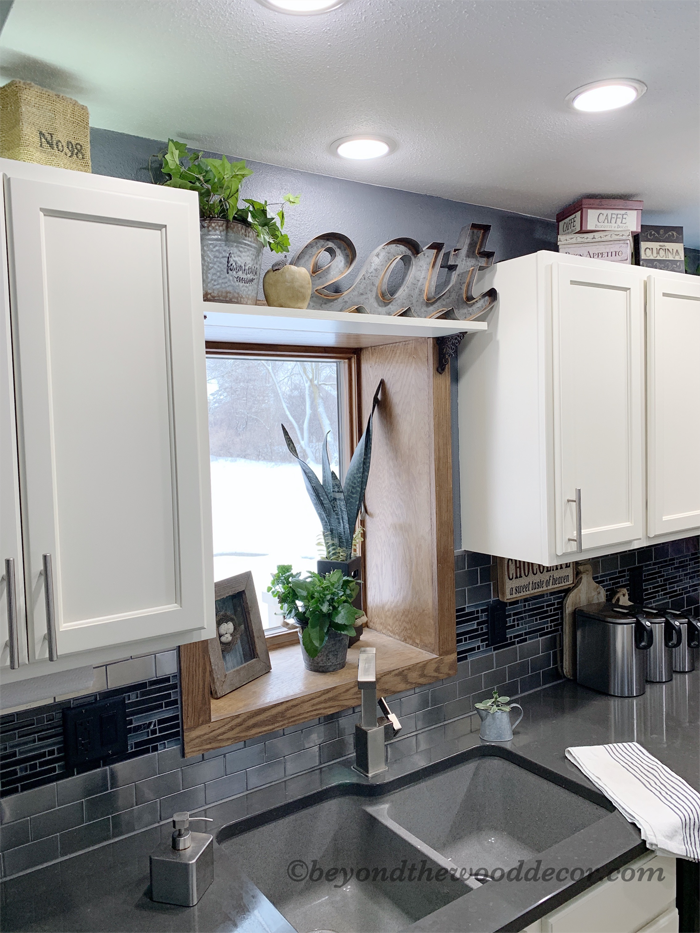 I think being that cream color the light reflects off of it even more now and just makes it brighter and compliments the trim much better.
So there is a quick tip on replacing window treatments in your kitchen. Just put up a shelf to let more light in and you have more room to decorate, double bonus! You can do this trick in any room but I love it on this small kitchen window.
1 Year Review on my Painted Cabinets
For those of you that have been following along from day one, you know we painted our maple cabinets in February 2018. That post can be seen here along with the before shots. It was such a big project but in the end so worth it.
I get asked all the time how my cabinets are holding up and do I have any regrets or advise on changes.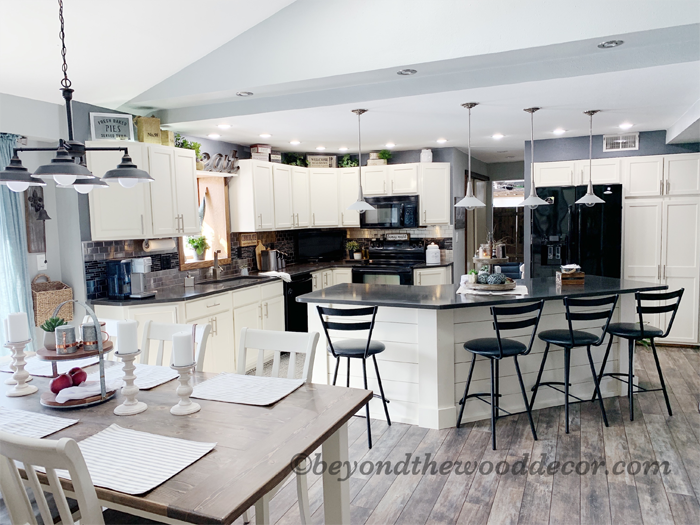 The answer would be 100% NO regrets whatsoever. But I will share one thing I have experienced with the color and my remedy on fixing it.
A couple drawers such as my silverware drawer and the cabinet that holds the garbage can will get these small scuff marks every few months. I think because they are used daily and just my nails etc will scratch them. See close up what I mean…
The first time I saw that I thought uh oh this is not good and do I have to touch up already? But NOPE, I was pleasantly surprised they are not actual scratches into the paint but more like scuff marks that easily wipe off with a magic eraser!
Oh how I love magic erasers. They are the best for so many things.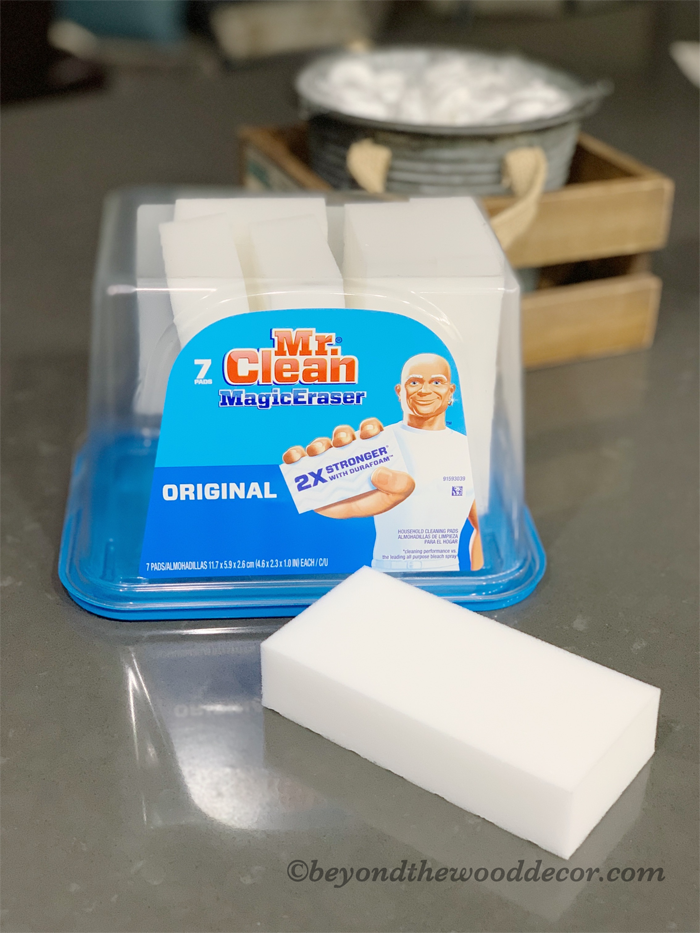 So just wet your magic eraser and literally they all wipe off like "magic". Now every so often I walk around looking if I see any of the scuff marks and take care of them right away.
As for your everyday splatters from cooking or baking I will take a damp rag on them and it wipes right off.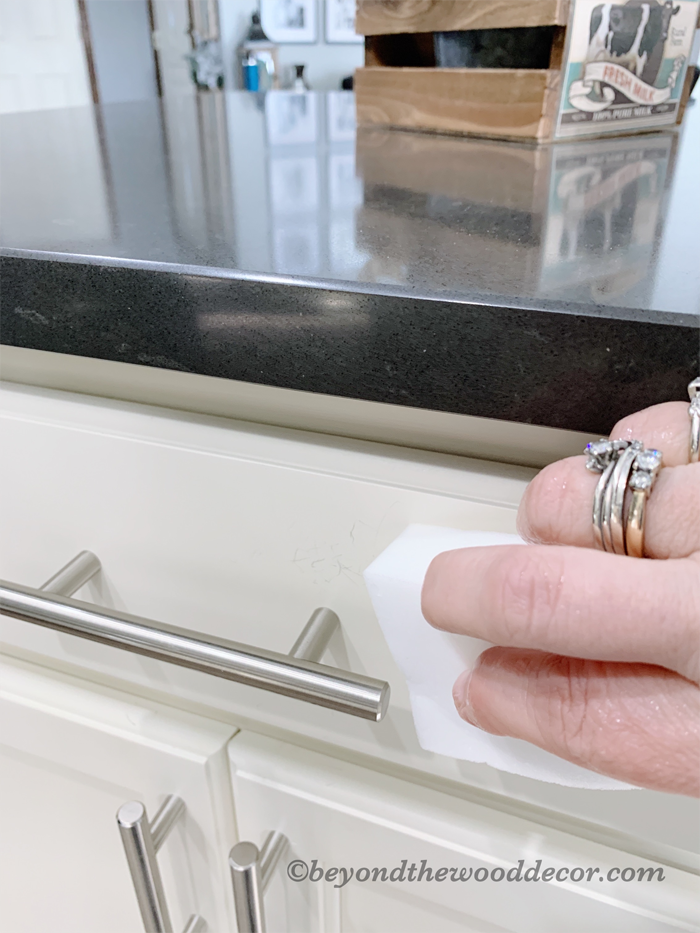 Just like that they are gone! Yay!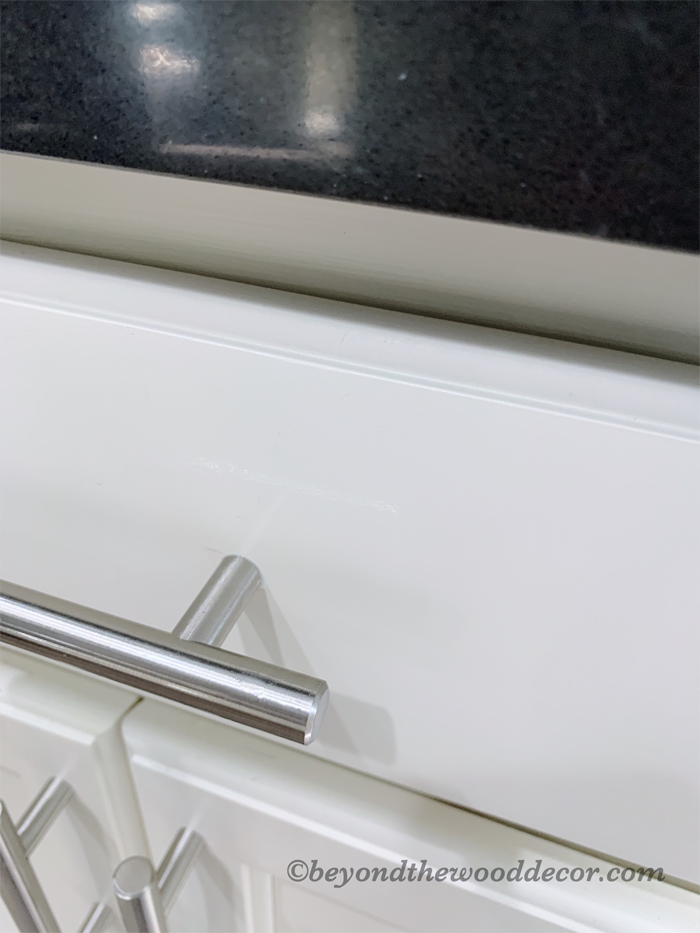 I still have not switched out these lights. One day hopefully soon I will because I want something different. I initially was going to go with barn light pendants but the ones I wanted no longer come in the color I want to match my other lights so I am in search of other ones.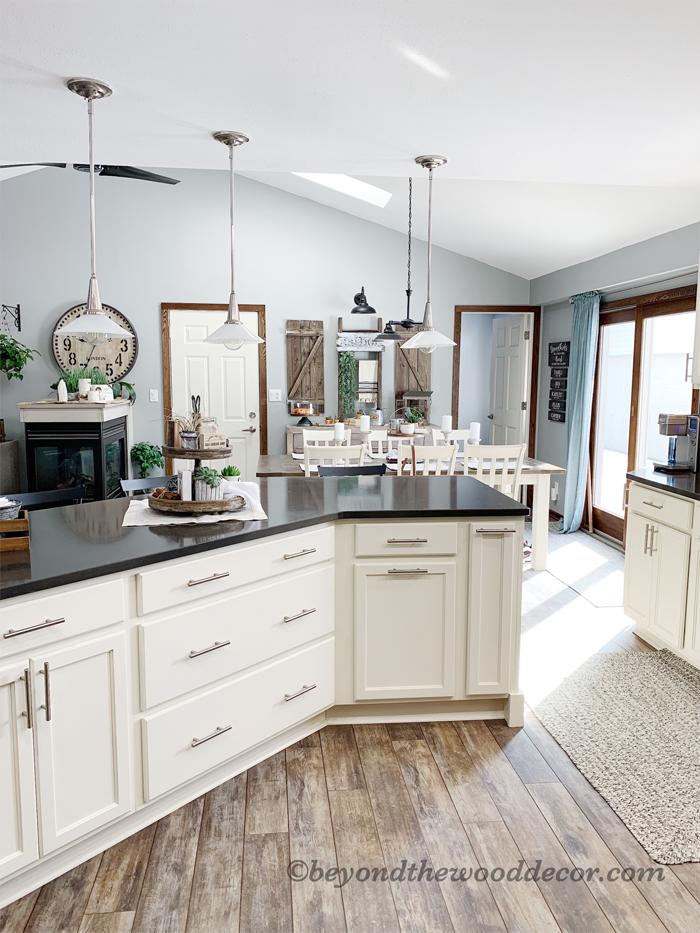 I really think the Benjamin Moore paint we used is so durable and hard which is a plus. Last year before my 1 year old grandson started walking he was in a walker and he would buzz around here and hit the cabinets from time to time. Each time he hit them I would inspect if he did any damage and NOPE no chips at all.
I really recommend spraying them like we did with this spray gun because it gave the finish such a smooth feel just as if they were done in a factory from day one. But in reality they are 19 year old cabinets.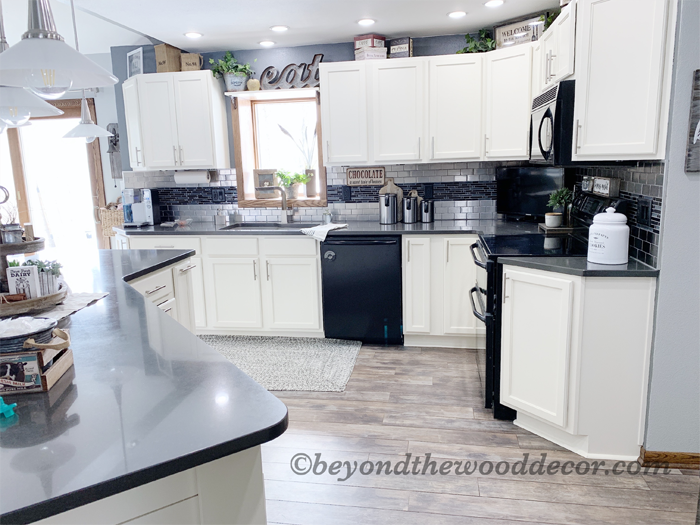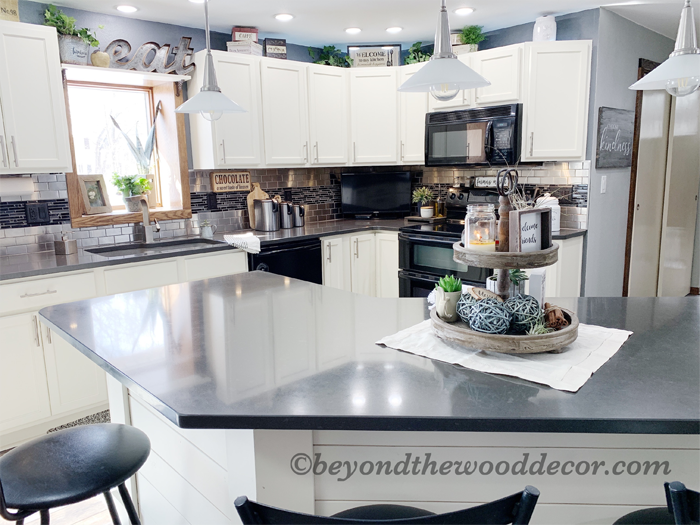 I am still in love with the island as well. I love that shiplap around it and yes, the lip at the bottom by the trim will get dusty from time to time, but we just clean it up with a damp rag and it's good as new.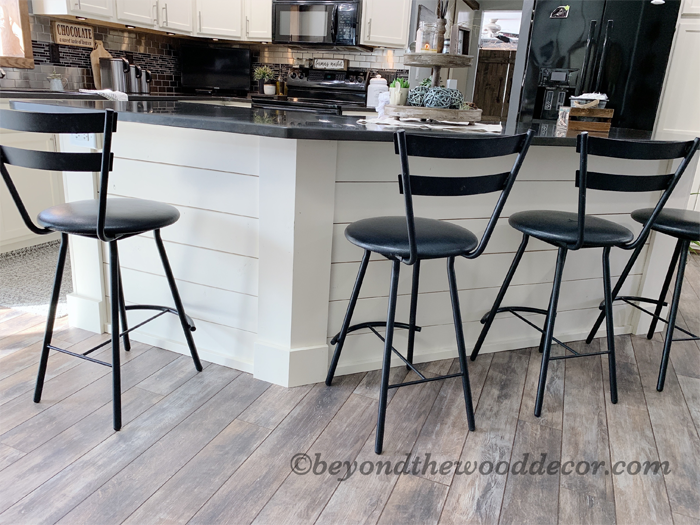 Everybody thinks my cabinets are white until they see my white cookie jar. Then its very obvious they are an off white, almost like a cream.
Oh how I still LOVE this cookie jar. You can read more about it in this post on where I purchased it. I really think it would make a great gift idea for someone hard to buy for!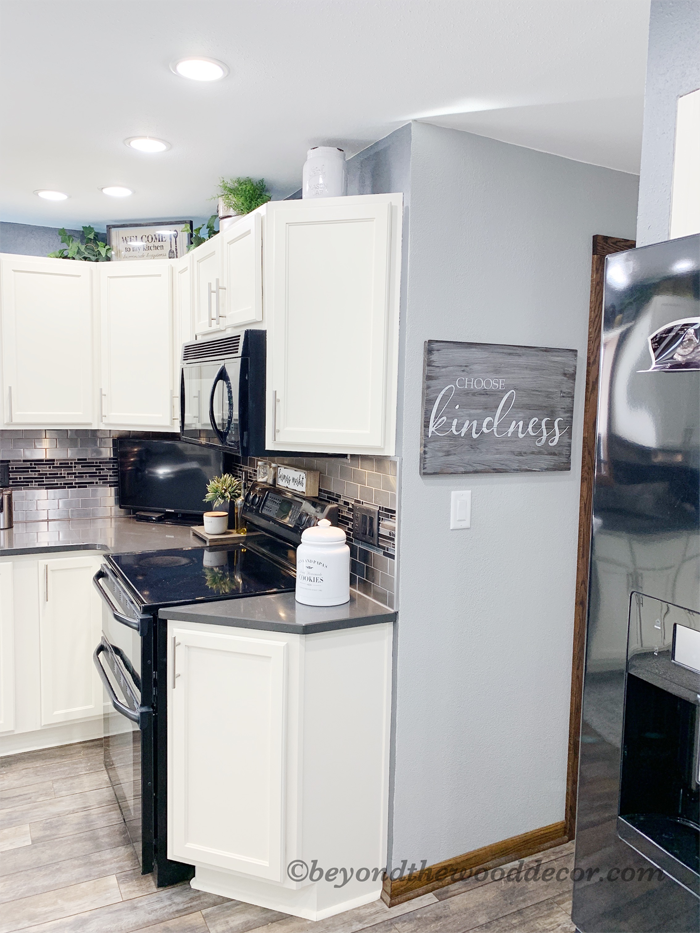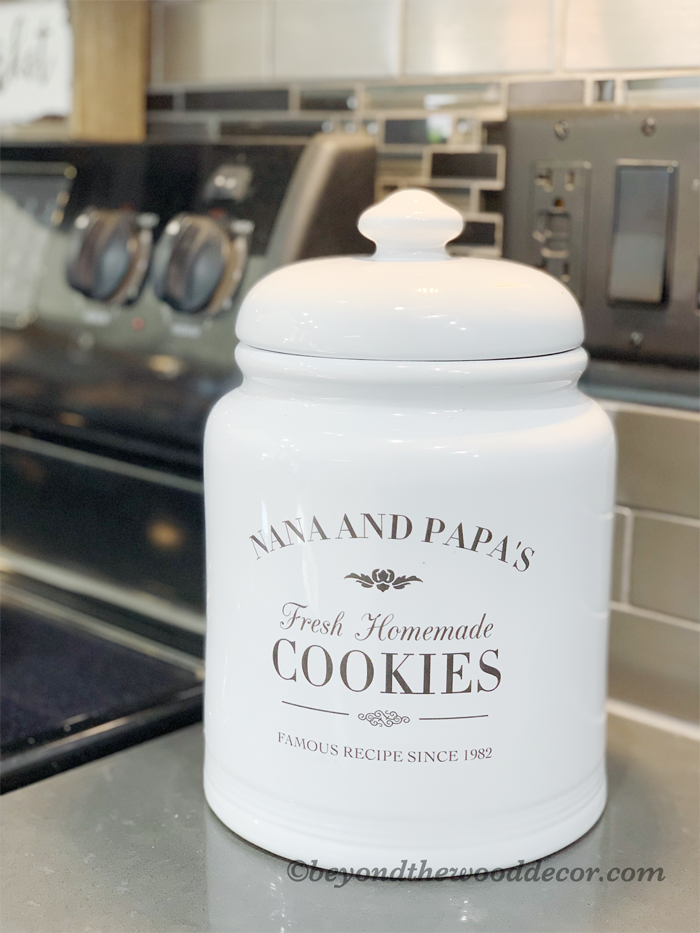 So there you have it. My final thoughts are nothing but all positives. If you are wanting to paint yours but afraid of them chipping or looking cheap if you follow my steps and what I used you will have NO regrets.
My hubby was totally against it for so many years because that was his fear of cheap brush mark looking cabinets. Honestly, it is just the opposite and they look like they were professionally done from a manufacturer. I say go for it and enjoy your new kitchen!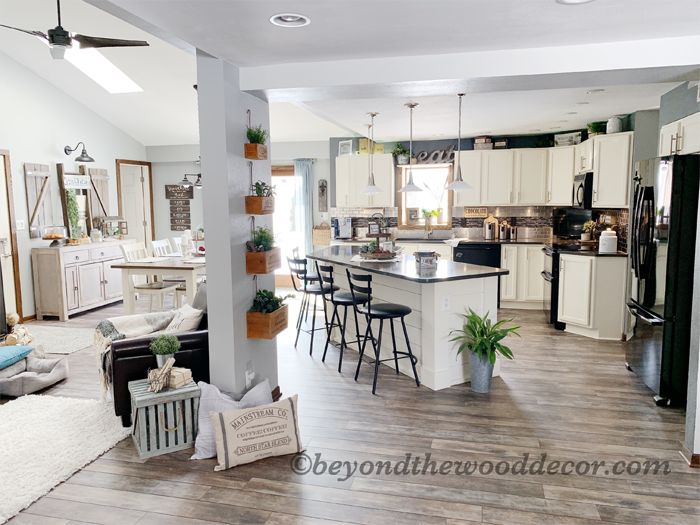 Next on the blog a fun little DIY project I think you all will enjoy. Best part is it's under $3 but is super cute!
I have also been busy making some changes in our home office and will share that all with you as soon as it gets done. Until then I hope you all have a great week, friends!
xoxo