Well hello friends and welcome first day of summer! Does anybody have any vacation plans? Hubs and I do stay-cations since our dog is diabetic and blind and needs insulin twice a day so it's hard to find someone to care for her.
But honestly, we enjoy staying home with her and one day we will be able to venture out.
Remember last year I shared our gazebo makeover (you can find that post here) and that is where we love spending time when the bugs or mosquitoes are bad. Just feels like we are still outdoors being surrounded by open windows but yet not getting bit up. Our little home oasis!
This year I hung this petunia on the side of the door and it is growing like crazy. Yes, I did go to my favorite greenhouse end of May and found some huge flowers again. But I went for a second time last week and they were getting very scarce already. So I think May and early June are the best times to go.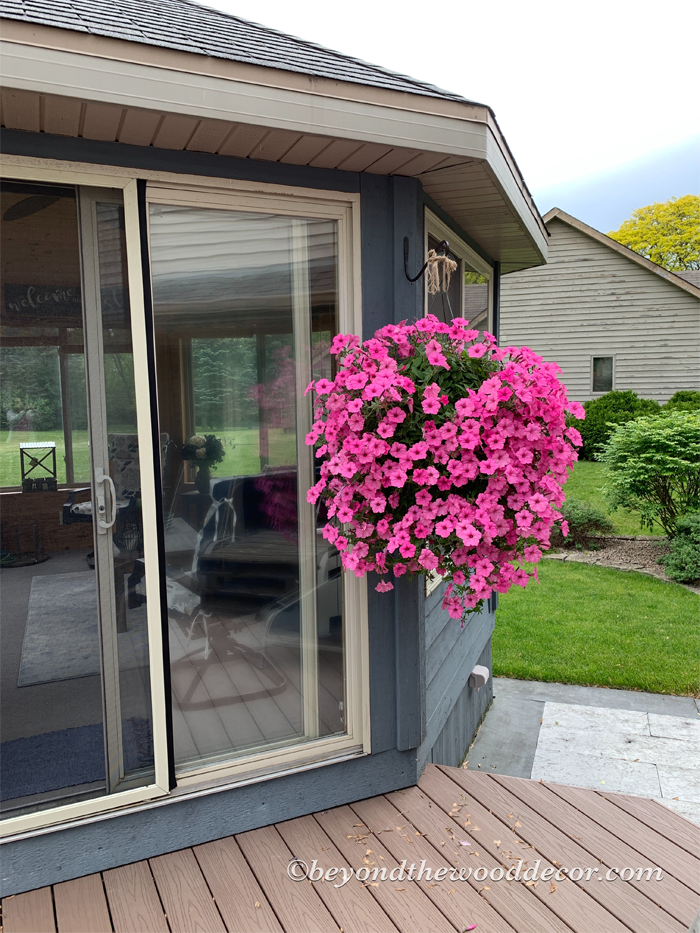 I just love this time of year watching all the plants and flowers grow!
Office Makeover
Alrighty, moving onto my office makeover. I am so excited how it turned out. Because this room is open concept to our kitchen, dinette, and living room I needed it all to flow real nicely. Ever since we painted our kitchen cabinets the office cabinets were such an eyesore.
In this blog post here I shared many photos of the before and the plans I had for the room. Well most of those plans changed because in May, hubs and I celebrated our 37th wedding anniversary and he told me as one of my gifts I could get the desk I really wanted. Yay!!!! I was so excited and started to watch for the price to go down. It finally went to a reasonable price so I ordered it.
Now to refresh your memory here was the before photo. It really was a nice office but after 19 years change is good, right! The maple color cabinets I was so over and I honestly no longer needed all that storage.
I certainly took my time on this project because I was buying new of many things so it took many months. The only painting I had to do was where the cabinets came down. Because I did just paint the whole room a couple years ago so it did not need paint yet.
Drum roll…..here is the after…..
I am sooooo loving that desk because it is solid wood and has 3 huge drawers. It was also so easy to put together you just had to bolt in the legs. I purchased this one from Wayfair and you do need to keep an eye on anything from there as they really go up and down a lot. They also run great sales. Right now its priced over $500 but really it does go down real often.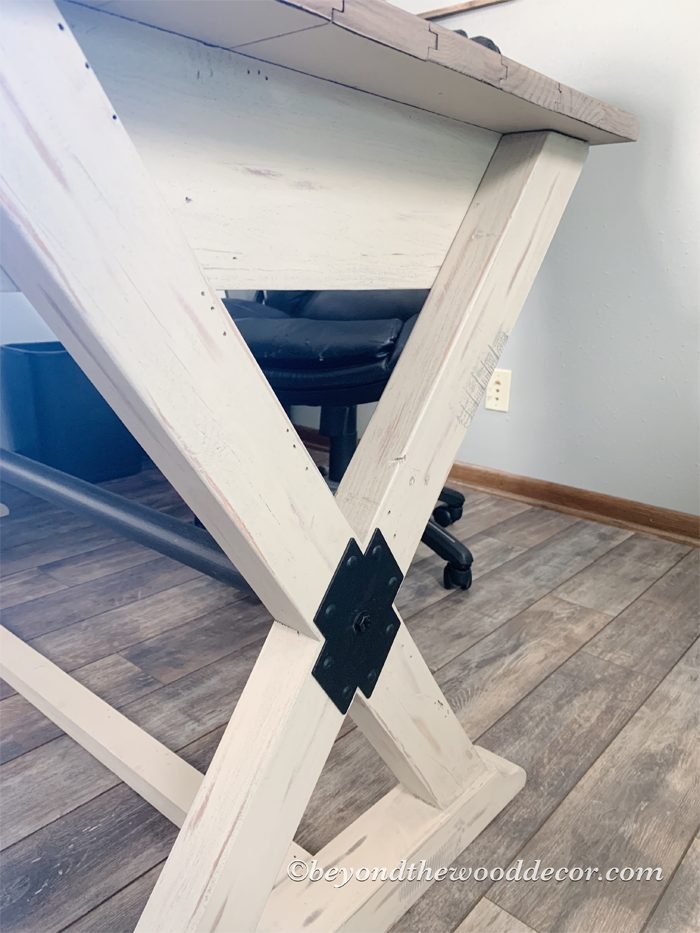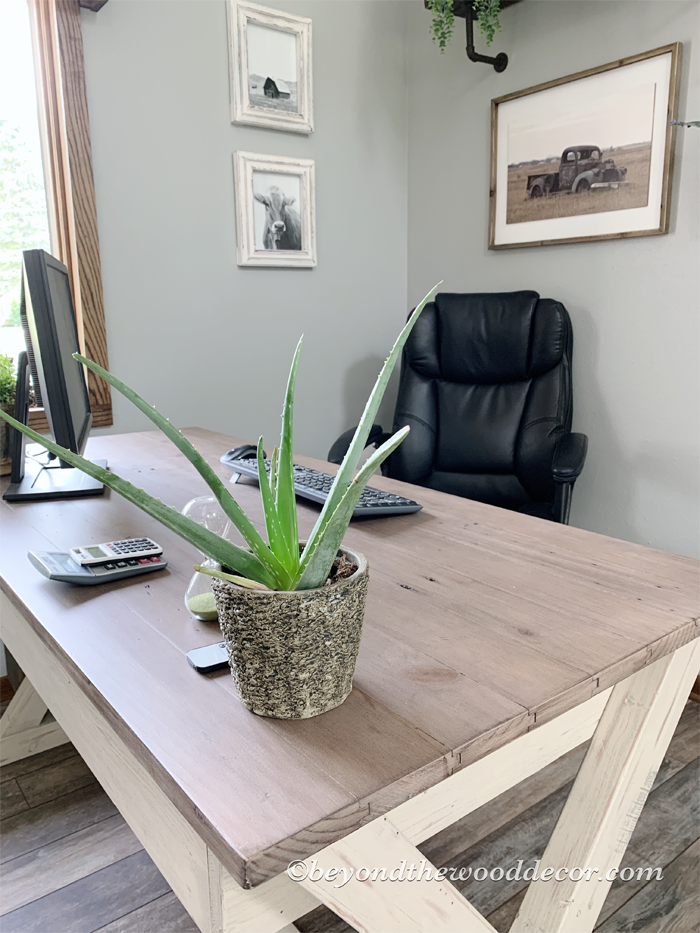 I actually use this desk very little but hubs uses it almost daily. We do have a big desktop computer at it and I am not a fan of having that big PC and all the cords showing so I built this little case for it. Designing it as a crate style helps keep circulation running through it so it does not over heat. I also put wheels on it so I can just roll it out to clean under it and it works great. I love how it turned out and keeps that PC hidden.
Look at that bench
Oh yes, lets talk about that bench. I got an amazing deal on it I could not pass it up. It is actually available on many different sites such as WayFair or Birch Lane but I found it at 50% off at Kohls Department Store.
That photo gallery wall remained as is and I talked all about it on where I got it in this post here. I did update some of the photos but loving how warm the black and white photos look in the room.
The top opens on the bench and has so much room for storage. Each of the door fronts are just for show and they do not open. I have it filled with shoes and I love sitting there to put on my shoes.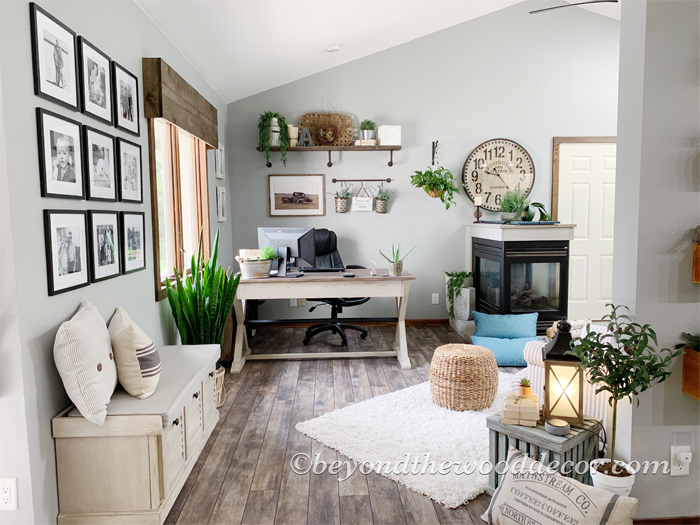 Finishing touch was the chair!
Yup, had to get rid of my brown leather chairs that I did love but again wanted to go with lighter and brighter. Plus this style really finished off the farmhouse vibe in the room, right!
You can never go wrong with stripes, right? But lets be honest as adorable as this chair is it is not the most comfortable chair I sat in. It really is firm which is totally fine for the space it is in because who wants to get all cozy in an office anyway, right?!
But from what I read in the reviews it does soften up in time, so we will see. For those of you interested I did also get the chair on Wayfair and again, it goes on sale often. For the price I paid under $200 I think it is perfect and added that finishing touch to my space.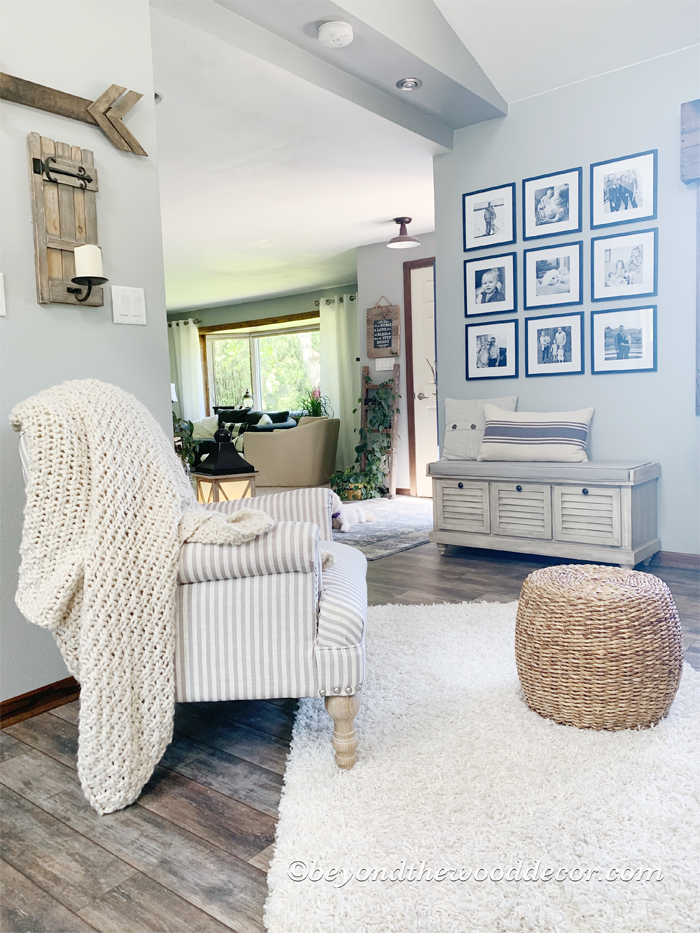 Accessories for color
Adding many accessories and green plants really brought the room together and brings in soft color. As you can tell I am a very neutral girl but you do you, right!
I do love the warm neutral colors with the wood tones as it is very calming. On my list of "to do's" for that room I finished it all except I did not paint over the gold on the fireplace yet and will get to that someday.
For the most part it is complete and really coordinates nicely with all the rooms around it. Because I sold the old desk and chairs it certainly was a help to afford new. So that's the way to do it when you want to update a room, sell the old and apply the profit toward the new!
Since finishing this room it really made me want a new desk in my work office which is in the back of the house. So that was my next project. But of course buying another desk was not in the budget so I decided to make one. It is almost done and I will be sharing that very soon.
I hope you enjoyed this little makeover and gave you some inspiration for your own space. I would love to hear in the comments your thoughts on the room!
Remember, we all have different taste and design styles and not one way is right nor wrong. You do you since you need to love the space you live in daily.
Have a great weekend friends and I will be back here next week to share some more design ideas!
xoxoxo