Happy 2019 friends! I think 2018 was the fastest year of my life so far. I totally feel like I just got use to writing and saying 2018 and now its already over. Just like snap your fingers and zap it's gone!
Overall though, it was such a good year in my business and family life. This new year might even be better as we have another grand baby coming beginning March. We don't know if its a boy or girl so it is extra exciting!
How many of you find after the holidays as you put your Christmas decor away you feel the need to clean and redecorate? That was totally me this past week. Once I had the Christmas decor packed away and I brought my other stuff back out I totally felt the need to shake things up. So in my kitchen and living room I changed up the decor by just switching things around. That way it was a FREE makeover by using everything I already had or new things gifted to me. (I will share more in another post)
I also started cleaning out closets and just purging and organizing. What is it with a new year that makes us do that? I guess I just feel a new year gives us new beginnings, new opportunities and fresh starts. I also think it is the time to start with new hopes and dreams, right?!
Loving my new planner!
Each year I am also excited to start fresh with a clean new planner. This year my daughter gave me this Erin Condren one for Christmas and I seriously LOVE IT!
I am a digital calendar user on my iphone that is shared with my hubs on our everyday home stuff. But for work I find a paper planner keeps me on track and more organized with my weekly goals and tasks.
I think many planners have such great inspirational quotes in them and this one does too. I love reading them! Here are a few.
Are these fantastic or what?! Thinking ahead I love at the end of the year you can totally tear those pages out and cut those quotes to a 5×7 or 4 x 6 and frame them to set around your home.
Reflecting on 2018
As I reflect on 2018 I honestly could not be more thankful for how much my business has grown. The addition of adding this blog in 2018 has also brought in new followers and for that I am so very thankful. I have enjoyed sharing my DIY projects with you as well as opening up my home to share tips and tricks for decorating on a budget.
My most liked and most comments received in email or in messenger was the post where I took you along on the makeover of our kitchen and you can see that here. Second was our bedroom makeover and that post can be seen here.
Those were two of our bigger projects in 2018 and I was happy to share them with you and even happier you enjoyed them. Thank you from the bottom of my heart for all your kind comments.
Now whats in store for 2019 you ask….oooh just follow along and you will see!
Just One Word
For all of my long time followers you know I am not one to make New Year resolutions. I mean, how many of us have actually kept our resolution throughout the entire year? Some resolutions end up forgotten or it becomes old and we give up, right?! Have you made a resolution that you stuck to or forgotten about?
Instead of a resolution I do the one word challenge each year. Picking one word that encompasses how I want to approach the New Year. To keep on track with my one word I always paint it on a small sign and I display it in my office at my desk so each day it is there in front of me. See them below on each side of my monitor.
In 2017 my word was "trust" and in 2018 my word was "enough". I loved both of them and still follow them each day.
It has been a yearly tradition that I do a drawing for a number of my followers to have an opportunity to win a painted sign with your one word for the year. I always do this in my facebook group but this year I want to do it right here on the blog.
A couple reasons. I am trying to encourage all of my Facebook followers to follow me here on my website. I feel this is the place that will always be here and the place where we can connect better. Facebook is so hit and miss if you see my posts but my blog you get an email each time I have a new blog post.
But please know I will continue to post on facebook but my blog you will learn more about me and my tips and tricks I share with decorating on a budget. I also bring you along on my own home DIY projects that I am hoping will be inspiring.
Here are the ones I created for the winners in 2018!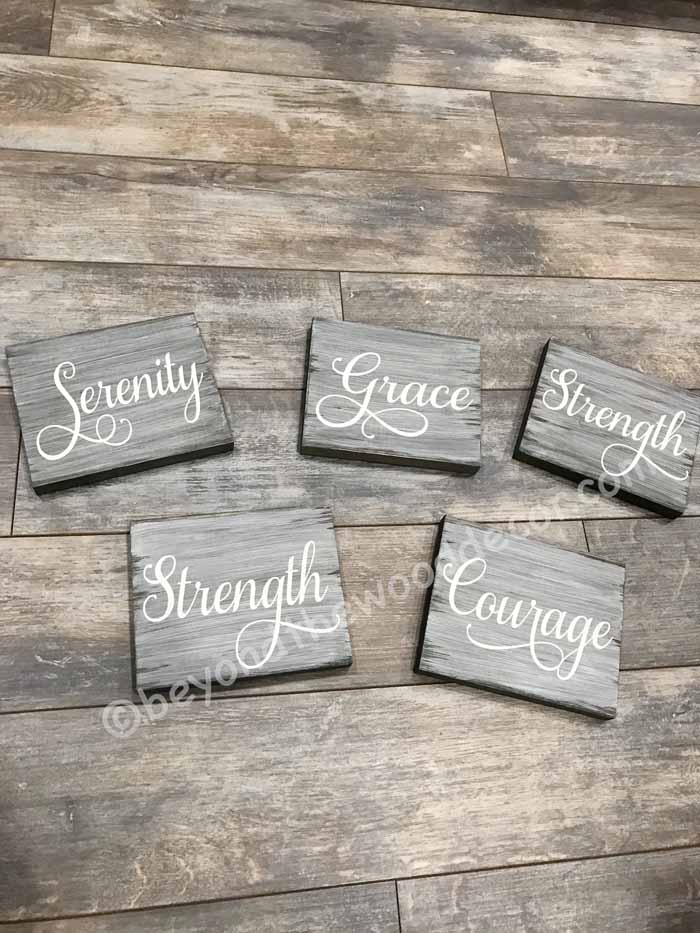 Picking your One Word
So how do you go about selecting your word for the year?
Brainstorm what you'd like this new year to be about. Not specific goals, but feelings, general concepts and ideas. Then gather a list of words that could represent the first list and really resonates with you. Maybe notice what words show up in your daily life. Do you keep getting similar messages or do you see the same word pop up frequently? Maybe that's your word!
In the past I learned finding your word can be a powerful experience. When I've found mine, it was very clear to me as I would get excited about it and I just felt a sense of "yes, that's it"! So pay attention to your emotions and thoughts when you do this. I mean if you start jumping up and down from excitement then you know that's your word! lol okay maybe don't go that far!
Don't pick your word quickly or randomly. Think it over for a while and maybe pray about it and ask God to give you clear direction on your word for the year and then ask Him for strength to stay true to your word.
Whatever your word – it is something personal that you select based on this season of your life.
What do you think? Do you think picking a word for the year might help motivate you? Or do you have a word that you want to strive for this year? Lastly, do you need some suggestions on just one word?
Here is a list of some suggestions that might help you get started.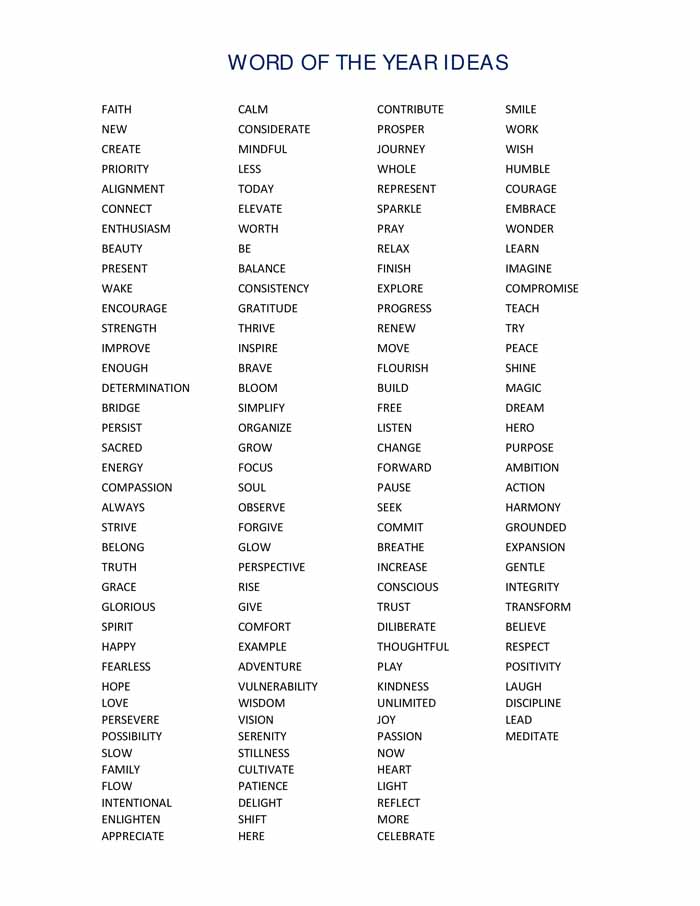 My 2019 One Word is…..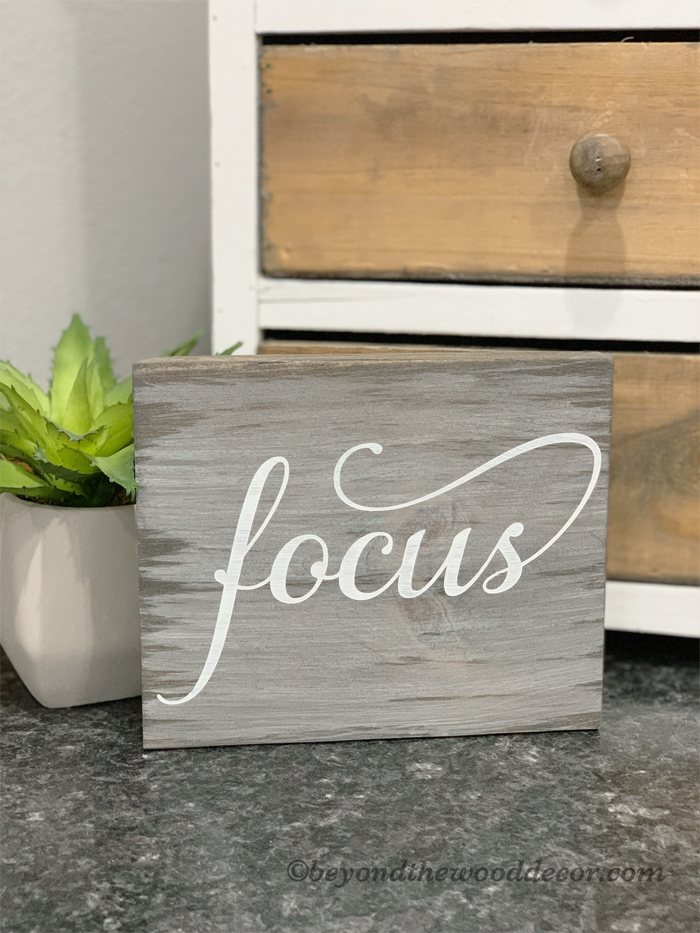 Yup it is FOCUS and I really am excited about it. I chose this word for many reasons:
~FOCUS on ME for once. I have neglected myself for far to long and I need to keep focus on ME. Starting off with getting more sleep, lol. But also focus on making time for ME.
~FOCUS on family and friends. I seem to often put my business ahead of everything. Don't get me wrong it is for sure important and a priority but I need to spend time focusing on what is critical and managing my time better in the moment.
~FOCUS on streamlining and simplifying my business, and my commitments. This will be by far the biggest challenge this year. I feel I need to keep better focus on time management. I am the queen of multi tasking and I really need to focus on one thing before moving to the next.
~FOCUS on inspiring others. I love helping others achieve their goals and dreams. Continuing with the blog continues to be high on my list because I am finding it is giving decorating inspiration to so many who want to make their home a place they absolutely love.
~FOCUS on creating new ideas I have floating around in my head for my business.
~FOCUS on my home. Creating a calm and more organized space for me and hubs. Clearing out the clutter and simplifying our space. Our office adjacent to the kitchen is the first place I will be starting very soon. I am excited for the change and sharing with you all.
Lastly, but first and foremost I will always keep FOCUS on God who has blessed me with this amazing life that I have. I will continue to start my days with scripture and focus on everything else after that! He remains my #1 focus!
Rules to enter the giveaway
So who wants to have your word for 2019 painted on wood? The size will be 6-1/2 x 5-1/2 in the color shown in my photos above which is a dark wash with white lettering and that font. You need to do just 2 things to enter. This giveaway will run from now until January 9, 2019 ending at 8pm central time.
A total of TEN, yes 10 winners will be drawn. You will be responsible for pickup of your sign in Menomonee Falls, WI or it can be shipped at your expense for $3.
#1 Comment below under the comments section. Just post a comment of any kind. It can be as simple as your word or anything you would like to share. (Your email address will not be published nor shared but I do need that to contact you if you win)
#2 Subscribe to my newsletter at this link here. I currently send out 3-5 emails a month. They are sent each time I have a new blog post ready for you to read so you never miss a post. Yes, you can unsubscribe at any time. For those of you that are already subscribed you DO NOT need to sign up again. I will be pulling names from the comments and will then check to make sure you are subscribed.
That is it! Remember you must do both in order to make your entry count. Please know comments on facebook will not be accepted as an entry for this giveaway. The comment must be on this post.
UPDATE on January 9,th, 2019, 8pm central Giveaway is now closed!
Good luck to everyone. I am almost done getting the blank boards all ready so when the drawing is complete I can start painting your one word for the year!
Thanks so much everyone for stopping by the blog today and thank you for all the new followers. I honestly appreciate each and everyone of you!
xoxo