Good morning buddies. How was your week? I had a great one and even took some time to style up my new pantry hubs created. Very soon I will share it with you but I want to finish up a few loose ends like labeling some things. Thursday was my birthday and turning 29 (again) is always fantastic. What is it about age in women? I am not open to share my age with many because I want to be young forever. lol But I need to get over that and each year means a little wiser, right?!
Hubs says its just a number and not a big deal but seriously I hate getting older. So I ignore the number and will just (pretend) I am 29 always! lol.
New Wall Lamp
So lets move onto my new wall lamp. If you remember in that far left corner of my living room there was no lamp at all. There is a light in the entryway as you can see from this photo taken last fall but it gives off no light in that other corner. So at night that one corner is always dark.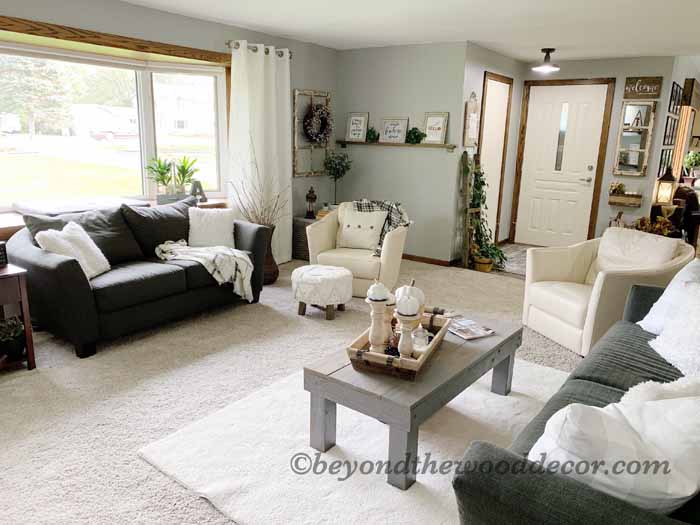 Above those three prints on the shelf I was going to make a long horizontal sign but it literally dawned on me before Christmas what I really need is more light. So the light bulb went off in my head instead of putting a table lamp on that wicker toy box why not put a light on the wall. As I starred at it I knew that was exactly what that corner needed and since I LOVE the wall lights I have in my bedroom I decided that would be the perfect fit and style for that space. So I added that to my Christmas wish list and never told anyone where I was planning on putting it. One of my daughters did buy me one and YAY I was so excited.
So they wondered where will it go…..
My girls and hubby then wondered where I was going with the new light especially since it is hard wired for a wall lamp. Well I shared where it would go and had two thoughts……
#1 hubs could hard wire it while he was redoing the closet which is on the opposite side of that wall assuming he could get electrical over there or…
#2 I could use the puck light trick where you literally velcro a puck light into it where a bulb would normally go. They come with remotes now days and that would totally work as well. You can buy them here! Although, they are not very bright and would be more for decoration. Either way that was fine with me because the vision of a farmhouse light up there would just be cute and fill that space so nicely. I really didn't care if it gave off a ton of light anyway.
Well guess which one won…….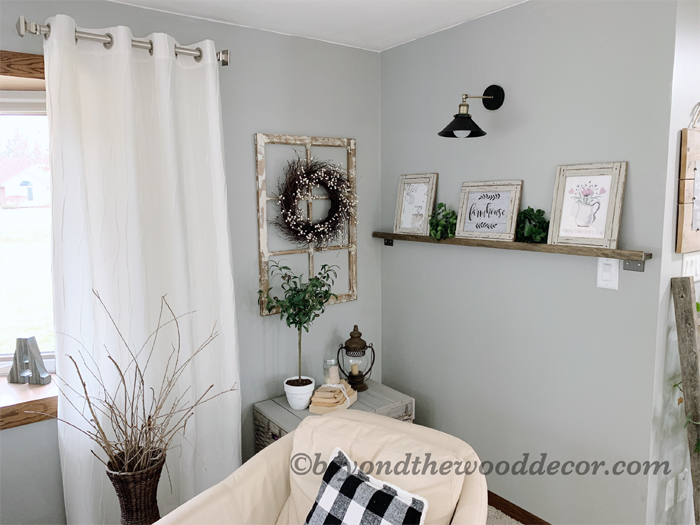 Yup, hubs is so awesome and brought electrical from the closet over to that wall and he even put that light switch in under the shelf. So this girl did the happy dance.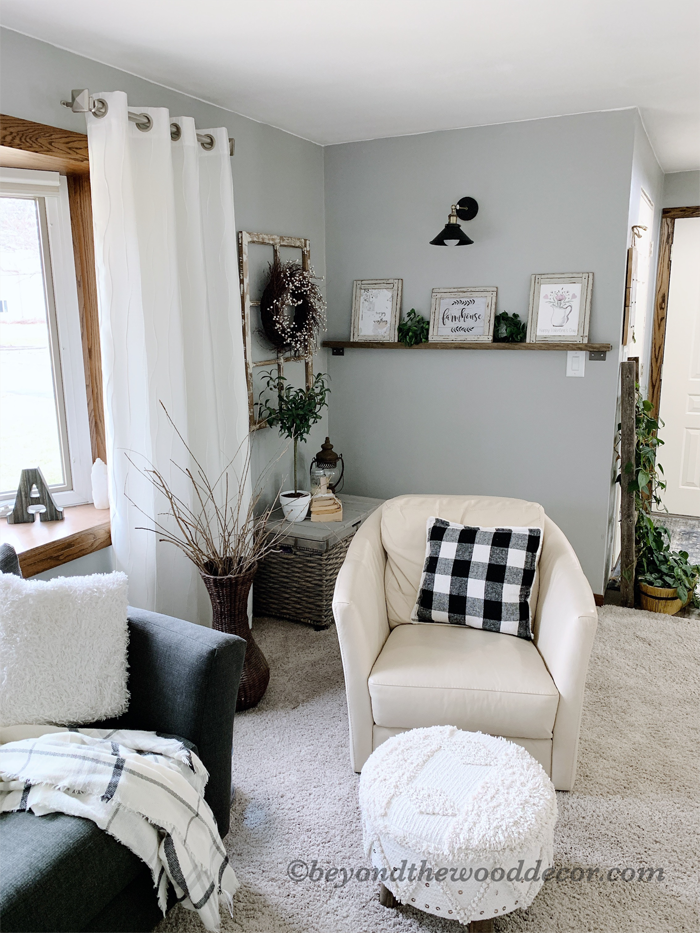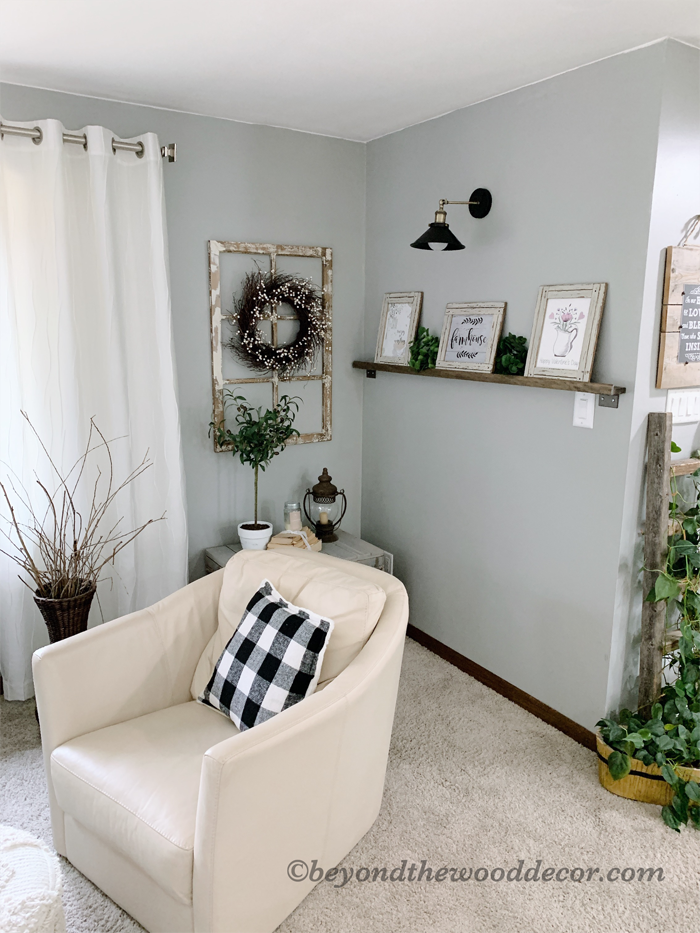 I just think it turned out so darn cute and I am thrilled to just flip that switch and BAM there is light!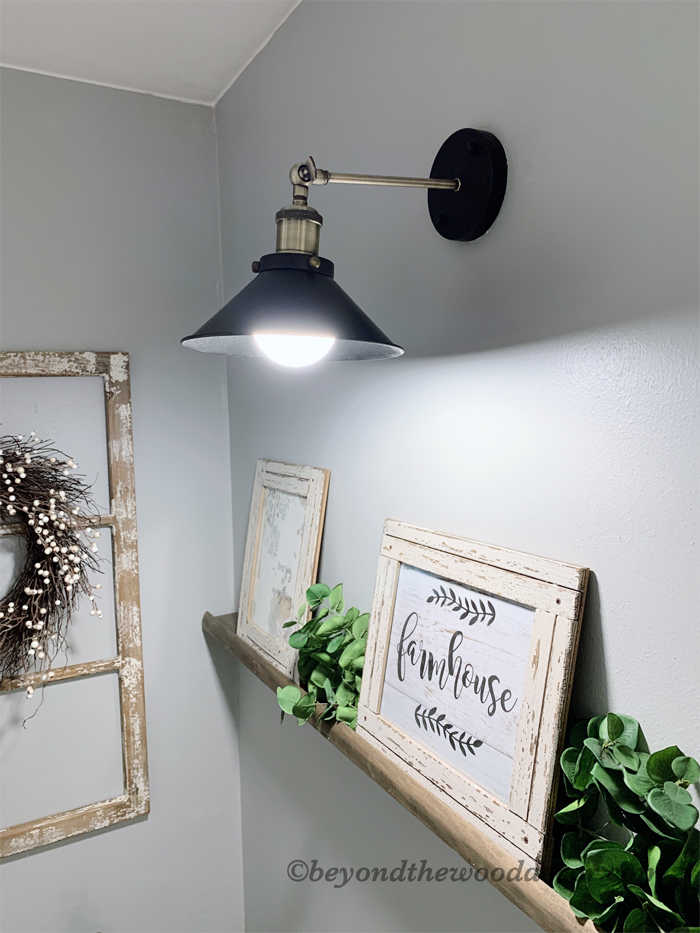 Hubs really spoils me and just another one of the 1000 reasons I love him so much!
Even though I got the light as a gift it is amazingly budget friendly. I mean seriously you cannot beat this price and it swivels 240°. You can purchase it here!
Like I said you don't need electrical if you want it more for design. I am actually hoping to do a similar one in my kitchen but that one will be using the puck light trick. You can buy the puck light with remote here and this is what I will be using. Because I want it more for design with a bit of light shining on the wall decor and there is no electrical near it. Hubs would not be thrilled to bring electrical to that one so I am excited to try the hack. I will share that very soon once I get the stuff on order and get it hung.
But for now I will enjoy this little corner with my new light and I think my printables on the shelf look extra nice now with that light above it.
For all my subscribers in your email dated 1/19/2019 you would have received a link to a copy of this Valentines Day printable as shown below. I designed it and am happy to share it with all my subscribers.
Do you also love these frames? I did not make them but you are welcome to purchase them on Amazon here. My printable is designed for any 8 x 10 frame and this frame is perfect for them. I have had these frames for years and still love them. That rustic chippy paint gets me every time!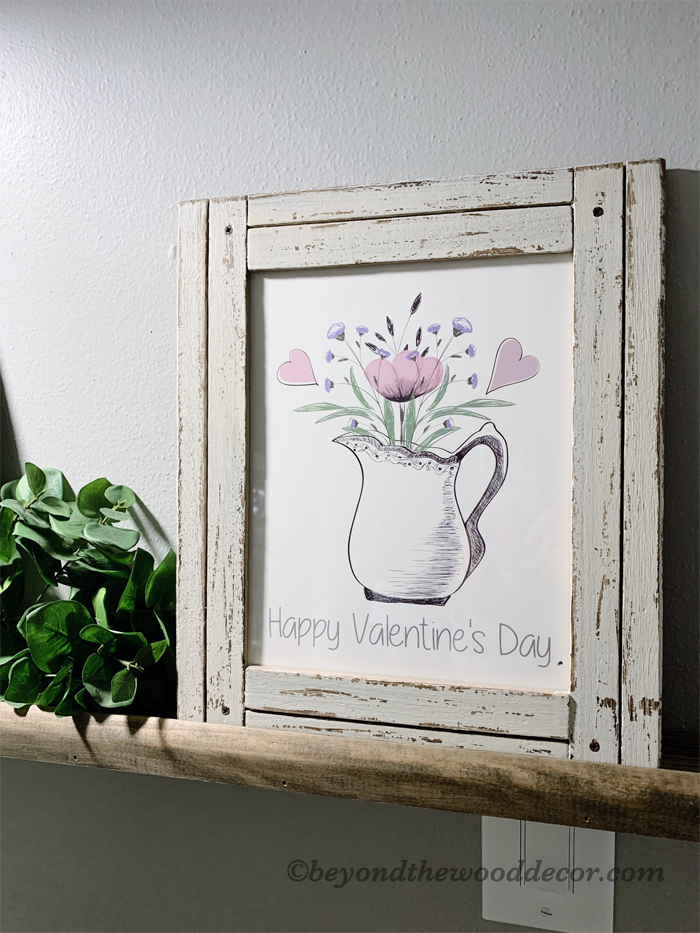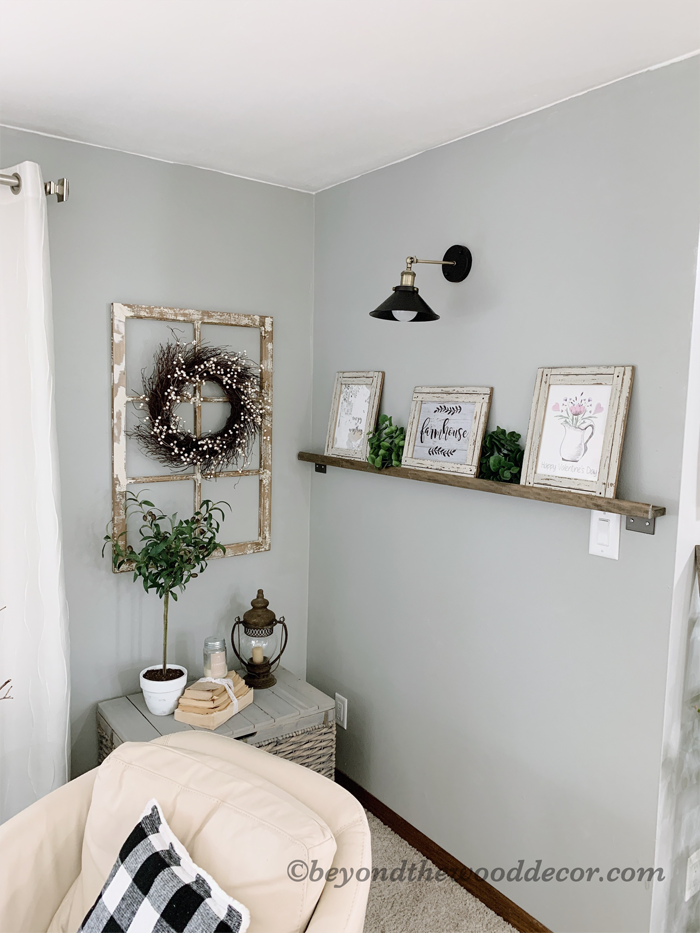 That's all I have for you today my friends. I hope you enjoyed this simple little idea of inspiration for your own space. Now I will get snapping on my pantry makeover so I can share it next week with ya'll. Enjoy your weekend!.
XoXo