My best money saving secret on the internet!
I know, I know this is not DIY or home decor related but kinda it is because it started with that and then it turned into something I am so excited about that I need to share. I mean when I save money over and over and it all adds up you really cannot keep it quiet can you?!
Okay, hear me out we have all done it. You go shopping online and you get to the checkout and it always asks to apply a coupon, right? Well if you are like me you may go online and search for a coupon code but seriously who has time for that? NOT ME but once in a while I have to take a quick search.
Are you a penny pincher like me?
Well you know "lil miss frugal" here is always looking for a bargain. So last November I installed Honey on my PC. I know many of you have never heard of it. Well sit back and let me tell you all about it because you seriously NEED TO GET IT and its FREE!
Yes it is FREE like totally FREE but yet you save so much money by having it on your laptop or PC not a cell phone! You also earn Gold points which equals money once you receive 1000 gold points.
Honey basically finds every available coupon code for you at checkout, so you don't have to search for a coupon ever again. You DO NOTHING. It does all the work and inserts the best coupon available!
Why I decided to share this now?
Truth is I ran into a situation this past weekend with a purchase and it reminded me I need to share with all my buddies!
Last weekend I decided to do a little rearranging in the office off of our kitchen. See that big GORGEOUS sign I made? "Be joyful in hope, patient in affliction, faithful in prayer"….

Well, I am going to move it and put up a picture gallery wall in its place. I really want to showcase cute family pics since they are my world. So, the frames I will be hanging will need 8 x 8 photos. Since that is not a standard size none of the local shops do them at the store so I had to order online. (UPDATE: come see the finished wall here)
Monday night I finally collected 9 photos I want to use along with a few extra 4 x 6's for other places. I either go to Shutterfly or Snapfish whoever is running the best deal. So I got on my phone and uploaded the photos to Snapfish and as I was going to check out the box came up to enter my coupon code.
Shoot I did not have one and my bill was going to be over $30. I really NEVER shop from my phone but because my photos were on there I thought I would. But at checkout my "Honey" did not pop up which reminded me I need to be on my PC because honey will not work on a cell phone browser.  So I closed out of my phone browser and went on the PC to log in and there it all was in my cart.
Check out with HONEY!
As I went to check out BAM Honey pops up looking and trying the best coupon available. You will see it trying so many coupons while I sit back for 15 seconds and let it do its thing. I am telling you it was worth the wait…..look at the discounts and savings on my receipt it found for me!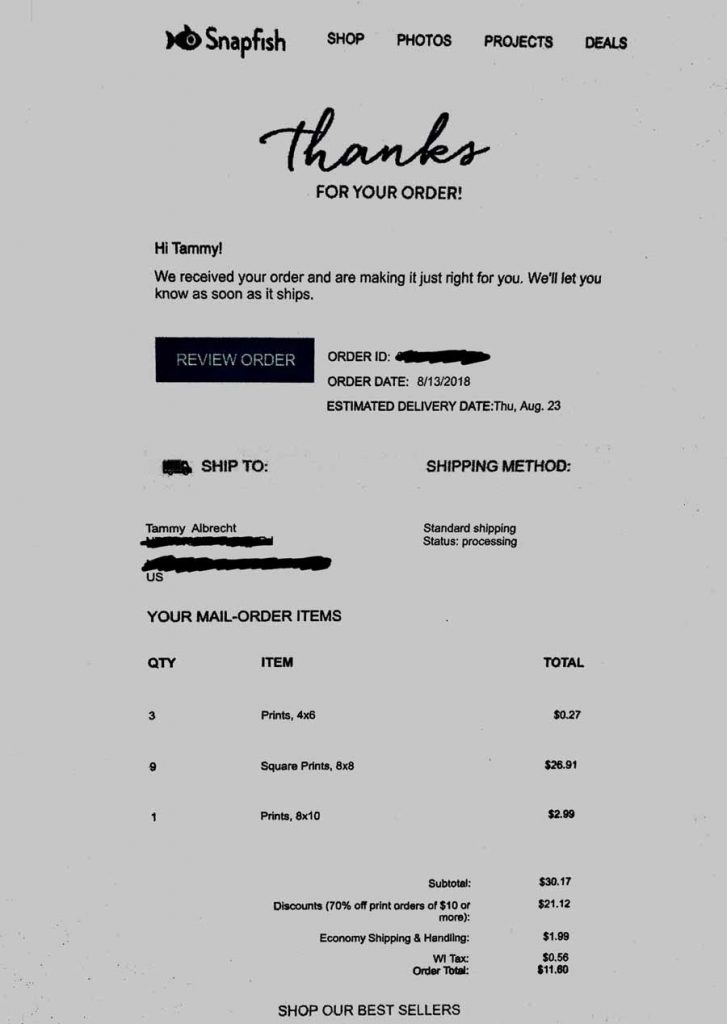 I mean come on from what would have been $32 down to $11….YES, I will take it! While I did nothing!
Then on top of it I also earned more gold money. I got this email the next morning…..
Yes its only 72 cents but when you do a lot of shopping online and Honey finds some great coupons to use it is a win win situation.
More details on HONEY!
Honey is a FREE web browser extension that automatically finds and applies coupon codes at checkout for over 30, 000 shopping sites. It also instantly will search and maybe find better prices when on Amazon and offer Honey Gold at many stores for US Members. They are working on going international very soon.
Once Honey is installed on laptop or PC only (not cell phone), you will see the Honey Icon in the top right corner turn orange on Chrome, Firefox, Opera and Edge when you are on a shopping site that is supported by Honey.

So many of your popular stores like Kohls, Target, JC Penney, Nike, World Market, Amazon and 30K more work with Honey.
Honey works so cool with Amazon!
I shop at Amazon soooooo much and Honey is AMAZING with it. Here is a foot stool I was looking at the other night. So you will see under the black "Amazons Choice" the orange "h" will appear with any price changes like this: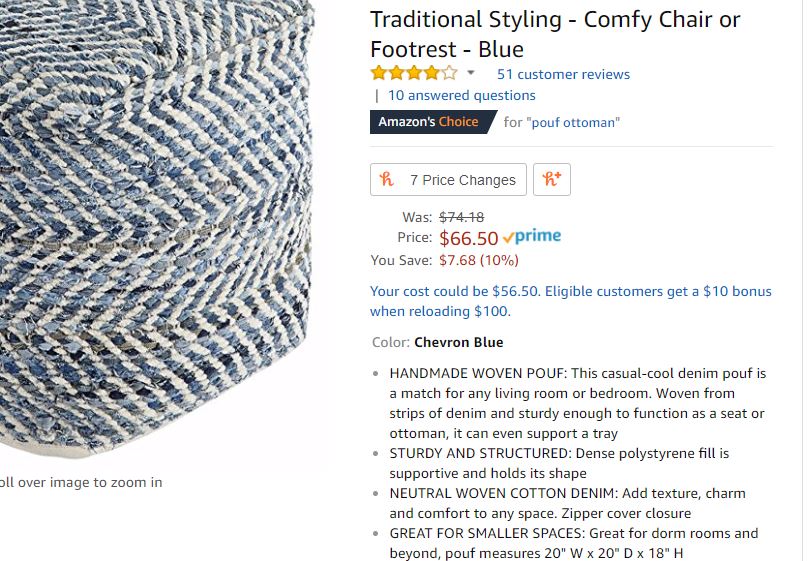 So when I go to click on that I get this notification and you have to excuse the poor quality of this photo. I took a picture of my screen since I could not take a screenshot.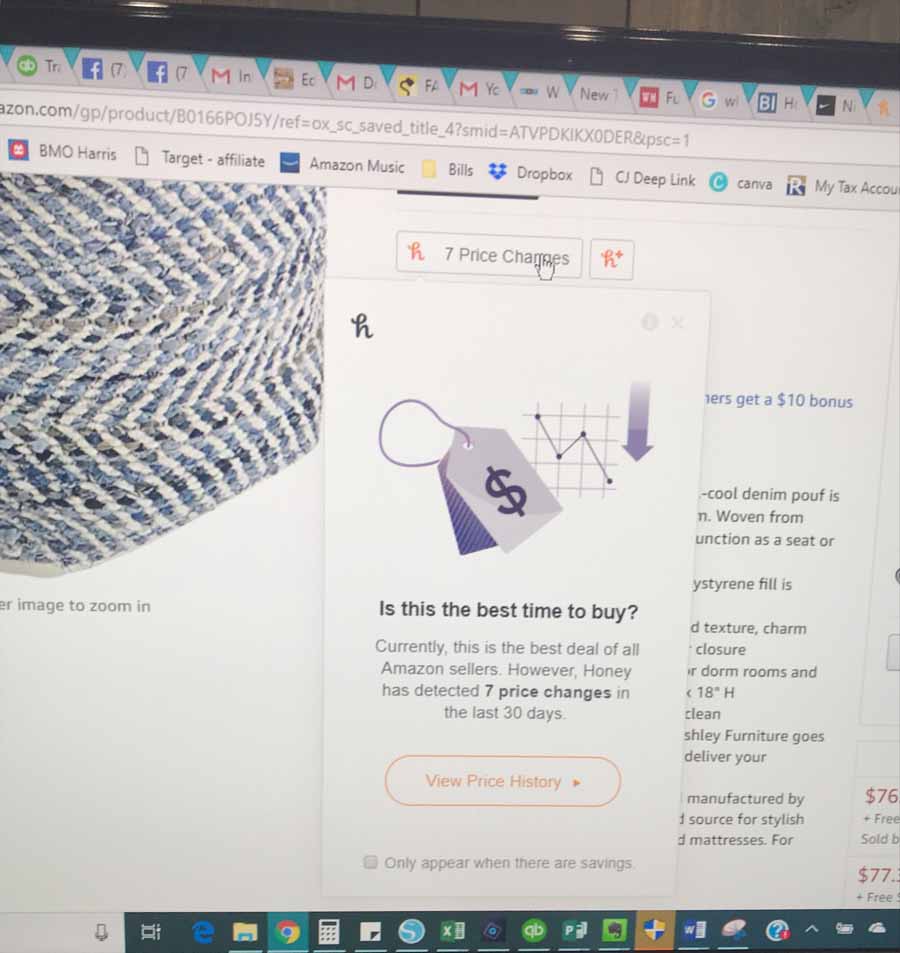 It will always tell you if its the best time to buy or not and give you the option to "VIEW PRICE HISTORY". which of course I always do because it tells you pricing over the past 30 days.
As you can see this item was $10 more back on July 16th so it is the best time for me to buy. (I didn't because it was not what I wanted but decided to show you for an example.)
Don't be afraid!
Please know I am always skeptical as well with things like this so I really did my research before installing it last November. Snopes is a great place to check on true facts and this was a great article on it.
Business Insider is also a great reputable site and they did a great article on the founder Ryan Hudson on how he just wanted a coupon to buy pizza for his son. It is a such a great inspirational story and you can read it here.
It takes just seconds to install and honestly I have been using it for 9 months and it has never failed me and has saved me sooooo much money! Here is the link I am sharing with you to get you started on saving money too with your online buying! 

So there you have it. Is that awesome or what?!
Only positives with Honey!
You seriously have only positives with the browser extension!
~ Super fast and easy to install
~Sit back and let it find all the coupons when you go to checkout on so many of your favorite stores.
~Earn Honey Gold which turnes into a gift card once you get 1000 gold points
~You will see no changes with your browser other than the "h" up on the tool bar.
Remember it will NOT work on your phone just yet. They are working on an app for that but has not been released yet.
Final Thoughts
I hope you enjoyed this absolute favorite money saving secret I have for the internet. Once again here is the link to install it and be on your way to savings like I am!
As for my gallery wall….it will be done as soon as these photos arrive. I am excited to share it with you guys! I also did a little rearranging in that corner so be sure to sign up to my newsletter so you get notification when any post is up! The link for the newsletter is here or below.
Thanks so much for hanging out with me for awhile today. I hope you enjoy Honey as much as I do.