Happy Valentines Day friends! How many of you celebrate Valentines Day? Hubs and I keep it pretty simple but we have been celebrating every year since we been married. We always get a little something for each other but that's all. I usually bake something special for him along with cooking dinner and this year I also bought him a little something. (can't say what it is in case he is spying on my blog today) lol
I heard on the news the other day that the total spending for the holiday is expected to top $18.2 billion, according to the National Retail Federation. That's an average of $136.57 per person. But just 54% celebrate the holiday. The NRF says 20% are expected to buy jewelry and spend $4.3 billion on it. Another fact is $2 billion are spent on flowers and 250 million roses are produced for the holiday according to the Society of American Florists. Of course, chocolates come into play as well and $1.7 billion are spent on candy alone. Now that's a lot of candy, right?! Lastly, Americans are expected to spend $1 billion on greeting cards. Oh my goodness, I was blown away with these facts. But a bit interesting, right!
Onto the blog post of my granddaughter's bedroom…
Because Valentines day has a history of reds, pinks and white I thought my granddaughters new bedroom fit right in with the theme today.
The girls never shared a room and they are 3.5 and 4.5 years old. They have a new sister or brother coming in a couple weeks so my daughter decided to put them together and keep their 4th bedroom a playroom. So she redecorated one of the girls rooms after Christmas and put them in the same room.
Today, I thought it would be fun to share their room in case somebody out there is looking for ideas for a little girls room. I think it turned out super cute and of course the girls are loving it. My daughter also loves to decorate on a budget and yet always looks like a million bucks! (well maybe not a million, but enough, lol)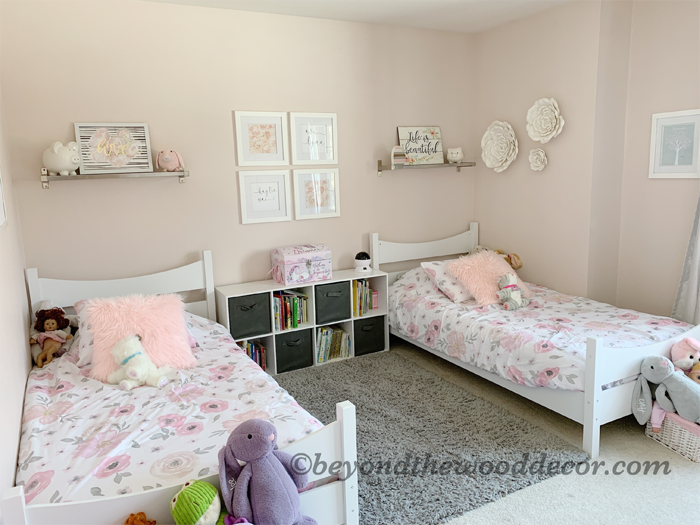 Soooo cute right?! Lets start off with the frames in the center. She had used them in the nursery when the girls were smaller. Here is what they looked like in both girls nursery's. She did make all the cute animal cut outs and just stuck them in the frames. So inexpensive and super cute.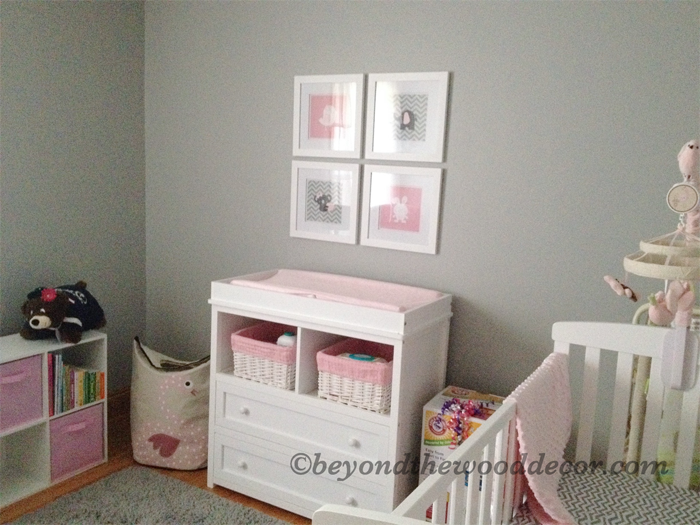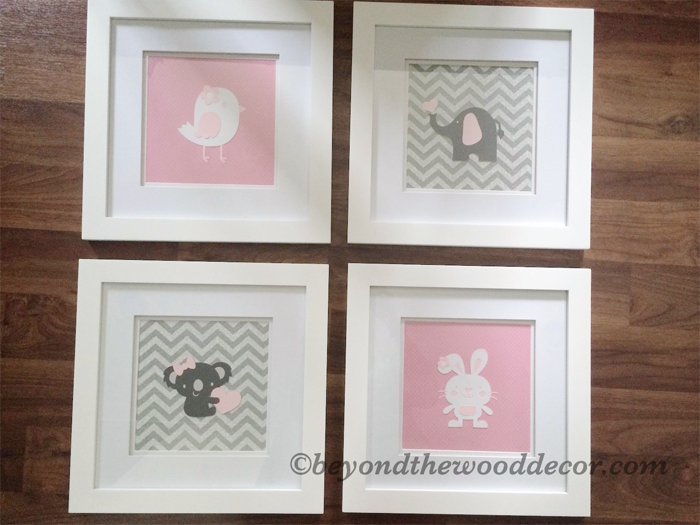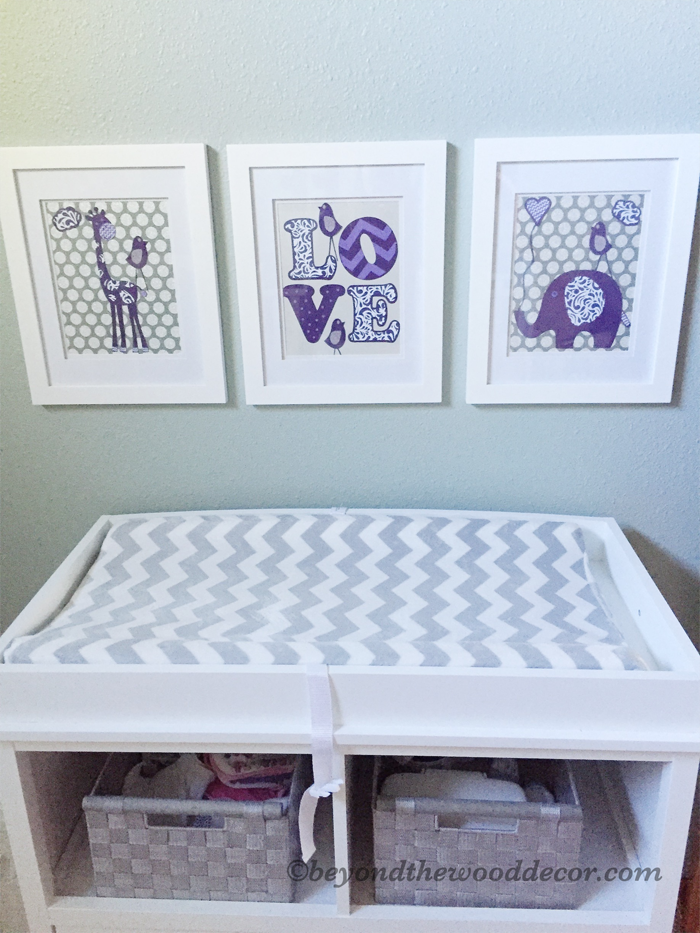 Then she removed all the baby animals and gave the frames an updated look. Buying general white frames like this will get you through so many years of decorating. Like seriously 20+ years!
You can just change out the inside with so many things like craft paper just as she did here or wrapping paper, gift bags or design anything on paper and print it. The girls names Ava Lynn and Kaylee Mae were designed and printed on regular white paper and put in the frames.
The taller ones can be found at this link here on Amazon. Getting a photo of these was so difficult with all the glares but you get the idea!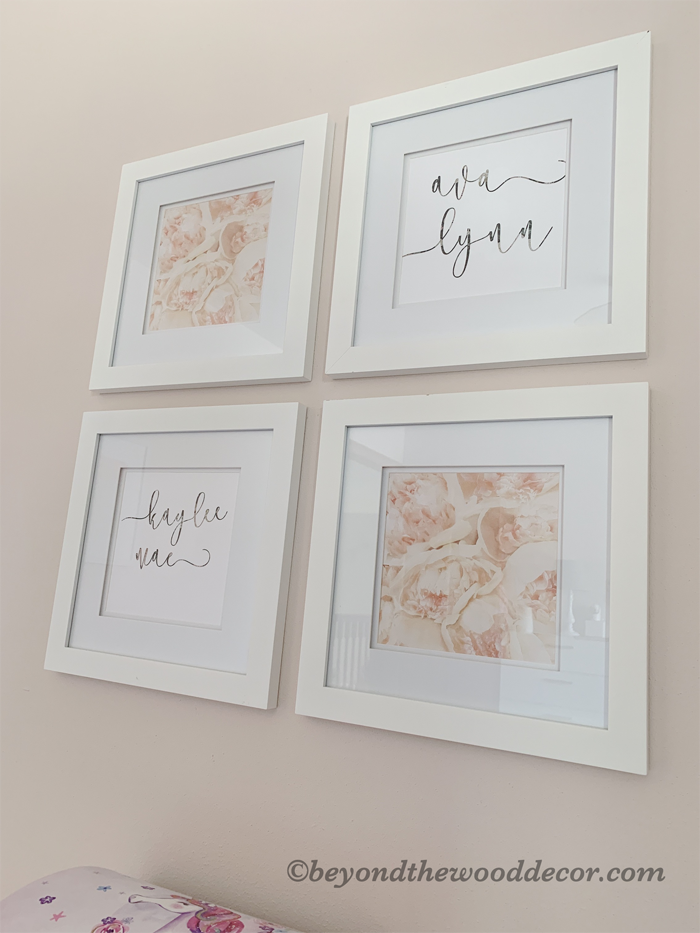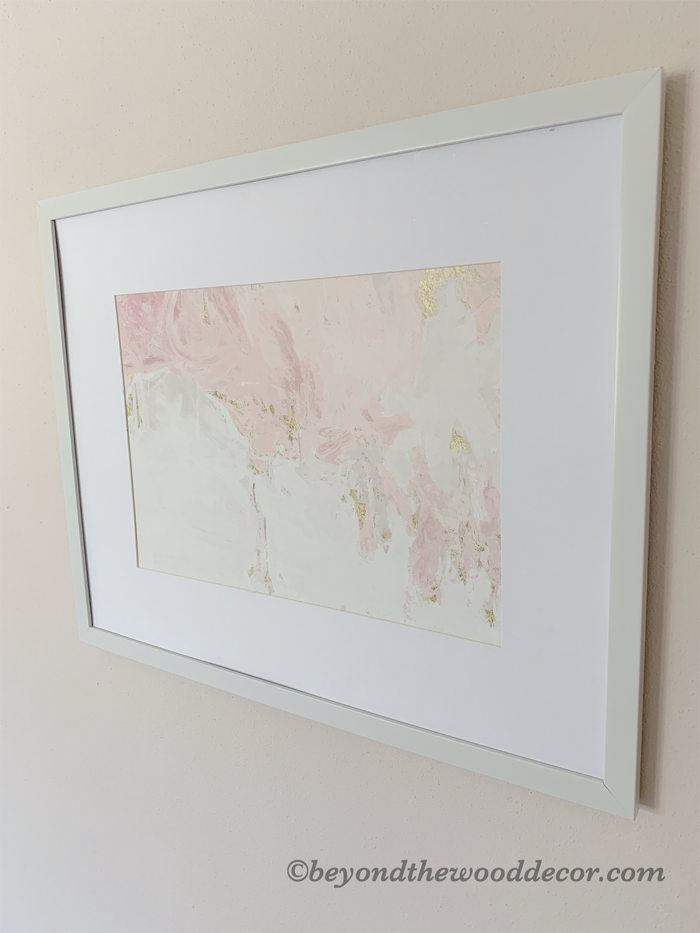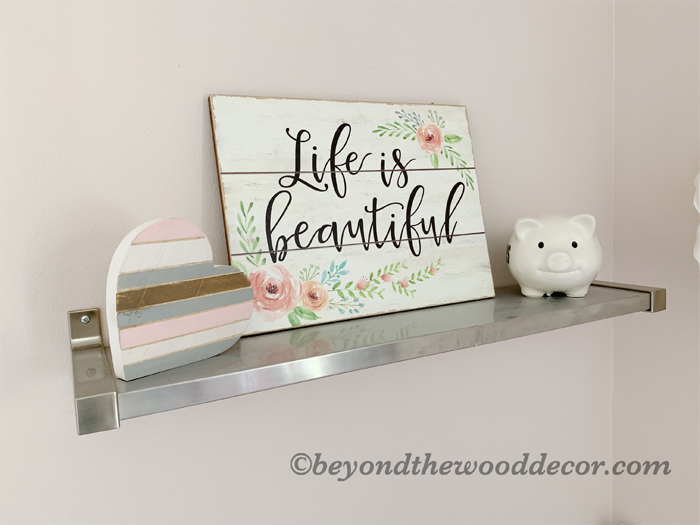 The nice thing about these frames is you can also remove the mat to have a bigger area to play with. Ideas are endless.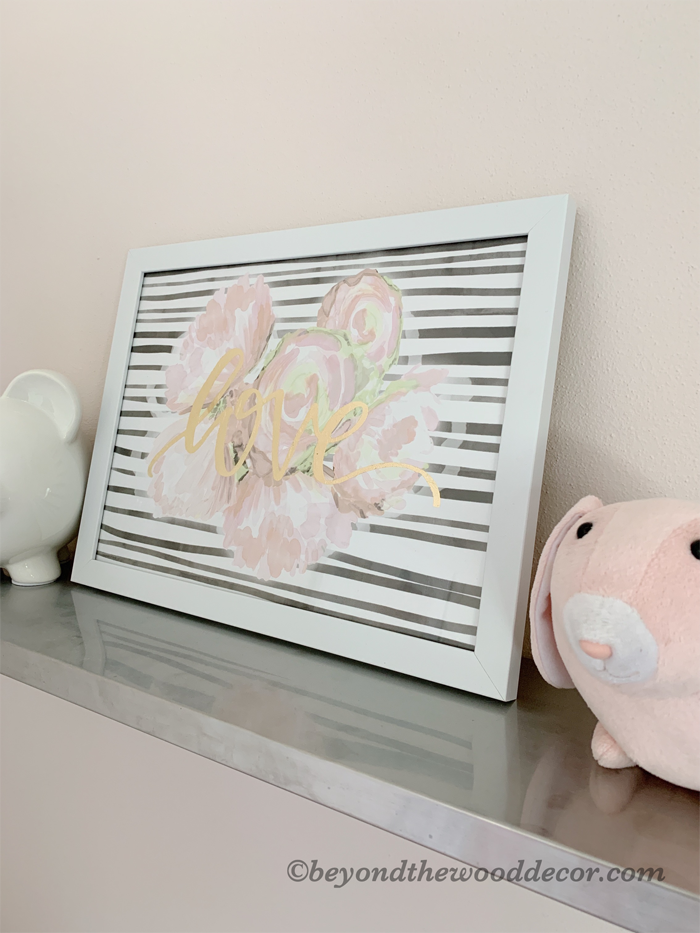 Paper Flowers… so pretty!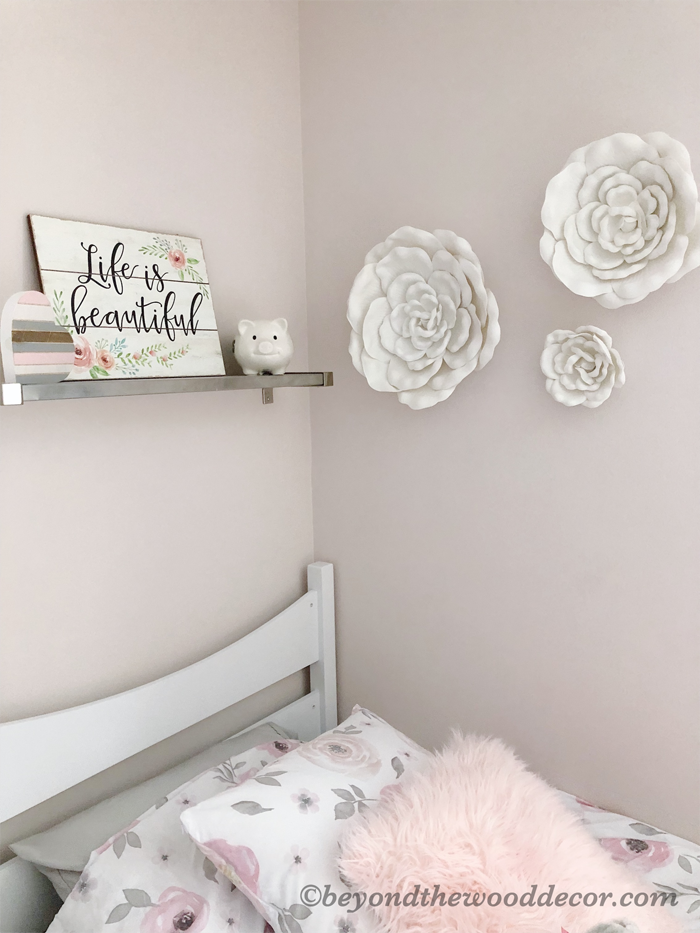 The bedding came from Bed, Bath and Beyond and I absolutely love it! Besides the beds it was the next biggest expense in the room. But we all know bedding is never cheap, right! Here is a quick link to the gorgeous bedding.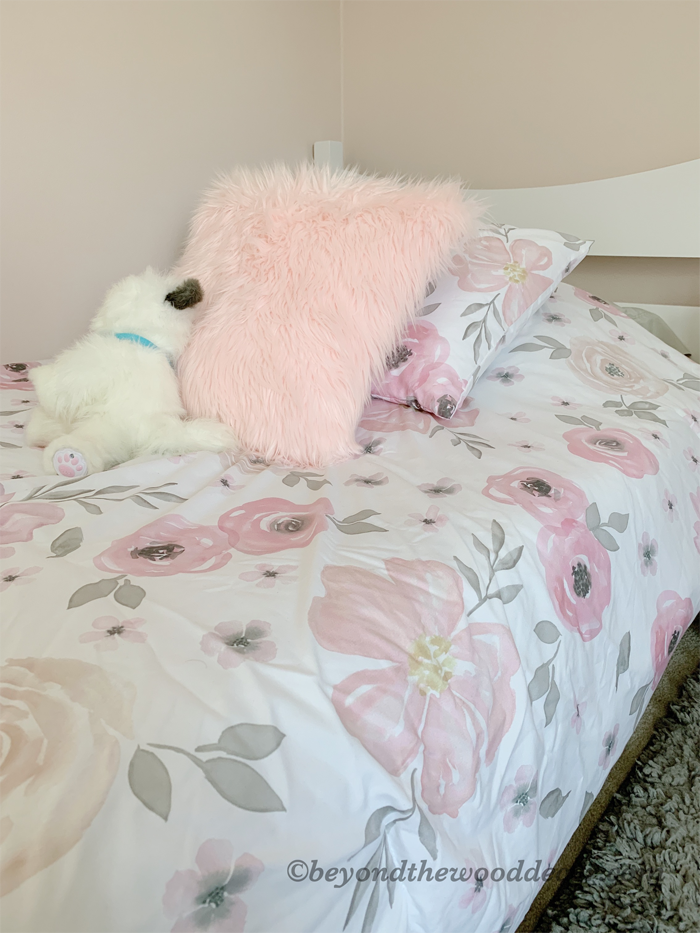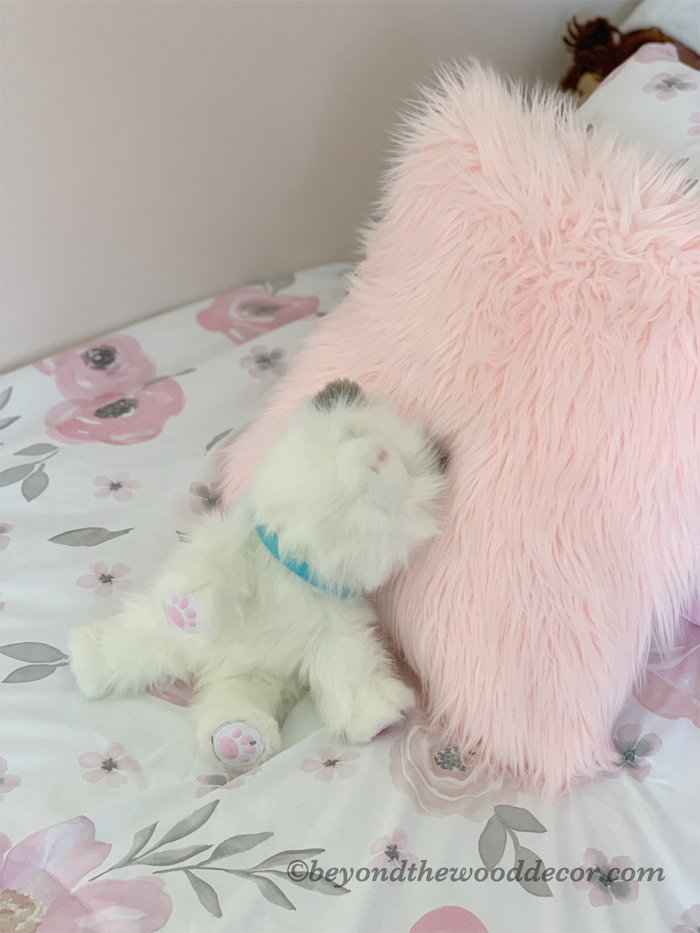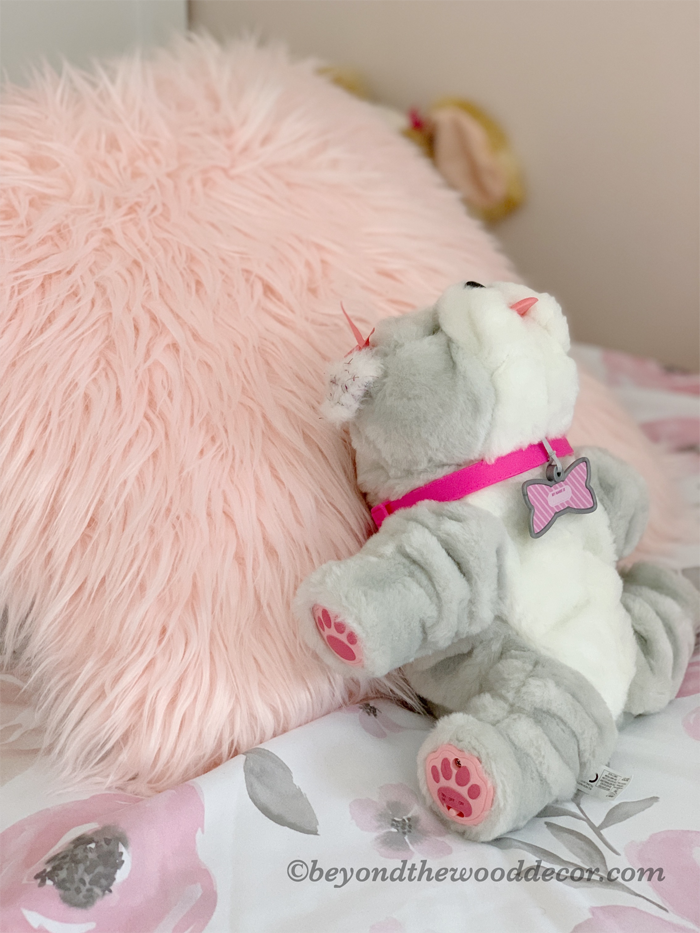 The twin sleigh beds were purchased from Wayfair and here is the link for them. These beds should get them through the next 6-7 years and then they will be ready for a preteen room.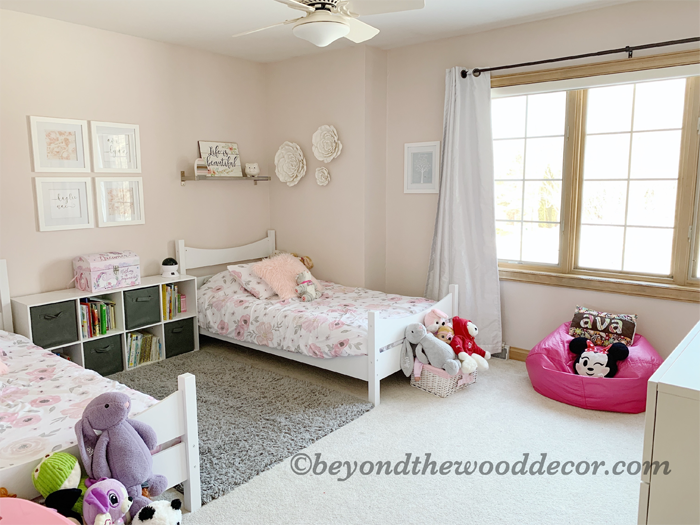 To also save on the budget she had a dark brown dresser in the basement and decided to paint it white. It also turned out so cute. Just reuse what you have whenever you are able helps keep costs down.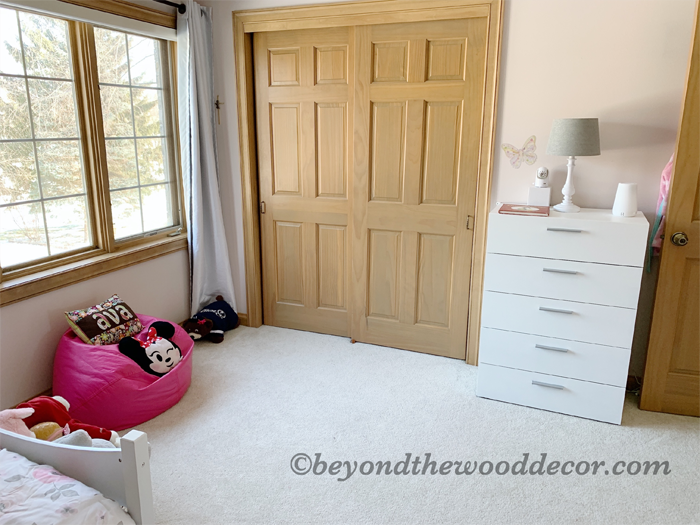 Tip to keep your children in their rooms….
Here is a little tip for you parents out there….see the white thing on top of the dresser in the right front corner in the photo below? Well its a night light and sound machine. But it also is programmable from your phone. At night the girls sleep with the night light and the sound machine on. There are many different sounds you can play like rain, water sounds etc. and the night light is set to typical yellow. But in the morning on school days my daughter has the sound set to turn off at 6:30 a.m. and the night light changes to rainbow colors. That indicates they can get up and come out of their room.
Once the sound goes off the girls are not in a deep sleep anymore so they wake up shortly after that otherwise my daughter gets them up by 7 for school.
Yes, some days they wake up before 6:30 a.m. but know they cannot come out of the room until they see rainbow colors. lol
A different schedule on weekends….
On weekends and non school days she has rules they cannot come out of their room and wake the household and play until after 7a.m. So at 7a.m she has it set to turn to rainbow colors but will keep the sound on until 8a.m. That way they can sleep in if they want but yet after 7 if its rainbow colors they can come out.
She said its so funny she will hear them in their room just waiting for the rainbow to turn on and when it does they announce "its rainbow colors" and go charging out, lol.
Now mind you if they are up earlier and have to go out to go to the bathroom they certainly can do that but then they have to go back in their room until it turns to rainbow colors. They learned quickly if it's not rainbow colors it is too early to get up and they need to try to sleep some more. Often they end up playing in their beds or room together, lol.
But isn't that just such great technology that it can all be controlled right from your phone?! Geez how times have changed since I had kids, hey. lol So another great gift for any new parents out there. Here is the link on Amazon.
The little gadget on the left of the lamp is a baby monitor so mom and dad can still keep tabs on the girls or talk to them as needed. I wonder how long parents "spy" on their kids now days with those things, lol!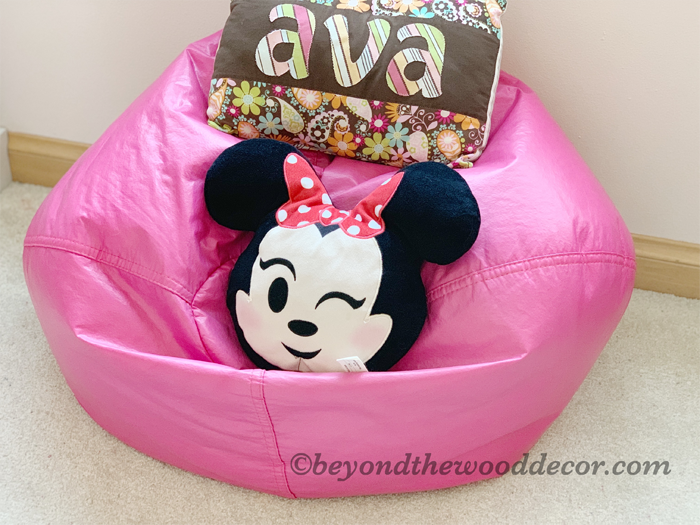 Great Storage idea!
Laying this 8 cube storage organizer on its side and stacking books and bins for storage was perfect for both girls. I mean, you can never have too many books right?! Here is a link to the storage organizer if you are interested in this idea.
The fabric bins can also be purchased on Amazon here which is a great price for 6 of them. If you don't want to use all 6 you certainly can use them in closets as well or in linen closets too they work great. Target, Walmart and all them places will also carry fabric bins. I just like Amazon for one stop shopping! lol.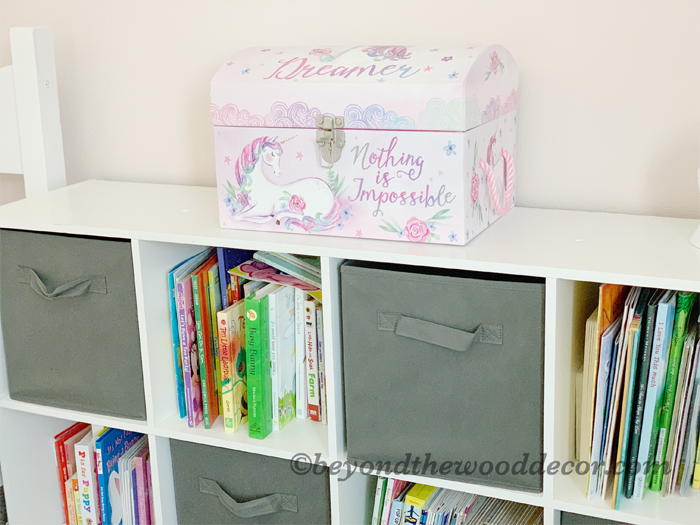 Another gadget even for boys!
I did not get a close up of the little gadget there on the right but do you see that black and white globe thing? It is a star machine and is sooo cool. At night they turn it on and it projects stars onto the ceiling and it goes round and round. Any child would love this so for all you moms and grandmas out there this would make a great gift. Here is the link on Amazon. It does auto turn off after 30, 60 or 90 minutes I believe but at least it helps them fall asleep.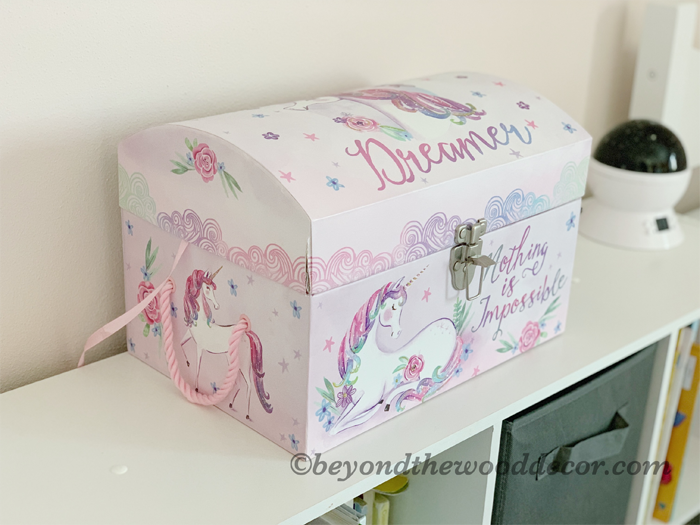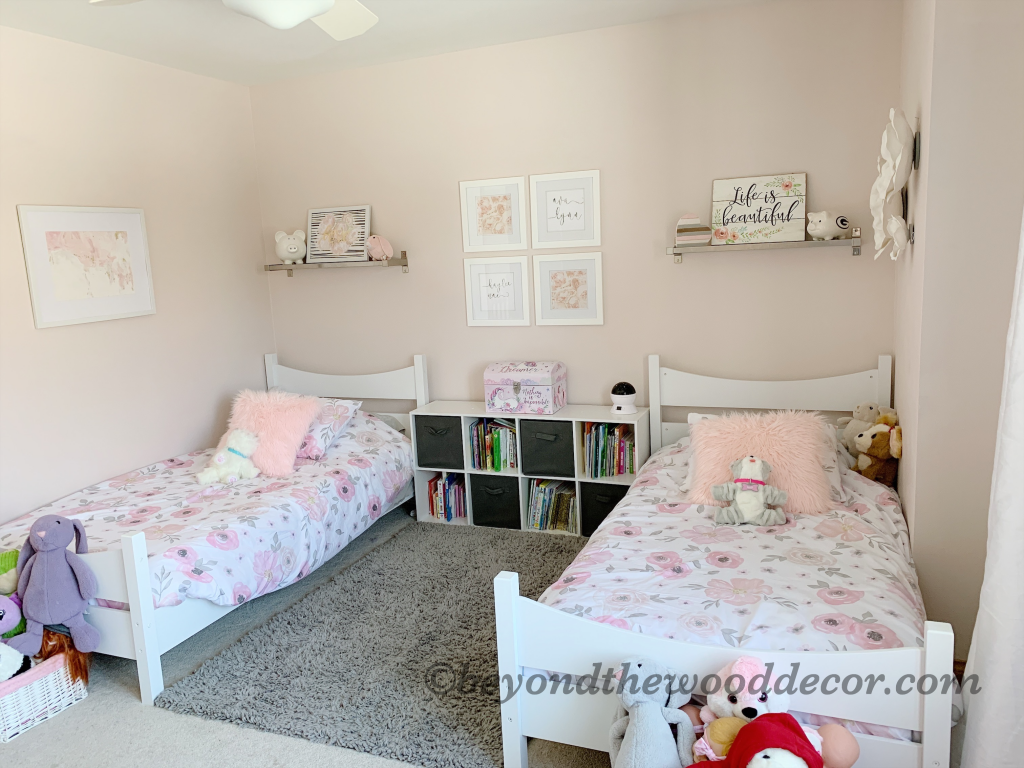 For those of you wondering the pale pink paint color on the walls is Wild Aster by Benjamin Moore.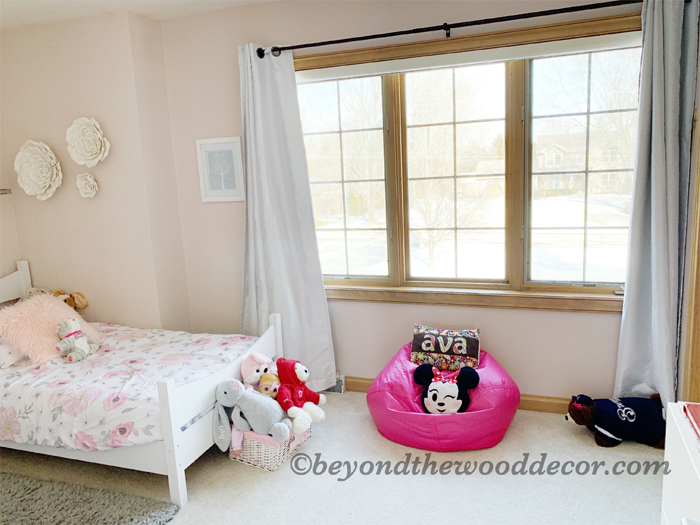 Thats a wrap my friends. I hope it gave you some ideas for your own kids or even some gift ideas I shared for grandkids.
Have a great Valentines Day and don't eat too much chocolate! But yes, indulge on some because you can bet, I will be!
xoxoxo