World Market Sale
Hey friends before I get to my gazebo reveal I thought I would share the big sale going on at World Market right now. I LOVE the store and if you have never shopped there you just may want to check it out. They have such cute unique items from around the world that you just don't find in other stores.
Best of all you can purchase most items right online just as I do. This sale is going on right now and runs through June 11th. I have also obtained some special codes you can use and I will share them here.
Details on the sale with special codes!!
You will save 15% Off Regular price items + Free Shipping if you spend $65 and over. USE CODE: SUNNY15
Another great deal going on right now is 30% off on gifts for the "nature lover" (like me) and an additional 10% with code SAVEBIG10. 
Father's Day is coming up really quick on June 17th and for a real unique gift they have many sales on great things or if something is regular priced if you use that code SUNNY15 you will get 15% off, yay!
Another great sale is 30% on Select Wine, Beer & Cocktail Gifts for Dad at World Market! Save an additional 10% with code SAVEBIG10
Acrylic drinkware is now 50% off and to save even more use Code SAVEBIG10 for an additional 10% off.
This is a big one Indoor Furniture Blowout – Save up to 60%! Save an additional 10% with code SAVEBIG10
I have put together a few items I recently bought and love and thought I would share. This table runner matched my curtains perfectly so I had to buy. I love this aqua color, it goes with so many styles and colors. I thought it added a nice color to my table.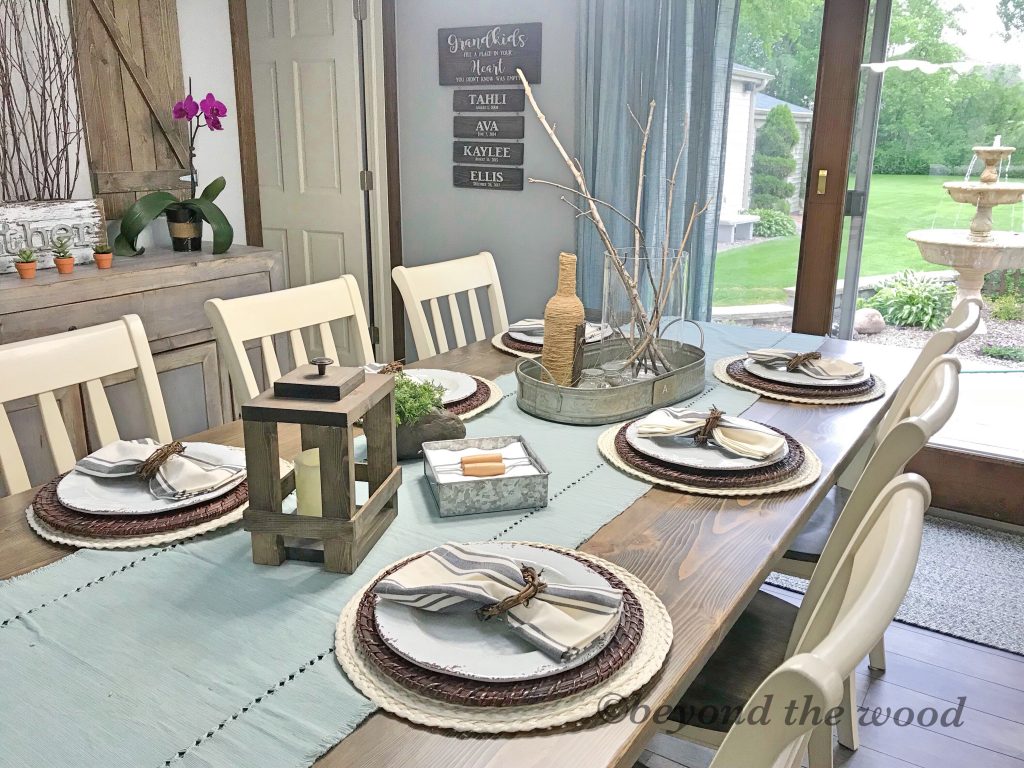 Also on that table I picked up these adorable striped napkins. I mean seriously, if you like the farmhouse style these are PERFECT! Plus you cannot beat only $1.99 each and even less with the discount code above! SCORE
As you seen in an earlier post I use placemats for window treatments. Well I also love using them to go under things. Such as here under my coffee maker and cups. It fit perfectly and adds such a finishing touch for so inexpensive. These placemats also match the napkins.
They come in a set of 4 so you can use them all over your home such as under a plant on a table or under any piece of decor on an end table, dresser or shelf. Just so many uses.
Of course I needed a matching towel! I think this one I will paint a cute quote on it but not sure what yet! But isn't it just so cute with those fringes and stripes!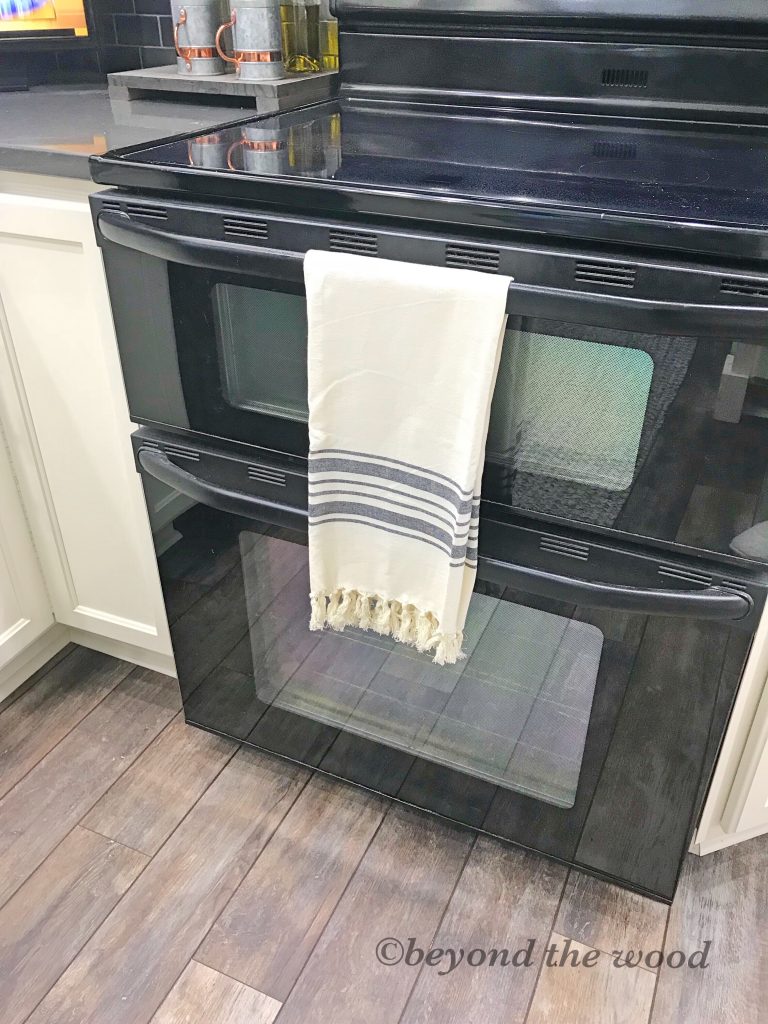 I also bought the matching table runner but am using that as a dresser scarf in my bedroom which I will show another day. But here is what it looks like and I love the idea I can switch it out to my kitchen table when I need a change!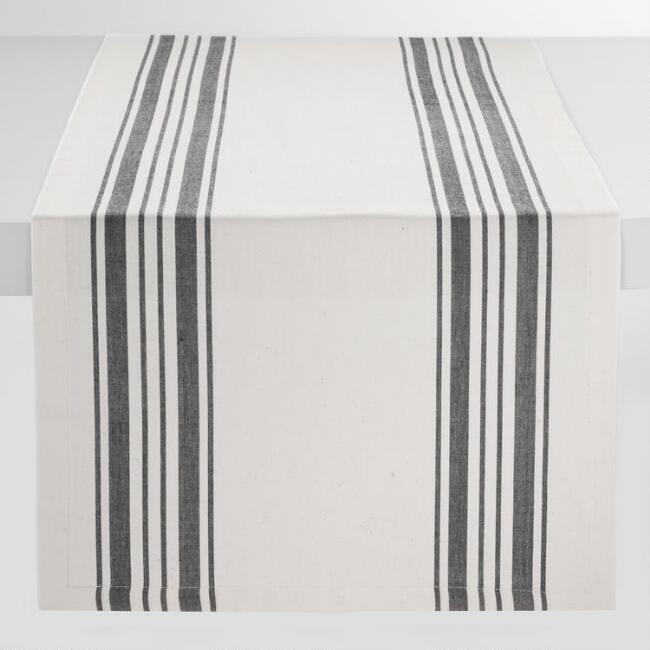 Lastly, if you like a full table cloth they also have that and here is a photo of that! I just love this pattern because it screams FarmHouse!!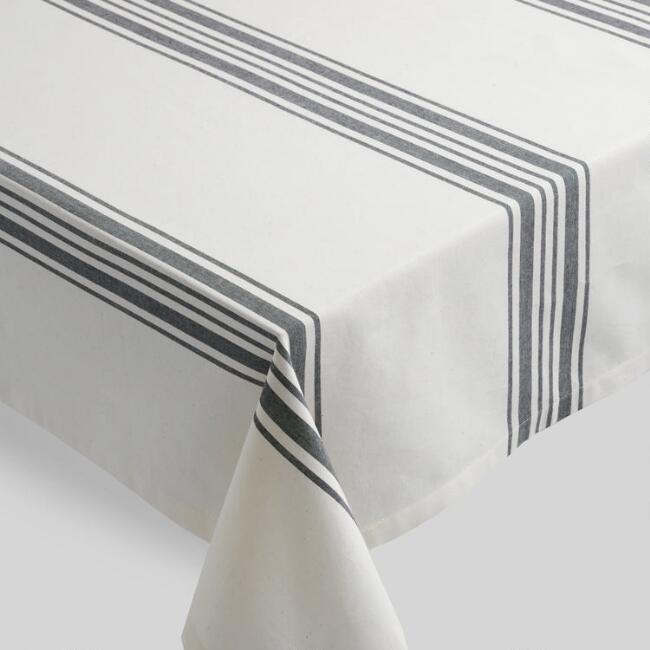 In my gazeboo I also bought some new items from World Market and I will share them in my gazebo reveal. So lets get on with it! 🙂
Gazebo Reveal
Back in 2002 hubs finished our kitchen addition and if you know him he cannot sit still. Through that summer we realized how awful it was sitting outside at night when the mosquito's were so bad.
We talked about it and started looking into the idea of having a gazebo. But not an open one because that would be the same situation as our deck. We would want a closed one and have it be all windows that we can open and have screens and closed when its bad weather. So it would be like sitting outdoors but yet NO mosquito's or bugs! Plus we could then use it for all seasons if it had windows.
The next year in 2003 we went and looked at a few and YIKES, the price completely told us either hubs would have to build it or we would never have one, lol. So what do you think the decision was? YUP Mr. jack of all trades was up for the challenge. Me on the other hand was like "oh come on how can you build something so odd shaped and include all windows", lol.
I really should have known better because this guy always ceases to amaze me. So out came his tape measure and pad of paper and got together his shopping list and a tentative idea how this was all going to work.
In no time he had the framing all done. Installed the windows, cedar siding, roof, trim and bam we had a gazebo. Okay, maybe it did not happen that quickly lol, because he is a one man show but it really did not take very long. He seriously built this thing with following no plans and somehow just knew what to do. He does not do any of this for a living but I always thought he should! 🙂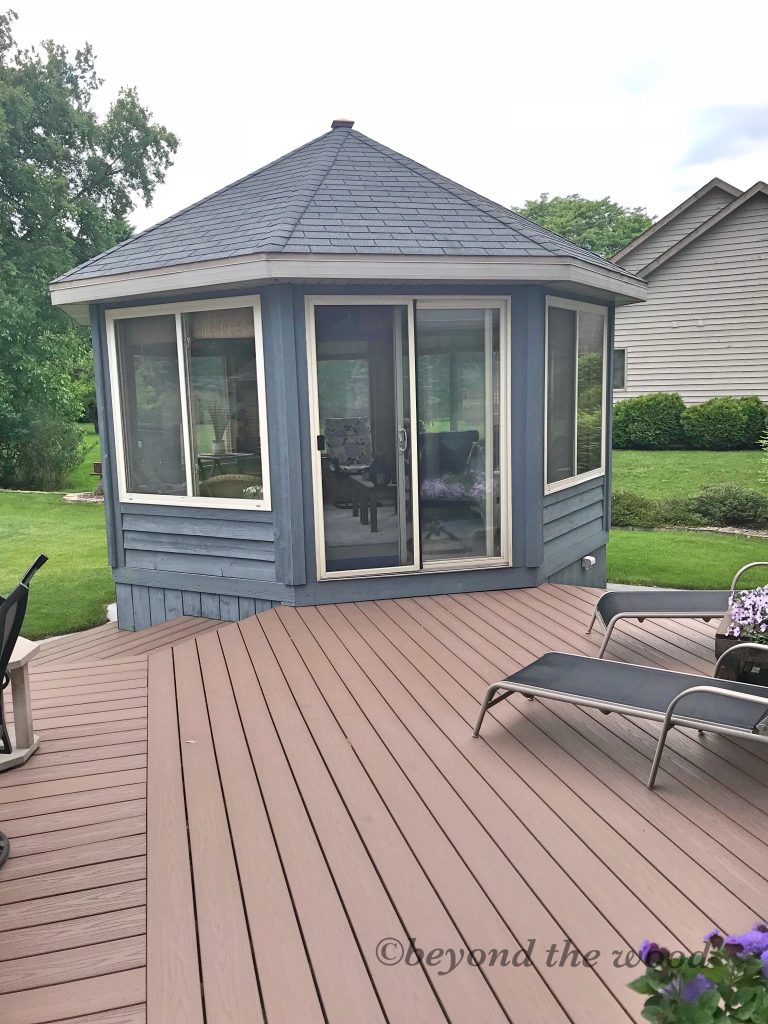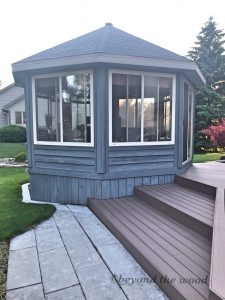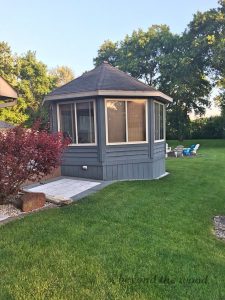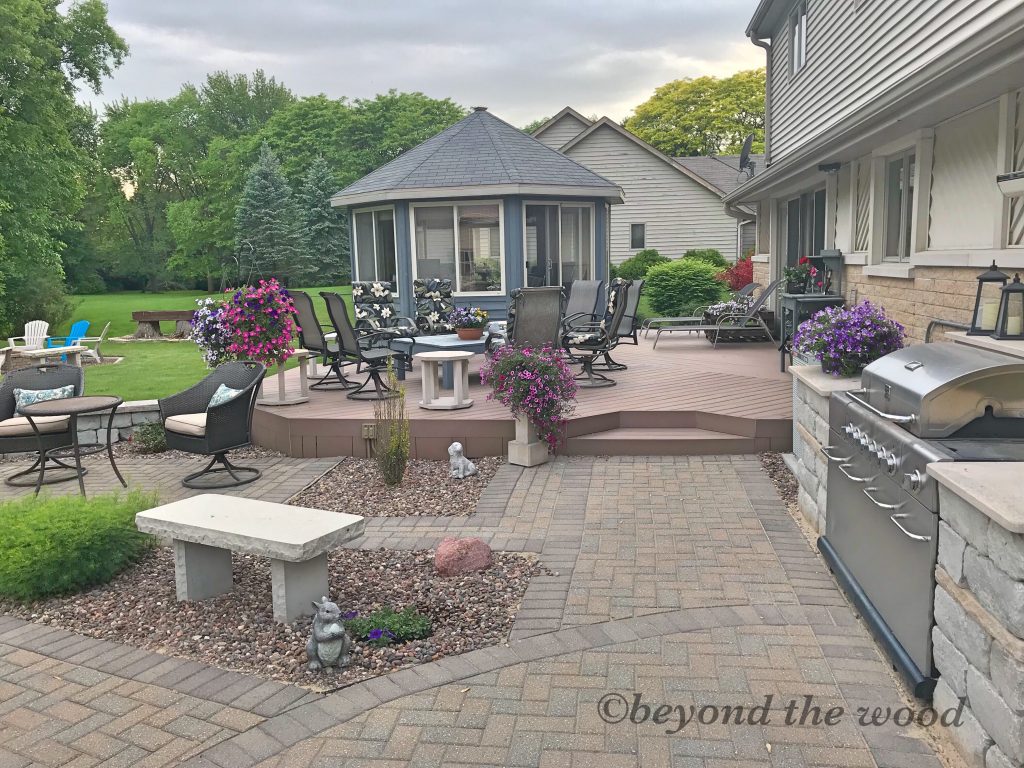 The year it was built we did stain it brown but last year it needed new stain so we went with this blue to shake things up. 🙂 To match, we also did this table on the deck and my potting bench so it all blends together.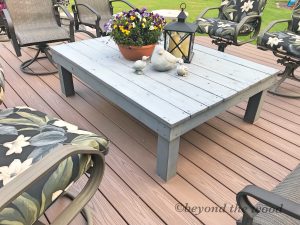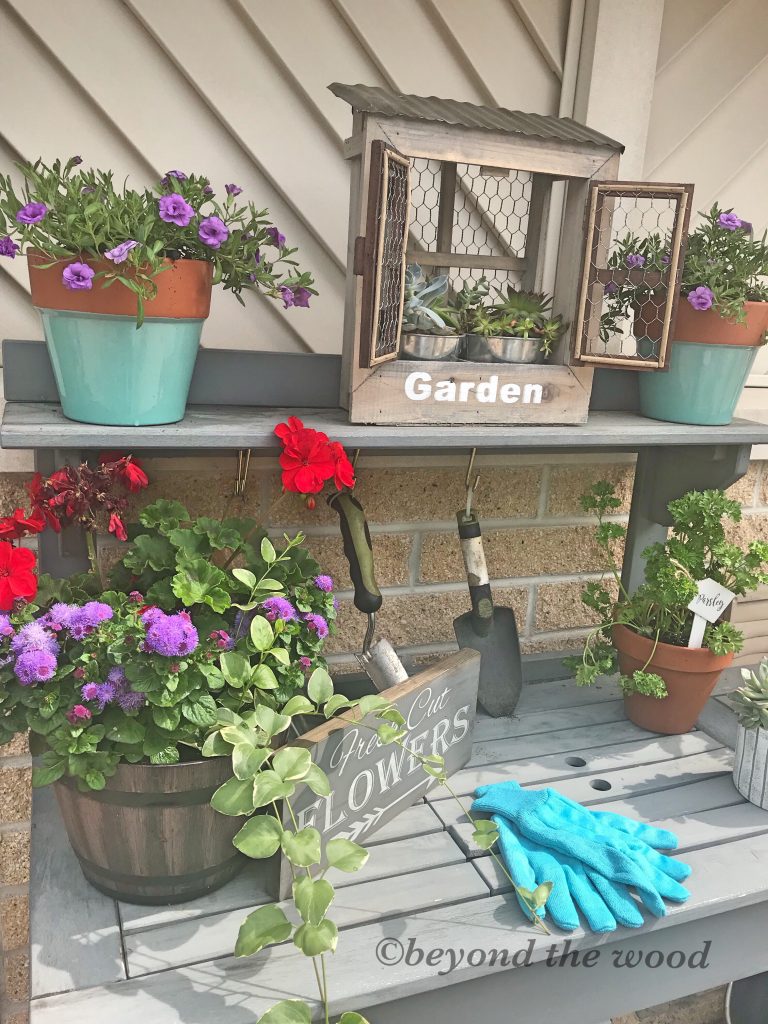 Now it was time for the inside. We decided these were the things on our "must have" list:
~electrical outlets (many)
~ceiling fan
~track lighting
~cable for a TV
~carpet so the kids could all lay around on the floor with friends to hang out
My questions were of course "how will you hide all the electrical and how will you even get electrical and cable out there" and how………yes 20 more questions followed and the same answer for all of them "don't worry about it".
The fun began for me to get out shopping to decorate the inside. I knew I wanted a futon so there would be that option to sleep in there in the summer when the kids had friends over. They were teenagers by then and we made sure it would have a lock on it.
I have been so happy with it all these years but now after 15 years I decided it needed updating inside.
Things were to mixed matched and everything was that light natural color such as the tables and futon. The grand kids toys were scattered about and I needed to tame things down.
Here were the before pics from weeks ago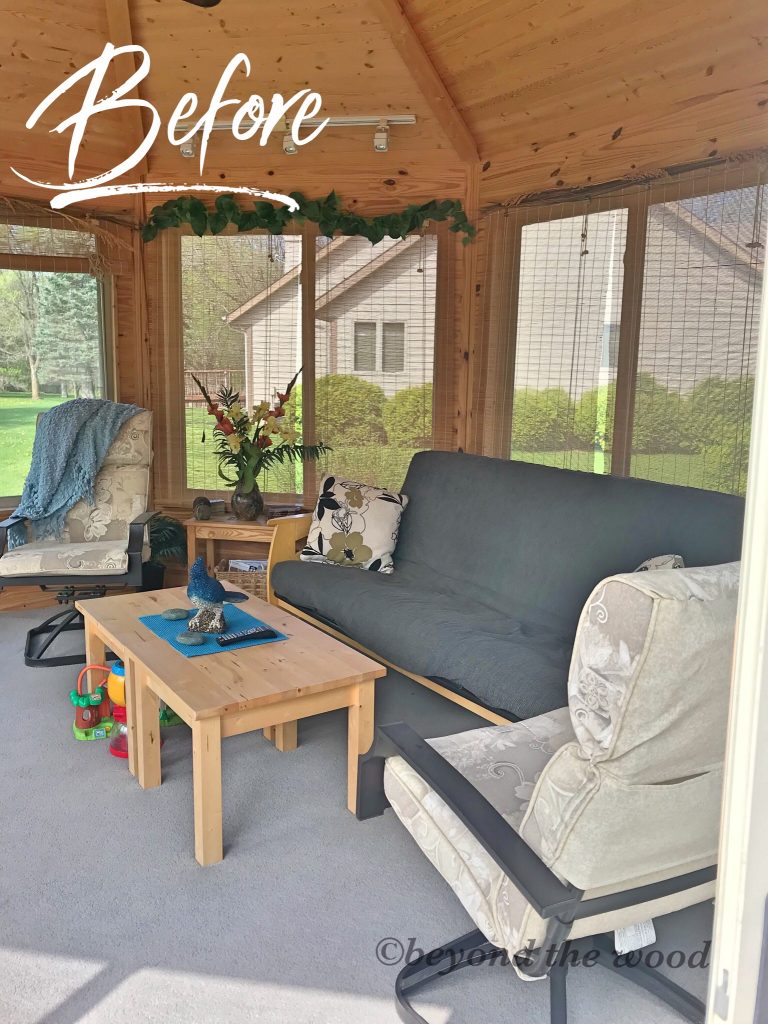 See how those tables were all natural which was fine for many years but now I was so over it! Then take note as to what was on the tables. Even though the orange and yellow faux gladiolus were so fun for many years, this year they needed to go. So to the garbage they went because they really were so sun bleached so I did not even want to donate them since they were not pretty anymore.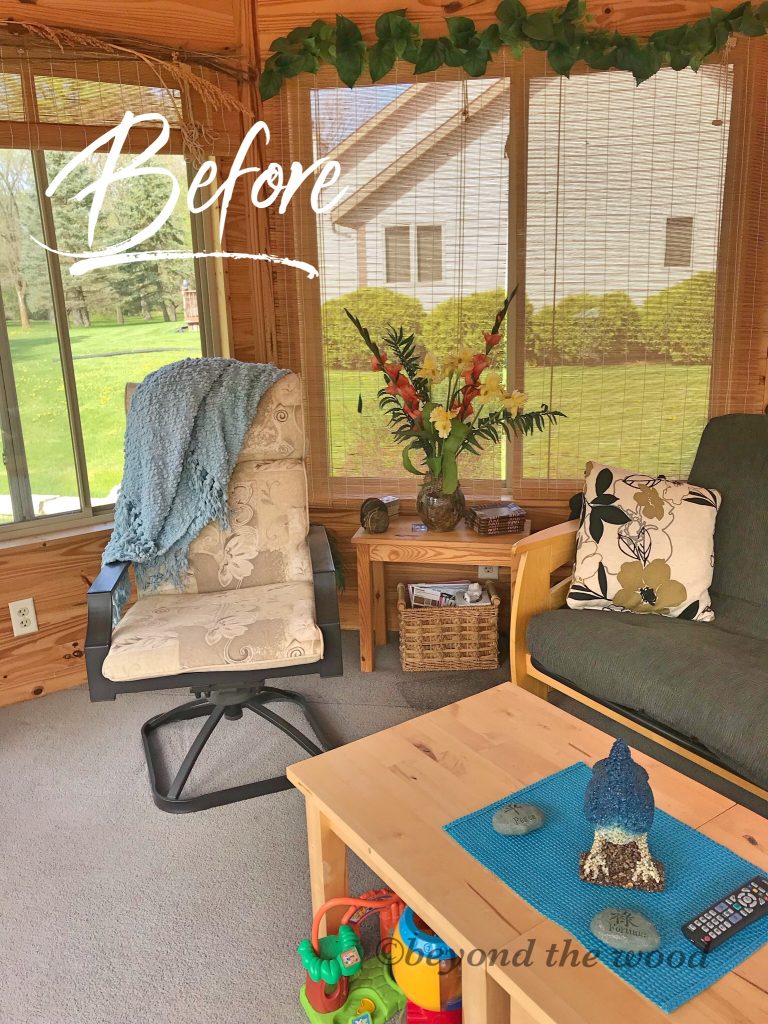 In this bottom photo I had received these tropical flowers in these vases from a friends, daughters wedding. They used them on their tables for centerpieces and I had them for the past 8.5 years. So time to retire them along with the cushions on the chairs.
The color of the futon frame was also so dated it needed a face lift. But I actually kept the cover for now because I have not found exactly what I want just yet!
Finally the updated end result!
Drum roll…….here are the changes. A much warmer, softer color pallet. Creams, blue's and this gorgeous darker stain on the tables and fresh paint on the futon.
Of course I did not touch the natural color of the wood on the walls and ceiling because honestly, that makes it BEAUTIFUL! So rustic and like that cabin feeling, ya know! 🙂
The futon I painted the same color as my kitchen cabinets.
Staining the tables on the ends and center it was the perfect contrast to the futon. All the tables were purchased from Ikea 15 years ago! So you might say I really get much use out of things and refinishing them will give me another 15 years, lol!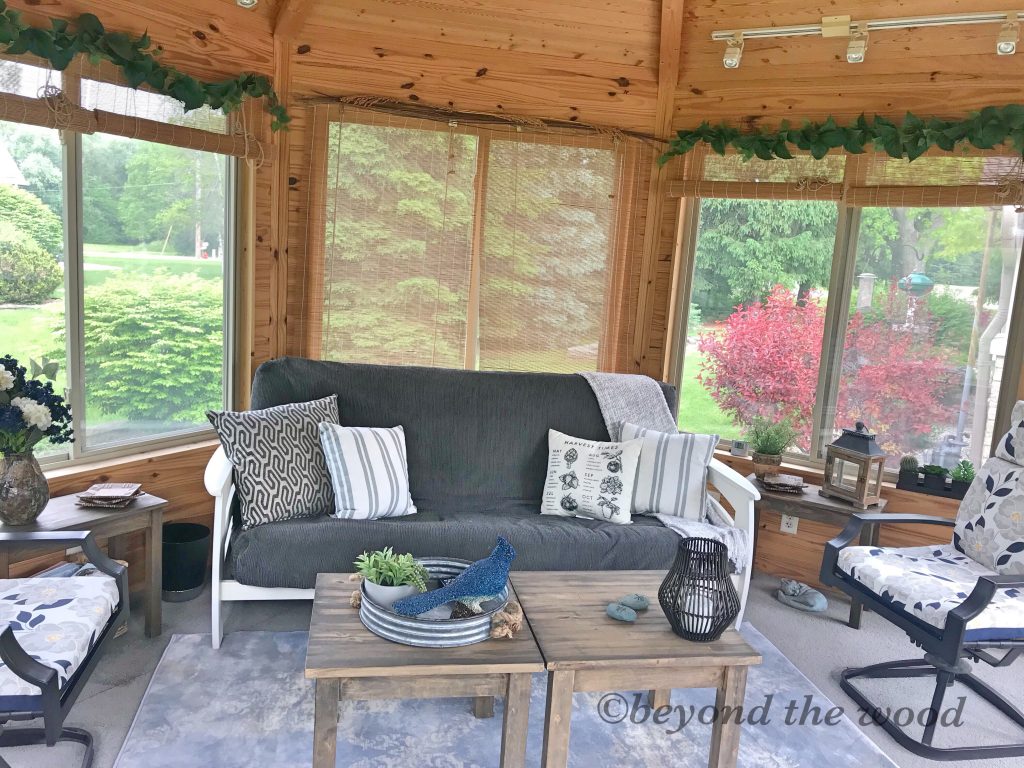 Some day when I have time I will make a real coffee table. But for now these two tables back to back work just fine!
Yes, that is a small electric fireplace under the TV. It has a switch to just light up with faux burning logs and another switch to turn on heat. So you have the option to run one or the other or both. It really gives off so much heat so using this space year round could totally work! If you look close once again there is a placemat under the TV. Me and my placemats, lol!
I know the TV is to big for the fireplace and I hope to find a new stand some day. But we just replaced a much smaller TV that use to be out here and that one fit great. But oh well it works for now!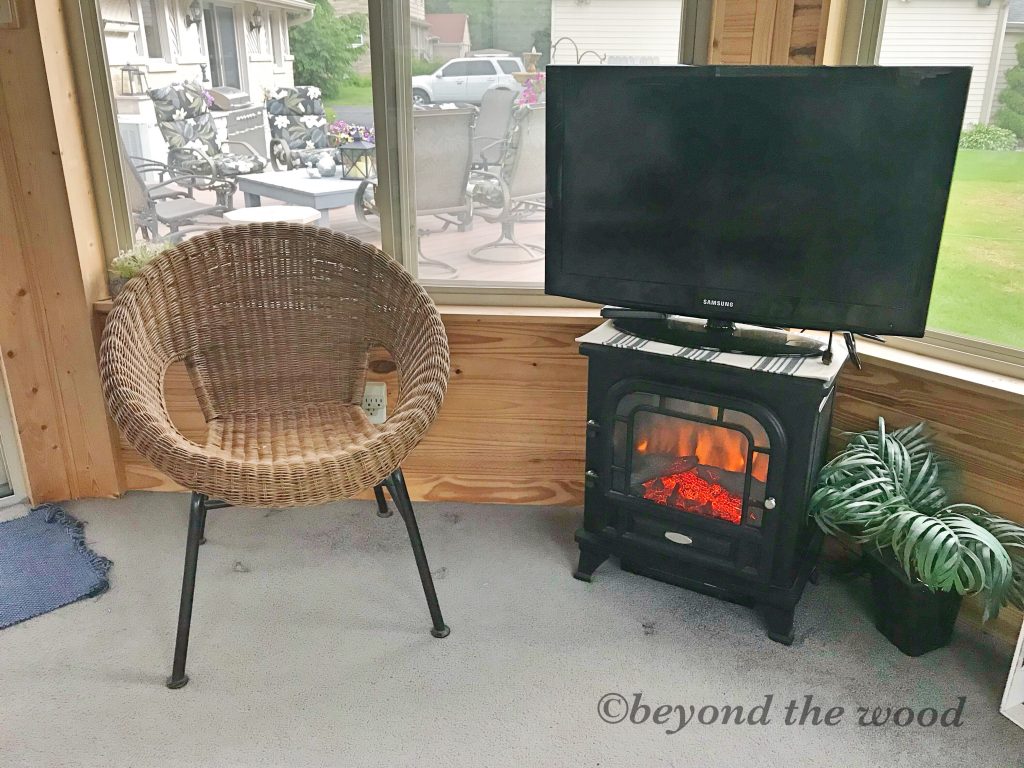 Oh and this rug…..just added another layer of texture and beauty to the space. I picked that up on sale at Menards!
Love these new cushions on the chairs. I purchased them from Home Depot online. I mean you have to admit they are so much cuter than the before, right?
When shopping for new flowers for the vase on the table I took a picture of the cushion to the store to make sure it would coordinate. I think the bouquet I put together matched so perfectly and really softened the decor.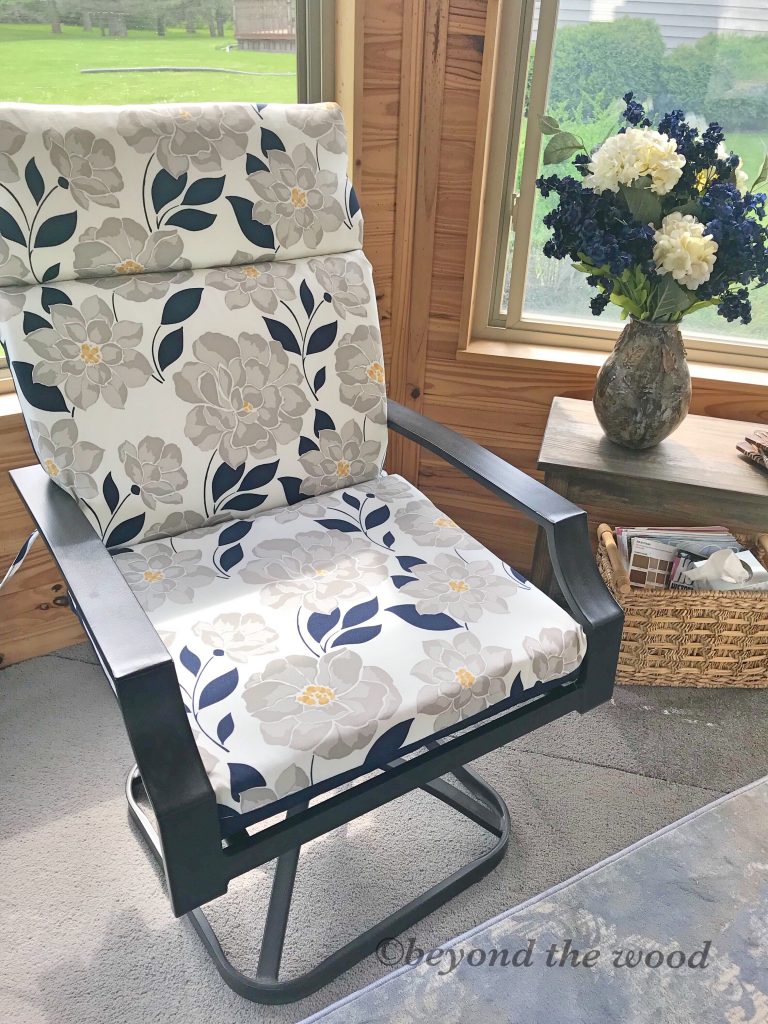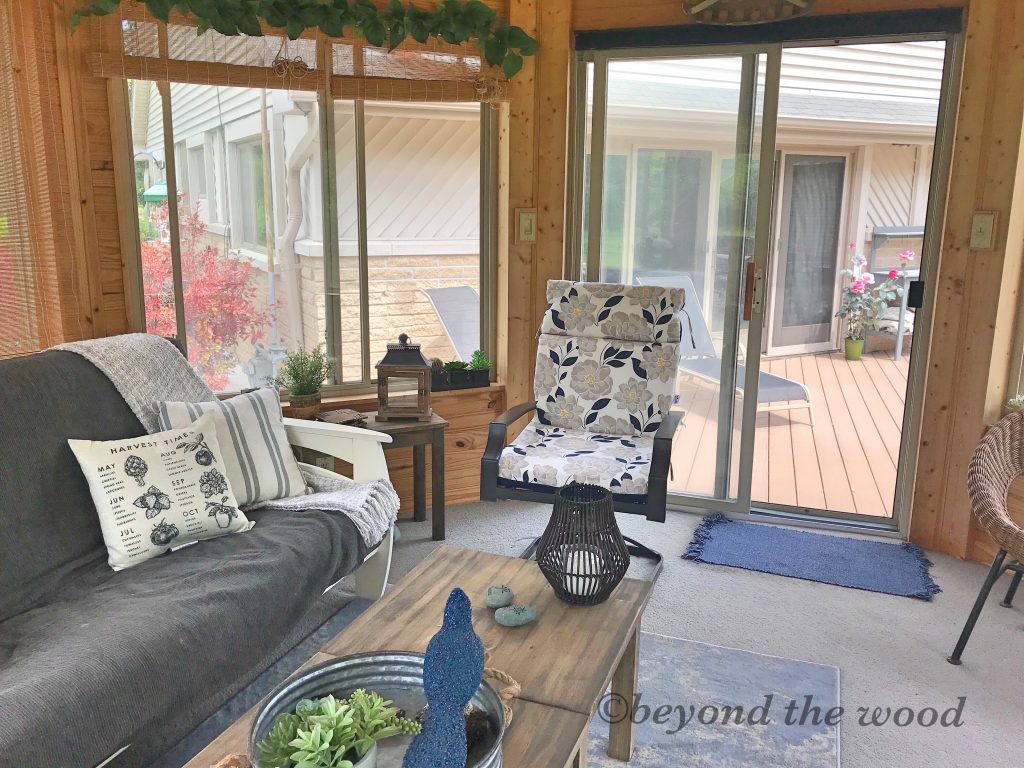 How about this fantastic pillow from Target and the striped ones are from AtHome! I mean it was so fitting for the outdoors, right! Pillows seriously add so much cuteness and you can never have to many.
Makes me get that cozy, warm, homey feeling, ya know! Is homey even a word, lol? Well it is in my dictionary! 🙂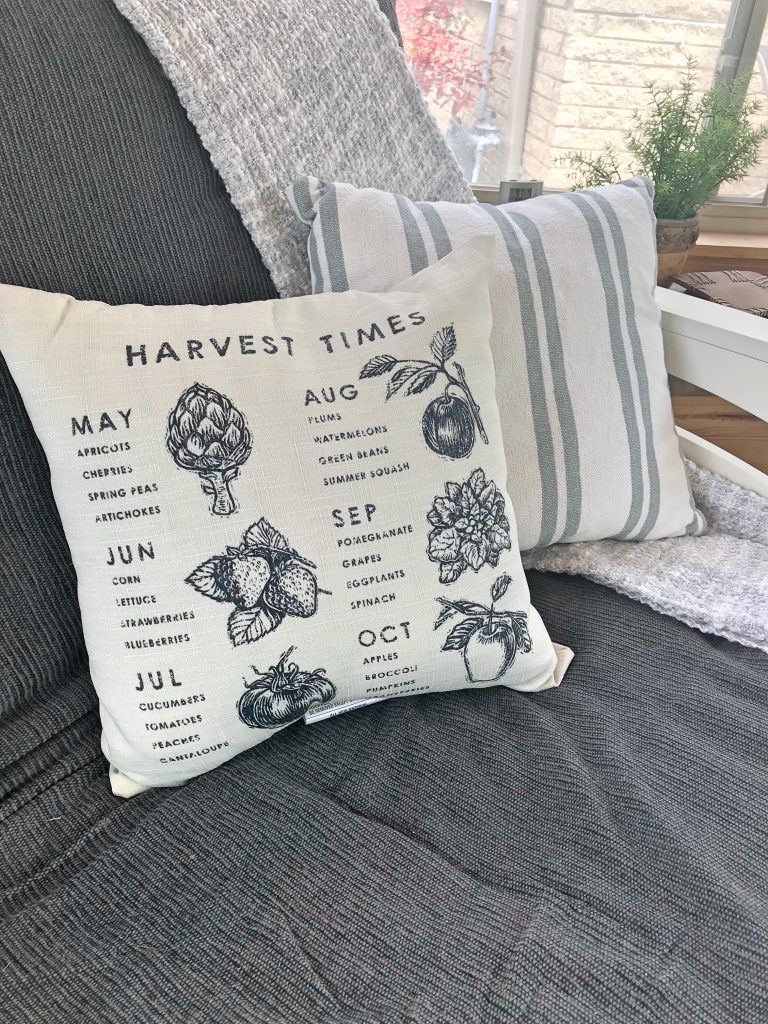 I am a bird lover for sure! This guy was purchased from a craft fair many many years ago. It is made from little pebble stones and I so wish I could remember the maker because I would love some more of their pieces.
They are so solid, heavy and gorgeous and they made so many different birds, animals and so much more. I know the craft fair was up in West Bend and it is there every year. I may need to go back again this year when it returns in hopes to find that vendor! I just think he is fantastic! The tray is from Home Goods.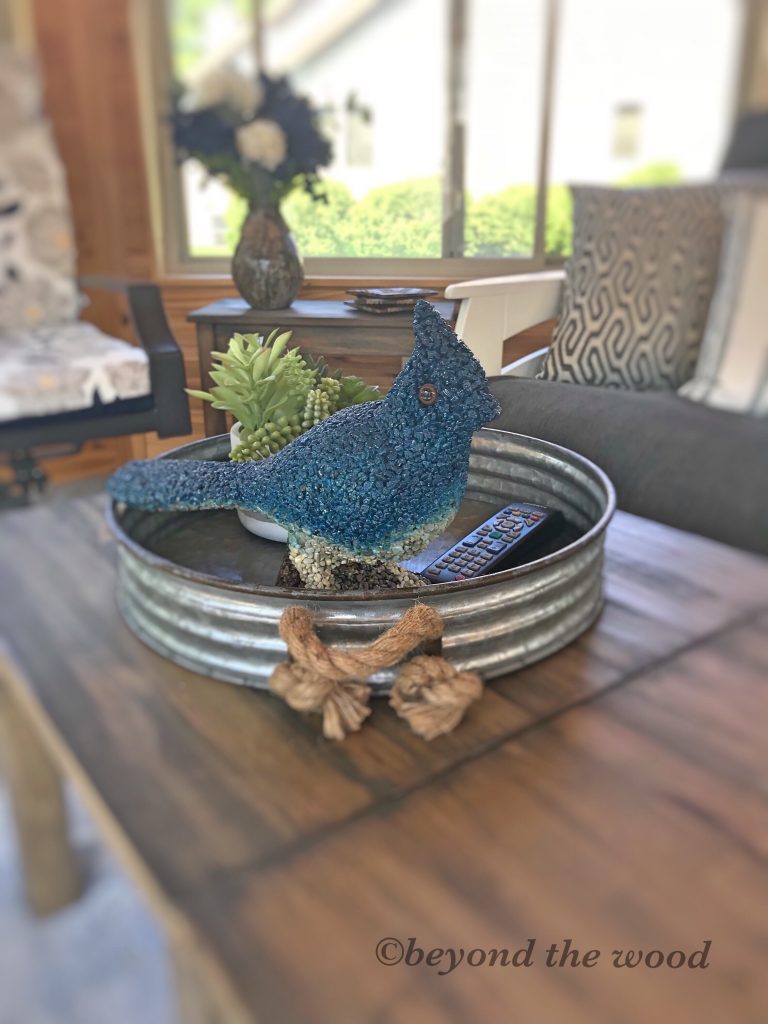 Then of course because of my love for birds I thought this quote for a sign was so fitting. I love how it turned out! I stained to match the tables and I think, again, the contrast from the natural wood to this rustic color flowed perfectly and made the sign pop.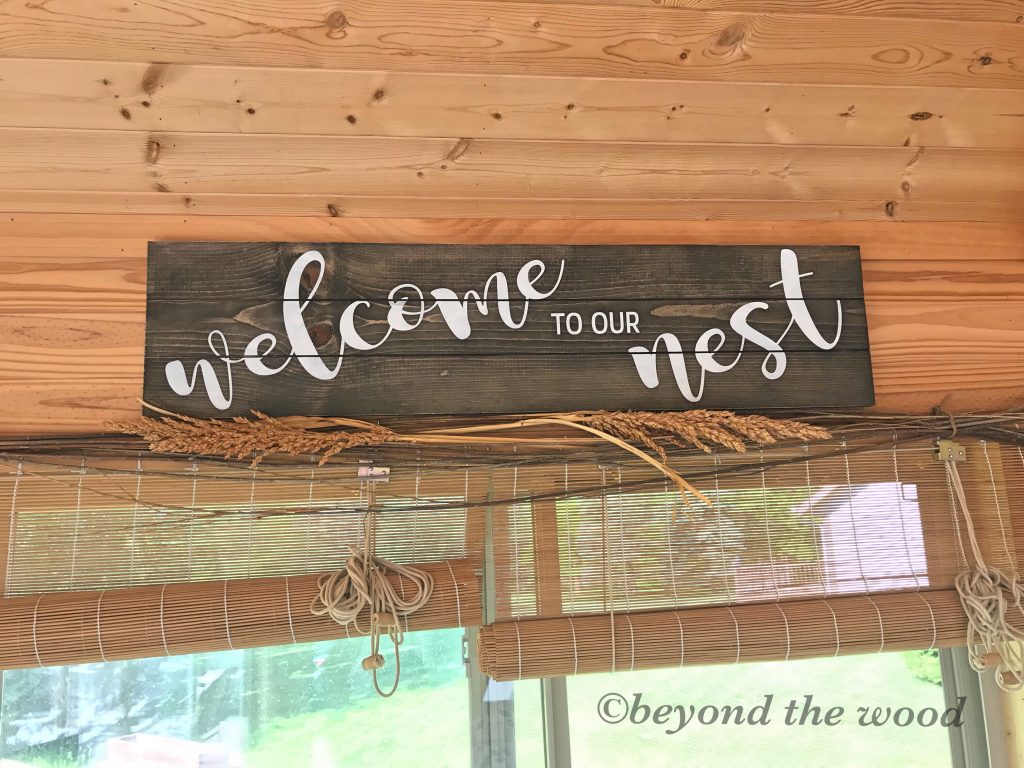 This adorable table and chair set is also new. I had found it online at Menards and was saving to buy it in a few weeks. But hubs surprised me with it for our Anniversary last month. I was so excited. I mean, look at how cute it is. Such a perfect warm grey color and so nice for extra seating in the gazebo.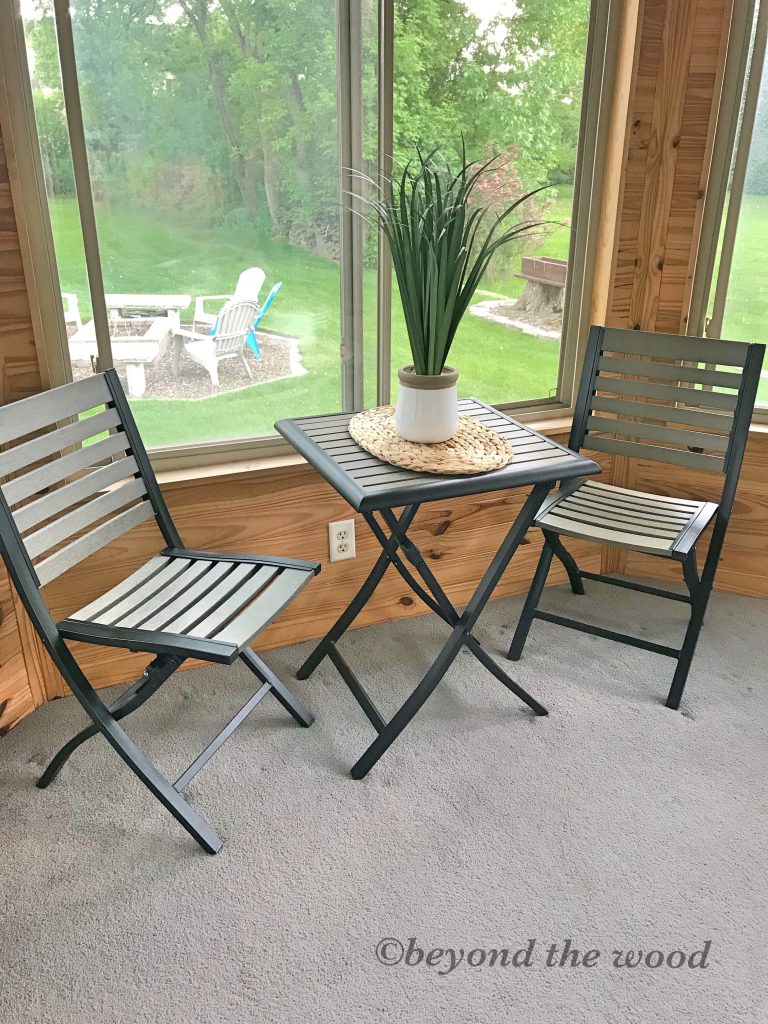 But seriously, look at that ceiling, how in the world did he make that? lol Yes, the wires are all hiding in there for the lights and fan. I seriously am so impressed with this man! A keeper for sure!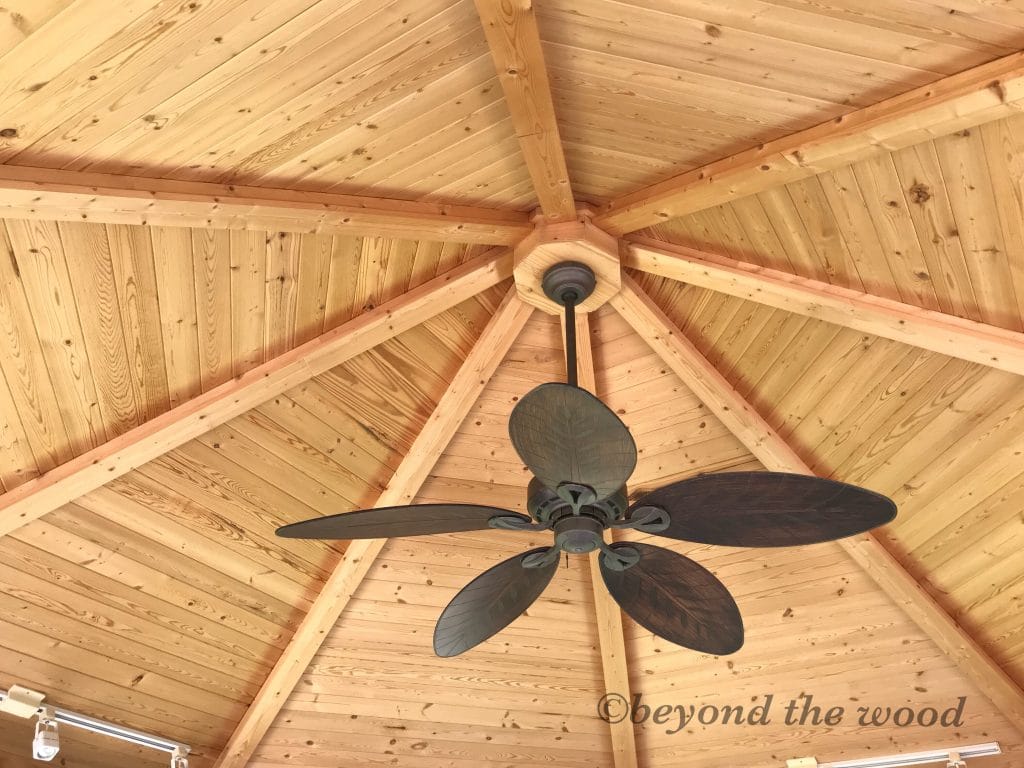 This hurricane lantern was another great purchase from the World Market recently and you can get it on sale here. 
Plus to save even more use the code SAVEBIG10 to get an additional 10% off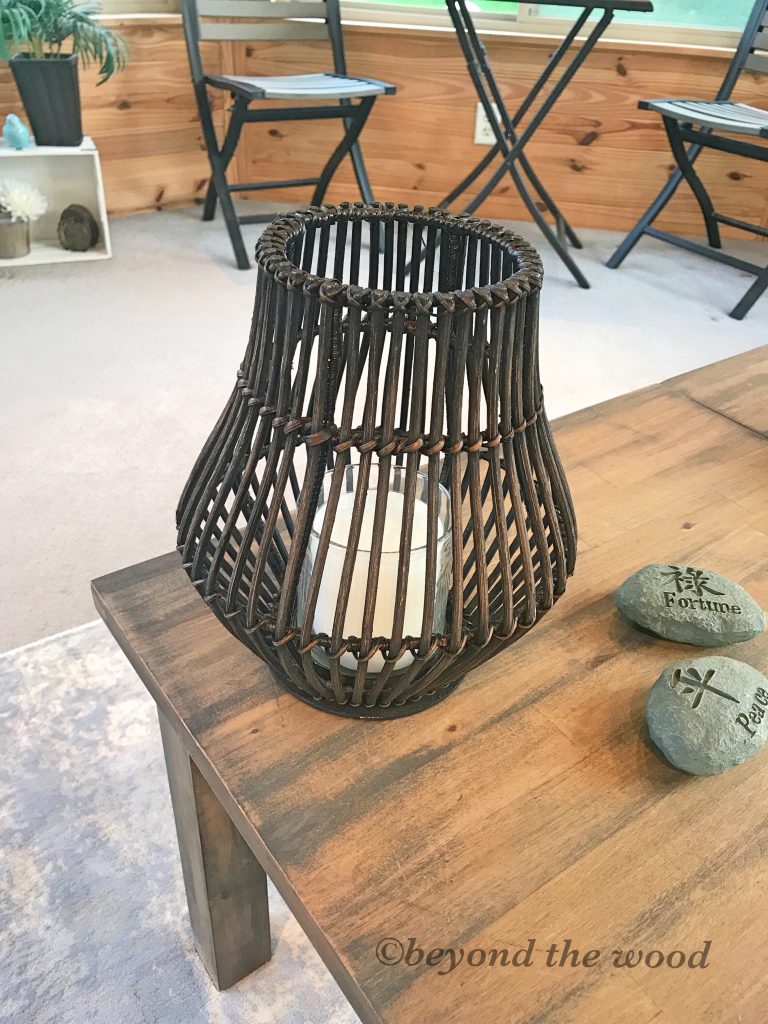 This oval placemat was also a World Market find and I love using them for multiple things. They add such great texture for under any decor. Remember since it is not on sale if you buy to use the discount code SUNNY15 for 15% off!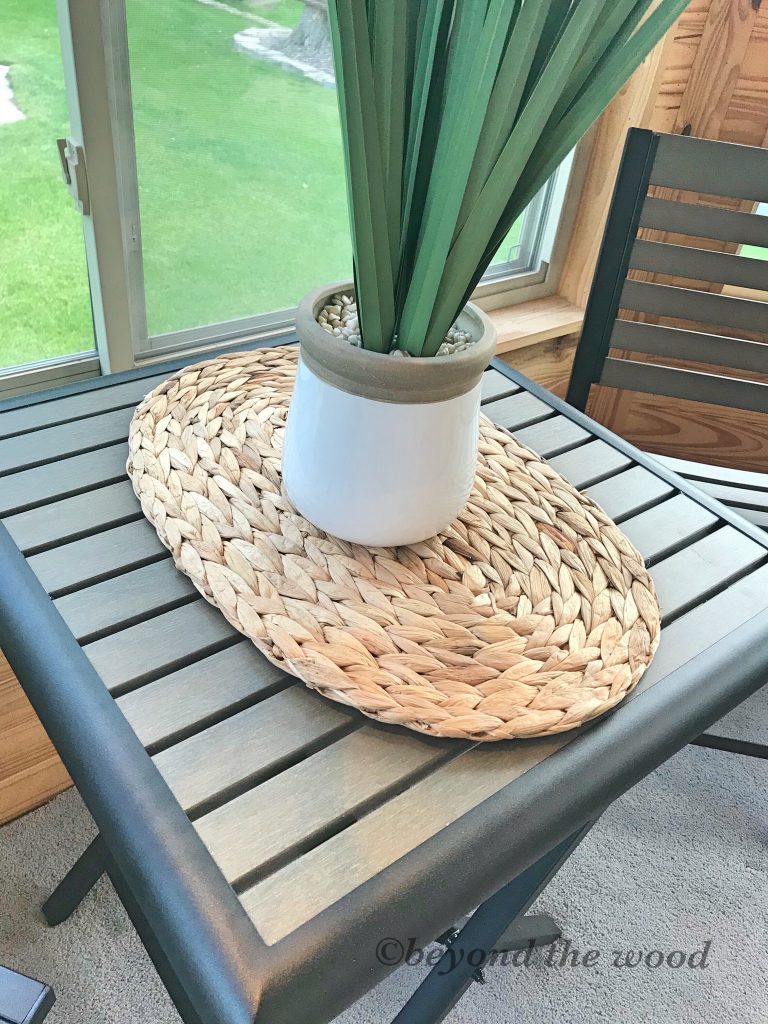 So there you have it. What do you think? I really hope it inspires you in some way in your own home and it gives you some ideas with decorating dilemmas.
I will say the gazebo is one of my most favorite things in our yard. Having a place to go after the sun sets and the bugs and mosquitos come out is so fantastic. Opening all the windows still makes us feel like we are outdoors with the fresh night air and yet not getting bit up. YAY!
Now onto the next project! Hubs would like to get a rail on the deck yet this summer but we are saving for that. He redid that deck last year but we never purchased a rail yet for a few reasons and the biggest was I could not find one that I was in love with. Nor did I have the time to get out and really look. So hopefully this summer I will have a chance to do that.
My next project is our bedroom. It has been 11 years since it has had new paint and much of the decor is the same as its been all them years. So guess what, you all will be coming along with me on that makeover. It will be little by little and I will take you with along the way! 🙂 More on that coming soon!
Thank you so much for stopping by the blog today and as always if you have any questions feel free to ask. I am happy to answer them!
Have a great day buddies! Go out and be AWESOME!