Well Happy December friends. Can you even believe that it is December already? I know I say this all the time but I really wish life would slow down. I am so not ready for 2018 to end, nor am I ready for Christmas!
I hope you all are doing well. Me on the other hand not so much. I rarely and I mean its been years that I have been sick and last week I caught a cold. It seriously is knocking me down. But I just keep sniffling and coughing through it and work all day and night. Being self employed and a one gal show does not give me time off. I still have so many deadlines and commitments so I keep plugging away. But that's okay I would not have it any other way.
Fun with food
Today I thought I would share a super cute and easy little fun with food project I did for my granddaughters a couple weeks ago. They were over for the day while mom and dad went car shopping and I decided to whip up a few simple little "nutritional", (well kinda) ice cream cones for lunch. lol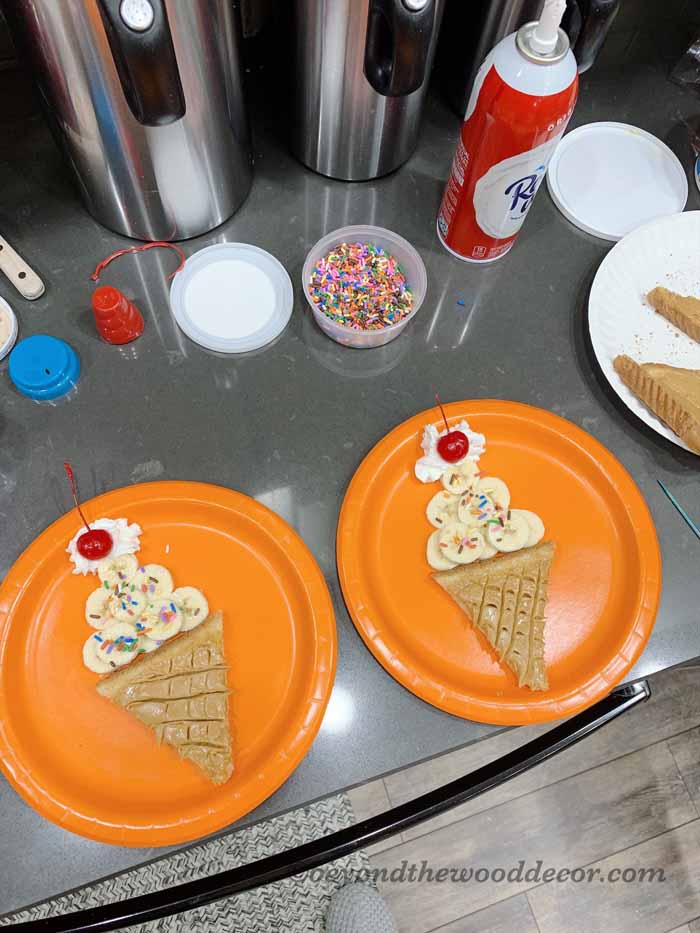 How cute are they?! All I did was make some peanut butter toast, cut it in a triangle, added bananas, then sprinkles. Topped it off with a dash of whipped topping and a cherry.  While I was making them I covered the island with wrapping paper just so they could draw and stay busy. They were so excited.
As you can see the first thing they went to was the whipped topping, of course!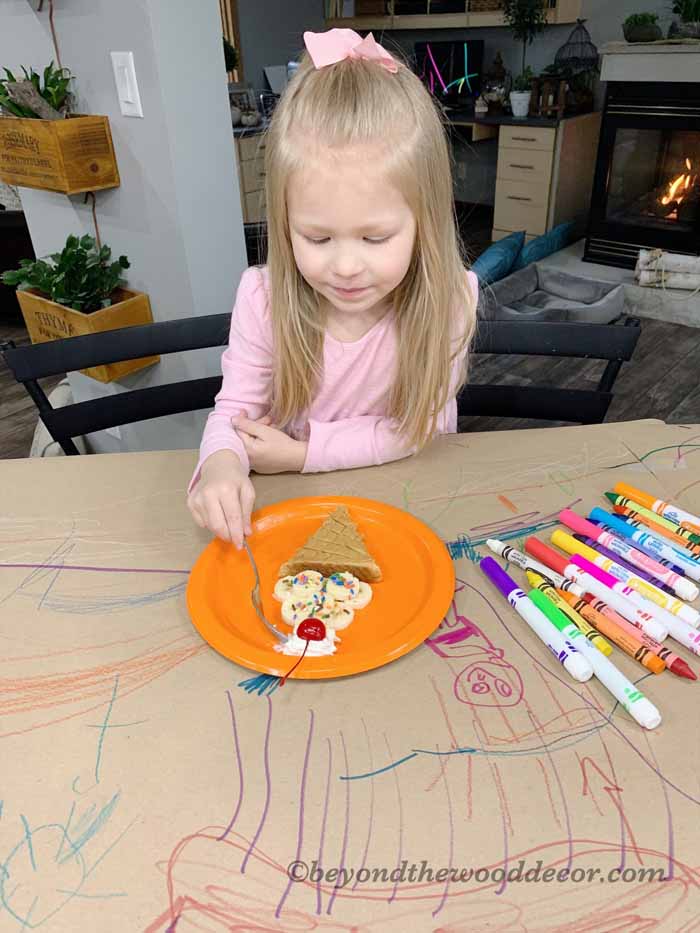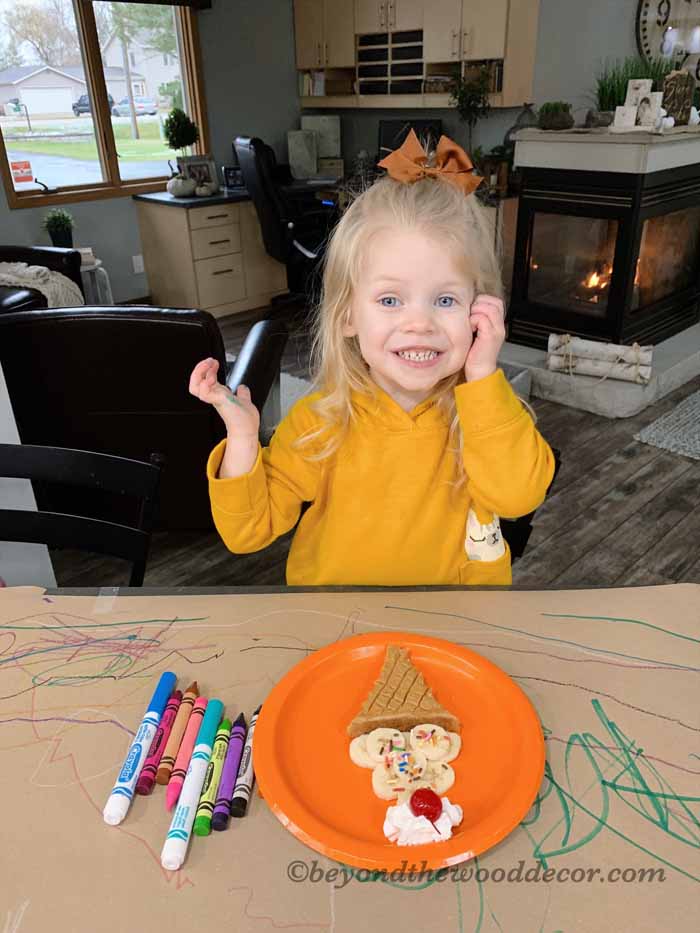 Of course the girls loved it and cleaned their plates fully and even had two each! To make the waffle cone appearance I just used a toothpick to draw the lines. Easy Peasy!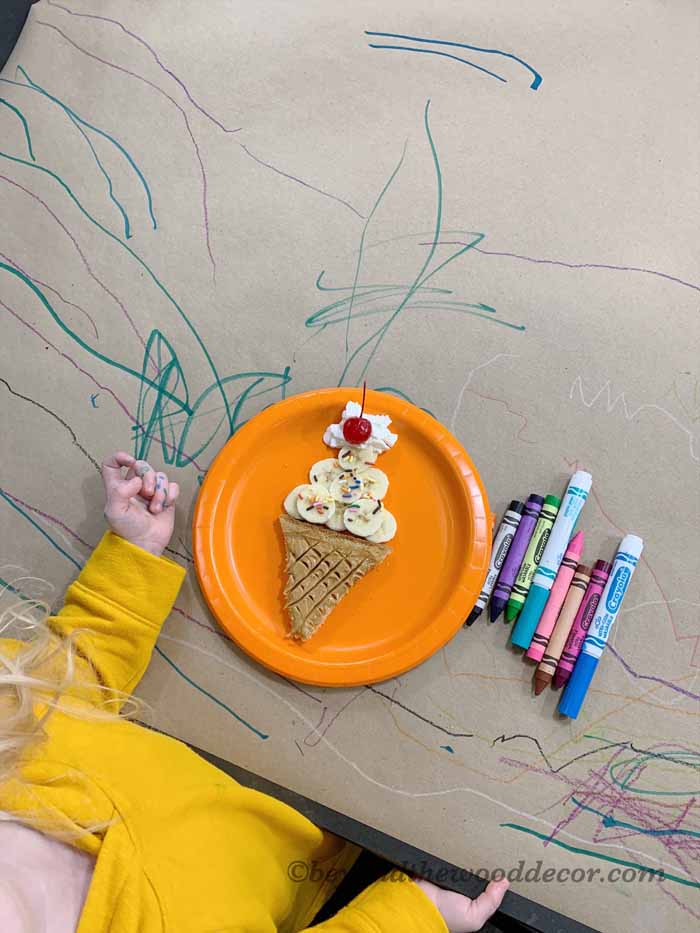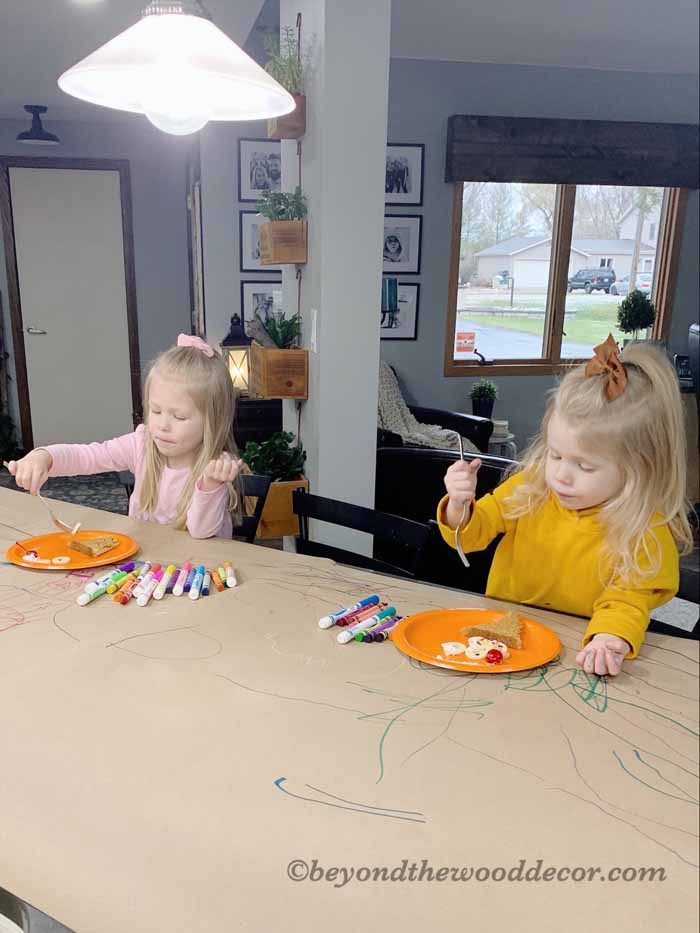 I hope it gave you a little fun idea you can do with your own littles!
Simple Christmas Wreath
Okay, lets move on to another super easy and super cute DIY Christmas wreath. I mean you only need minimum of 3 supplies but I added some bells for more pizzazz.
Supplies needed:
~Grapevine wreath. I purchased a white one from Michael's craft store at 50% off.
~Garland of your choice.  I also got this from Michael's at 50% off
~Wire. You can use silver or green crafting wire or whatever you have.
~Bells (optional)
In years past I have made many wreaths where you buy many pieces of stems and flowers and one by one adhere them to the grapevine wreath with hot glue. This time I wanted super simple. So I went to the garland section at Michaels craft store and picked out this garland. They have so many beautiful ones to pick from but I wanted something thinner and more simple for my wreath.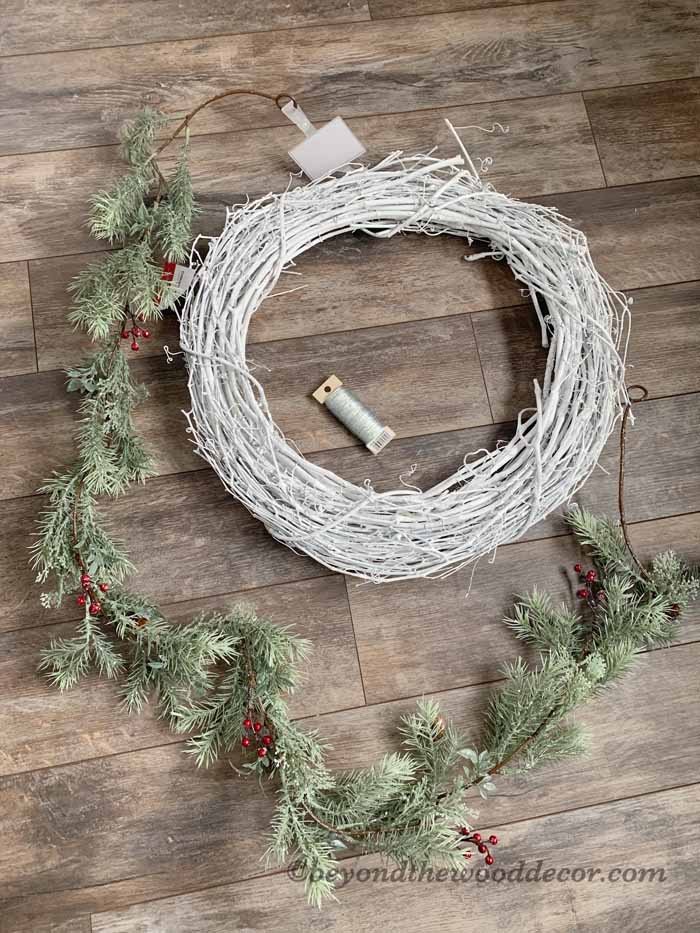 Just 3 simple steps
Lay your grapevine down and simply lay your garland on top of it.
Take your wire and every couple inches tie down your garland to the wreath.  Once you get to the end where they meet you can decide if you need to cut any off if it's to long. Mine had a small piece that I did cut off.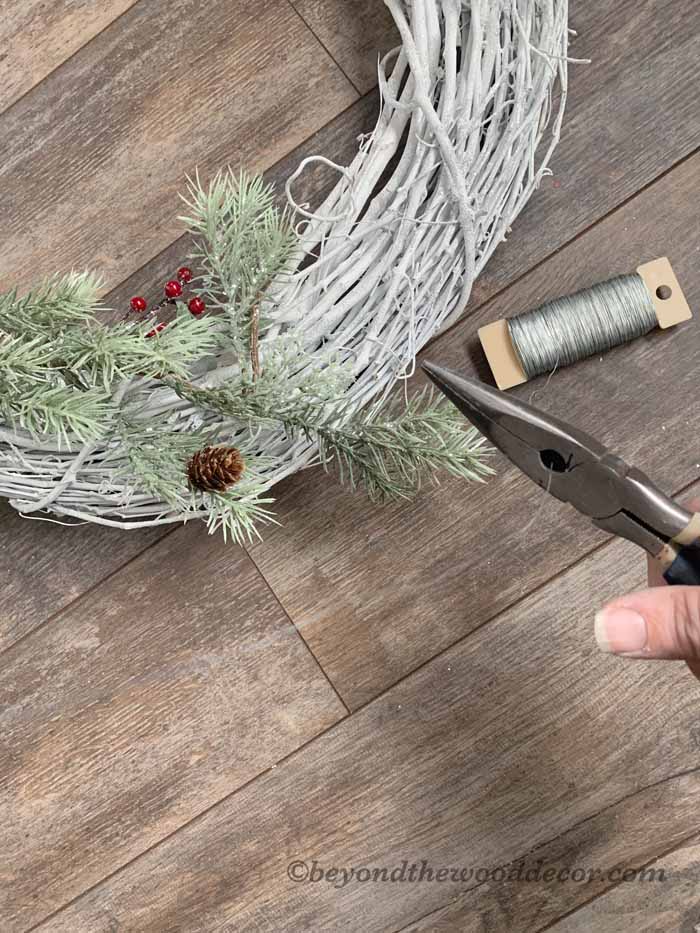 Just keep twisting wire to strap it down and it goes so fast.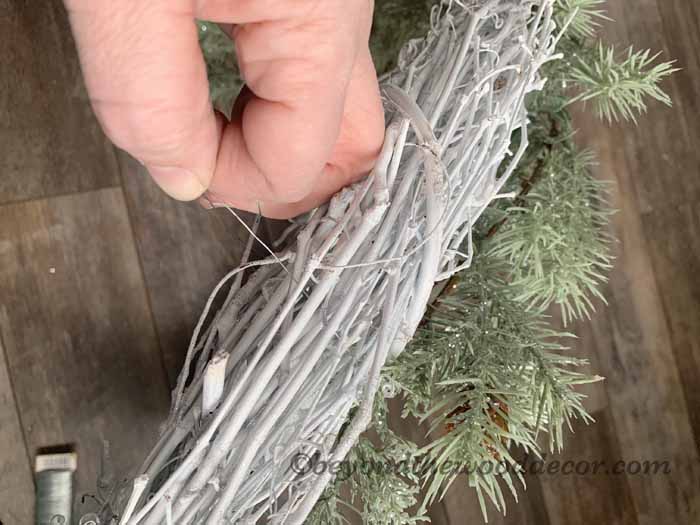 Here is a picture from the back where you can see how invisible the wire really is. I just tucked that all in so there were no sharp ends.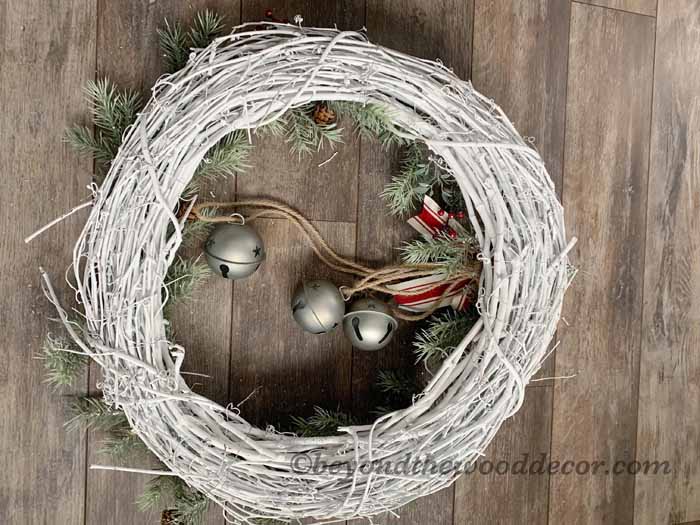 I did add some bells for an extra texture and to make it more festive. I love how it turned out! I decided to hang it on this window and I think it looks so warm, festive, simple and clean.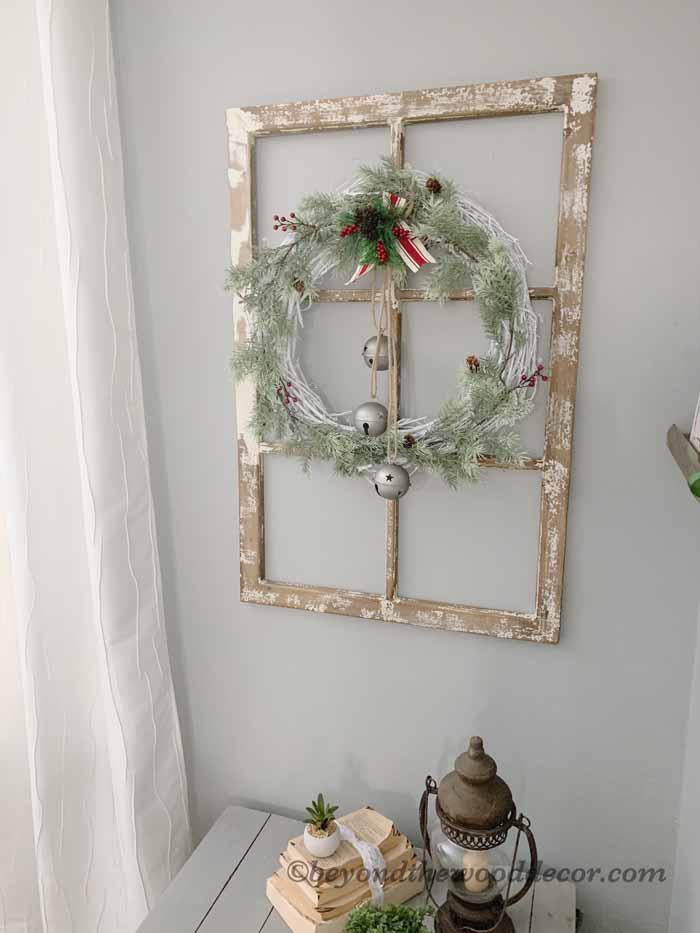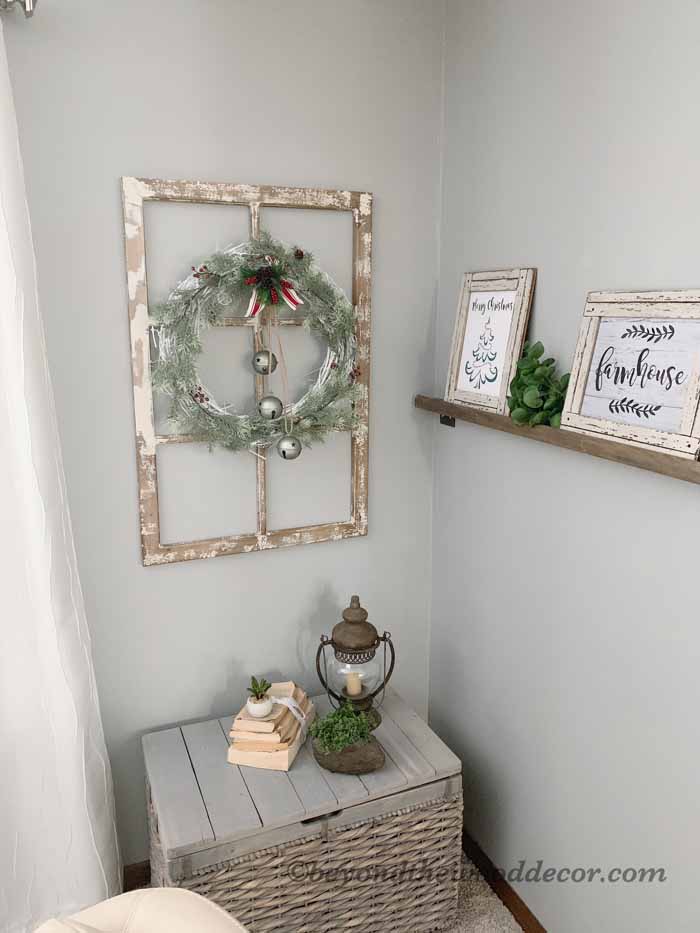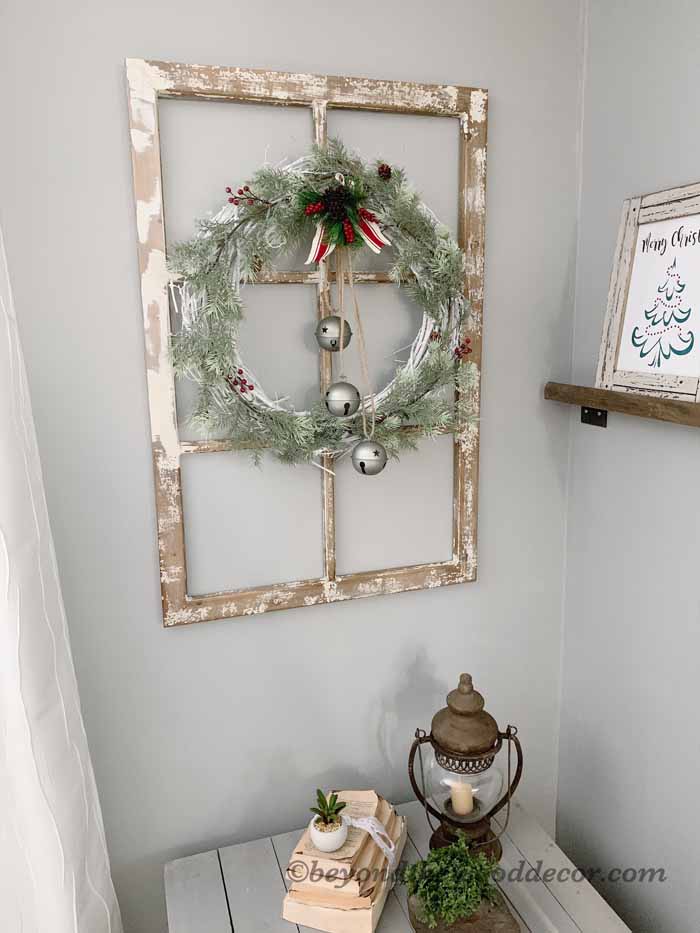 There ya go a super simple DIY for hanging in your home or on your door. I hope you give it a try and keep in mind almost every place has Christmas garland already on sale for the season. So at 50% off you cannot beat that!
I am slowly bringing out Christmas decor. Have you started decorating yet? I really never do until about 2 weeks before only because of time. Decembers are so busy for me with orders and one year I literally put a tree up 3 days before. Now that was stressful, lol.
So this year I hope to bring a little out each day then it won't be so over whelming. So maybe this time next week I will have a little more up and if I am lucky maybe even a tree. Go me, go me! lol
Have a great weekend, friends, and I will see you back here next week.