Updated Chandelier
April 6th and it was snowing this morning here in Wisconsin. I am so ready for spring and hope it comes soon. In the meantime hubs and I continue to do small fixer upper projects in our home while it is still to cold to do projects outside.
So as I shared our kitchen makeover with you last week I mentioned we were going to slowly start changing out the light fixtures.
The ones we had were still great and looked fine with the kitchen but I really wanted that modern farmhouse look and decided to go with barn lights.
Here is a before which you can see is cute but I was never keen on how high it hung. But since it has a cathedral ceiling hanging it high did give more light throughout the room instead of just over the table.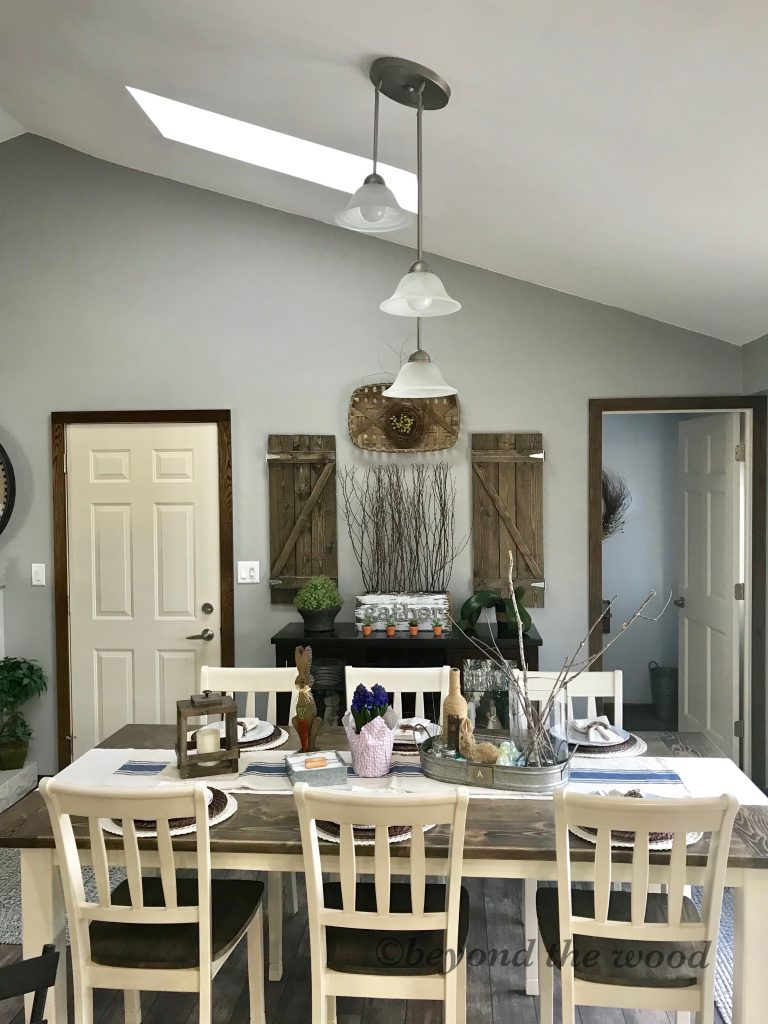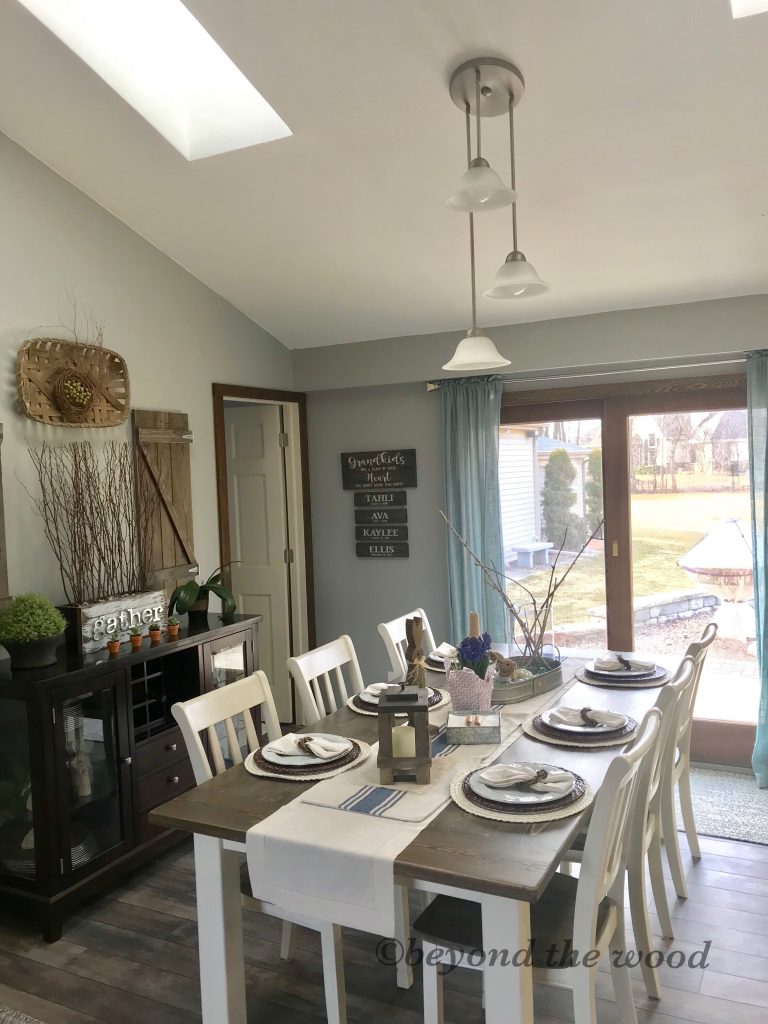 Time to hang the new chandelier
So hubs brought in the big ladder and set out to install the new chandelier. This one we decided to hang much lower and it does really give great lighting directly above the whole table which I really like.
We have so many other lights in the kitchen and adjacent office that those lights help light up the room any way so having this chandelier hang lower worked out well.
We decided to also go with oil rubbed bronze which gave a nice color to the rustic feel I am in love with.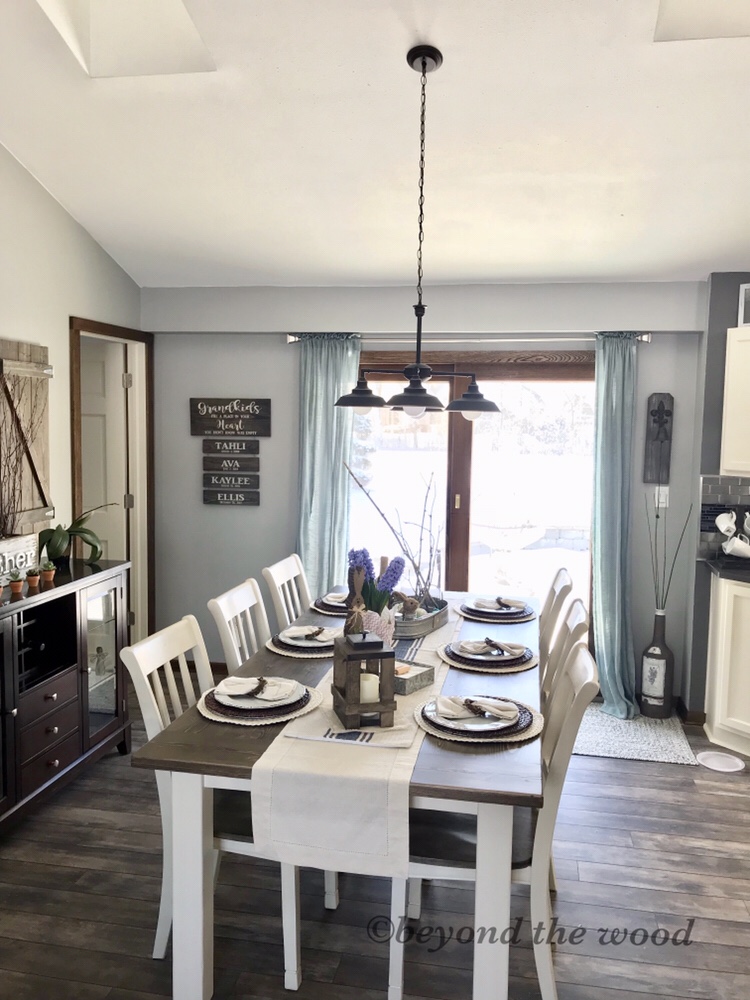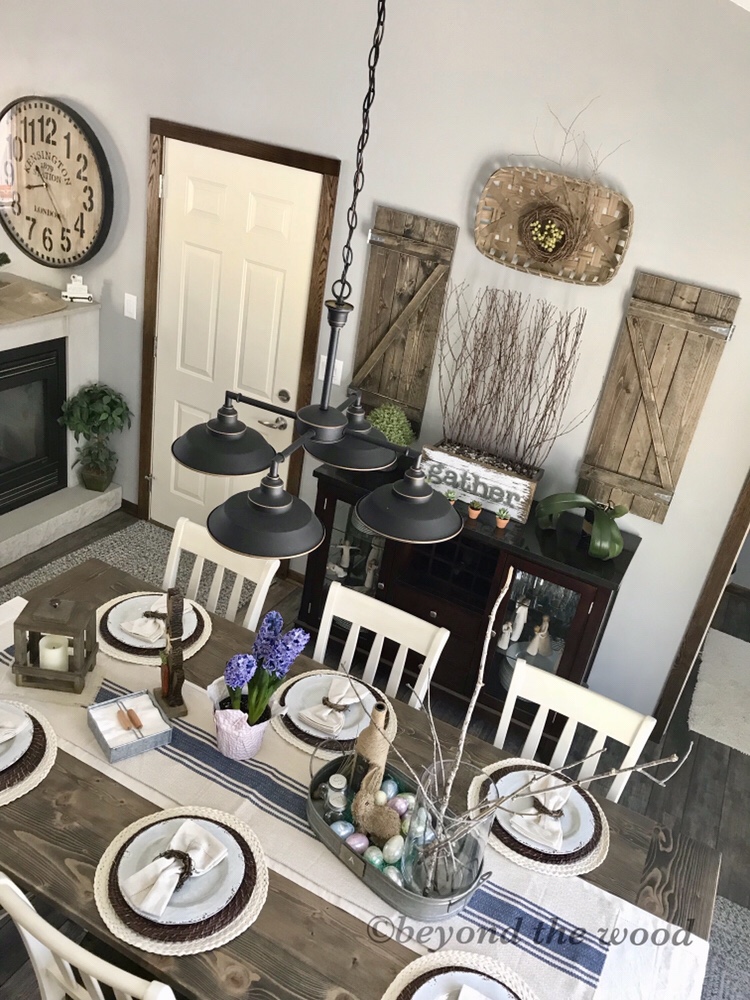 Again, working on a budget I found this light to be so very affordable and you can find it here.
For the price I think it looks fantastic and am so happy with it. If something goes wrong with it or we want to change it out in years to come at least we didn't break the bank on it like you certainly can with lighting.
Decorated table
I am also asked if it is a pain to keep my table decorated like that at all times? Honest truth is absolutely NOT only because it is just me and hubs living here now and we always sit at the kitchen island for our meals. So this table is rarely used except when we have dinner gatherings with family and friends.
I honestly change out the tablescape really often. Here it is decorated for Easter yet which will be coming down this weekend. But I do keep the placemats with the wicker charger, the plate and napkin rings and will change-up the napkin color from time to time.
I love the look of all these textures layered together and think it gives the table such an inviting feel. As you can see the table runners are also two different sizes, styles and textures for a warm feel. The blue stripes give that farmhouse style.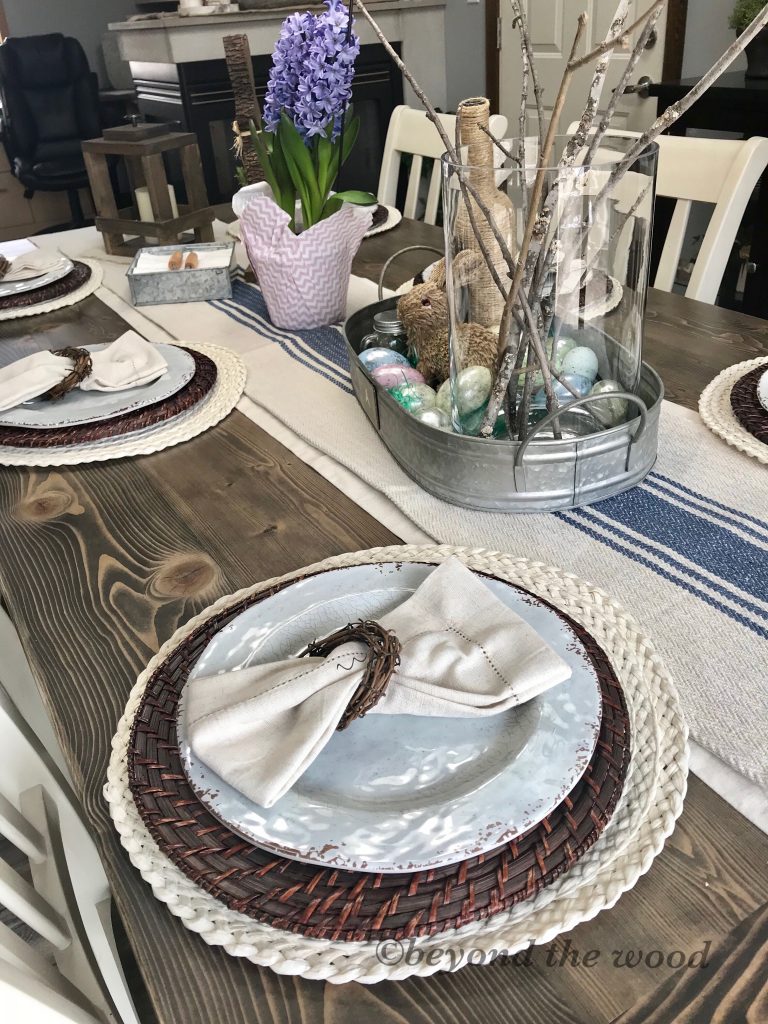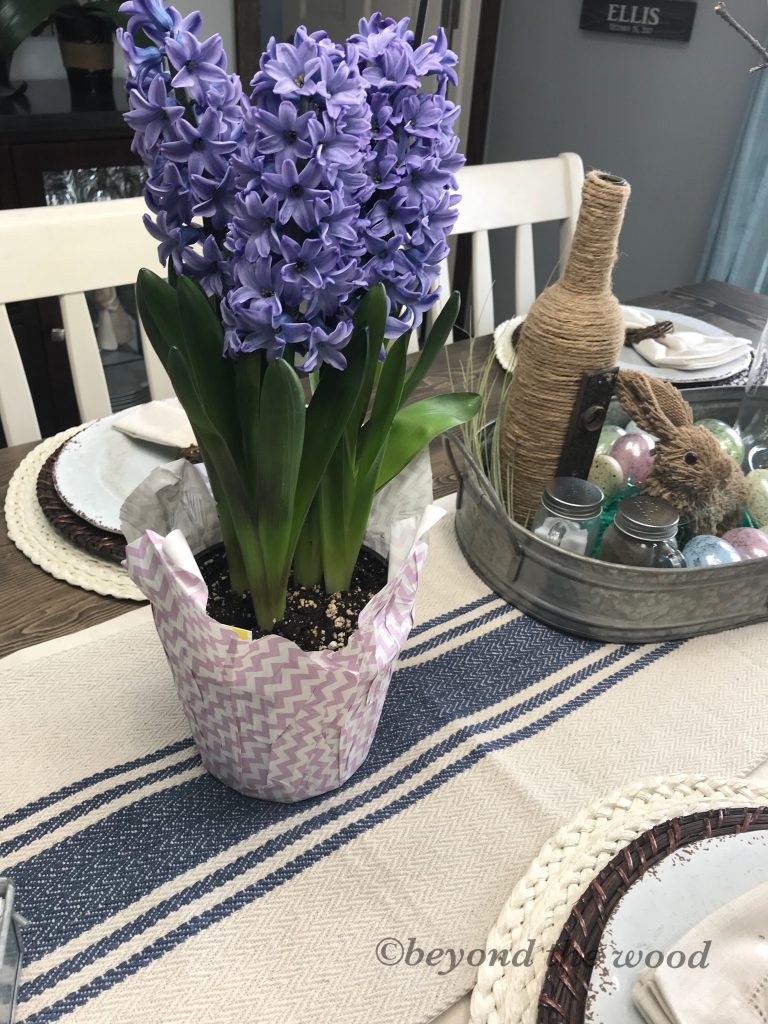 The plates are also just used for decoration. We have other eating plates we use for our meals so these are not needed. Plus, as we all know things get dusty so I just dust them off but would not eat off them without washing them.
You can always find a set of cute in expensive plates for decorating in the seasonal section at craft stores or even Target. I love these chippy looking ones as they give that aged rustic feel and were so cheap.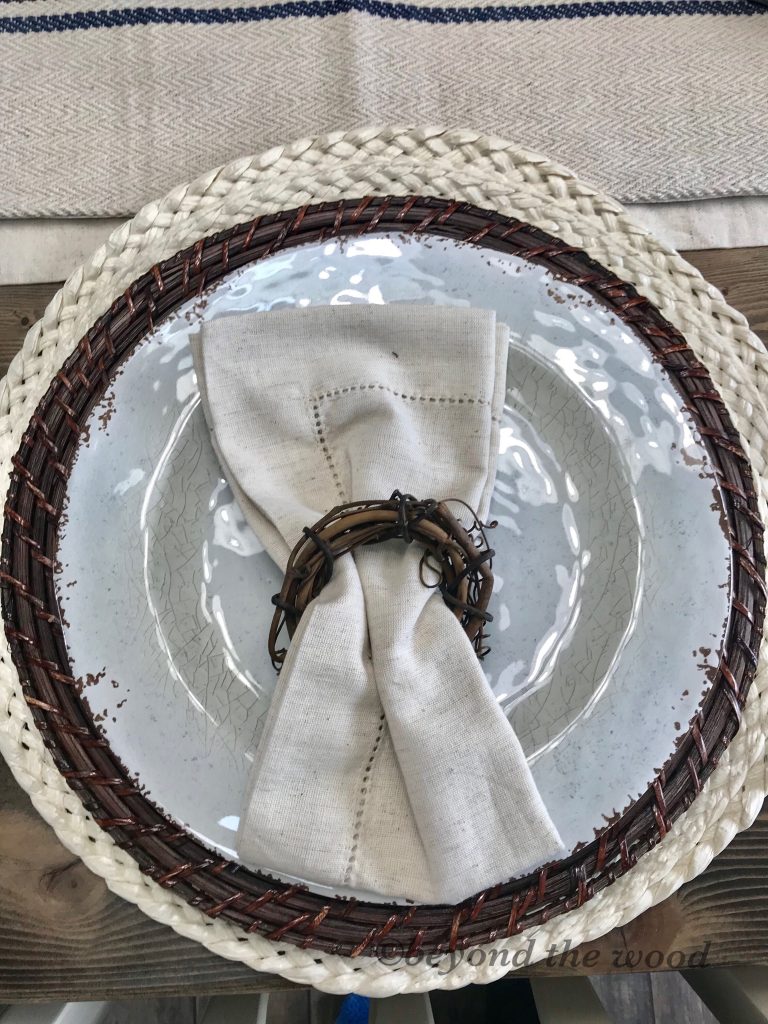 So as I mentioned before this can be done up like this because we just don't use this table often. For a family with children still at home like myself many years ago I would keep one centerpiece on the table and that is it so it was much easier clearing off for meals. How things change when your children no longer live at home. yay!
I hope this gave you some inspiration! So many more decorating ideas on a budget coming soon!
I hope you all have a fantastic weekend and stay warm! (((hugs)))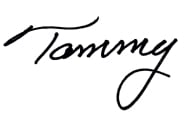 PS. Be sure to sign up to our newsletter so you don't miss a thing! You will also receive a free printable. Just click here.