Hello my friends! You have asked and I promised to deliver. So, today I am sharing how I brought simple touches of fall decor in my home.  I crave simplicity so my go to pieces for fall this year are mostly pumpkins. Also, some plaid and buffalo check patterns, wheat and other fall foliage and some cute signs here and there.
This year I decided to keep things pretty neutral so you will not see much color in my decorating. I am not against it but I like switching things up year after year.
But when it comes to fall color this lil man is my best piece ever. Meet my 9 month old grandson, Ellis. I mean c'mon look at how cute he is and this fall outfit he is rockin it! He seriously melts my heart and fit right in with fall decor!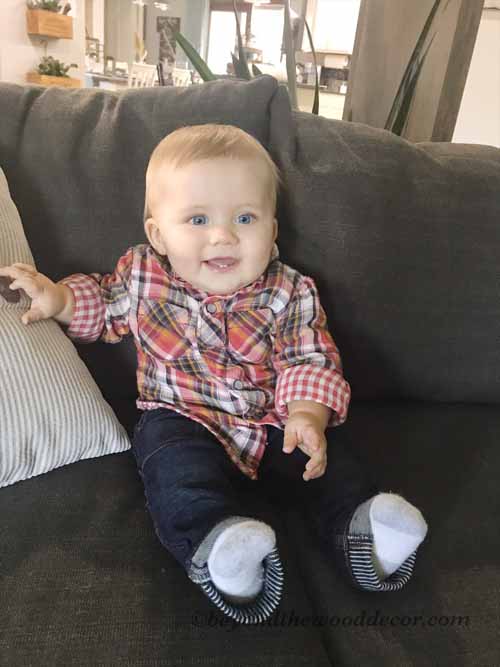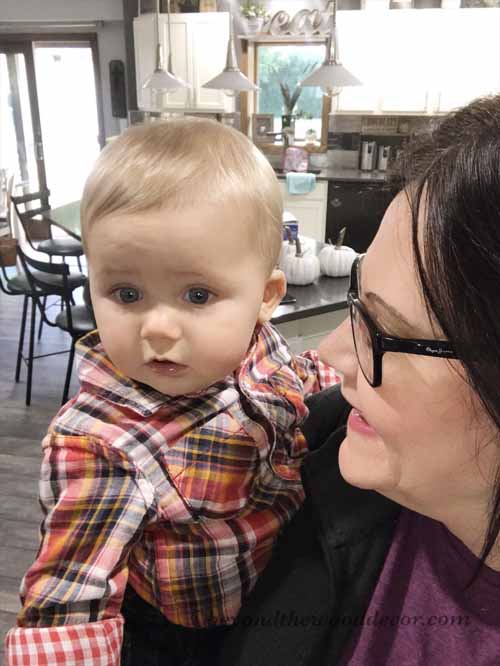 I just love this lil' man!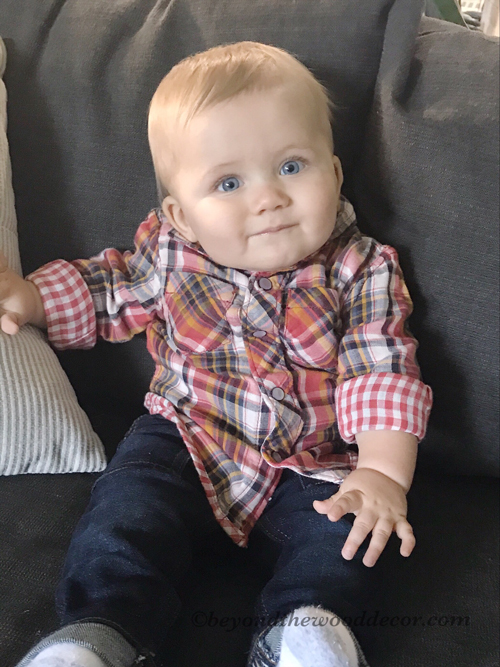 Onto the real decor…
Don't be afraid to think out of the box. Here you will see in my living room I did not use candles on the candlesticks but instead some adorable white pumpkins. These were purchased from the dollar tree and spray painted white.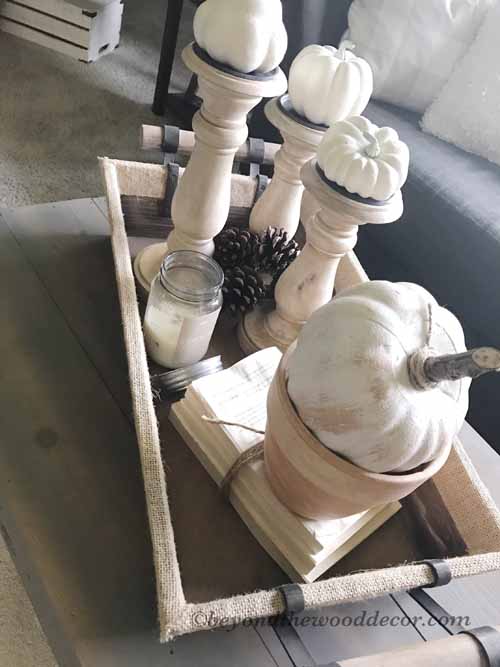 I also love using your typical terracotta planters for indoor decor as shown here. It too was plain but I lightly brushed some watered down white paint on it to give it a softer and more rustic look. Stuck a pumpkin I also made, see that post here in the planter. Then set it on a stack of my vintage books I made here and bam so adorable! Adding pine cones gave another texture and so fallish!
More ideas…
Bring out your plaid scarfs and throw them on your furniture. Yup thats what I do so they do double duty! In the winter I use them around my neck for a scarf but also for a cute throw on the sofa. They make any room warm and inviting!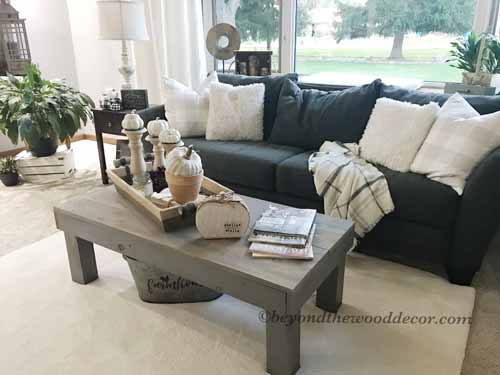 Stack a few more pumpkins here and there and they make the smallest areas so fallish!  I know that's really not a word but in my dictionary it is, lol. When you choose a variety of textures and style of pumpkins you can never have too many. This black sign needed some buffalo check pumpkins stacked next to it for added cuteness! Right?!
Pumpkins, pumpkins everywhere! See how I made these here!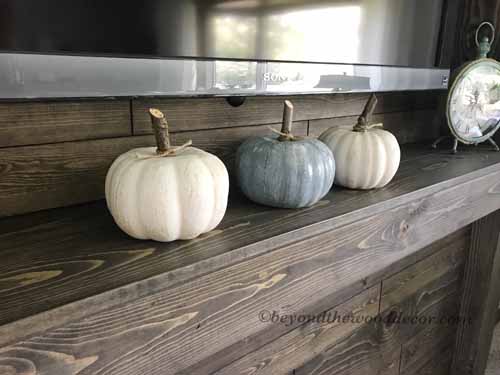 Here is a pumpkin patch sign I made this year and I love how it looks on this shelf next to the cotton stems and lambs wool greenery.
Also, add a ton of wheat in your vases or containers and that really screams fall. I bet many of you have wheat grasses right in your yard to clip. If not many wooded areas and parks do or on your nature hikes they are all over in the fields. If you rather buy some you can get at any craft store or even Amazon carries a variety of wheat bushes.
Digital design
Another super inexpensive way to add to your fall decor is digital prints. I designed each of these and love how they look in this corner. These frames are also one of my favorites and you can buy them here on Amazon. I use them year round for all my digital prints and I love them! Yes, I also sell my digital prints so just ask! Send me an email here.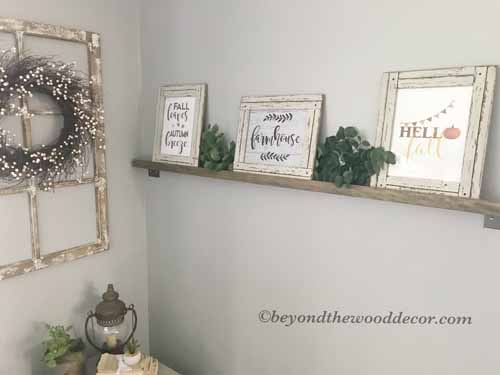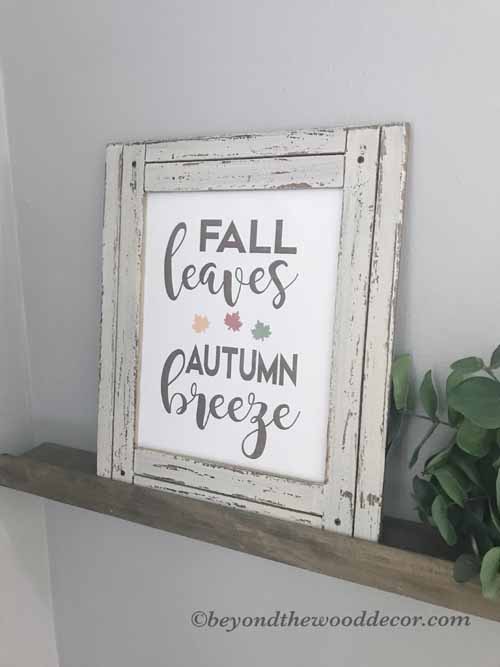 The little fabric pumpkins with the green moss on them I made last year. I love how they turned out!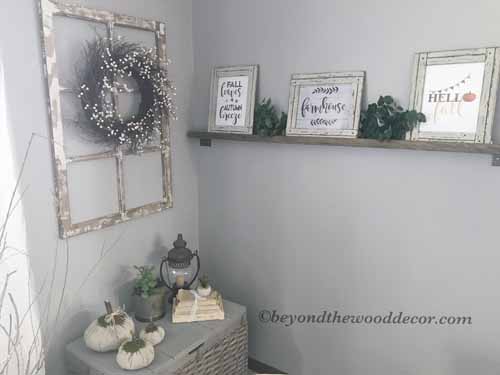 This little corner behind the love seat and heading upstairs has a couple more cute fall pieces but yet so simple and neutral. The lantern with the flame less candle adds the perfect touch.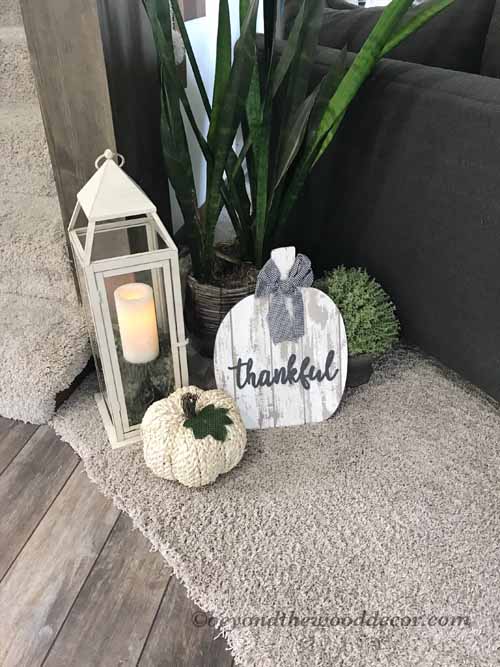 Onto the entry way!
Just as you enter the door you are greeted with this adorable grouping all decked out for fall. The blessed box I made last spring and had some Lavender flowers in it. But now for fall I needed to shake it up a bit and added some tiny little pumpkins, some sunflowers and an air plant to finish it off. The planter is super thin so the pumpkins did not fit in it but sitting on top was perfect!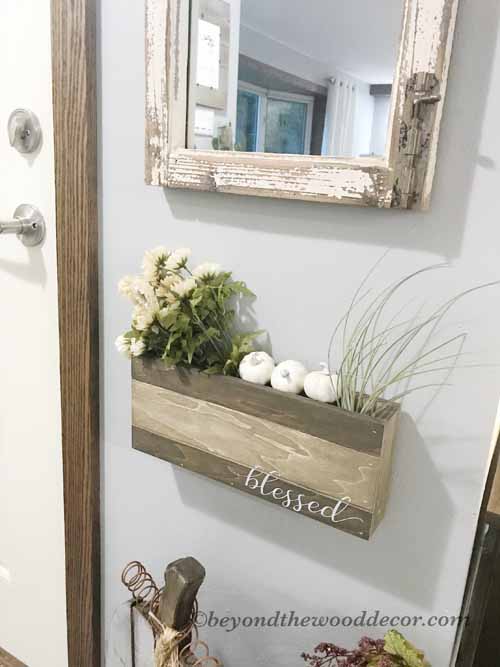 Also in the entryway is this grouping where I made the frame years ago and also put in a digital print for the season. I love switching it out often along with 8 x 10 photos. On the floor the pumpkin needed some height so I had this wood planter and I just tipped it upside down and it gave the pumpkin a nice little pedestal.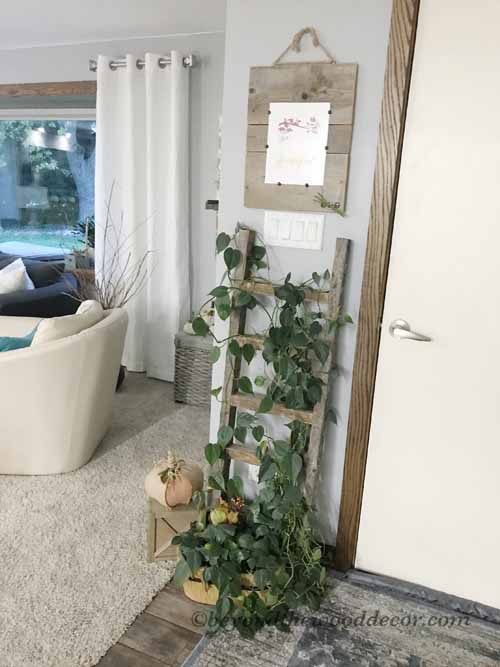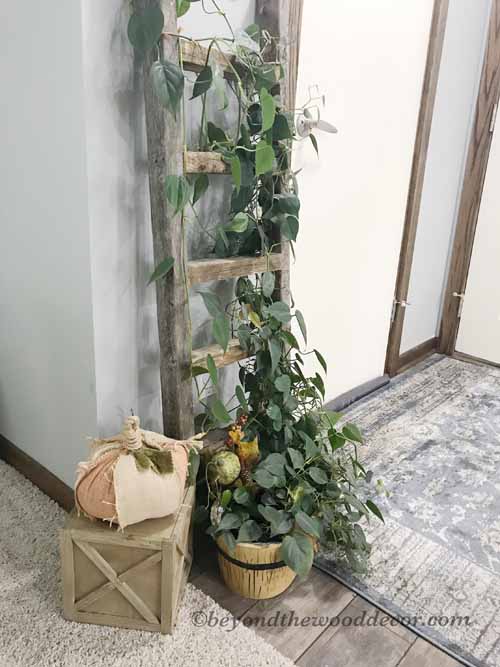 This little grouping I shared last week in another post here and I love how cute it is for fall!
Onto the kitchen
Again, I don't do much in the kitchen but a little here and there. My tiered tray I do decorate for each holiday and I love changing it up throughout the year.
On this little buffet I brought in many things from my outside potting bench, inside, now that fall is here. The succulents would not do well in fall and winter weather so it was time to bring them in. I added a few more pumpkins and another simple way to dress up the buffet.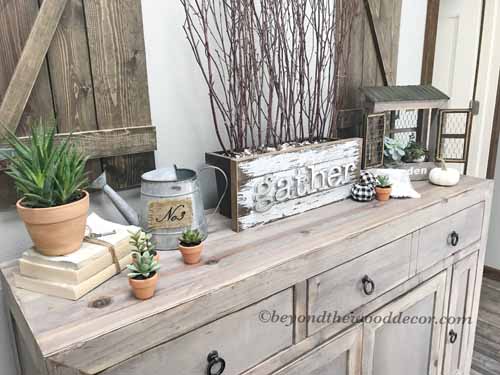 My kitchen table is also dressed up and I love the variety of pieces. The tray I did make in an earlier post you can find here. Again, bringing the outdoors in with the pine cones, branches and wheat just make the space so fallish!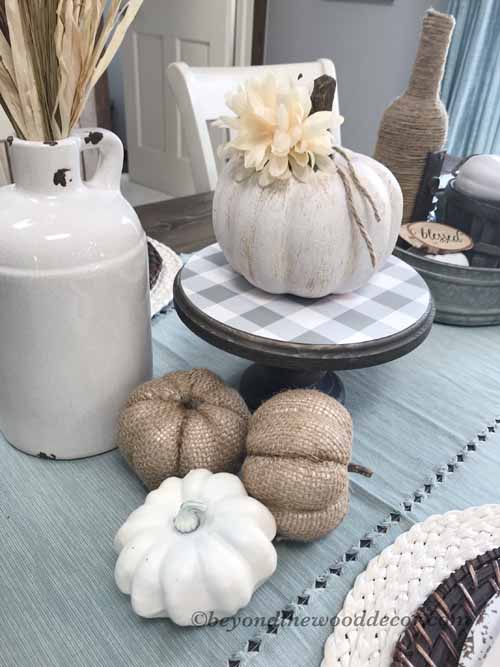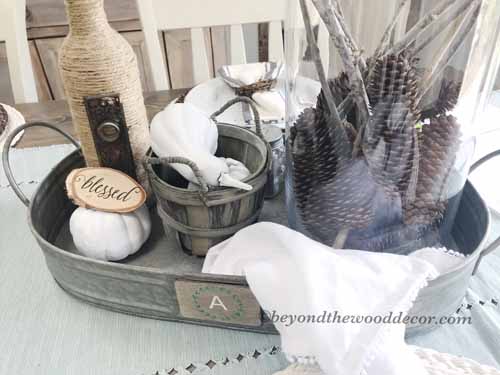 Finally, finishing up with the fireplace. Covering the top with an old burlap coffee sack gives that rustic feel. I then stacked up a variety of pumpkins and once again used a candlestick with a pumpkin. This adorable sign will take me through Thanksgiving.
That's a wrap!
There ya have it. I really hope my simple neutral fall decor gave you some inspiration. You really can decorate on a budget and best of all it can all be used year after year. So no need to run out and get new each year.
Please know I am not a professional decorator and there is no wrong nor right way in decorating. You live there so "you do you"! What ever makes your heart happy is the way you should do things. I only hope some of my ideas inspire you! I would love to hear in the comments if you decorate for fall and any ideas you would love to share.
Have a good rest of your night my friends!