All about Drop Cloth Curtains!
Hey Friends! I am so excited to share another super inexpensive decorating tip! The old but famous no-sew farmhouse style, drop cloth curtains. Yup, right from painters drop cloths you can make these super cute, super simple curtains. I have been wanting to do them for years but really did not have the need for them. Plus I could not justify changing out some other curtains in my home when they were all in really good shape yet.
Then one day back in February I was pulling my blinds closed in my office on my 12′ patio doors and bam the string broke. The blind opened as far as they could almost reaching the floor. So the cord to lock them was no longer in use and I could not fix it. I could no longer keep them up so for a week I pulled them up by hand and held them at the top with a clamp I use in the shop, lol. Certainly was not a pretty sight but did work as a temporary fix. But what a pain, each night I took the clamp off and down they came and the next day I would have to fold them all back up to the top again and clamp them. lol
I knew I had to do something because doing that every day was just not going to work. Hubs said get some new blinds on order and honestly the budget did not allow that for sure. (he has no idea how much blinds are) I mean these are 12′ patio doors so as I looked into the different styles and the ones I was interested in came to well over $300. YIKES…that was not going to work so I considered just buying some drapes that I could close them for privacy but even going that route was crazy expensive. I had sheer panels on there already but were just for decoration on the ends. I would need so many new panels for the doors and windows in the room which would be soooo expensive.
As I went to bed one night I laid awake thinking what should I do because I really needed something. All of a sudden the light bulb went off in my head and drop cloth curtains was the most affordable option. Everything about them I loved with being the natural canvas color and super strong and durable. Plus I had been wanting them for so long because they are that farmhouse style I love so much so I knew they would be the winner. I seriously could not sleep after that because I was so excited to get out the next day and purchase some drop cloths.
Amazon of course has many so I was going to order them and at one point I wish I had so I did not have to make so many trips back and forth. But I needed to go to home depot anyway so I thought I would just pick them up there. So these are the ones I got from Home Depot.
If you wanted a really nice comparable product on amazon these are the ones I would have bought. They are seamless so no need to worry about a horizontal seam in them like I had in one package in the other brand. (keep reading below for better explanation on the seam issue.) 
Because I wanted NO SEW I went with clips to hang them from the rod. Here are the clips I ordered from Amazon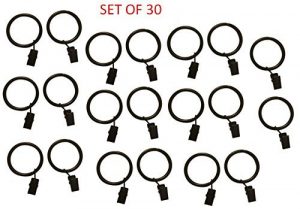 and they worked out really well. They are nice and strong and I love how they slide on the rod for easy opening, and soooo inexpensive!
Here is how they look when closed. during the day.
and here they are closed at night.
If you are interested in drop cloth curtains here are some tips I can share!
-Size: Drop cloths come in a variety of sizes. So, before you buy your drop cloths, measure your window length, width and then be sure to add in extra inches for curtain drop and/or extra height for the top of the curtain. Mounting higher than your window will add extra height to the appearance of your window. The drop cloths come in a variety of lengths and widths, so just be sure to grab some that are the same or larger than your desired curtain measurement.  That way, you'll have extra length if you need to cut or clip into the curtain rod rings, leaving the already hemmed edge to pool on the floor. There is no sewing needed!
-Fabric density: The drop cloths from places like Home Depot, Lowes and Amazon usually come in a few different weight options, so, depending on your preference for light-blocking, you do have options!  Ours are a medium weight, and they are completely opaque at night to provide privacy.  I'd recommend the medium weight personally, just for that reason that they still allow light to filter through during the day but thick enough at night that nobody can see in.
-Seams: Be aware once in a while you will get a drop cloth with seams. Mine were so large I knew there would have to be a seam. I personally was fine with a vertical seam that two of mine have as it gives added interest and texture. But I did buy a package that had a seam vertical and horizontal which I did not want on one panel so they went back. Just a heads up that if you purchase from a local store, maybe grab a couple extra in your desired size just in case you get a panel with a horizontal seam. That way you do not have to go back like I did twice and wished I would have bought from Amazon. But the second time back I decided to buy 3 extra just to pick matching ones and then repackaged the ones that did not work out and took them back. No biggie but at first it was a lot of running back and forth. So personally next time I will go with these from Amazon and plus they are cheaper!
-Prepping the drop cloths:  We washed our drop cloths right out of the package since there were so many wrinkles I had hoped that would take some out. I then ran them through the drier and even though many of the wrinkles came out I still wanted them a little more wrinkle free so I did turn on some music, set up my ironing board and ironed them all.  Some people bleach their panels or even dye them, but I don't have experience with this so I cannot give any tips on that. I loved the color after one wash, dry and iron!
-No sew option: I went with a no-sew option by using curtain rod clip rings instead of cutting the drop cloths and then sewing a pocket for the rod.  Keep that in mind as you choose your length and size…you don't have to know how to sew to create this look!  The clip rings come in lots of different diameters, so just double check your curtain rod diameter before ordering. This 2" size I got worked great and gave a lot of extra breathing room. I laid mine on the living room floor then folded the top over about 15" because I did want them to puddle on the floor. So you can fold over or not depending the look you are going for and if the fold over is to excessive you certainly can cut them and still no need to sew. Then clip them to the clip rings and I spaced mine about 7-8″ apart but that all depends how much of a pleat you want when they are open and also how many clips you have. Lastly, hang them on your rod!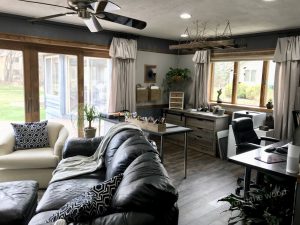 That's it…..so simple, in expensive and yet sooooooo cute!  I love the look how they turned out and best part was under $75 I did my 12′ patio doors and also the big window on the side of my office. If I would have not used rings it would have been just $64 total. WOW soooo reasonable! SCORE!
As I look at these photos I really think its time to build some wood desks . I mean come on I am the wood girl, right?! I have had these for so many years so I surely got the use out of them! Now onto bigger better things and wood it must be! Add to the "to do" list, lol!
I hope you enjoyed my drop cloth curtains and they gave you some inspiration! Have a great day my friends!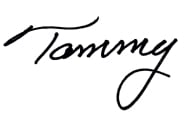 Be sure to sign up to our newsletter so you don't miss a thing and receive one of our free printables! Click here