Well friends the time has come I had to move a couple pieces in my living room one last time. Let me start by saying I re-arrange my living room at least every 6 months if not sooner. My hubby knows nothing stays in its location for very long. But sadly that has now changed.
As many of you know my fur baby is officially blind now and suddenly happened in a 3 month period. Very sad yes, but even harder because she loved our bay window and would lay up there hours a day watching outside. So for the last 10 years I had to keep a sofa in front of the window. All for her so she could jump up on the sofa into the bay window where she has a comfy bed.
Before the switch-a-roo!
This is how it looked before I moved a few things. She would go around to the left of the table and jump up.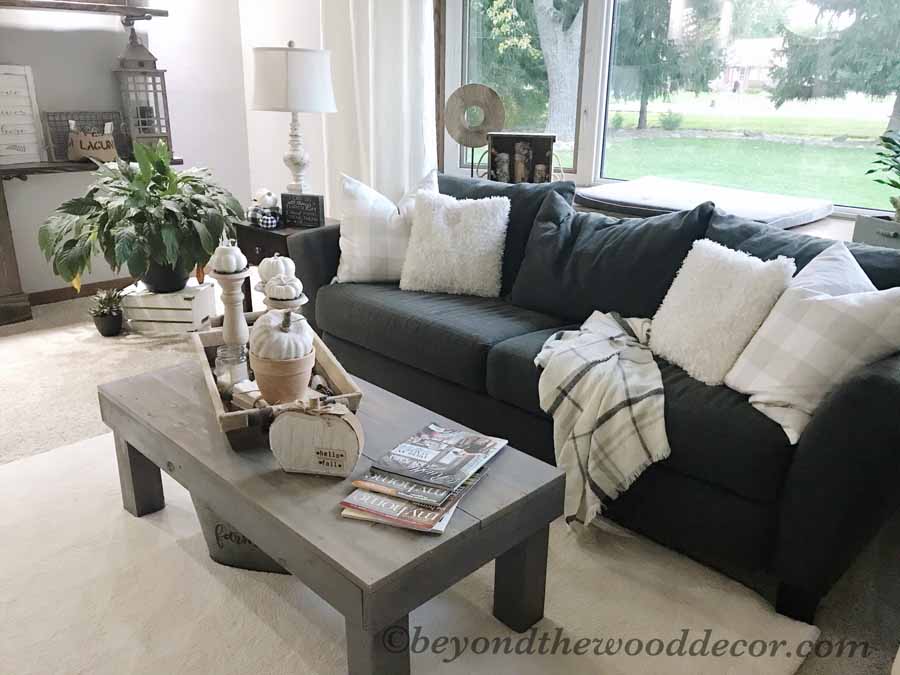 This past month she would get so close to the corner of the table when jumping down, my heart literally would skip a beat. I totally feared it could cut her belly right open. So I had to re-arrange a few things.
The table only fit well with the sofa so that had to get moved as well. The only place it fit good was across the room by the staircase. So I flipped it over there.
See what I mean about the coffee table having sharp edges. It was the first piece I ever made so its kinda sentimental to me, lol. But I do have plans to make something new eventually. Or maybe I can talk hubs into doing it! (fingers crossed)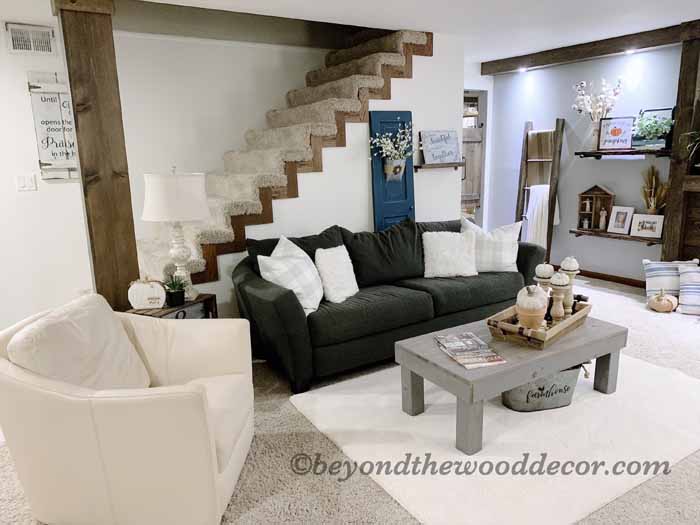 No more moving furniture
I am told and learned when a dog goes blind you cannot move anything around. Because if they seen it all before they went blind they learned that floor map where everything is. You also need to push your chairs in after eating and keep things off the floors. I now take her outside on a leash to better guide her for the steps etc. She never went out on a leash in our yard so that has been a huge change.
With all that being said my rooms in the house cannot be changed anymore. The day I moved the coffee table she still thought it was there. She literally went around something invisible to jump up on the love seat. Now 3 weeks later through training she can go straight up to the love seat and jump up. And no more fear of hitting the coffee table when jumping down. YAY.
I am going to miss rearranging every 6 months but for her I will do anything. 🙂
New final arrangement
If you remember from this earlier post months back the love seat and a cream chair use to be here so they got moved. The chair is now where the love seat was and the love seat is in front of the window.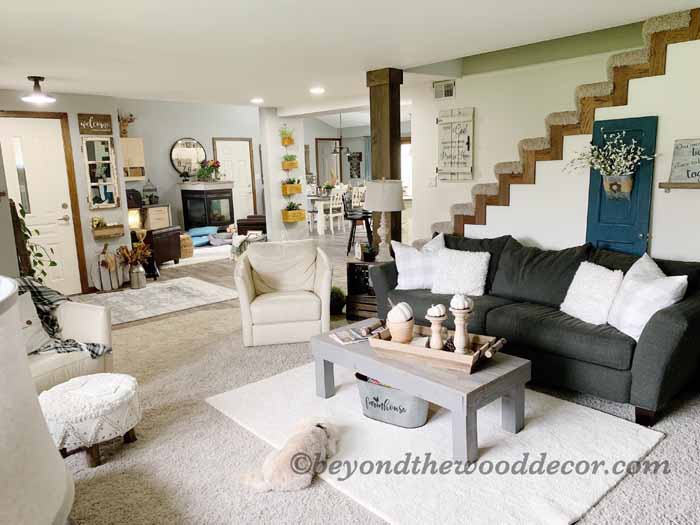 Sadly after 10 years she has lost confidence to jump into the window since I moved this around. So she only jumps on the couch now. I could remove her bed but I won't because I am hoping one day she will build that confidence again to do so.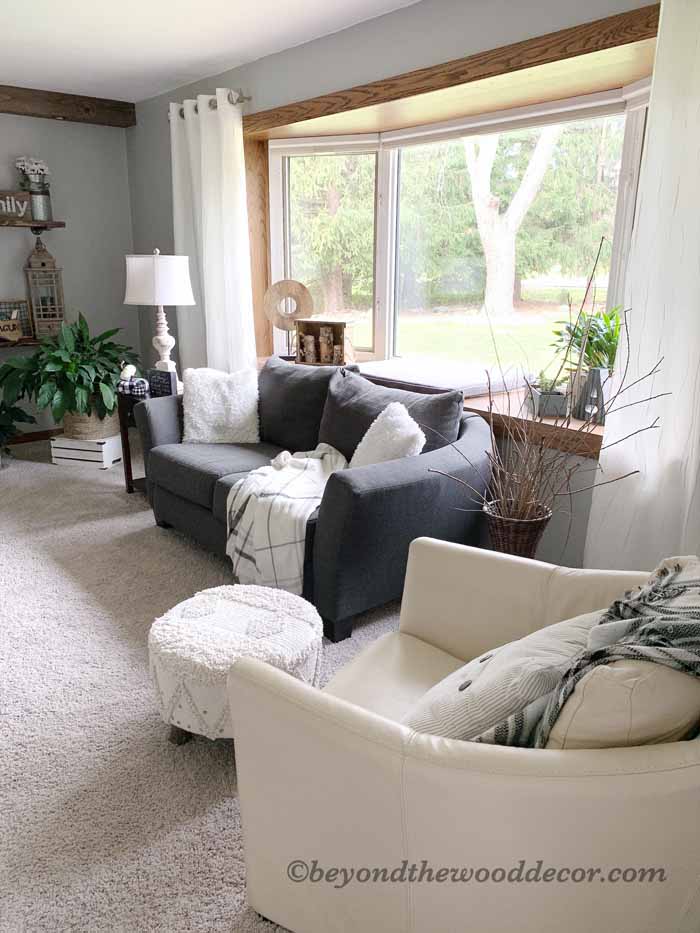 The cream chair in this corner area stayed there and I added the foot stool a few days after moving the furniture. I thought that would help her with the feeling of needing to go around something. I also love having a foot stool for comfort when sitting in the chair. It did help tremendously and is super soft if she were to hit it.
I bought it from Home Goods and it had natural unpainted legs. I decided to stain them to match the other wood in the room. I love how it turned out.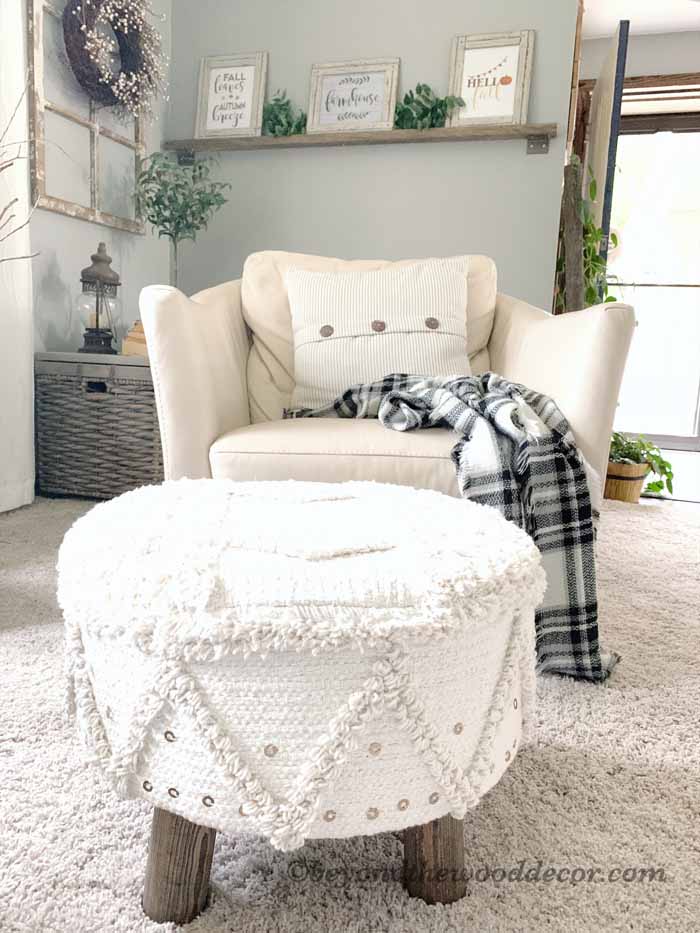 Many are afraid to mix cream and white. I say don't be afraid at all. They look fabulous together and are very classic and sophisticated. I have seen it done in so many magazines and have always loved it. I had these cream chairs for so many years and when I brought in the white drapes and now the white foot stool I love the warmth of it. My doors are also cream so it all ties in together so nicely.
Our TV Center
I really am never sure what to call this because its really not an entertainment center. To me that holds a bunch of media equipment which this does not.
So lets just go with TV center. lol I really just did not want any media equipment visible. But I did want a focal point in the room so hubs built this TV center a couple winters ago. I designed everything and he built it exactly how I wanted it. I also wanted the light bar at the top which he did perfectly. I finished it off with shelves on the sides at staggered heights.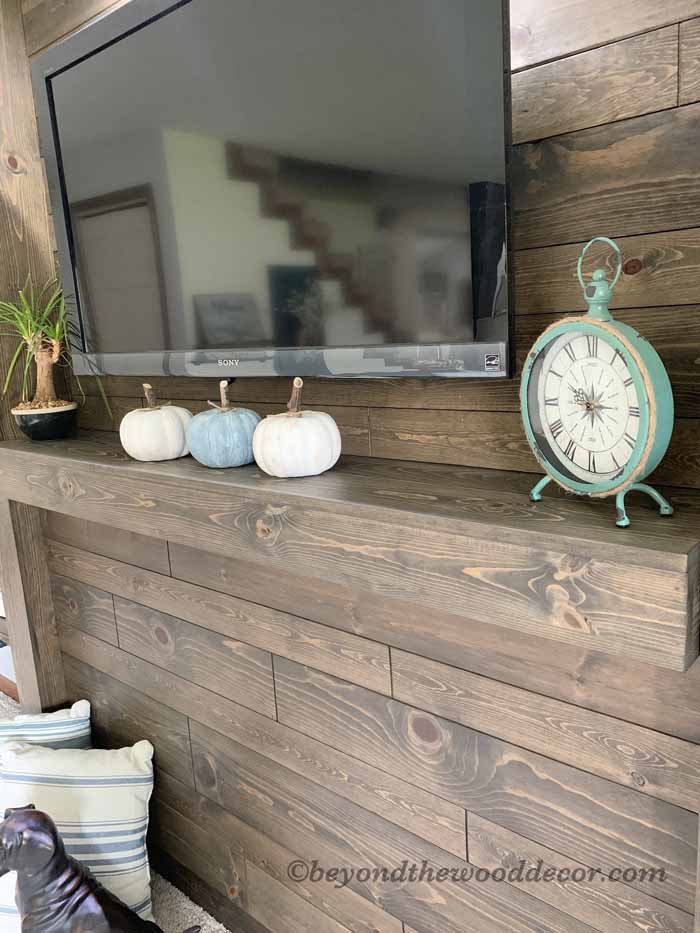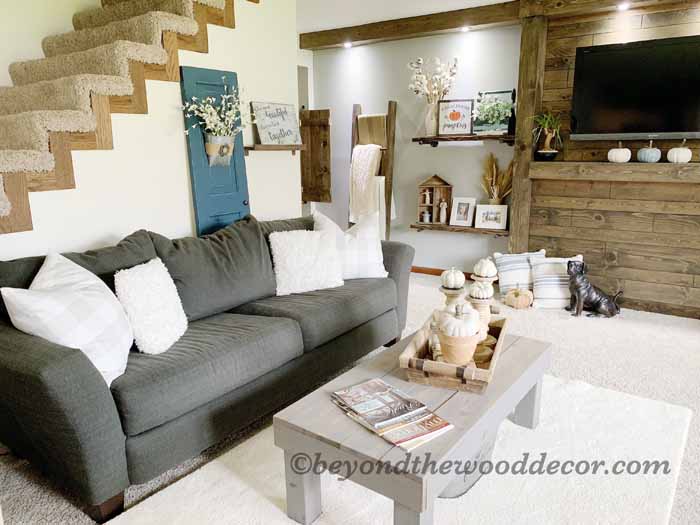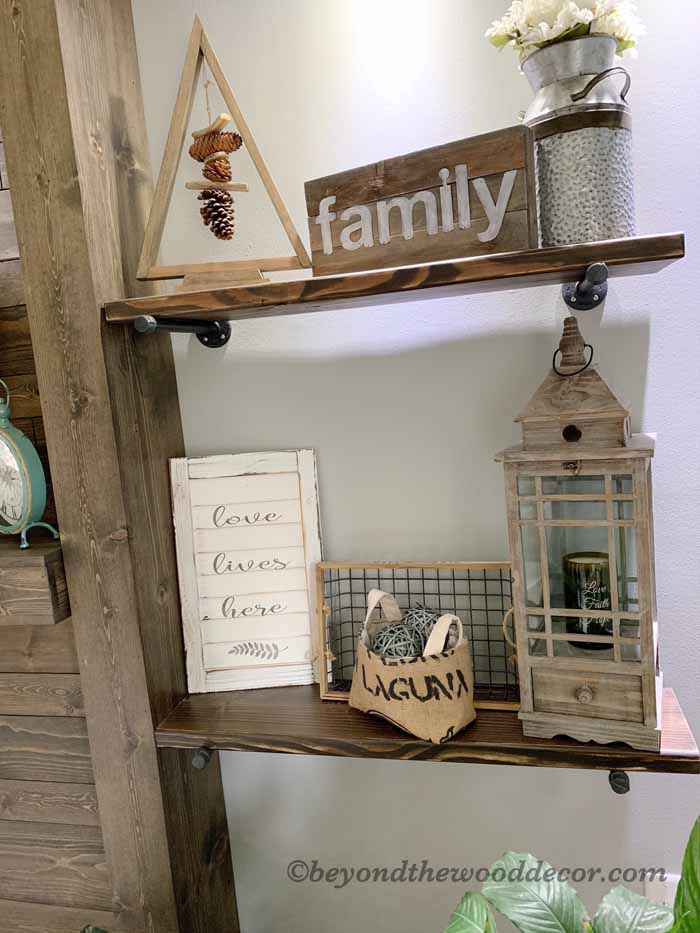 Hiding everything was important
Now one might ask if we have cable and where is the box? Yes, we have a cable box and no I did not want it visible. Sooooo…. here is our secret compartment. Everything such as the power strip and cable box is hidden behind the removable board here at the bottom.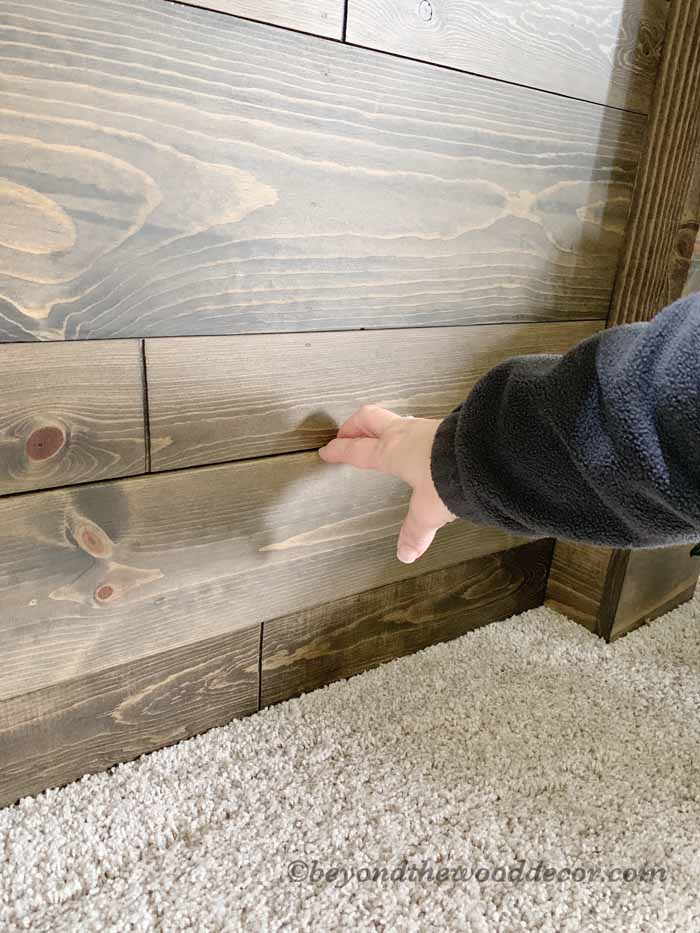 YUP just one little pull of that board and it comes right off. Pretty clever hey!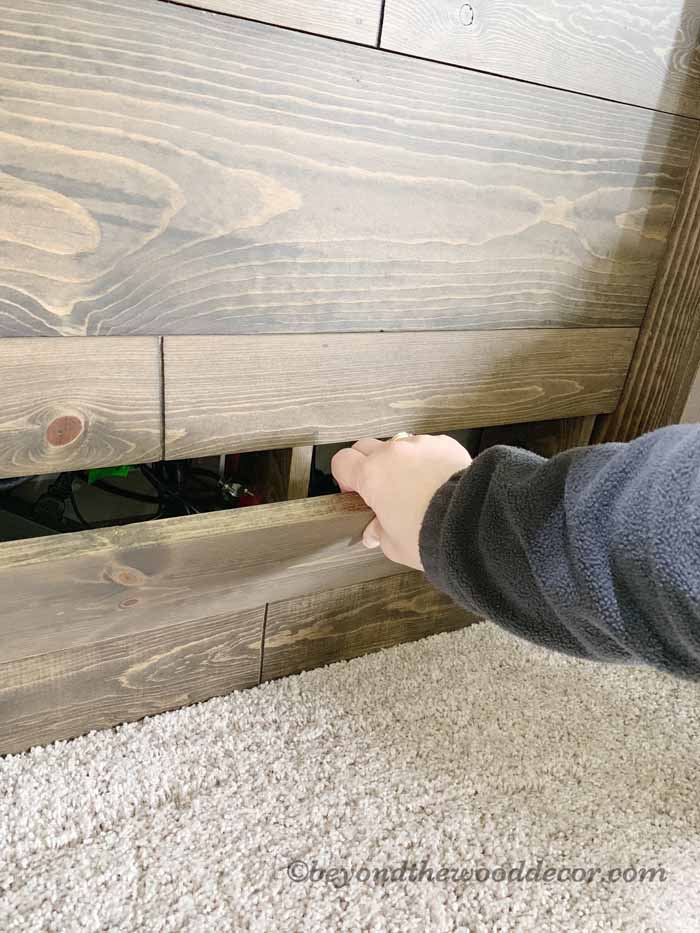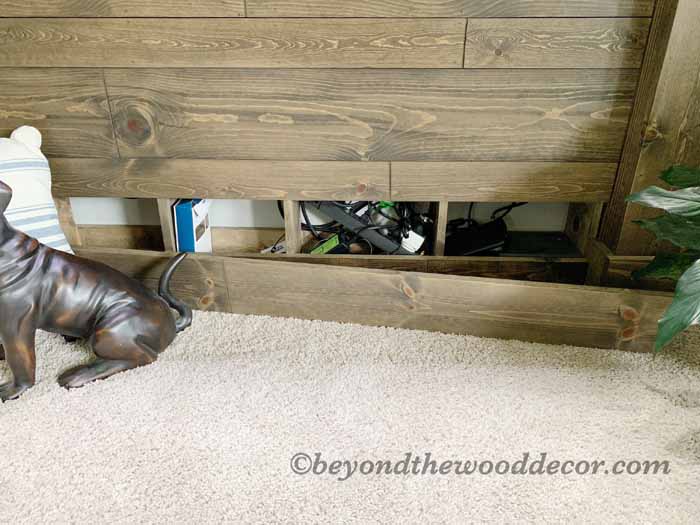 The light bar at the top hubs wired it with a plug instead of hard wiring it. So the electrical just drops down behind the wood and plugs into that power strip.
That light bar was super easy to make because its literally the front board and bottom board. The bottom board is mounted to "L" brackets that were mounted to the wall first. Then the top front faced board got screwed into the bottom board. Easy peasy!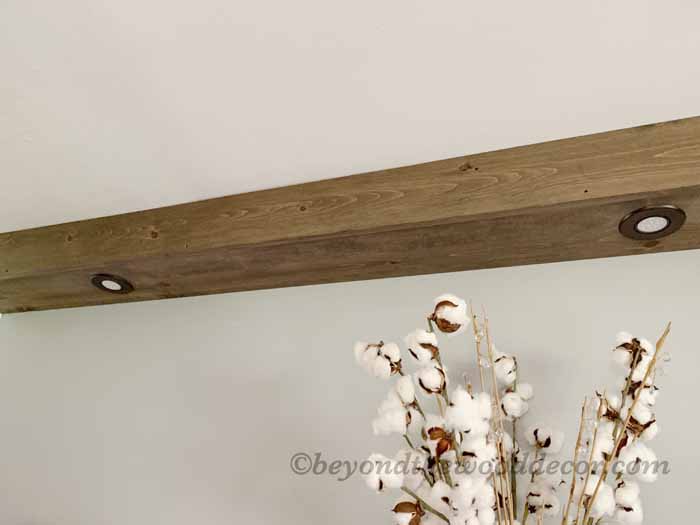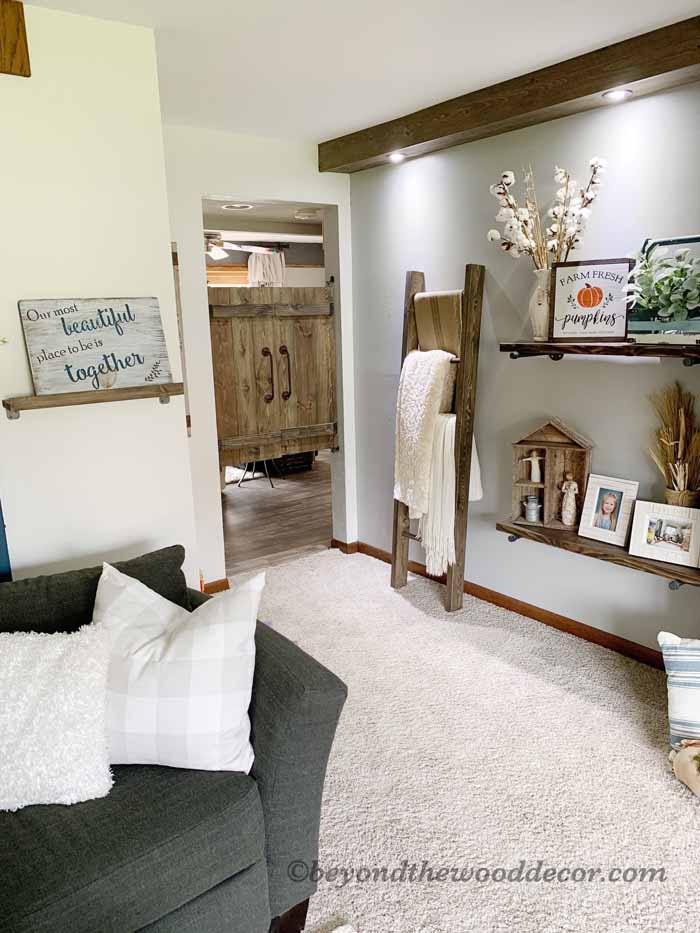 We then have this handy dandy remote that turns the lights on and off. Hubs came up with that idea and we bought the kit similar to this one here.
I love the light it gives off and how easy it is to turn on and off with the press of one button. This remote works with 3 different things such as a DVD player or Xbox etc. The link above was a better option offering 4 things. The left side turns them on and the right turns them off.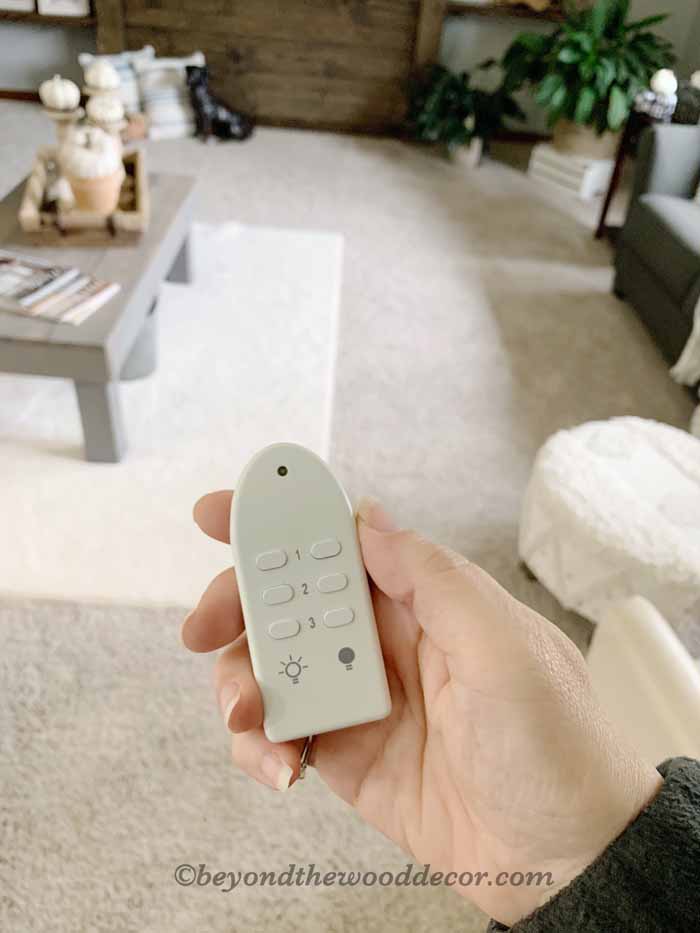 Final thoughts
I really like the warmth and soft colors in this room. It is decorated slightly for fall right now but changing it up for the seasons is so fun. That TV center is for sure the focal point which normally you want to hide a TV. But in this case I thought enhance everything around it. An electric fireplace was a thought we also had for the bottom of it but we rarely use this room and we have a big fireplace in the kitchen/office area so close to here. So we opted not to go that route.
I have a couple small things I want to do yet in this room such as paint the end table by the window and make a big long sign for above the window. I have had an idea for awhile what I want it to say but time has not allowed it. Maybe after Christmas! Until then I will enjoy my living room and keep furniture where it is all for my fur baby!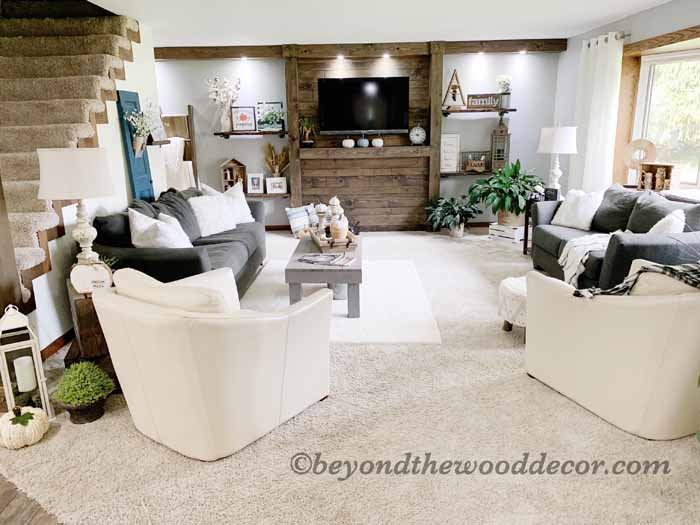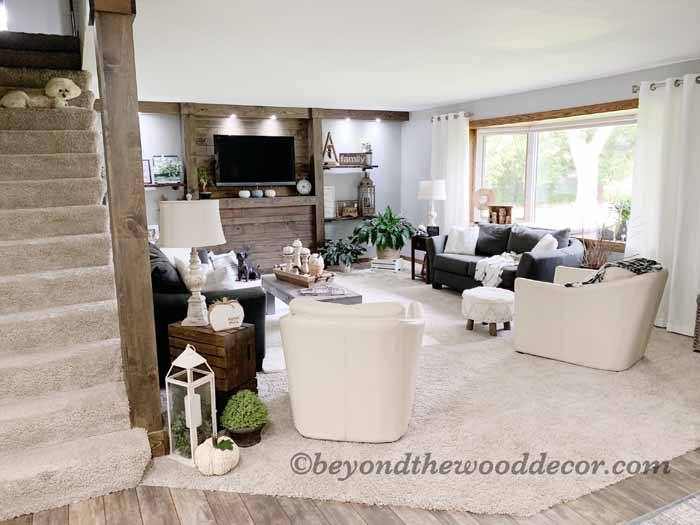 That's all I have for ya today my friends. I hope my room gave you some inspiration and ideas for your own space. Remember do you and love the space you live in. As always if you have questions I am happy to answer and I love to read your comments!
Have a great rest of your week and stay safe on Friday when we get our first snow fall here in Wisconsin.
(((hugs)))