Week-end News
Howdy, howdy!
I hope you had a great weekend. I sure did! Hubs and I went to our granddaughters 4th birthday party. So hard to believe she is 4 already and this fall she is going to pre-school. Life seriously needs to slow down!
This year she was all about Pinkalicious! Have you heard of her? Well I only have because of my granddaughters. So here is a super short lesson on the history of Pinkalicious just so you all know the "in thing". lol
Pinkalicious was created by author, Victoria Kann back in 2006. She wrote many books for little ones introducing them to a young girl named Pinkalicious. She has a strong spirit, a wonderful imagination and a crazy love for the color pink. Almost 12 years later, after 63 books (selling over 23 million books worldwide) Pinkalicious and her brother Peter are now the stars of their own animated show on PBS Kids.
The first show aired on February 19, 2018 and little miss Ava and her sister Kaylee are big fans. Along with her on the show is her brother Peterrific so they are finding boys and girls alike love the series! There is even a musical for Pinkalicious that is on tour right now! So, I guess she is a pretty big thing!  😊
When my daughter, Angie, asked Ava what type of birthday party she wanted of course her answer was Pinkalicious. Lol. So Angie set out doing all things pink for her party. With Angie's permission here are a few photos. This one was the actual day of her birthday. The next ones are the day of the party! Of course her momma also created the "four" on her outfits!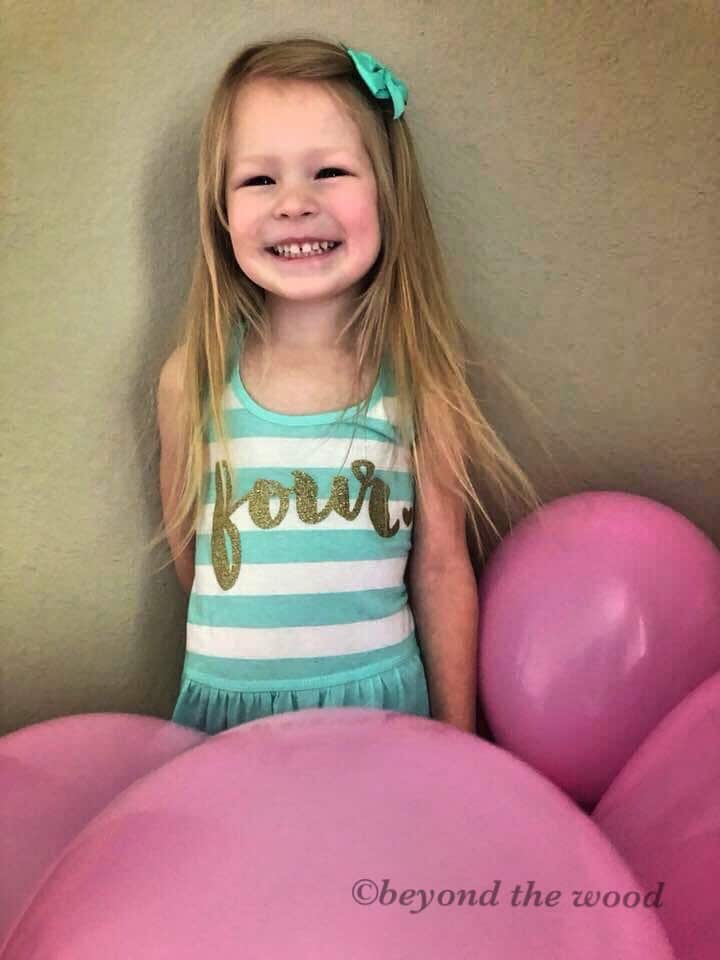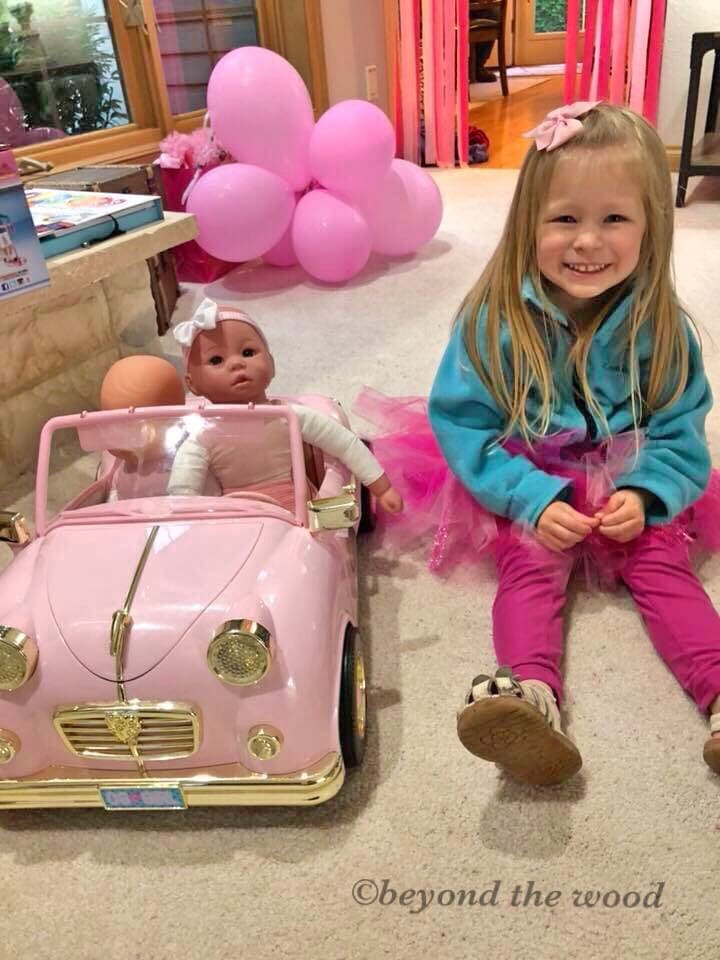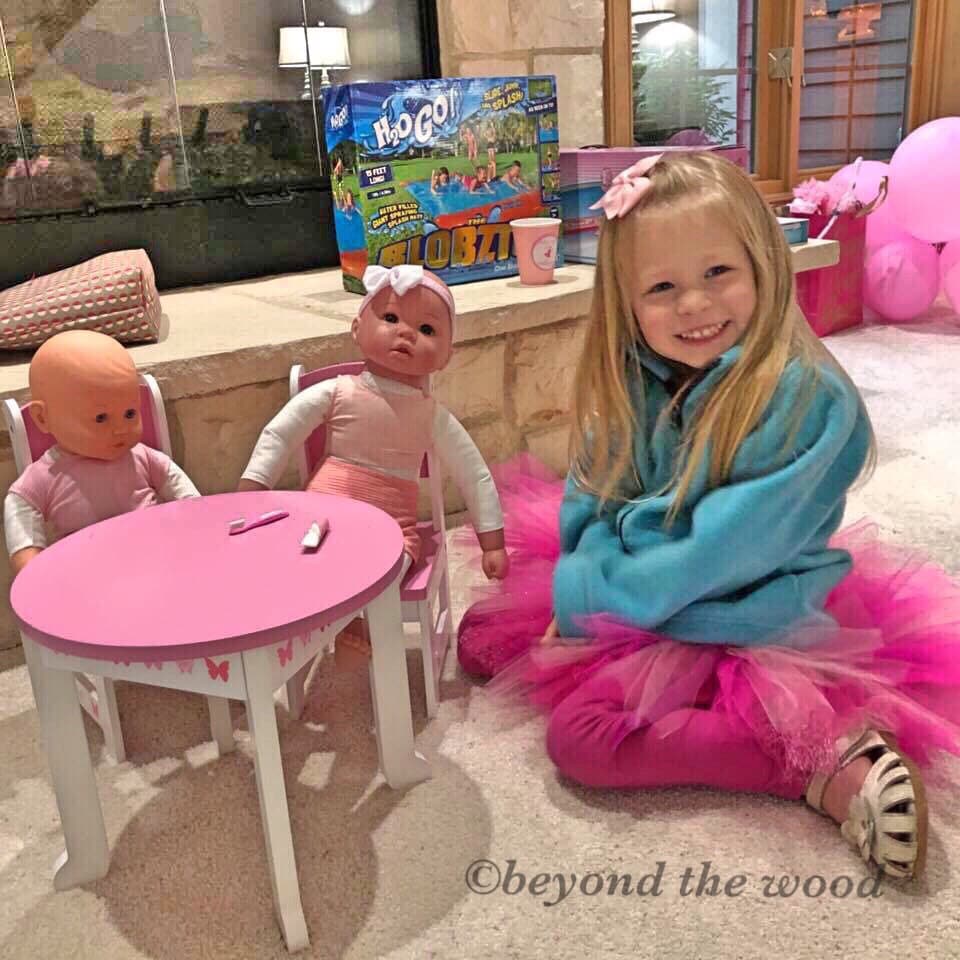 Ava's daddy bought her flowers and boy did she rub it in to mommy that "daddy bought me flowers and not you" lol. Look at those adorable streamers in the entryway! sooooo cute!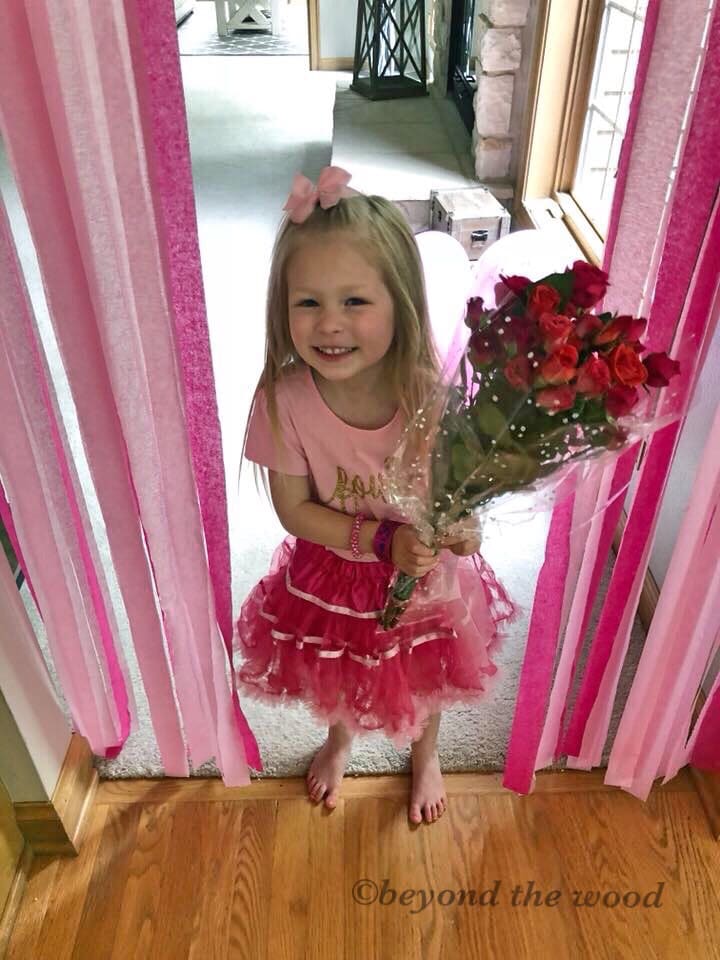 Angie printed and cutout pinkalicious, made a nice banner, tissue paper flowers and a bunch of little extras.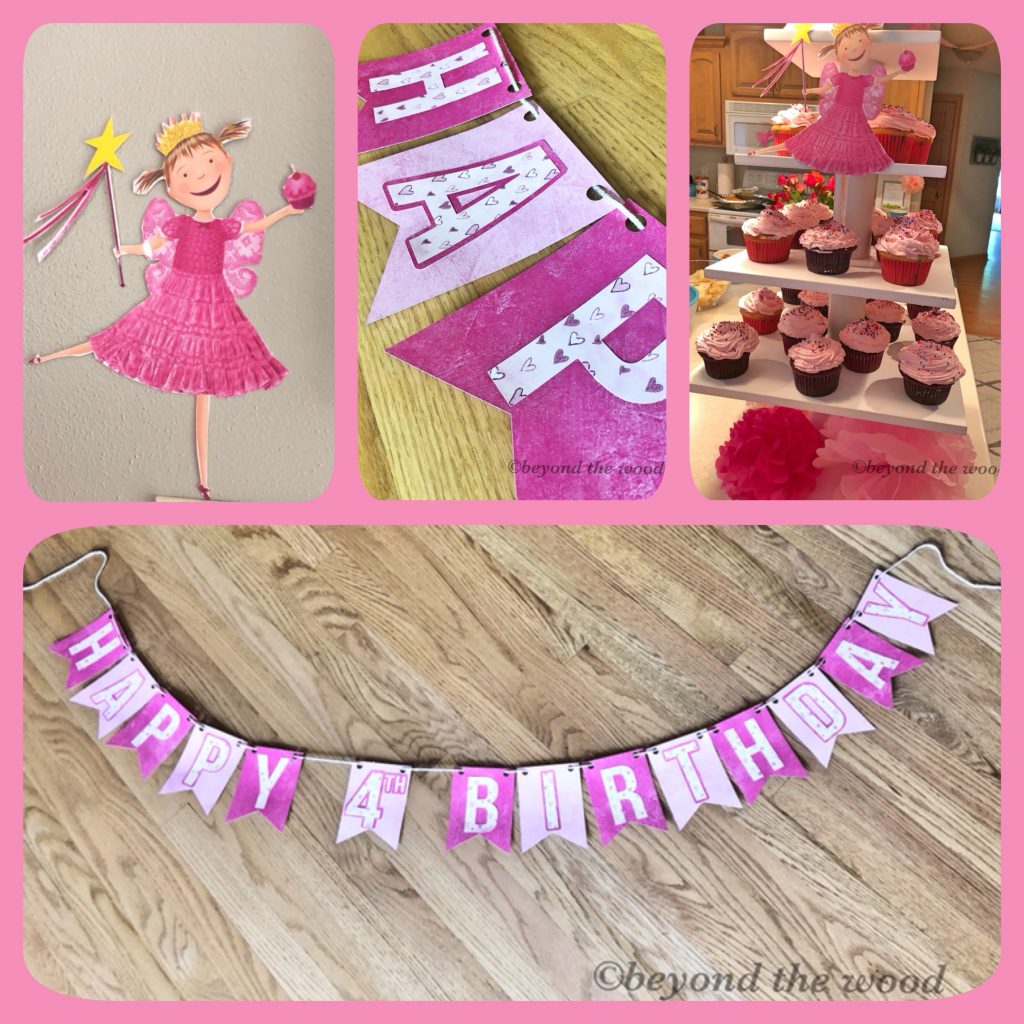 This pink popcorn was made with pink candy melts and oh my goodness was it good. You can buy many colors of candy melts on Amazon my favorite place for everything or at Michaels or Joann craft stores.
To make this colored white chocolate flavored popcorn there really are two techniques. One is a way I have done it and another the way my daughter did it.
~Make a batch of popcorn or buy already made popcorn adding salt as desired.
~Melt your candy on low heat or in the microwave and while still hot pour all over the popcorn in a large bowl stirring gently.
~Then spread the popcorn out on parchment or wax paper until the candy gets hard.
Or my daughter had great success with putting half the popcorn in a zipper baggie and pouring half the melted candy on it and shaking and turning while zipped shut.  Then put that in a bowl and do the other half.
Once done try not to eat the entire bowl! It is so addicting!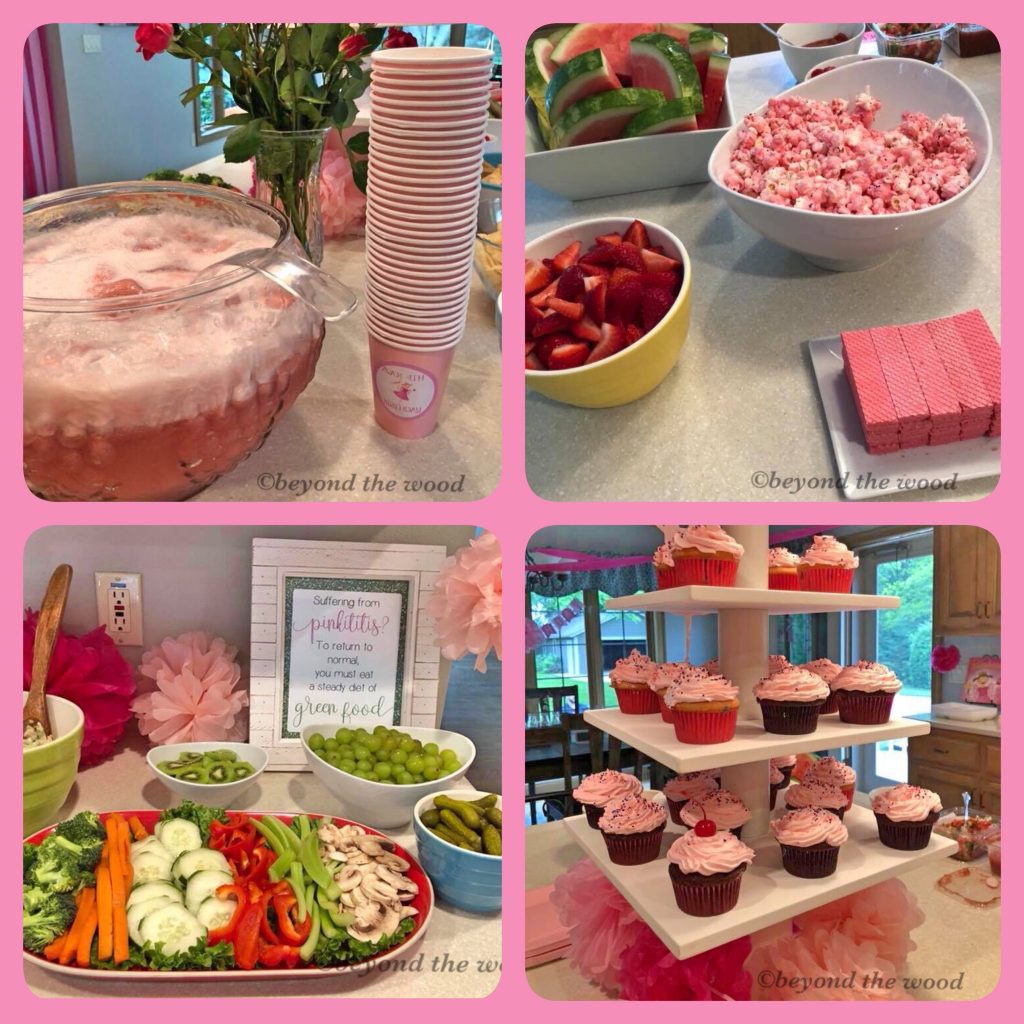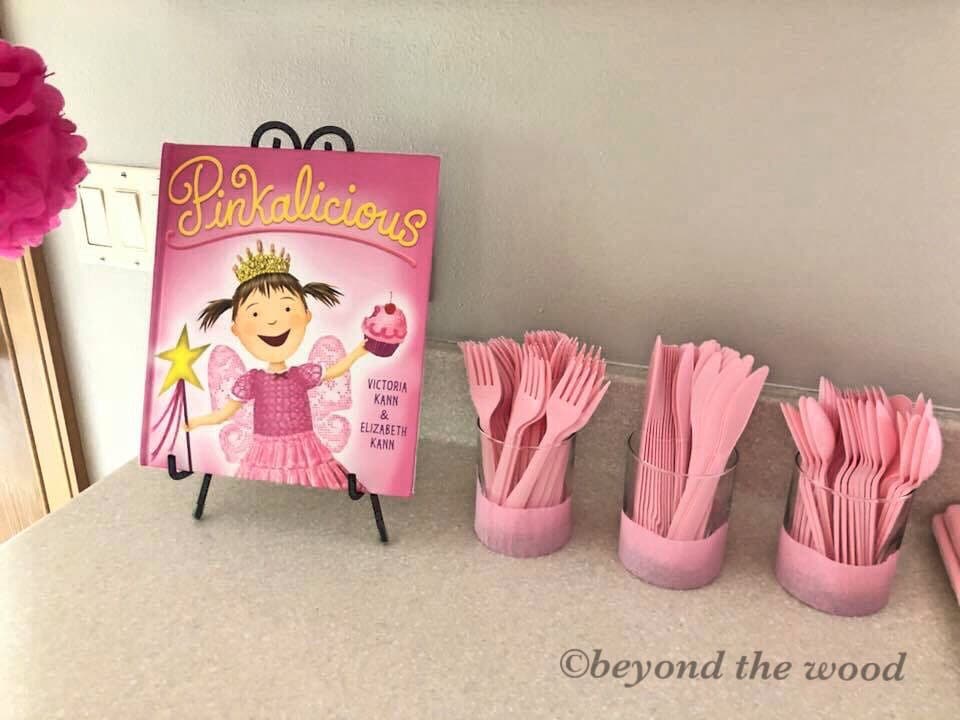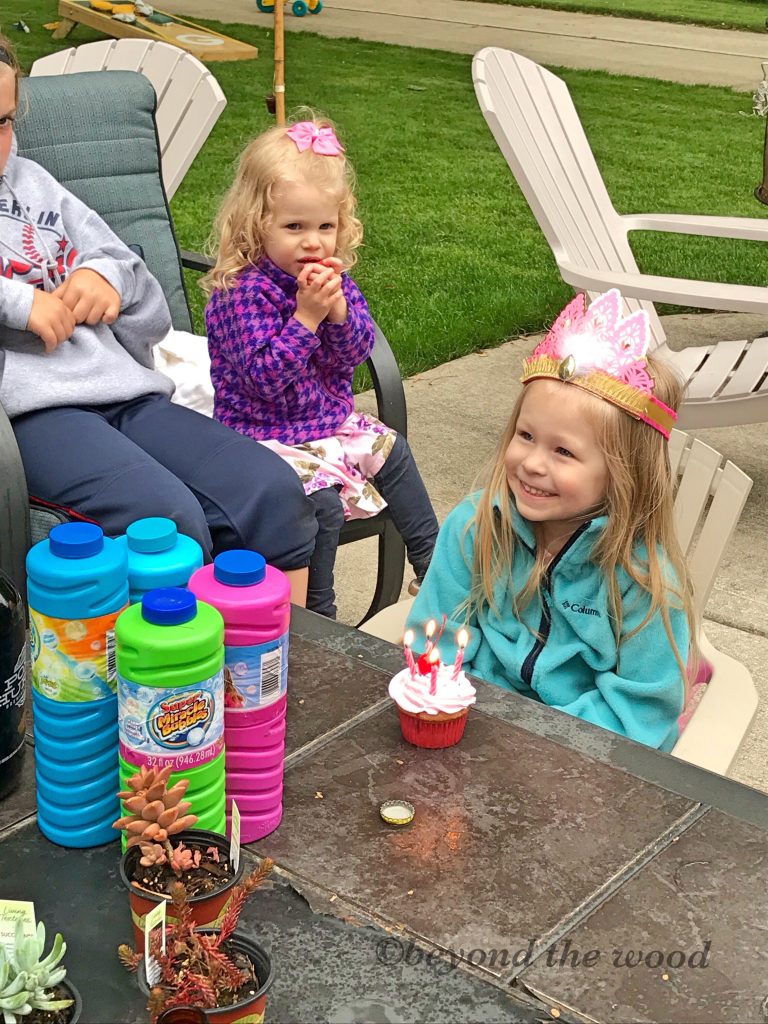 It was a beautiful party and we all had a great time. Now she is enjoying being four and loving all her new gifts!
DIY Firepit Idea
I also wanted to share in this post our firepit. It was a super easy DIY project we did many years ago and I hope it gives you inspiration!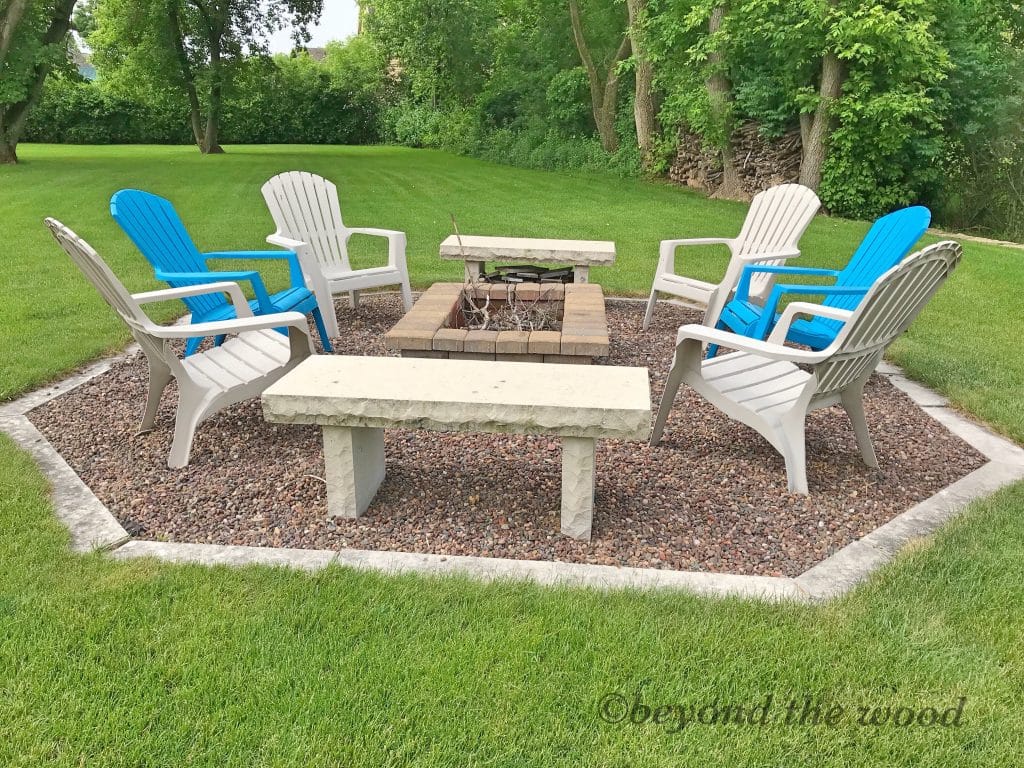 Once the kids out grew their jungle gym/swing set we decided to take it down and make a firepit.  If you were starting from scratch you would want to dig down about 3".
Hubs started off with laying a stone border in an octagon shape just to match the shape of our gazebo. He kept them flat to the ground so he could drive over them when cutting the grass. That way there would be no trimming involved.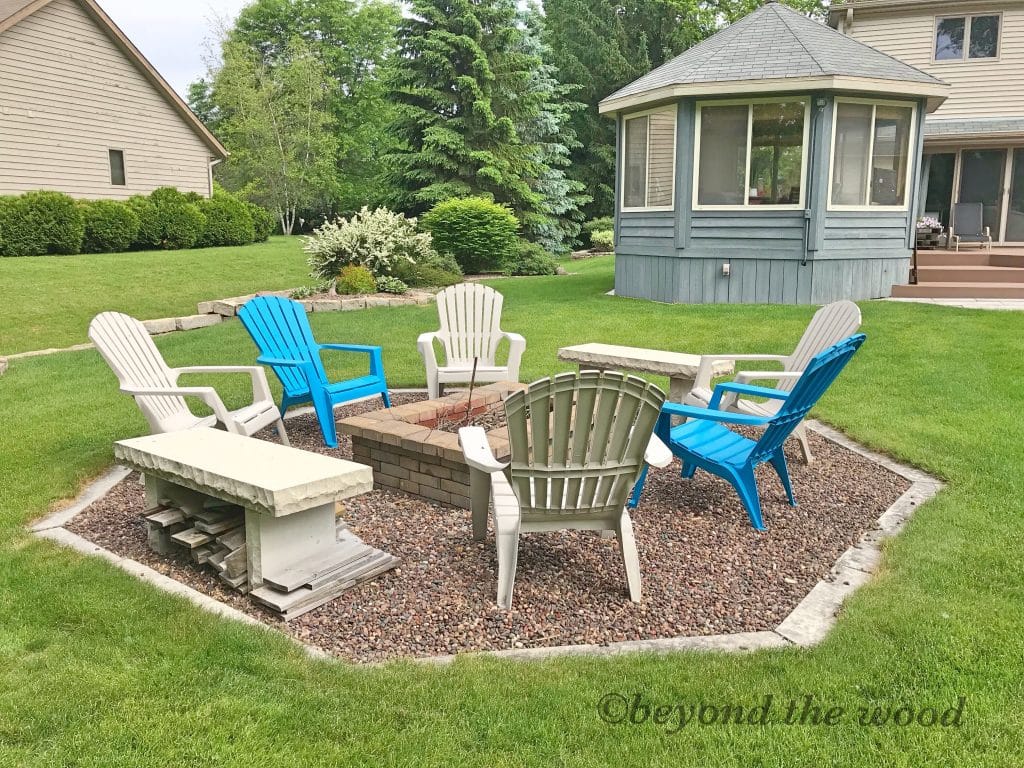 Next some weed barrier which will help keep weeds from growing was laid down and he put a thick layer of decorative stone on top. We did about 3" which seems to be pretty good at keeping weeds away.  You certainly can use what you like but we wanted to match the other landscaping stone in the yard.  Whenever you are working with fire you do want to keep it away from any grass or trees. Because the sparks from the fire can jump out and you want them landing on something like stone that will not start a fire. I personally would not recommend mulch since that is wood chips and once that becomes dry it could start on fire.
Then we had these bricks laying around from another project so I laid down the first layer then the second layer centering them in the cracks of the first layer and so on. We did not glue them together at all because the weight kept them solid enough. Plus, you would never go to lean or climb on a firepit anyway, right! Once I got to the top layer I turned them the opposite direction to have a over hang and it finished it off nicely. That top layer can be glued if you prefer but we did not on ours and never had a problem.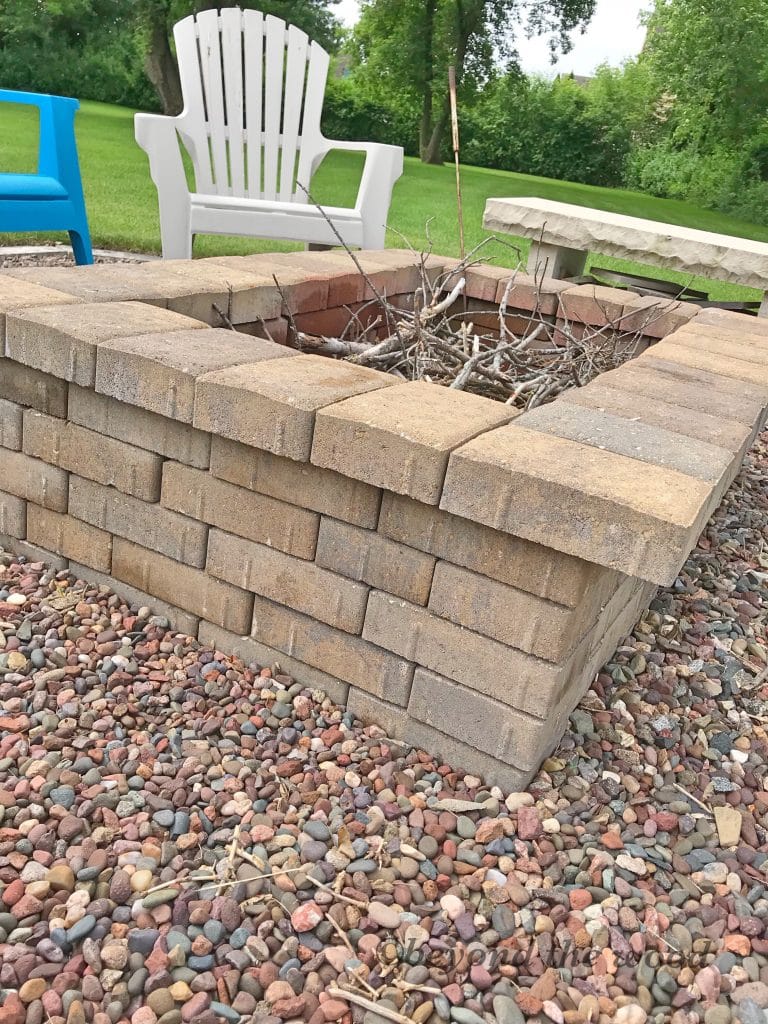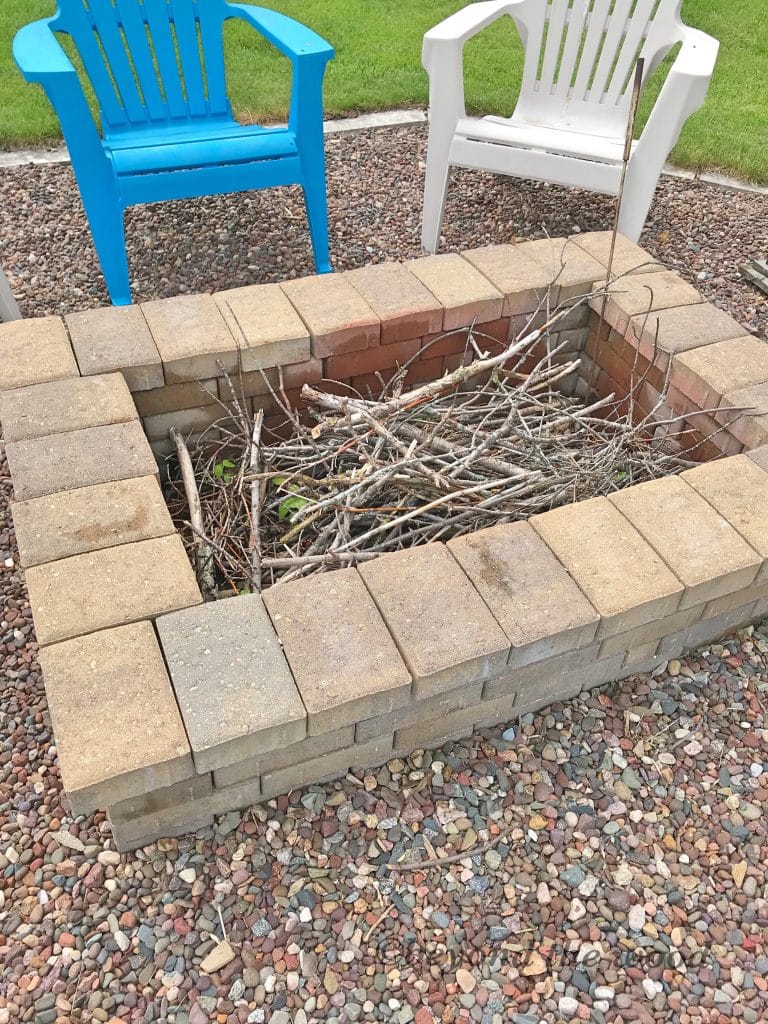 Hubs built the stone benches many years ago and those babies are solid! Added more chairs for seating and the whole space can now accommodate 10-12 people. When heavy winds come the chairs may blow over but not the stone benches.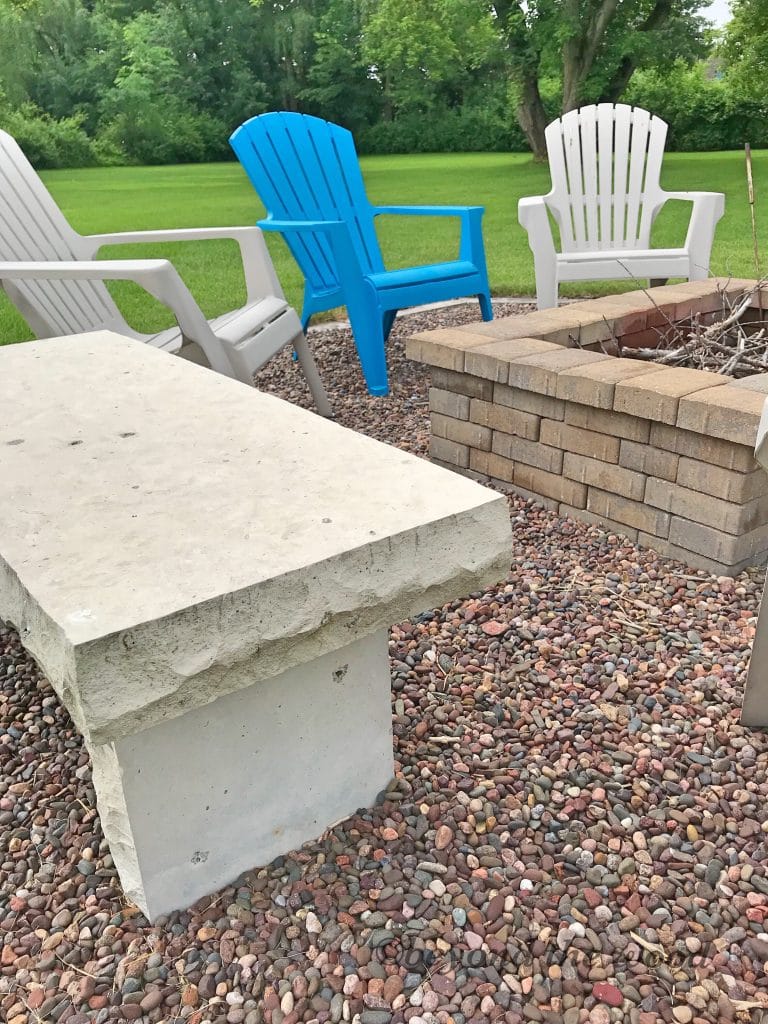 We actually have 2 more of them around the yard because I love them. Here are the other two.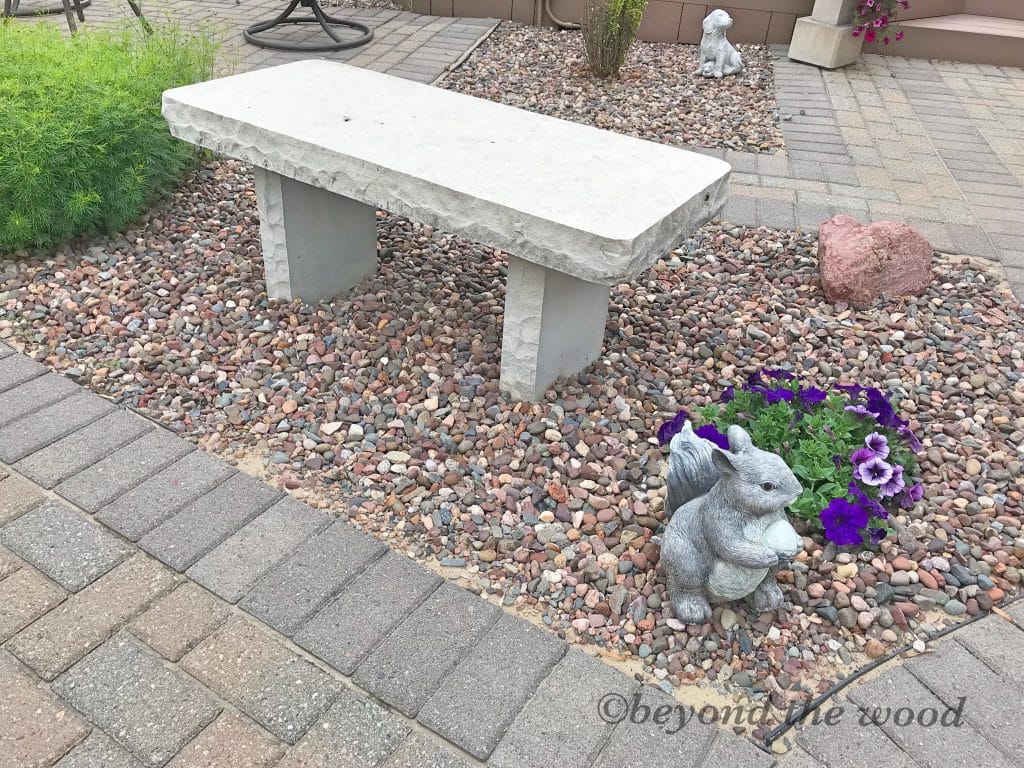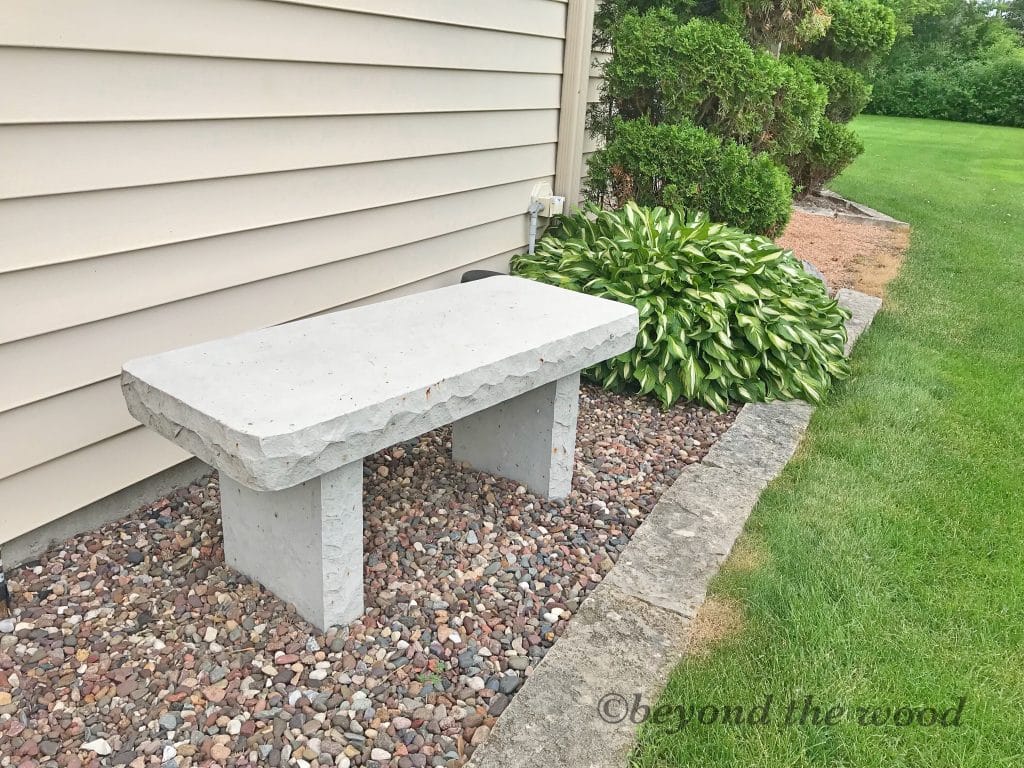 Lately, we have used it more for burning all our twigs from the yard and wood from my business I no longer want. But once in a while we will have a bonfire and of course always make smores!
So there you have another outdoor idea! There are so many other cute firepit ideas people have made but this was simple for us because we had much of it already on hand. So recycle and use what you may already have to help keep cost down.
Thanks for stopping by the blog today and as always I love to hear from you so feel free to ask any questions or post any comments!