Hello hello friends and happy August. Just crazy to think Christmas is just 142 days away. Like where did the year go hey?!
Today I am sharing a couple of changes I made in two rooms of our home with some cute DIY curtain rods. For those of you that don't know I have window shades on all my windows. So, in many rooms of my home, I only hang curtains for styling and dressing up the window. I think any kind of window treatment gives a completed look and warms up a room that gives that cozy feel.
Living Room
In my living room many years ago I got rid of the long rod that was the full length of my window. I never closed the curtains in there and I personally did not like having a whole rod across the top when it wasn't used. So I took it down and installed these smaller rods on each side and I loved how it opened up the top.
Just gave a much cleaner look, hey!
Time passed and of course, I needed change. So, one day during quarantine I remembered I had some curtains from Ikea I never hung. They had the tab tops on them so I decided to change them out for the ring ones I had. But of course, changing out the rod was also a must. lol
Well, you know me always trying to work on a budget so I decided to make my own out of wood (of course). lol I laid the curtains out as if they were hanging up to determine spacing etc. I then got a 1 x 6 pine board from the shop and cut it to size. Sanded and stained it and finally added some hooks. I found these hooks on Amazon and thought they looked perfect!
We screwed the board right into a stud and I couldn't be happier with the end result.
End result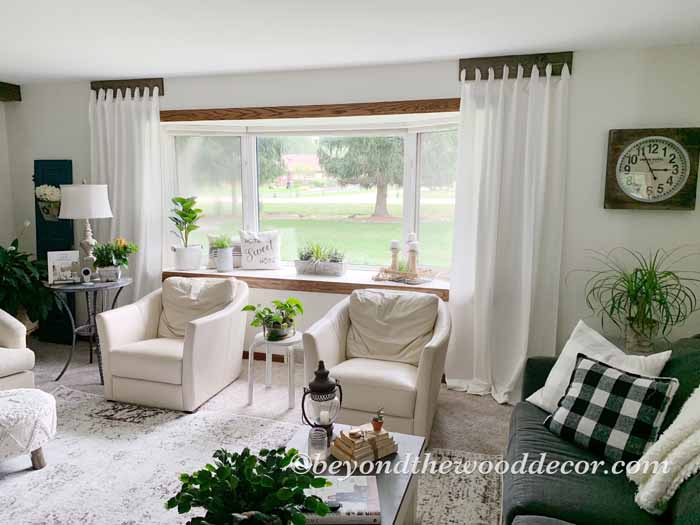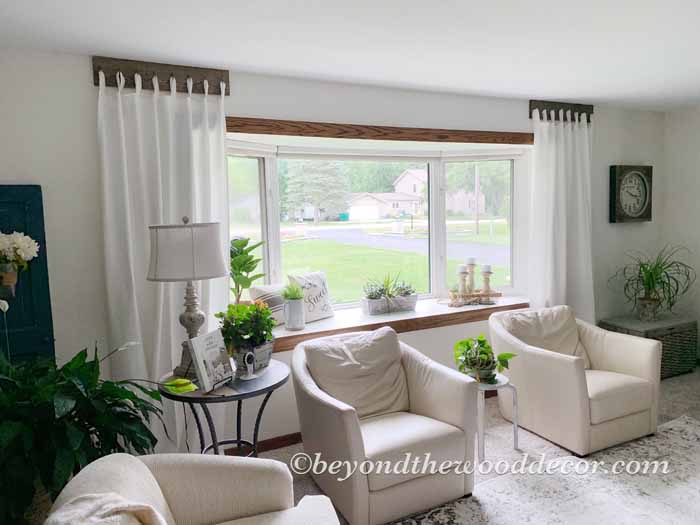 I love the texture and dimension it adds to the window and wall. For years I have been wanting ship lap on that wall but hubs says it's a winter project and some year we will do it. Fingers crossed it's this winter. But in the meantime, I am so happy with the look of these curtain rods.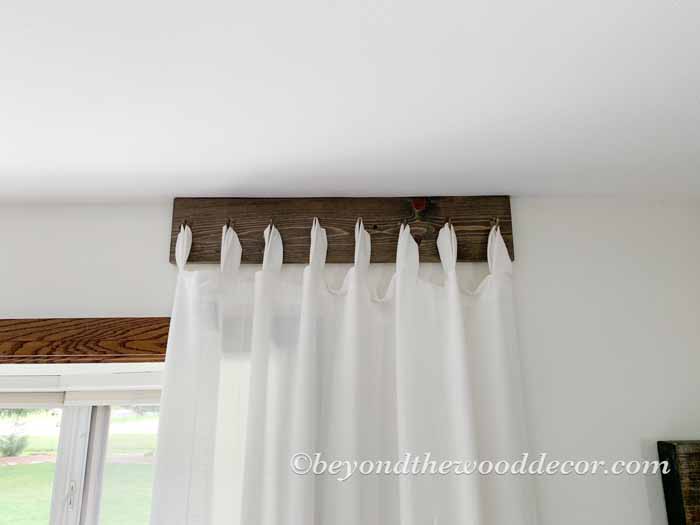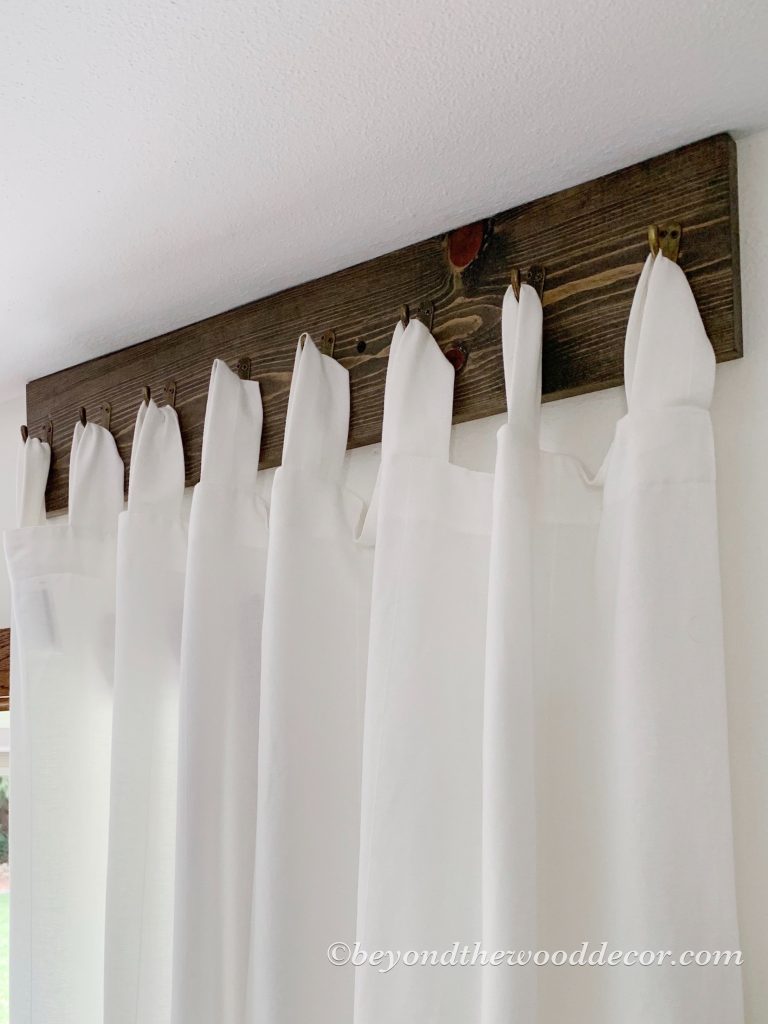 Office/Family Room
Of course, I didn't stop at just the living room but also made some DIY rods in my office. Years ago at this blog post, I wrote about making Drop Cloth Curtains in my office. I did love them all these years but again, needed a change in here. These patio doors are 12 feet long and since I finally purchased a new shade for them I did not need curtains that covered the whole thing. See that big long black rod all the way across?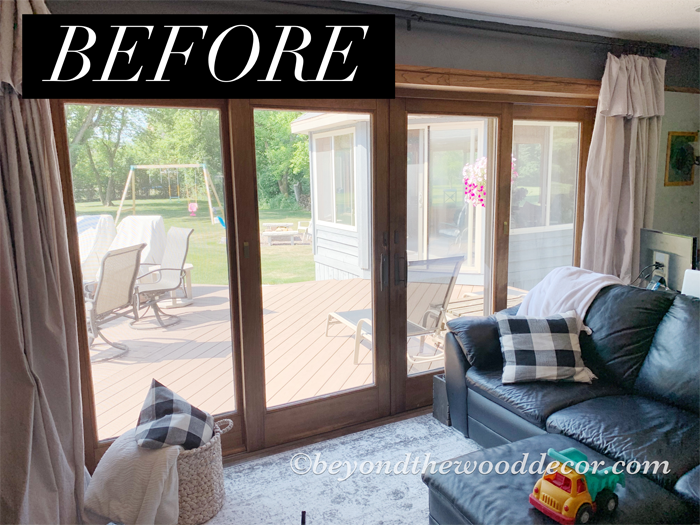 well, I was excited to get rid of it and make some new pipe rods. I love that industrial farmhouse vibe they give off and changing the curtains to sheers I had laying around, was right up my alley. Wow, I love how they opened the space up and made it so bright and airy.
End result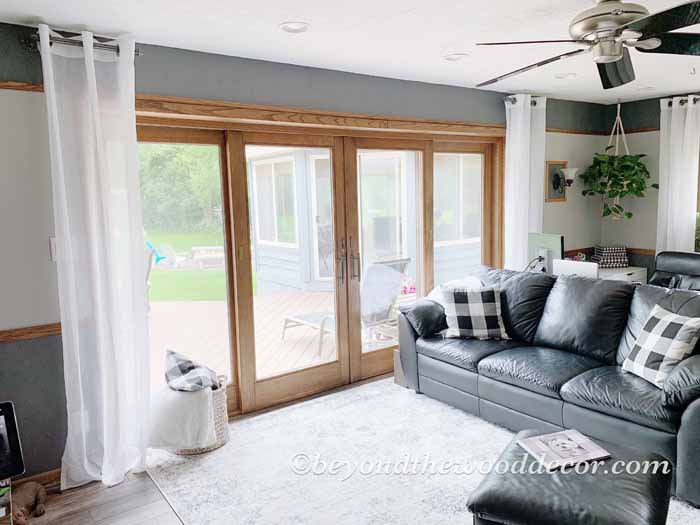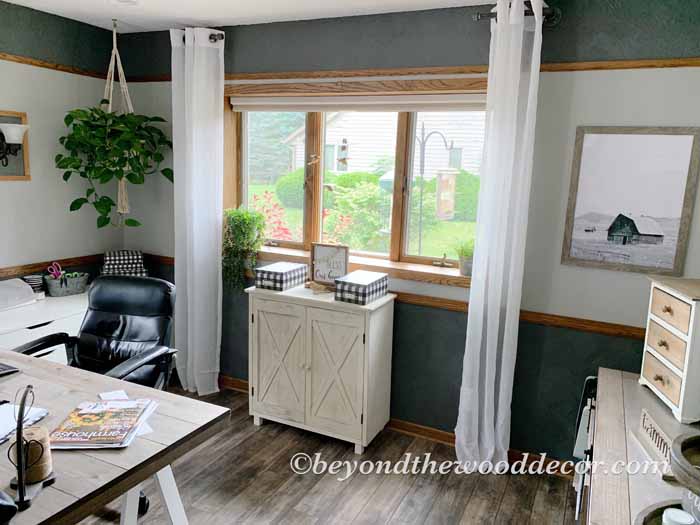 For these pipe rods, I just purchased the fittings from the local hardware store. Here is a list of the five pieces you would need if you wanted to make them too. I went with 3/4″ on all my pieces and I did go with the black. You can buy a basic steel color and spray paint any color you would like.
You will need (1) of each fitting listed above for (1) complete rod assembly. I needed 4 rods so I bought 4 sets of everything. When you get them home be aware some of the pieces will feel greasy and black oil may rub off everywhere. So be prepared to clean them and I used a degreaser and old rag to really clean them up.
I then assembled them and all you need to hang is the 4 screws in the flange. I used and love these anchors which are self screwing and so easy to mount the flange into drywall. If you buy this big box you will have plenty left over for other things. Keep in mind each flange takes 4 of these. So two windows like I have needed 16 total.
You can spray paint the screws if you would like but I forgot to do that before they got hung. So if the silver screws bother me I will put a drop of black paint over the heads of the screws.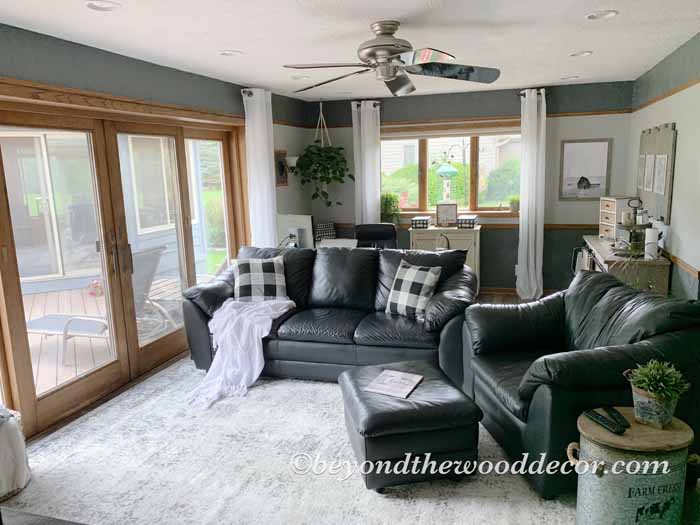 Definitely a much cleaner look which is what I was aiming for. (yes I did remove the ladder I had hanging from the ceiling and I see I forgot to take the hooks out, oops! lol)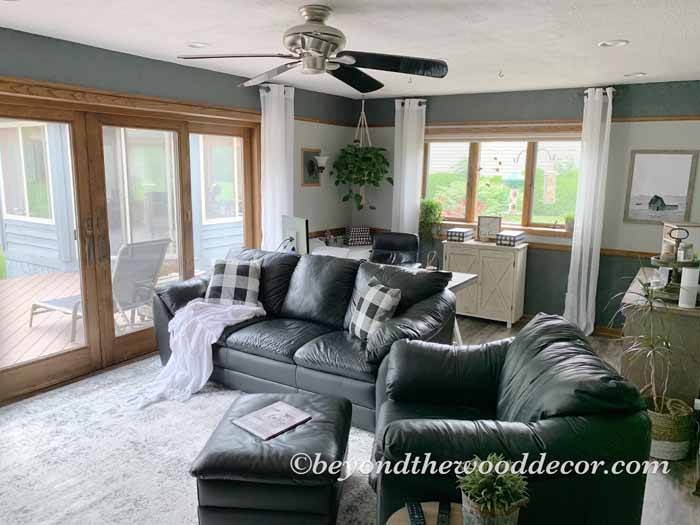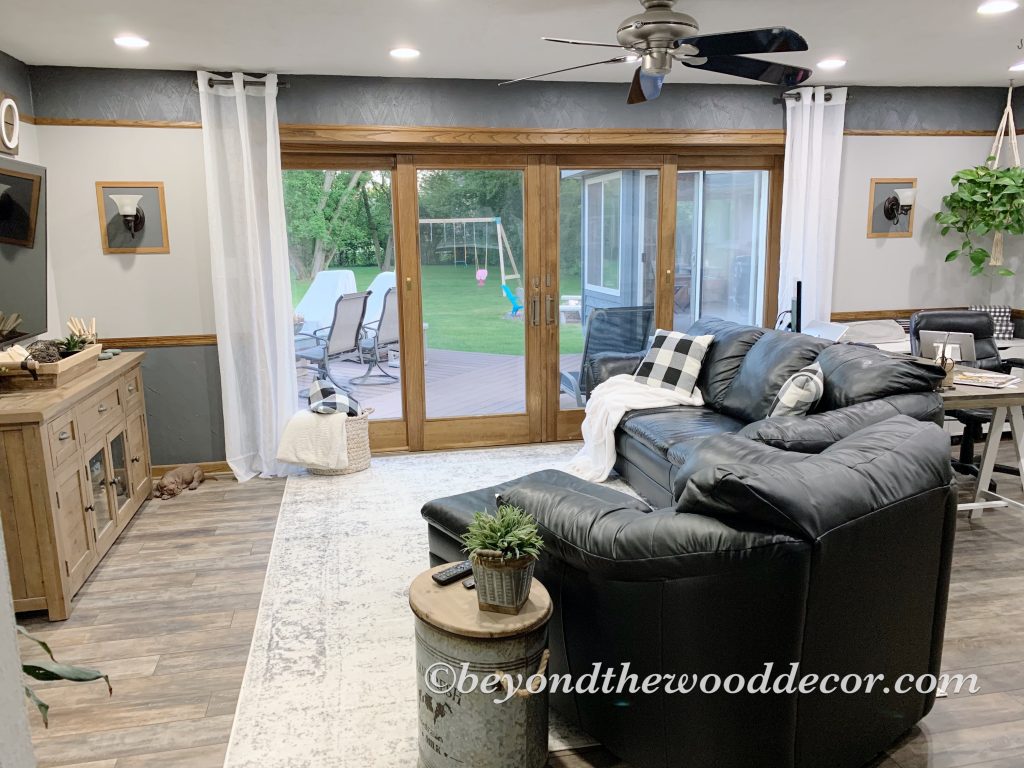 So there you have it friends, two ideas for some DIY curtain rods. I hope it gave you some inspiration for your own space.
Onto the next project! Enjoy the rest of your week!
xoxo