Well friends I am thankful last week is over. Sorry I was a bit MIA but my poor family got a stomach flu and boy did it jump around. My 1 year old grandson started with it then his mom (my daughter) got it two days later and hours later her husband got it. My hubs had gone that day to their house to plow their drive way since they were both out of commission and we got a ton of snow. Two more days later on Monday, hubs came home from work early morning with that flu. I really thought I was safe but nope, come Thursday 2:30 a.m I got it. I think I had it most mild out of all of them which was good but yet knocked me off my feet for two days. No fun at all.
Do you have weeks like that where you have so much planned and life throws you a curve ball? Yuppers, we have all been there, right?! …oh well we survived and now its back to the grind so bring it on!
Ladders here and ladders there…
Who loves ladders as much as me? I mean there are sooooo many things you can do with a ladder, right? Over the years I have made so many styles of ladders and on my website you can see many of them here. But for today I thought I would share some ideas of the ones I have in my home currently and how I style them.
For those of you that have been following along if you remember off my kitchen I made this photo ladder and hung it on this wall.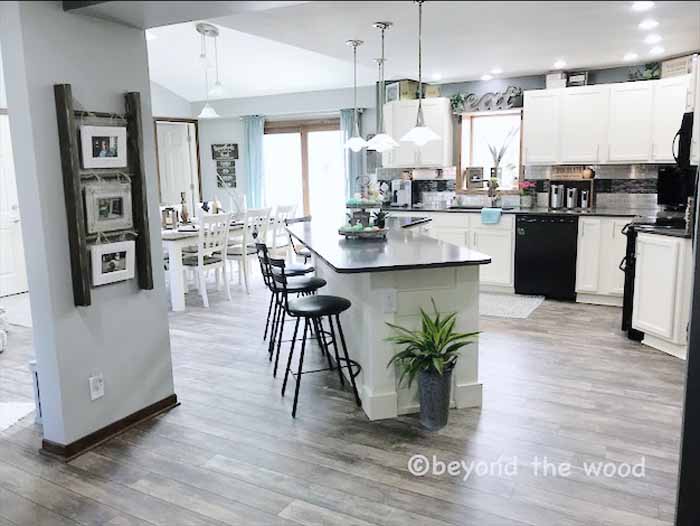 Thats an old photo below for sure because I just seen it has my old maple floor in it and my old buffet….oh such memories, lol. (dont miss it at all)
The ladder was hung there for many years and then I took it down about 6 months ago and put these herb boxes up in its place.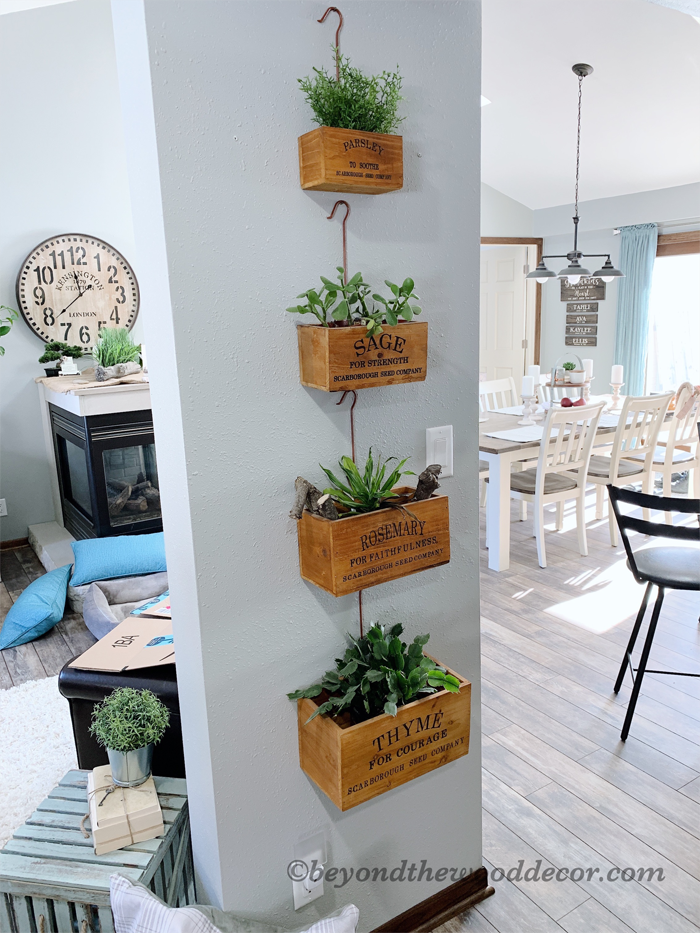 The ladder sat in my storage room for all this time until I finally came up with another use for it.
So after Christmas as I was taking down my Christmas decorations I was cleaning in the kitchen and I decided to shake things up a bit with my buffet and use the ladder I had in storage.
BEFORE
Here is my before of the buffet. I loved that planter of twigs on it but just moved them to another room.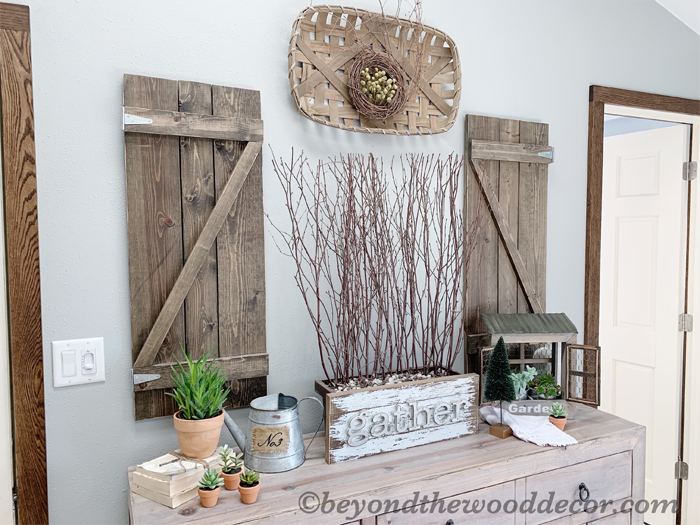 AFTER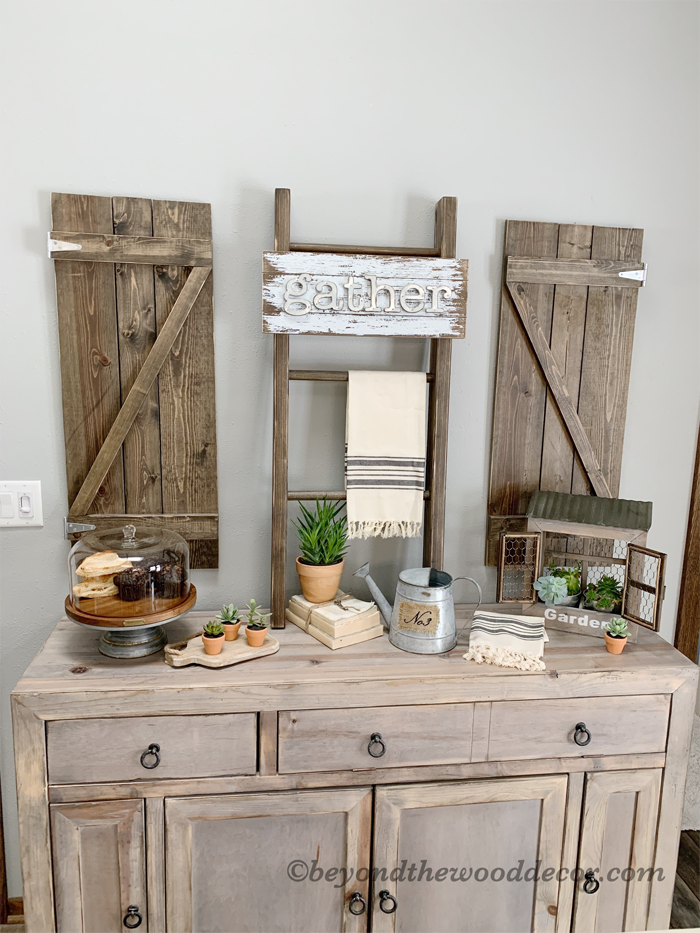 That is how I decided to re-purpose my ladder. So as you can see it now holds my "gather" sign and I thought it would be cute to hang a towel on another rung. Very basic and simple but I love the change. That is the best way to redecorate with everything you already have, right?!
Of course the stack of vintage books had to stay and if you remember how I made them that post can be found here.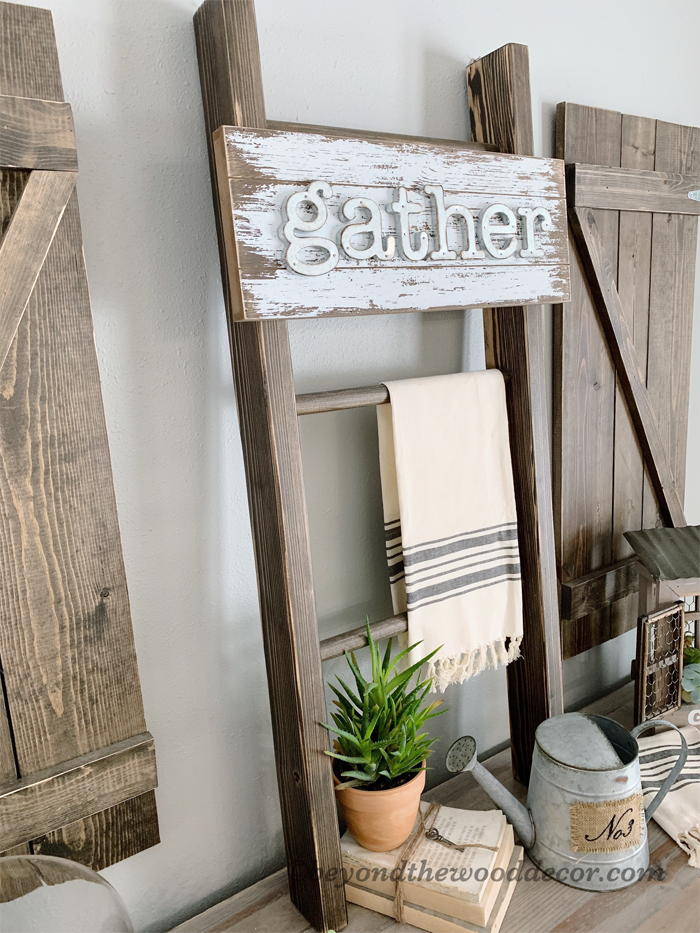 I received that adorable wood and metal covered cake stand for Christmas and I love it. It is from the hearth and hand with magnolia line from Target and unfortunately it is now discontinued online but many Targets still have them. You can order it online for pickup in the store and here is the link.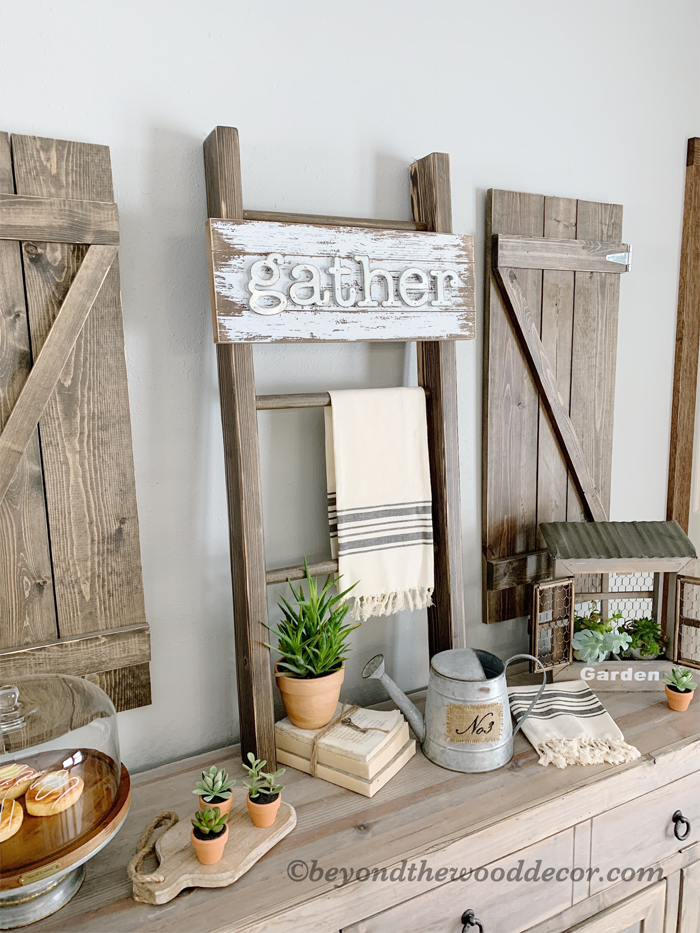 The metal and wood one is being replaced with a white and wood one which is also so cute. Here is what it looks like and I have linked it for your convenience.
But seriously, I LOVE them both. I do use mine everyday and honestly when I don't have fresh bakery in it my little secret is I went as far as putting some "faux" bakery in it. Yup the chocolate long john in the photo below is the only thing real in here and the other 3 are "faux" (fake), lol.
I mean they look totally real right? But this girl is more about decorating rather than eating donuts. But sadly my hubby is the sugar addict and we do have fresh bakery in it at least 4 days a week. For those of you interested in my "faux" bakery I did get them on Amazon at this link. I have seen some that look so fake so when buying it was important for me to get "real" looking and these fit the bill.
More ideas for ladders
Other ways I use ladders in my house are your basic blanket ladder. I have had a few over the years and here is the one I am currently using.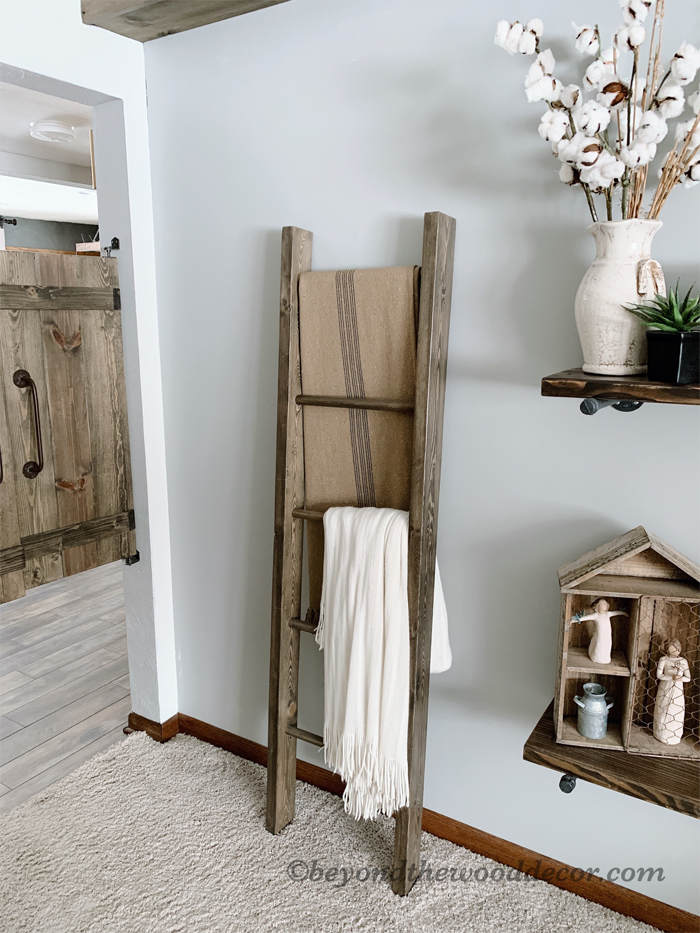 I make so many different styles of ladders and love them all. Many years ago I also used this style for magazines as seen here. Ignore the quality of the next few photos…..my camera was so bad back then and thankfully I have upgraded for sure. lol
I have had clients also share their ideas and I thought this gal that used the ladder for her scarves was brilliant. Why didn't I think of this? I mean if you are like me I have a ton of them and this would solve organizing issues, right?!
Of course my next favorite is using a ladder as a trellis for a plant as I do in my entryway. This plant has been growing for so long I had to figure out a way to display it and I love this look. But my most favorite in this photo is my sweet, precious, Kenzie. She is blind but still looked so nice at the camera! lol
A few posts back I also shared my half bath and of course I also have a ladder in there. You can see the full post here but this is how I styled the ladder I made for that space.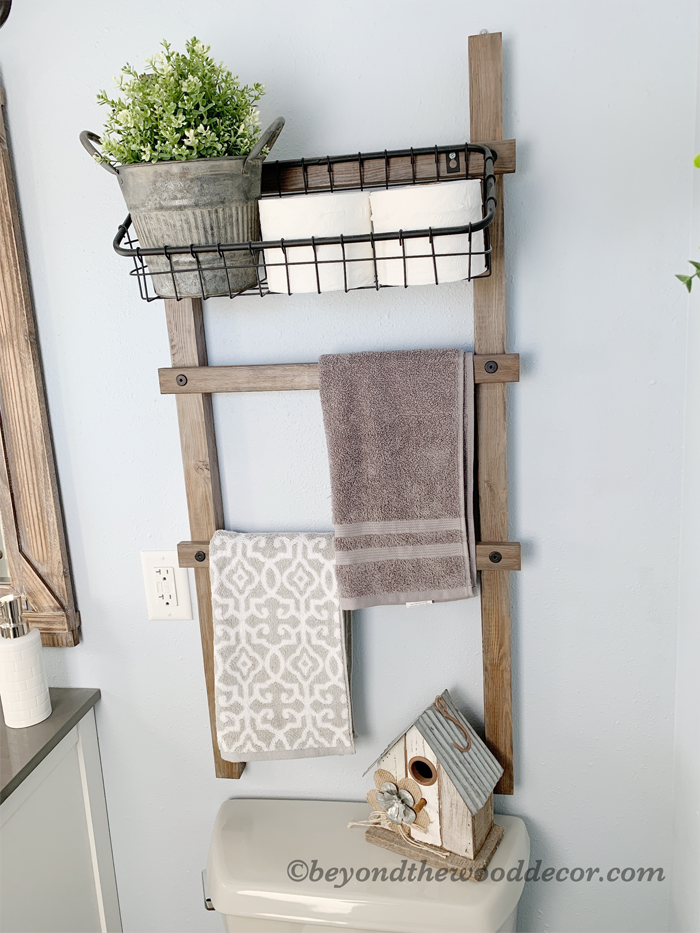 Onto my office…..
Many years ago on a wall in my office I made and hung a ladder to hold all my weekly orders. That was back in the day when I did paper everything. Now all my orders are kept electronically. But I did love this back then as well and this would work for photos too, right!
Also, in my office I hung one from the ceiling and put some faux ivy vines in it. I think it just gave the room some warmth and a out dorsey feeling.
I no longer have the greenery in it but instead just all the twigs from outside. Plus the room is all so different now. I really love this ladder hanging from the ceiling and will probably have it there for a long time.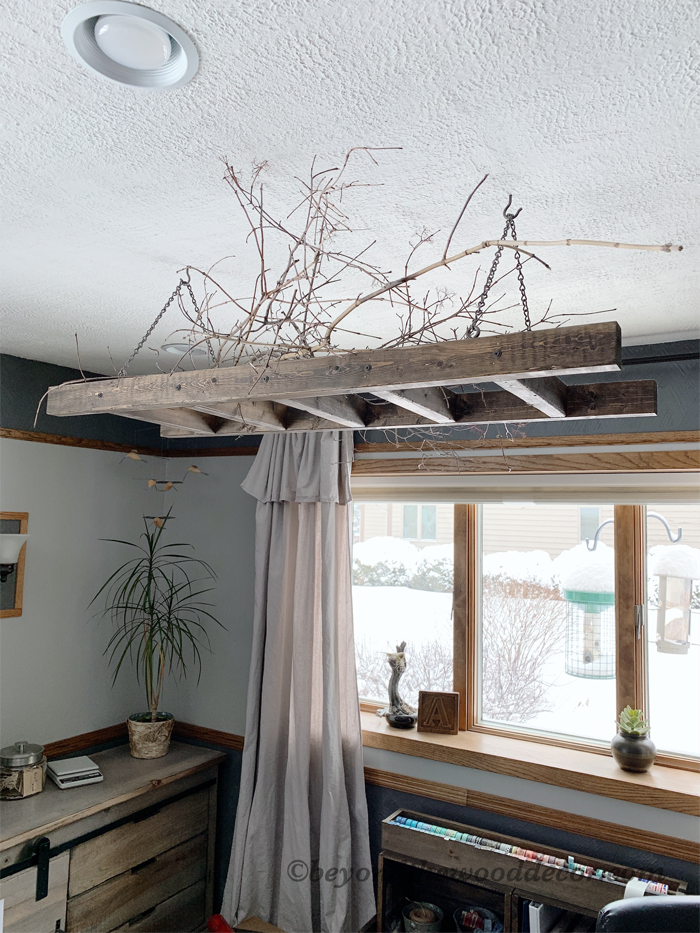 So there you have it my friends…..many many ways to decorate with ladders. These are only a tiny fraction of ideas but I am telling you there a ton of ways to style all kinds of ladders. The vintage ones are really my favorite but I have yet to come across one but will keep looking. I would love a small one and honestly, hubs has one in his shop I would love but gosh darn he keeps using it. lol One of these days I will buy him a new one just so I can have his old one, lol.
Ladders are clearly so versatile. You can buy them for blankets then realize there are so many other uses for them. Or make a small one and use it for so many things as I did in the photos above.
I hope this gave you some ideas for ladders in your own space. They really fit that rustic, farmhouse style decor if that is the look you are going for. (hands up…me me)
I hope you all have a fabulous week. I have a simple DIY coming up later this week so be sure to watch for that. As always be sure to sign up to my newsletter so you never miss a post. Have a great week friends and stay safe and warm as we here in Wisconsin are being hit with a ton of snow and cold this week!
xoxoxo