Day 2 Bedroom Makeover
I am just all giddy over here because I love fresh paint! On day 2 of the makeover I did get the room painted and it looks AMAZING already. So bright and warm. Bye Bye Blue!
If you missed Day 1 head on over to this blog post "Day 1 Bedroom Makeover"
To refresh your memory, here were my 3 color choices against the bed cover I bought.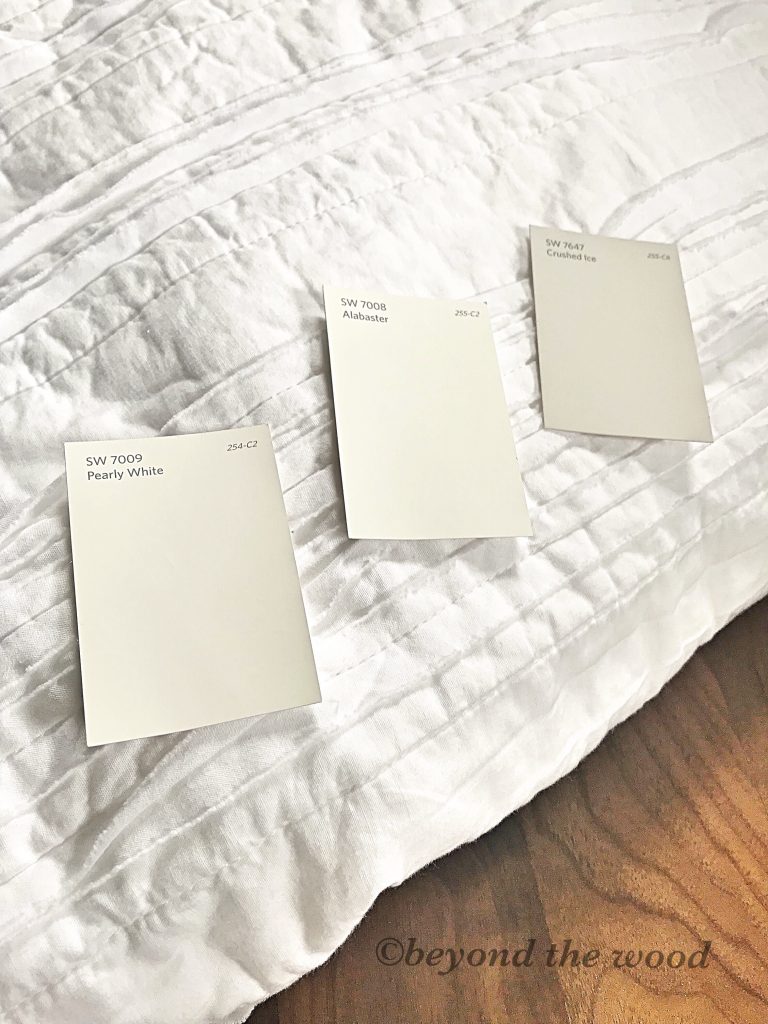 Let the painting begin!
I decided to go with Crushed Ice by Sherwin Williams. Normally I start off with doing all the trim around the baseboard, ceiling and windows but this time I was so excited to see the paint on the wall I had to do a big section first.
I didn't wanna miss capturing it for you guys so as you can see the paint is still wet! lol
I woulda loved having you guys over and help paint because truth be told I HATE painting! Seriously hate it! Do any of you like it? I do it often because it makes such a huge change in a room but I pro long it as long as I can. lol
That is actually one thing hubs will not help with is painting. He will do almost anything else but he hates it too. So if I want it done it will be me having to do it. So while he was at work I just turned on a podcast on my phone and went to town on this baby!
Once I started I was determined to finish it all in one day. I knew it would need two coats because the blue was so much darker than the grey. So here is the first coat.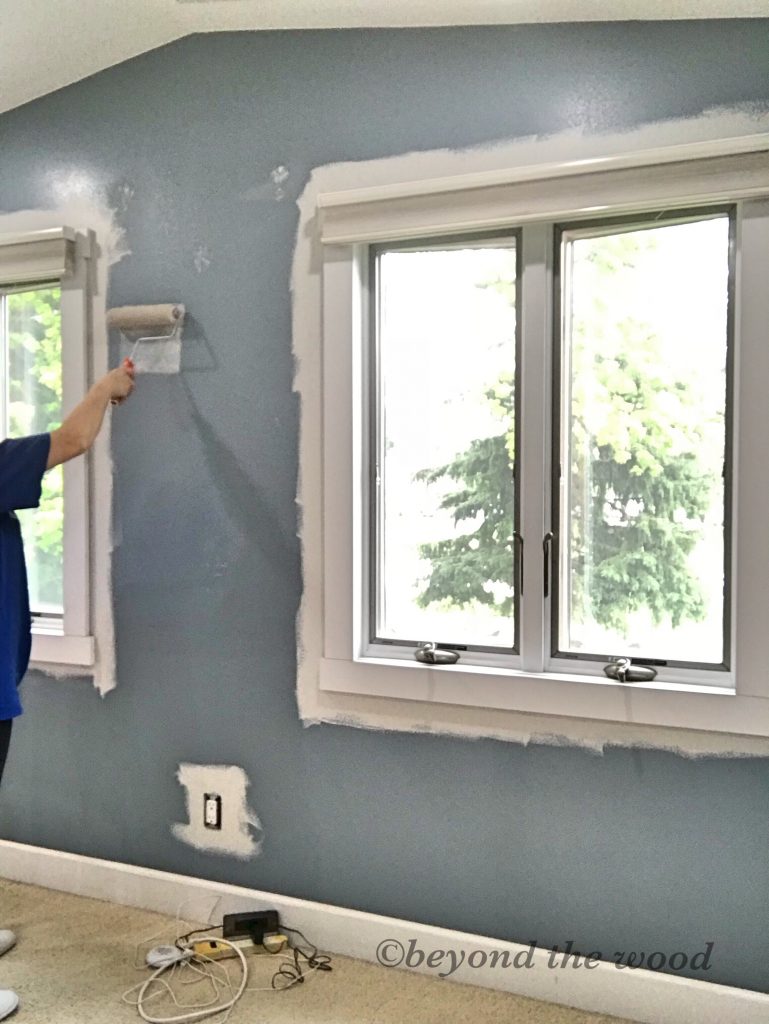 For the trim around the windows. doors, baseboards and ceiling I did use this Purdy tapered brush from Amazon. You can use any brush but I love this one because it does not shed and it washes up so nicely. So I use it over and over.
For a cheaper alternative I have also used these and they work nicely as well. I have found with brushes you get what you pay for.
I normally would use a trim edger for the top of the wall where it meets the ceiling but I forgot to get new pads. But I have done so much painting in my day I am pretty good at doing a straight line so I winged it!
Yikes it looked horrible with one coat and that carpet looks really disgusting in these photos, lol. It really is not that bad as the photo made it appear but bad enough it needs to go. The dogs bone also made its way into the photo, lol
By the time I got all the way around the room the first coat was dry so onto the second one.
Almost done!
Finally a great sigh of relief after a really long day of painting it is DONE! Yippy!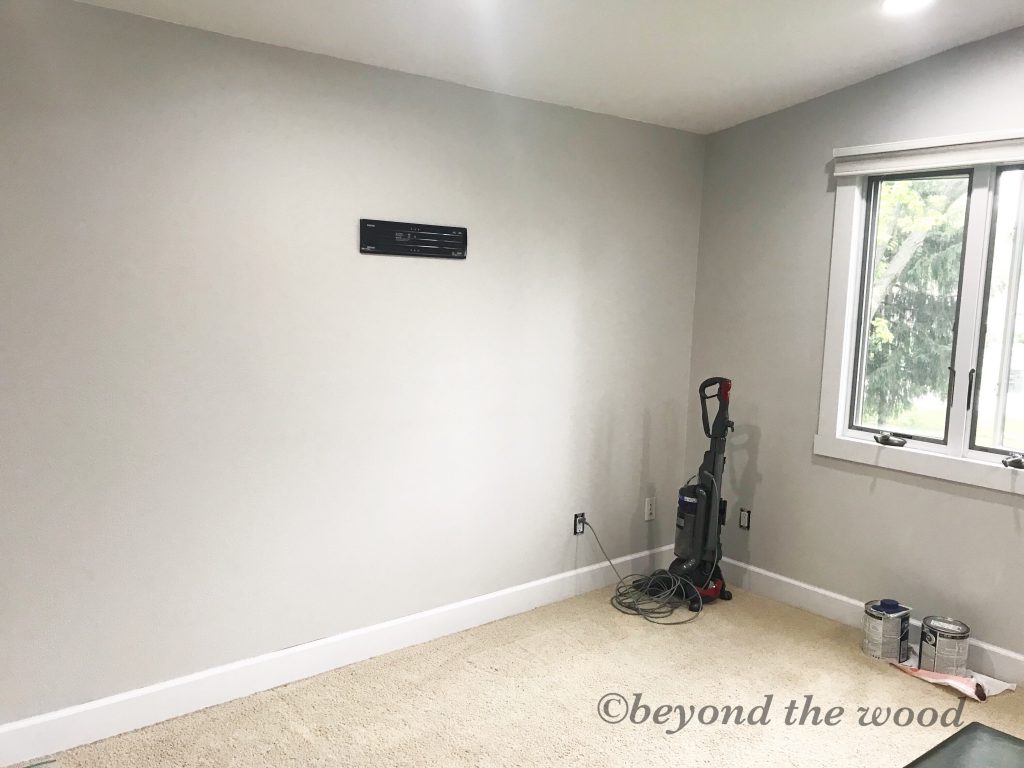 We did have everything out of the room but moved the bed back in to sleep that night.
But now hubs needs to rip out the carpet. Last winter we removed carpet from our family room and office so the installer is putting that in this room on Sunday. As you can see in the next photo hubs started ripping up the corner but I had to get some pics first!
But seriously guys, what a world of difference paint can make, hey! This is such a perfect soft grey. The trim and ceiling is white so you can see it is just a bit darker than that.
I am excited to get working on the headboard. Buuttt….. look at this beast…its taking up my entire shop.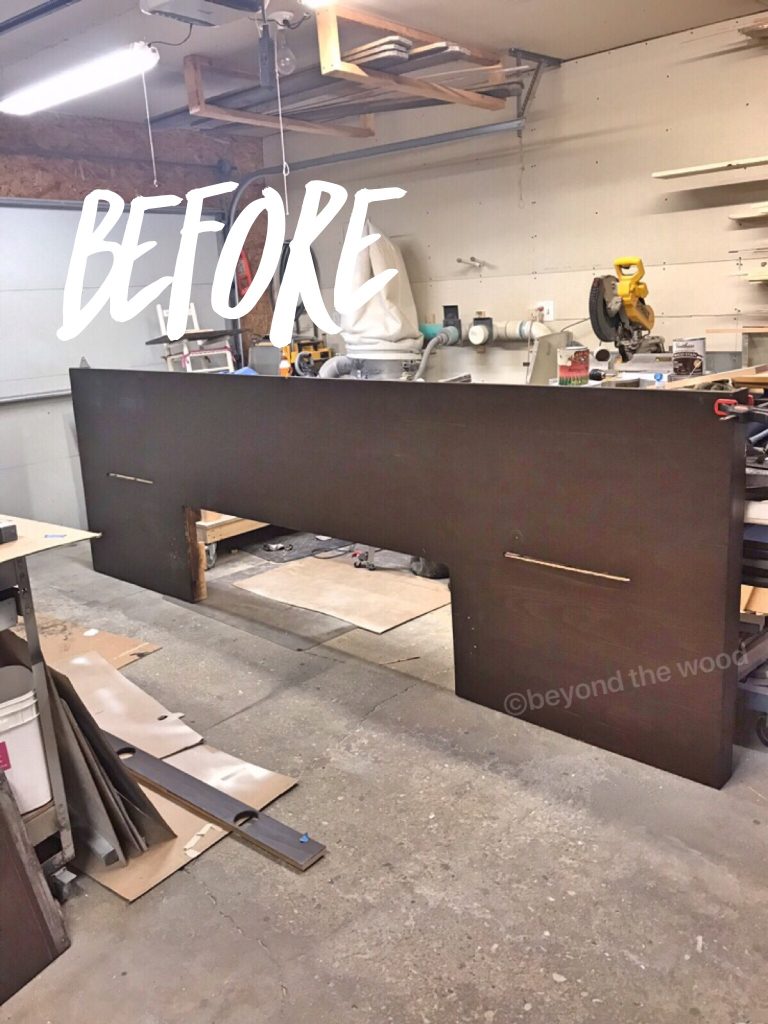 I am planning on sanding it down to the bare wood and re-staining it to my favorite rustic stain. Then I will be adding a bigger ledge on the top and making some new floating nightstands for it. Hubs is going to separate the boards because I want all planked boards this time around. Hopefully it turns out as good as I am envisioning! 🙂
I have a couple more projects I plan on doing in the room and will share them when I start.
For now, have a great weekend my friends! As always thank you so much for stopping by the blog today. I hope you are enjoying this project along with me! Feel free to let me know in the comments.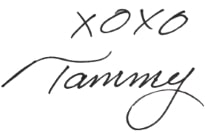 UPDATE: to see previous days of this makeover see them here:
Day 4 Bedroom Makeover Project Day