Hey friends, Christmas is in 5 days and I seriously am not ready nor can I believe it. Where has this month gone? So really for my Christmas gathering I only have 4 days because we celebrate Christmas Eve. Yup 4 days to get my shopping done, get all my baking done and get my gifts wrapped. Eeeeek! I hope you all are more ready than I am!
Guess what….I have not even gotten my tree up yet and at this point I am going to skip it. Lol, yup no big tree this year because getting it out of the attic and all setup for 5 days makes no sense. I mean if I had little ones at home yet I would totally do it but my grand babies are enjoying their trees at their houses so they will be fine. I have a couple small trees all over the place so it totally feels like Christmas in here.
Thanks to all my AMAZING customers they kept me beyond busy working 16 hour days 7 days a week for the whole month. So thank you from the bottom of my heart for all the custom orders and supporting my small business.
I even have so many orders that are not needed for Christmas that will keep me busy for most of January as well. So thank you thank you thank you!
Onto our Christmas Tour
A few of you asked to see my house all decked out for Christmas. To be honest I only brought out a 1/4 of my decorations and kept it extremely minimal. So as simple and clean as it is I hope it still gives you a bit of inspiration for next year!
My "faux mantle" is probably my favorite. I do not have a fireplace with a mantle so my TV unit takes the place of a mantle.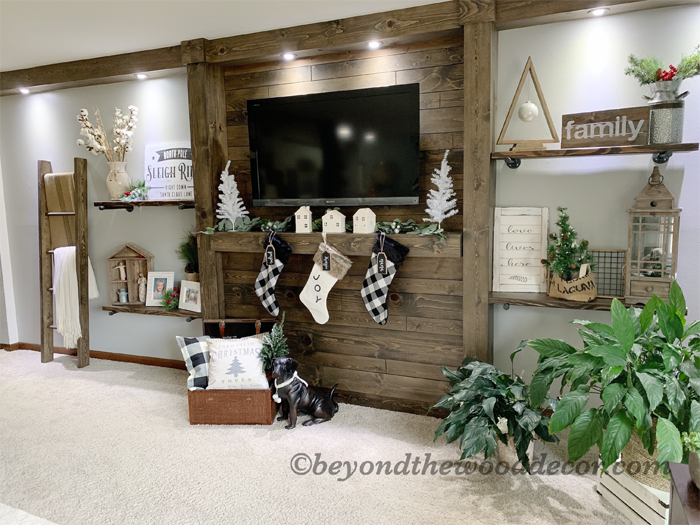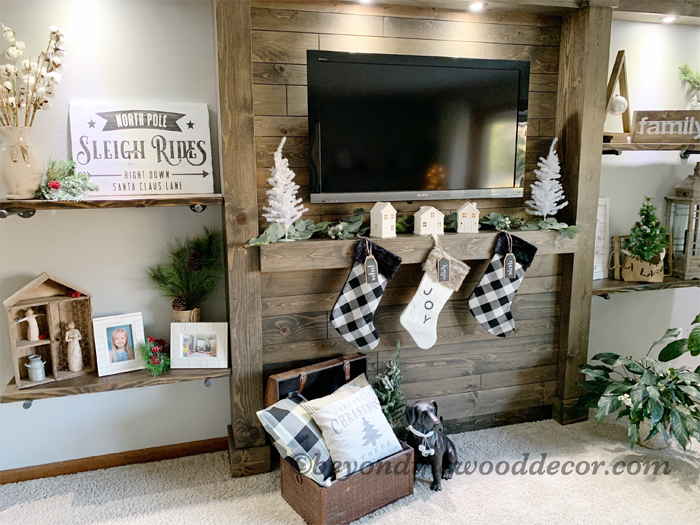 I picked up these adorable little houses from the Dollar section at Target. They have them every year and I think they are so cute. I added a little flame less candle and at night they look so cute.
This Farm Fresh Christmas Tree pillow is from another maker on Etsy. I love supporting other small shops and her business name is peekpilloworiginals but her shop is closed until next year. But be sure to check her out as she has adorable pillows.
Yup I even dressed up my little dog statue. Isn't he cute with his jingle bells on him?!
Stuffed this little chest with some pillows and a tree and called it a day! By the way the buffalo checked pillows were a great find on Amazon. I got two covers for like $11 and they are soooo nice. Here is the link if you are interested in them. You will need to buy a pillow form or stuff them with stuffing but yet soooo in expensive!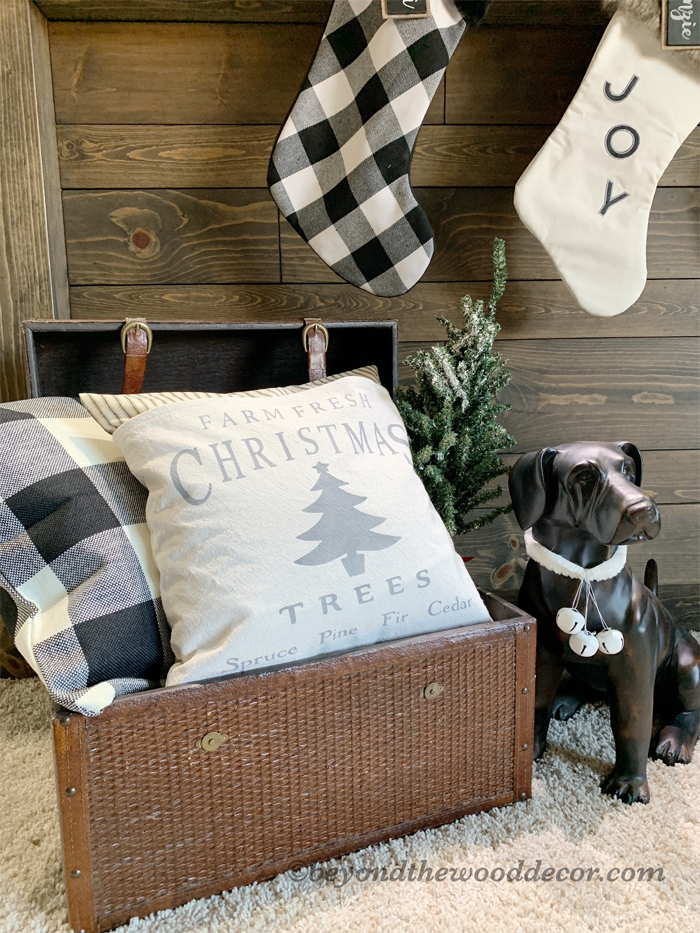 Here I did make the little tags for each of the stockings. Papa, Kenzie and Nana!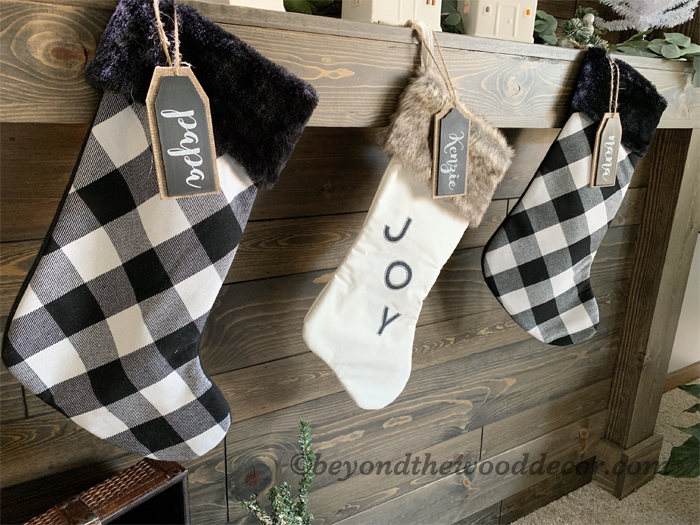 The "North Pole Sleigh Rides" sign was one of my new ones this year. Of course I kept one for myself. lol I do have 2 more available if anybody wants to snatch it up.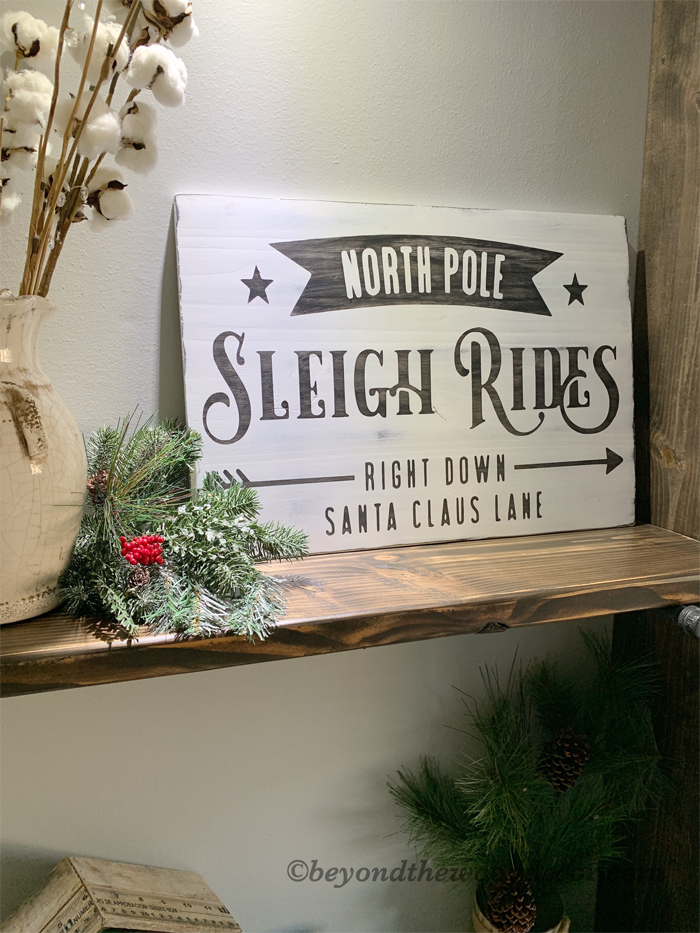 The wood tree with the ornament is also one of my creations from years ago and the "love lives here" shutter sign I made a few months back. Be sure to message me if interested in the shutter sign as I have many available and designed to whatever quote you want.
I have so many adorable little trees and I like adding them to various bags or wrapping in burlap! I mean who doesn't love burlap!
As you can see this year I went a little buffalo check happy! I really just love the black and white and cannot get enough of buffalo check!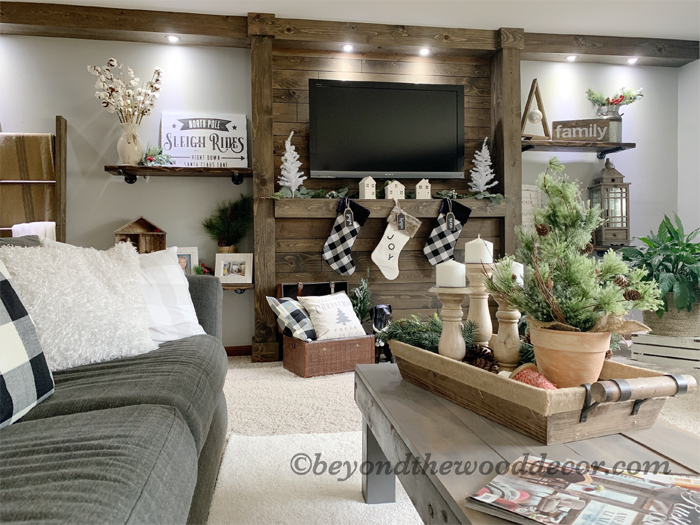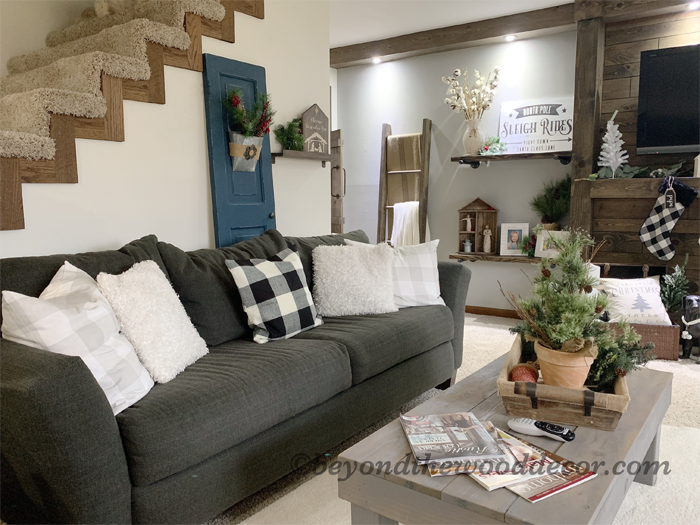 I also made the sign here a few years ago and made more this year. One of my favorites for sure! 
For those of you new to my blog this shelf and what ever I put on it hides my thermostat. See that post here.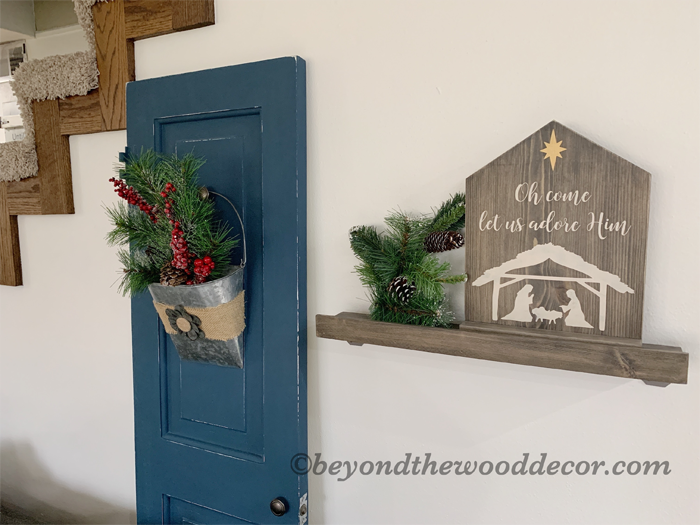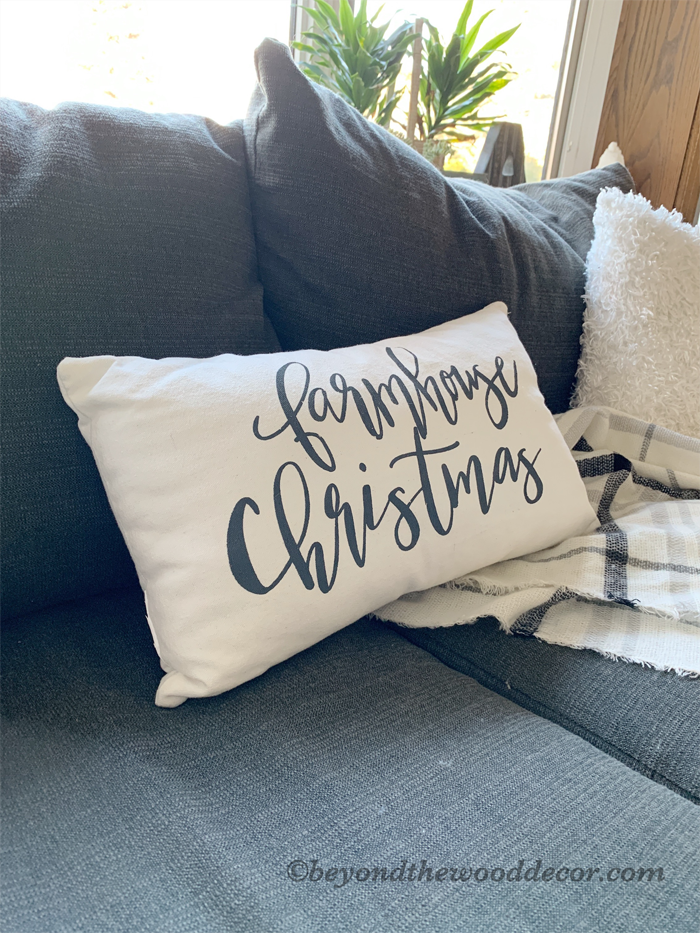 Adding Christmas greenery all over just gives that festive touch. So I fill in all over with just greenery and that touch of red by adding the berries.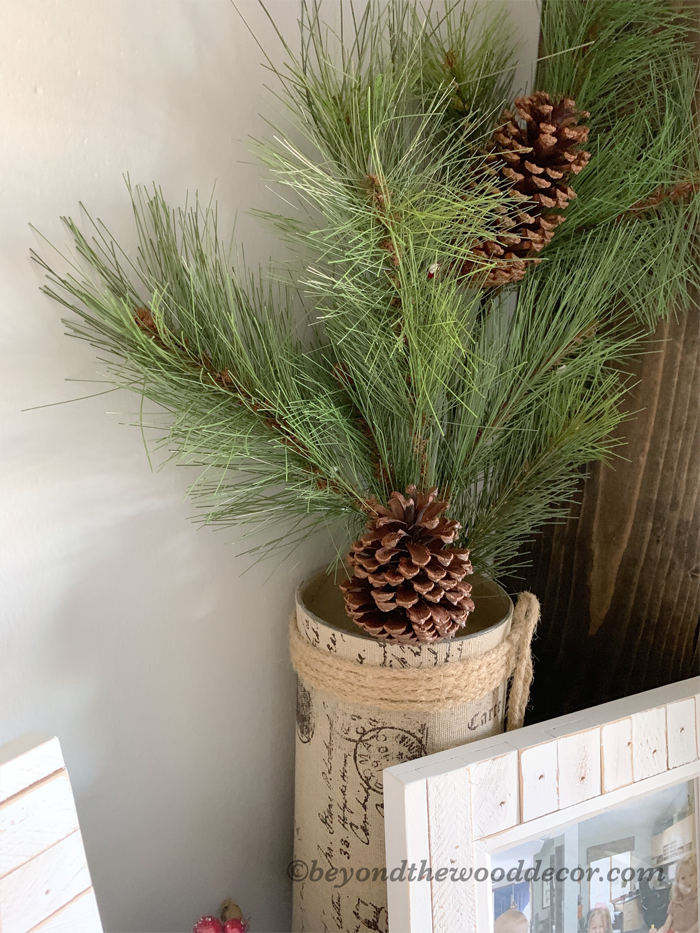 Adding the spool of red twine also brings in that pop of red for the season.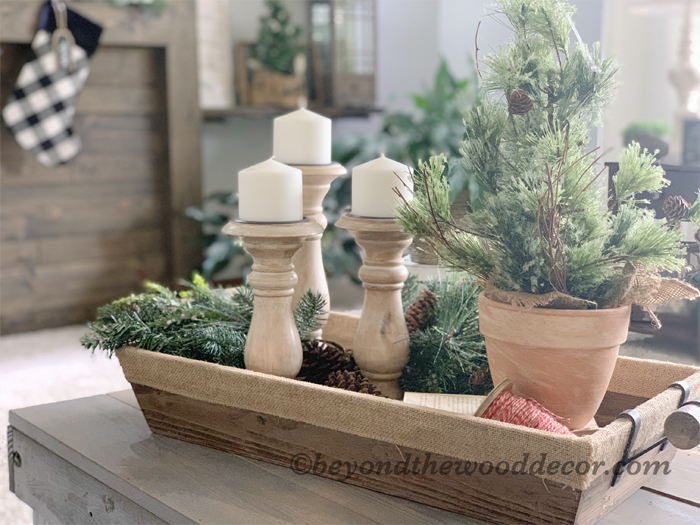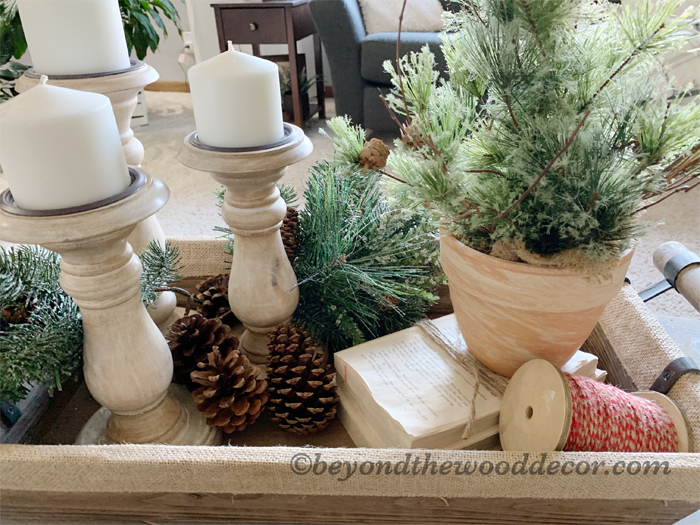 Hubs picked up this poinsettia for me the other day and I thought it looked perfectly right here under the wreath I made.
Look, I do have a small tree on the right. lol My big tree was suppose to go where the chair is on the left but ooops never got it up.
Good ol' St Nick!
I also have a tree right here which is right off the living room as well so these two will work for a tree this year, right? lol I love this one in this aqua crate. Remember in Fall I had it filled with other goodies and now it is filled with my tree!
Adding some white faux poinsettia leaves dresses up these small boxes.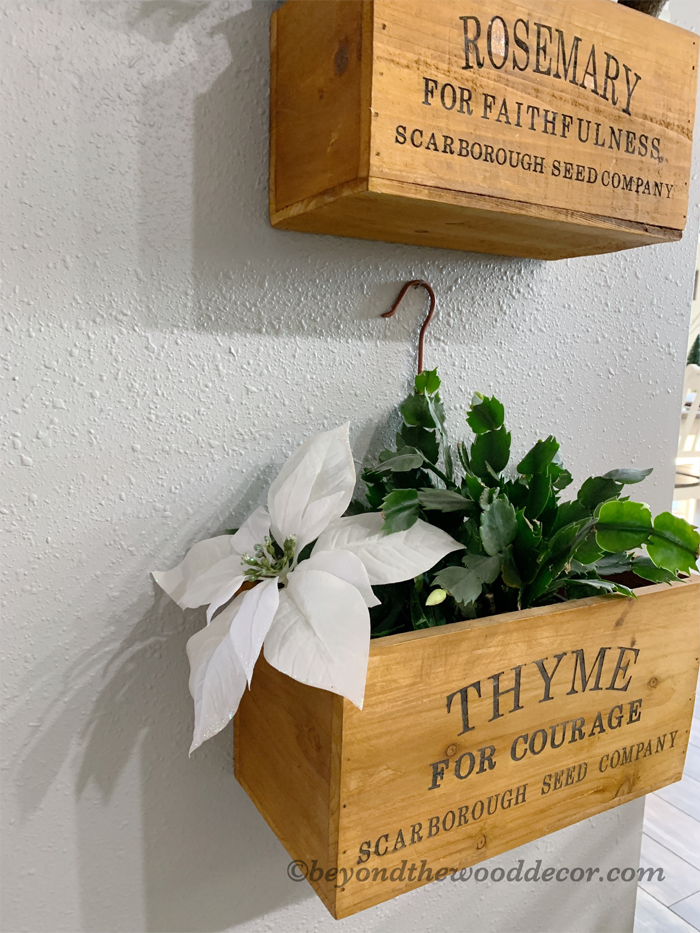 In my front entryway I have my "blessed" box all dressed up for Christmas and Winter now. Again if you have been following along I make those small boxes and I dress it up for each season. Here is Fall and in this post you can see a glimpse of it with spring florals in it.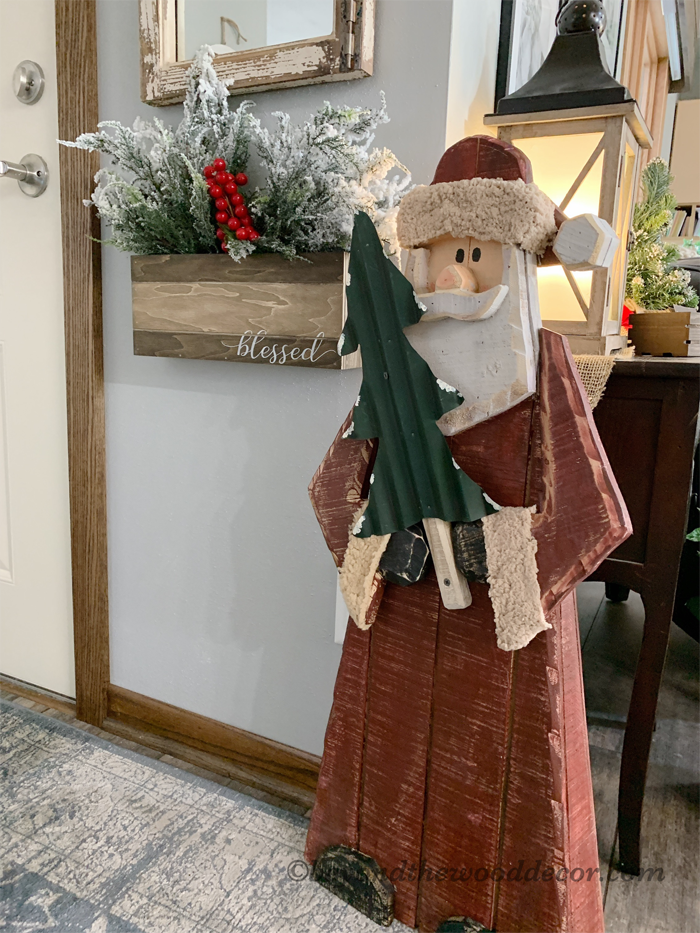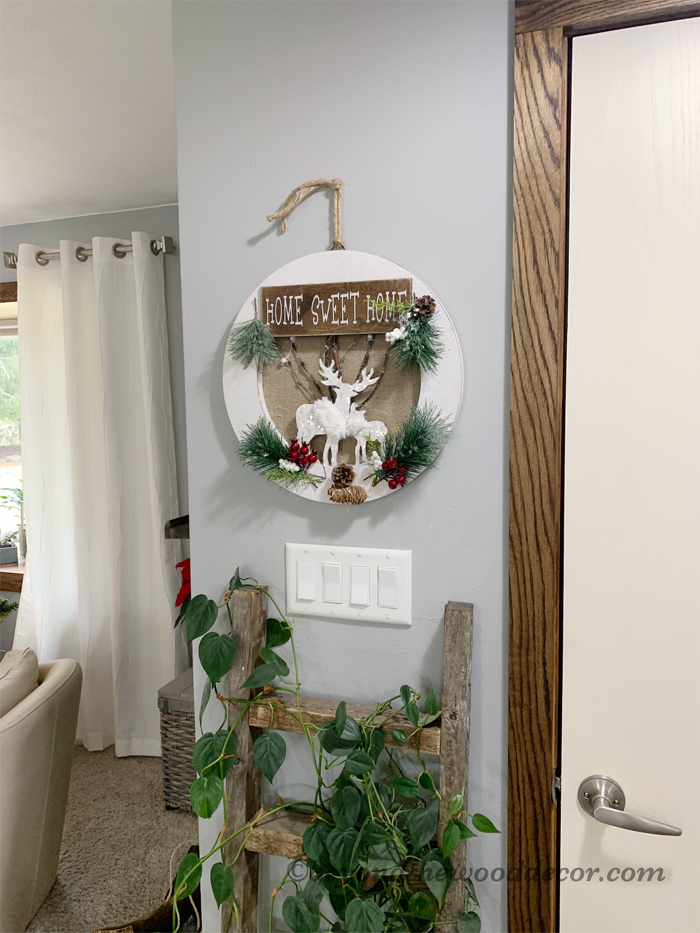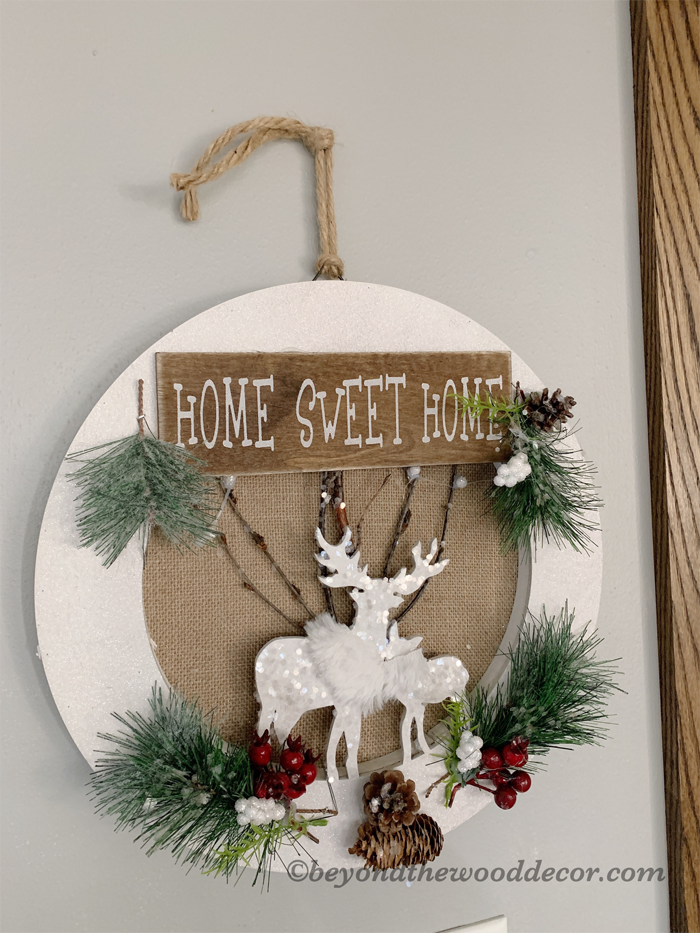 Moving onto the dinette
For those of you that followed along with my Thanksgiving Tablescape well it was an easy transition into Christmas.
I kept the same greenery but added pops of red in the napkins and a few bottle brush trees.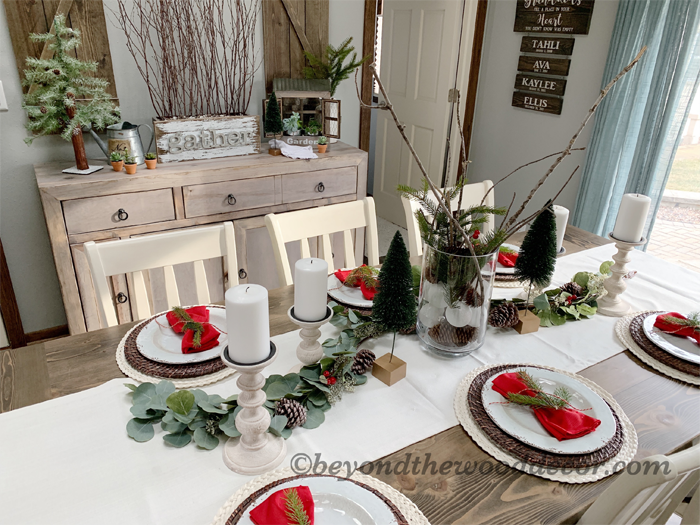 In the center vase I added some white ornaments and I went outside and clipped some pine tree branches off our many trees.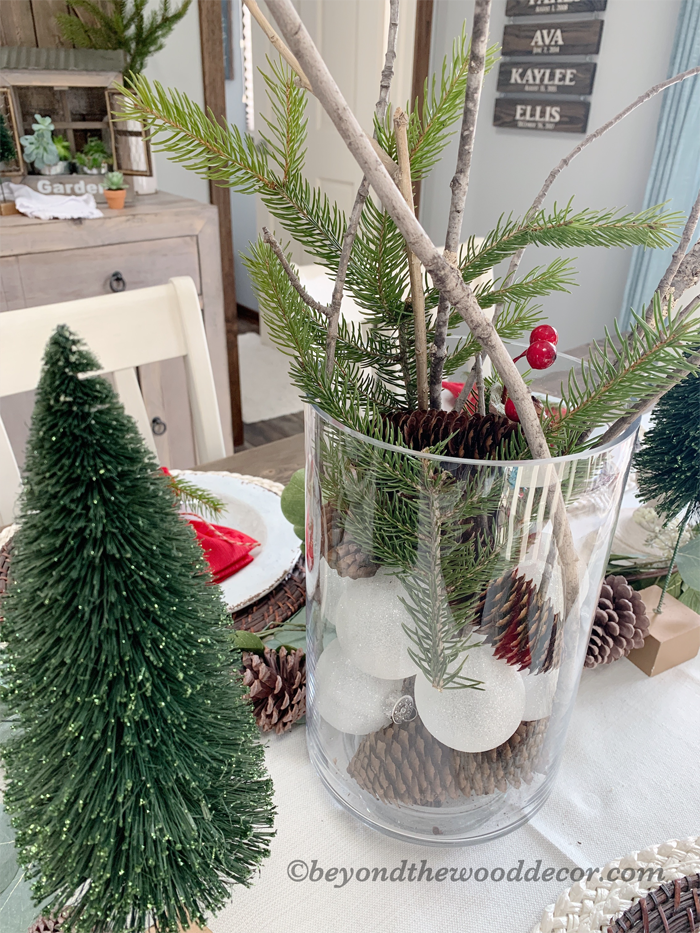 I also used some fresh pine sprigs on the napkins and used my red twine to dress it up. It is such a simple and inexpensive way to dress up for the holiday and I think looks so nice.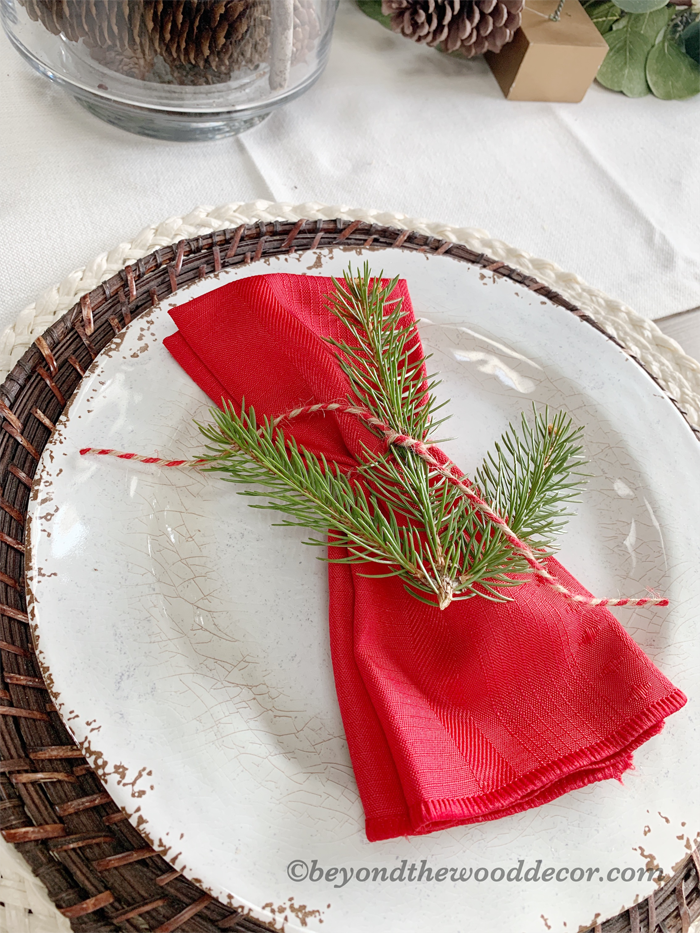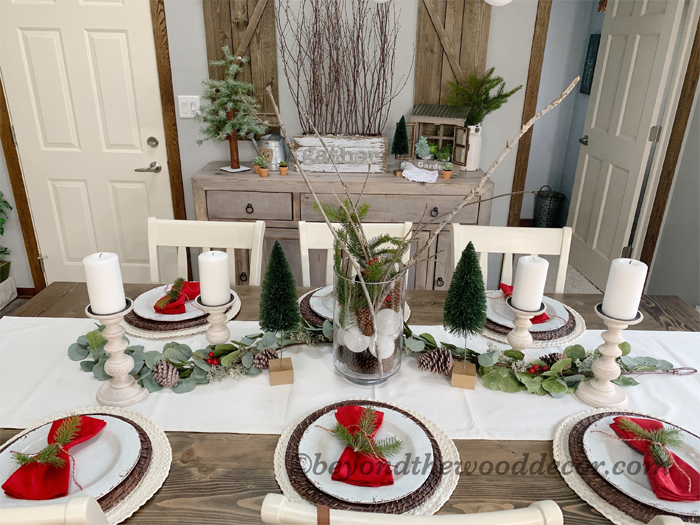 On my buffet I also added some fresh greens in the vase in the back, added a bottle brush tree and another holiday tree on the end and love how cute it looks.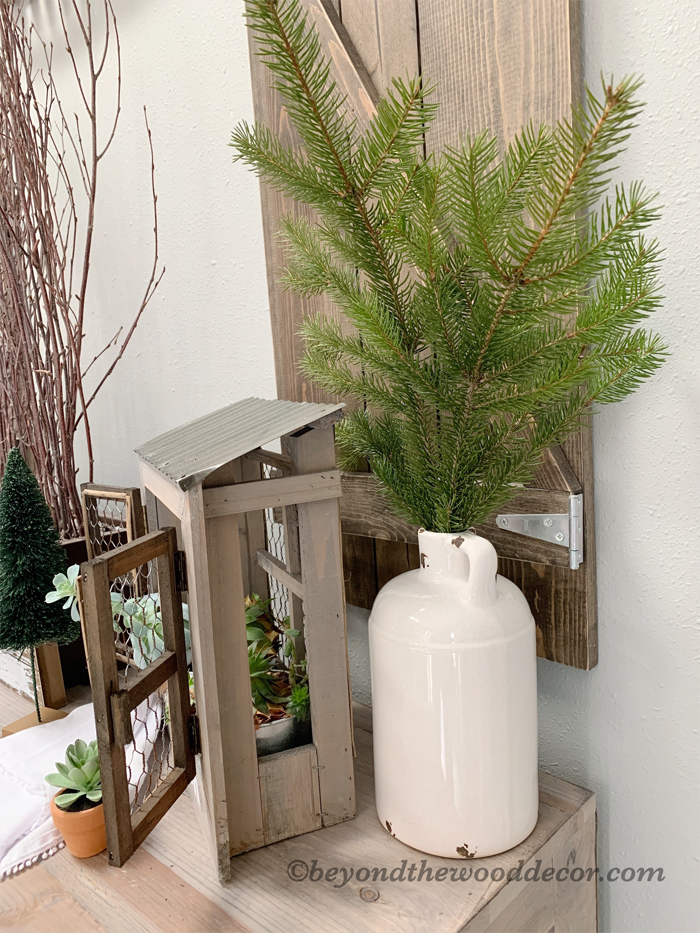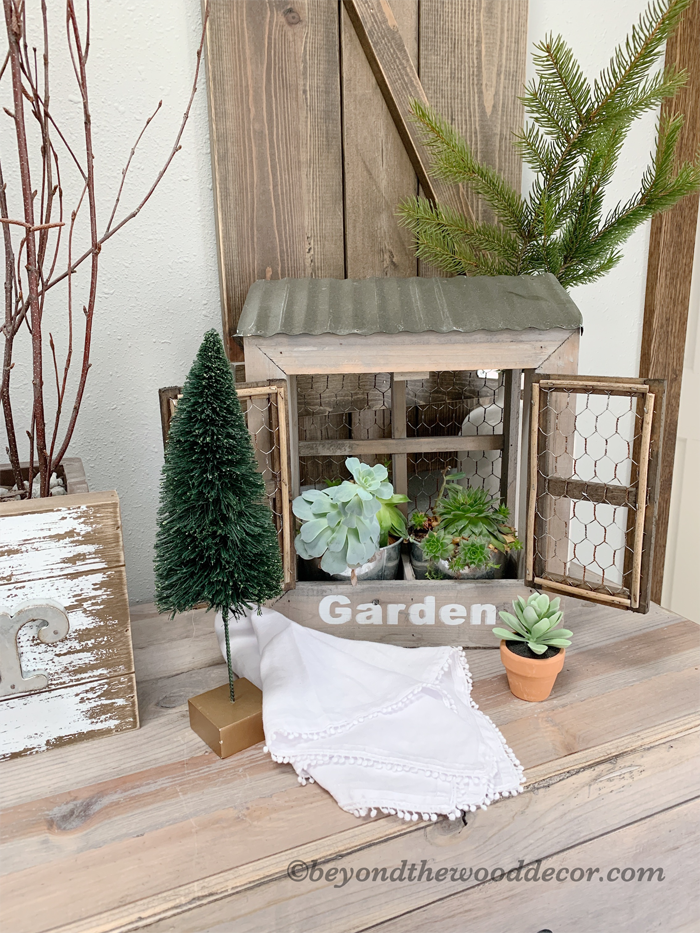 So there ya have it, my simple Christmas decor. Pretty basic but I love simple! I really wish I would have had the time to get my big tree up but oh well it's okay. The rooms look like Christmas for sure so it'll work for this year.
I am super excited for the down time as I really need it. My hubs is off all next week so thats always so nice having him home. He has started a project converting a closet to a pantry and I am certain he will be working on that after Christmas. I will be excited to share it with you in a few weeks when it is all done.
I want to also take this opportunity to wish you all a very Merry Christmas. I don't suspect I will be getting another blog post written before Tuesday so I really hope your time with family and friends is full of love, laughter and new memories are created. Treasure those times as we all know tomorrow is never promised! (((hugs)))
Most of all remember the reason for the season. Happy birthday Jesus!
Merry Christmas, friends!